June 07, 2017
Garrett Gamez '19: Sustained by faith, supported by team
Feature by master storyteller Mike Leonard '70 & '00Hon. inspired by a chance encounter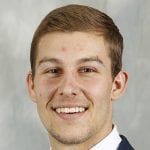 Providence College men's ice hockey player Garrett Gamez '19 (Chino Hills, Calif.) was putting together a fine sophomore season when he collapsed on the bench during a March 11 Hockey East playoff game at Notre Dame. He was cleared to return home after overnight observation in a local hospital, but was held out of the Friars' season-ending NCAA Tournament game against Harvard.
One of the Friar fans present that night was Mike Leonard '70 & '00Hon., himself a former Friar hockey player who lives in Winnetka, Ill. He also is a retired NBC News correspondent whose 30-year career was most notable for regular Today show feature stories. Now an independent filmmaker, Leonard often travels with his trusty video camera, especially when those travels involve his alma mater and its hockey team.
"Coach Nate Leaman invited me into the locker room for the pre-game," Leonard said. "Since I'm working on some other PC-related projects, I shot Nate's speech to the team and the players getting ready for the game."
One of those shots depicts Gamez, praying intently moments before taking the ice for that fateful game. Medical testing will continue until mid-summer, and doctors have not yet determined whether it will be safe for him to resume his playing career.