April 28, 2020
Gift from director/producer John Bowab '55 to endow master class series
By Nick Wesman '20G
The directorial and production career of John Bowab '55 & '89Hon. spans decades and features work from Broadway to Hollywood. Now he has set up a gift to bring that kind of experience and expertise to Providence College.
Bowab recently made a planned gift to endow the Patricia Morison Master Class Series to benefit students and faculty in the Department of Theatre, Dance, and Film. The gift, included in his will, will provide funding in perpetuity that will allow the department to host various guest artists and experts from the performing arts industry.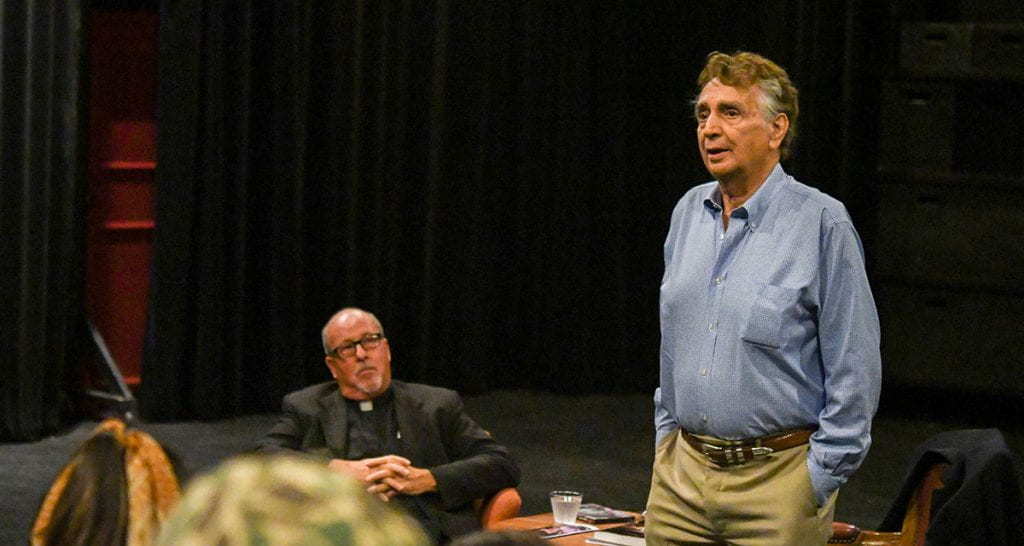 A typical master class features a discussion about the expert's experience and career. It often allows time for students to work with, and receive feedback on, the guest's area of expertise, such as acting, singing, playwriting, or dance. Guests may even provide demonstrations.
Bowab chose Patricia "Pat" Morison as the namesake of the series to honor a good friend and colleague. Ms. Morison starred on Broadway in such productions as Kiss Me, Kate and The King and I. Bowab developed a close friendship with her while they worked together on the production of Pal Joey. She died in 2018.
"Pat Morison had a big influence on my life. I directed her in a musical and we became very close," he said. "She had a really good career, but she also worked diligently on every musical she ever did. I wanted to do something that honors that kind of performer, and this seemed like the perfect thing."
Choosing a master class series to honor Ms. Morison was the result of Bowab reflecting upon his own time in the theatre department at PC.
One of a half-dozen students in the theatre department, Bowab and his classmates often had the freedom to explore nearly any theatrical avenue they desired.
"We just did whatever we wanted," said Bowab, who recalled how the student actors had to share the gym/auditorium in Harkins Hall with the basketball team. He added that he spent much of his time writing and directing his own musicals and collaborating with other interested students on developing productions.
However, Bowab and his classmates didn't have the opportunity to learn about the expertise and work necessary for a career in the field.
"We had nobody that we could have called on at that time," he said. "That led me to think, 'I really would have loved people to come to campus and show me how to really write a musical.'"
James M.Calitri, associate professor and managing director of theatre, said Bowab's gift will bolster both students and the department's reputation, particularly the musical theatre program.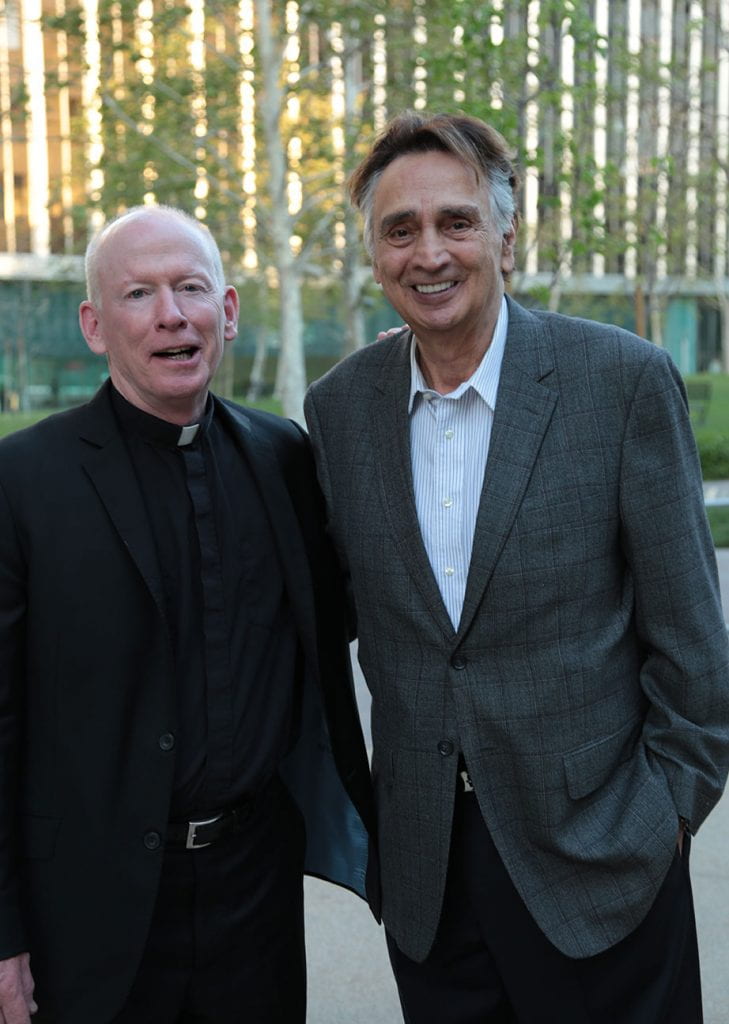 "To be able to have this cornerstone of opportunity and recruitment tool anchoring the musical theatre program is very important, and we'll reap so many rewards for it," said Calitri.
The planned gift is the latest illustration of Bowab's generosity to his alma mater. He also has contributed to the construction of the Smith Center for the Arts, where the John Bowab Studio Theatre is named for him, established a scholarship for students studying musical theatre, and participates in the annual PC in Hollywood trip for students during winter break.
Several years ago, during one of the PC in Hollywood events, he arranged to have Ms. Morison speak to the students about her stage career, which began when she was 16. Bowab recalled their fixated nature as she recounted a story of perseverance. Ms. Morison was given a small part in her first show but performed so poorly that she was fired. She told the students she cried so much that the directors agreed to let her sing in the chorus.
Bowab, who is originally from Pawtucket, R.I., earned a bachelor's degree in education before moving to New York to embark on a long and successful career in entertainment. Initially, he found work directing and producing theatre productions, including Mame on Broadway in 1983, as well as national tours of Broadway shows such as A Little Night Music and Sweet Charity.
In the late 1970s, he expanded into television, where he continued to direct and produce through the late 2000s. His 450 TV credits include directing episodes of The Facts of Life, The Cosby Show, and The Wayans Bros.
Between his stage and television production work, Bowab has directed shows and TV sitcoms featuring such greats as Debbie Reynolds, Angela Lainsbury, Jay Leno, Johnny Carson, and Bob Hope.
His work and generosity did not go unnoticed by his alma mater. He was a 1985 recipient of the Personal Achievement Award, presented by the National Alumni Association. Four years later, the College awarded him an honorary doctor of fine arts degree.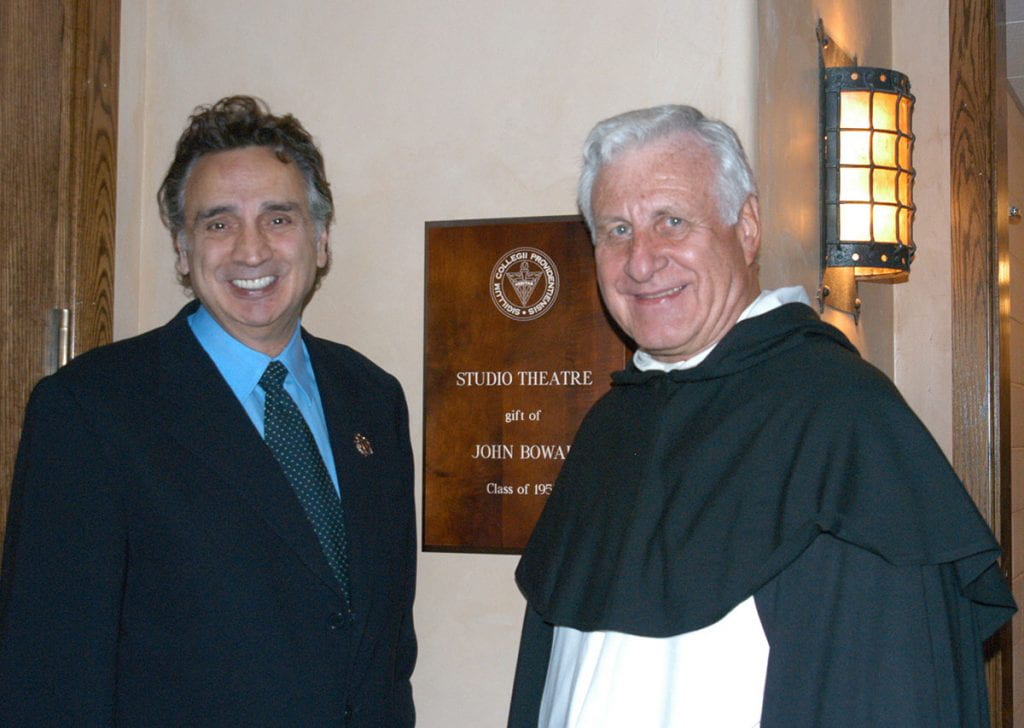 "I felt privileged when I was at PC," Bowab said. "There was something romantic, yet stimulating, about the atmosphere at Providence; it made you feel like you were a little better than what you might have been otherwise. I've always felt grateful to the College."
Though PC has hosted master classes before, they can be costly and have not been a regularly scheduled opportunity for students. Bowab's gift will allow TDF to schedule classes with more frequency — possibly up to once a semester, according to Calitri.
"It's not something we can afford to do on our own very often," he said. "We were thrilled when John said this is what he wanted the money to go to because it's something we try to save for and budget in."
"The ability to be able to bring people in of that caliber so consistently will have a huge impact on the department," added Calitri. "When students get to work with that guest director or that guest designer from the outside consistently, it's really rewarding for them."
That connection between students and industry professionals is exactly what Bowab hopes comes from the series.
"Instead of just going by what they've studied in class, a master class puts students on a more personal level with people who have been out there," he said.
Please consider a gift to The Fund for Providence College to make it possible for all students to continue to experience the value of a PC education.
support emergency student need