November 03, 2022
God chased me
Since its founding, Providence College has inspired young men to join the Dominican Order of Preachers. On May 21, 2022, Rev. Damian Marie Day, O.P. '15 and Rev. James Mary Ritch, O.P. '08 were among 10 new priests ordained by Archbishop J. Augustine Di Noia, O.P. '65 at the Basilica of the National Shrine of the Immaculate Conception in Washington, D.C. At our invitation, they wrote reflections.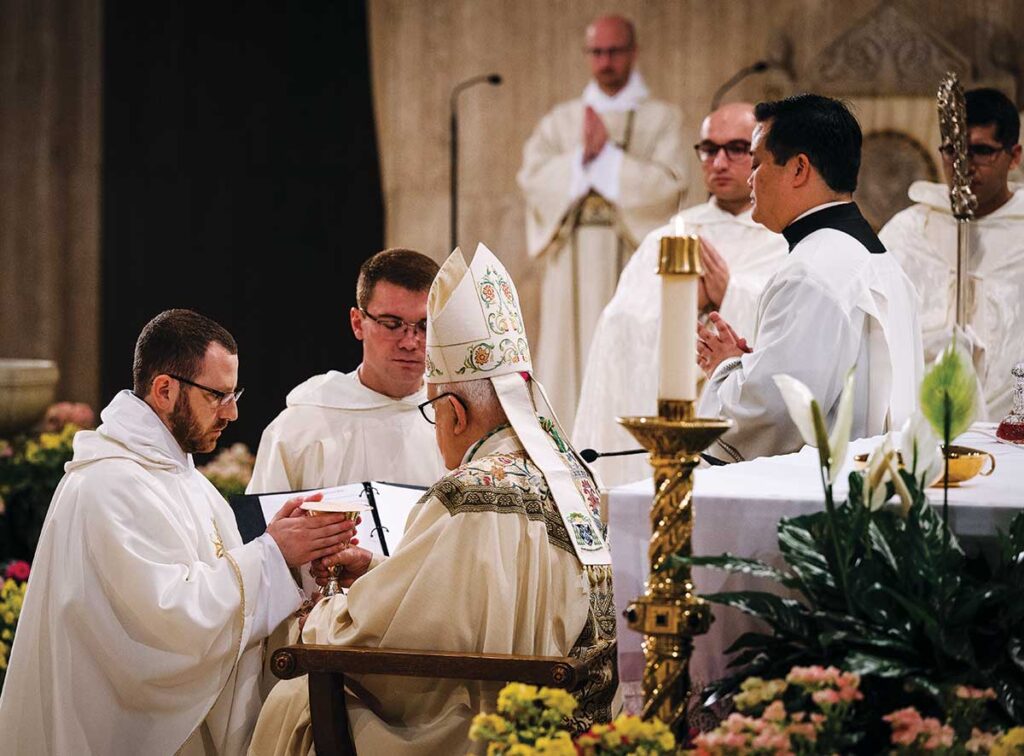 By Rev. James Mary Ritch, O.P. '08
When I first visited Providence College, I knew that it was different from other colleges. I was at peace there and I wasn't sure why. It was like a home away from home. On my first visit, I knew the place would change my life. I now give thanks to God and to my parents for sending me to this Catholic and Dominican college.
However, I would not have agreed with any of this during my first two years at PC. Growth wasn't easy. God helped me to grow as a Catholic man, and to be open to the priesthood. The Dominican priests helped me to change my "no" to God to a "yes."
At PC, God chased me. I saw God in every work in Civ, in Campus Ministry, and in the Dominicans. This Catholic culture at PC, however small, fostered my love for Christ and my identity as an adopted son of God. Courses helped, of course, but without knowing who I was and who God is, a college education would have only provided me with skills to perform a job after graduation. My Catholic faith integrated this education into my life and implored me to follow Christ. Practicing my faith at PC wasn't a Sunday task or a club sport; it was who I was as a person.
Praying in St. Dominic Chapel at Mass, at holy hours, and in silence were some of my most transformative moments at PC. I took ownership of my faith by going to confession to start anew, which brought peace and more grace into my life. I cared about my friendship with Christ, and the sacraments strengthened and maintained this bond. If you've ever turned to God or to a Dominican friar in that chapel, then you know what I'm talking about. Life-changing experiences happen on the PC campus, and they happen because of God's grace. Because of the Dominicans and Campus Ministry, my faith matured, which in turn strengthened me to work in secular research institutions and in our de-Christianized society. Without my faith, I would never have said "yes" to God.
After performing research in biology for seven years and an additional seven in religious formation, I was ordained a priest on May 21, 2022, with my nine classmates by Archbishop J. Augustine Di Noia, O.P. '65, a fellow Providence alumnus and Dominican friar. We knelt before Archbishop Di Noia, who shared his priestly power to us through the sacrament of Holy Orders, which of course originally came from Jesus Christ Himself. As you can imagine, my brother priests and I are still unwrapping this supernatural gift from God, and I will continue to unwrap this gift for years to come.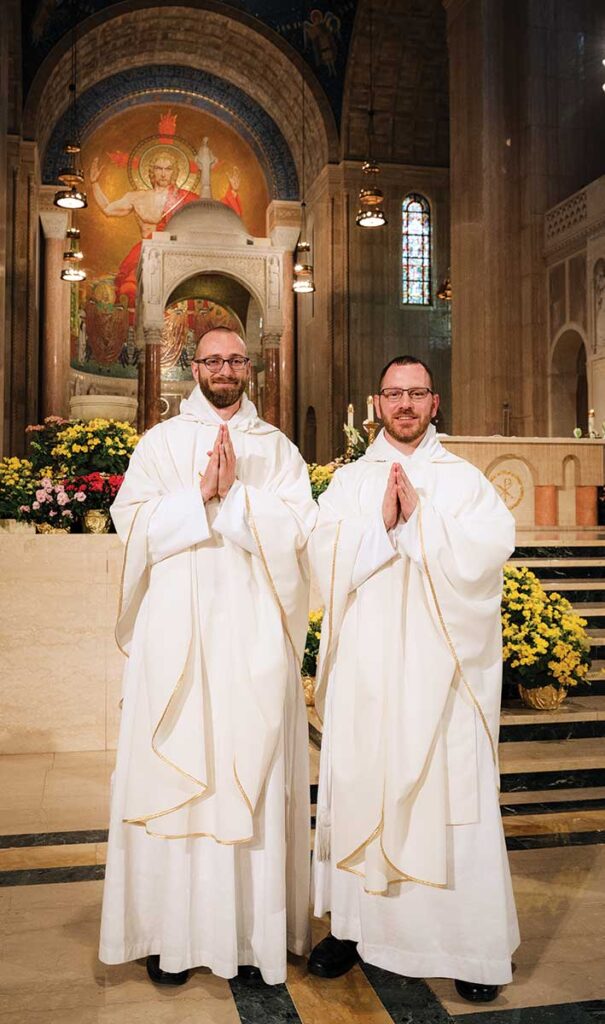 I began my first priestly assignment in June ministering as a hospital chaplain, primarily at Memorial Sloan Kettering Care Center in New York City. The same sacraments that gave me peace and hope as an undergrad, I now administer in the hospital. Receiving the sacraments was transformative, but to give the sacraments in the person of Christ as His priest is otherworldly. This is the holy work God has entrusted to me: to hear the confessions of people who have fallen away from the church and been burdened by deep wounds for decades, to anoint hospital patients who are in agony, to celebrate the Holy Sacrifice of the Mass in the parishes where I prayed as a layman. The gift of priestly ministry comes freely from God, who, in turn, wants the sacraments to be given generously to His people.
I think that very few Catholics realize the significance of the sacraments. For me, it took time, catechesis, and God's grace to see the sacraments as means of direct contact with God. When I celebrate the Mass and give absolution, I know by faith and not by sight that God is present in the Eucharist, and that Jesus washes away all the sins of a dying patient. Faith replaces our eyes with God's eyes in moments like these.
Seventeen years ago, a Dominican friar and I walked past McVinney Hall on the way to Albertus Magnus. I asked him if I could be a Dominican priest one day too. He said, "We'll see." Those years have flown by, and I am thankful to God for this gift to serve as a priest of Jesus Christ.
Father James, from Mahopac, N.Y., majored in biology at PC and worked as a research assistant and lab manager for Rev. Nicanor Austriaco, O.P. '20G. He received a master's degree in neuroscience from the University of Massachusetts Medical School before entering the Dominican Order. He is a hospital chaplain in New York City.
reflection by rev. damian marie day, o.p. '15
More from the Fall 2022 magazine
More about Dominicans at PC
More Providence College news