August 24, 2020
Health and safety protocols paramount in Providence College's preparations for reopening
By Vicki-Ann Downing
Wash your hands. Wear your mask. Watch your distance.
Providence College students are returning to campus for a fall semester like no other. Free face masks, textbook rentals, and virus tests, classrooms with reduced seating and technology for remote instruction, strict limitations on social gatherings, and to-go food options in reconfigured dining facilities are just a few of the changes to campus life.
In a message to students and parents on Friday, Aug. 21, College President Rev. Kenneth R. Sicard, O.P. '78 & '82G said he is aware that other colleges and universities have been forced to switch to remote-only instruction for all or part of the semester. He said he is meeting daily with administrators at PC to monitor the situation.
"Our decision to re-open campus was not made lightly," Father Sicard said. "Our testing plans are significantly more robust than what the Rhode Island Department of Health or the Centers for Disease Control require, and they significantly exceed plans at many other colleges and universities."
But Father Sicard emphasized that the situation is ever-changing and that the success of in-person, on-campus instruction will depend upon student compliance with safety protocols.
"If at any time there are a significant number of positive cases that could overwhelm our isolation and quarantine facilities, or our food, laundry, cleaning, and medical services, we may have to consider an immediate change to remote learning for the semester," Father Sicard said.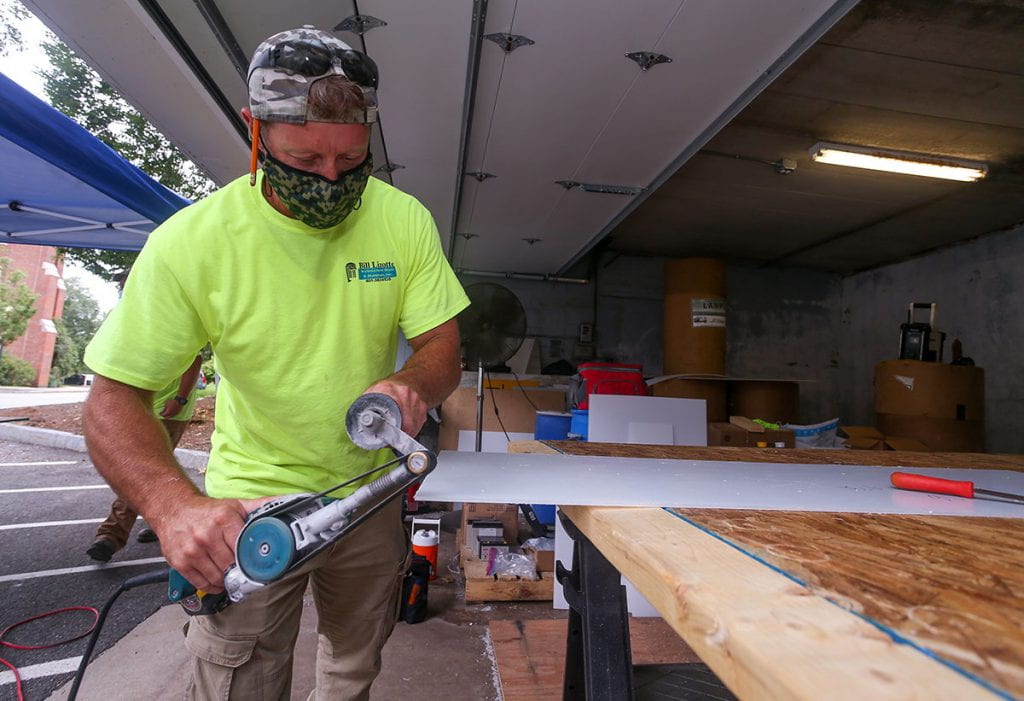 The College's preparation for reopening began in mid-May with the formation of a 150-member Continuity Task Force co-chaired by Dr. Brian J. Bartolini, associate vice president for academic affairs and chief institutional effectiveness officer; Dr. Lynette J. Boos, associate professor of mathematics and president of the Faculty Senate; Michael H. Botelho, associate vice president for financial and strategic planning; and Dr. Steven A. Sears, interim vice president for student affairs and dean of students.
PC invested in technology that equipped classrooms to allow professors to share their lectures online in real time. Students can participate from their rooms on campus or from their homes. Lectures can be recorded for later viewing. Nearly 400 of the College's 4,000 undergraduates have opted to study remotely this fall, while some faculty have elected to teach all of their courses remotely.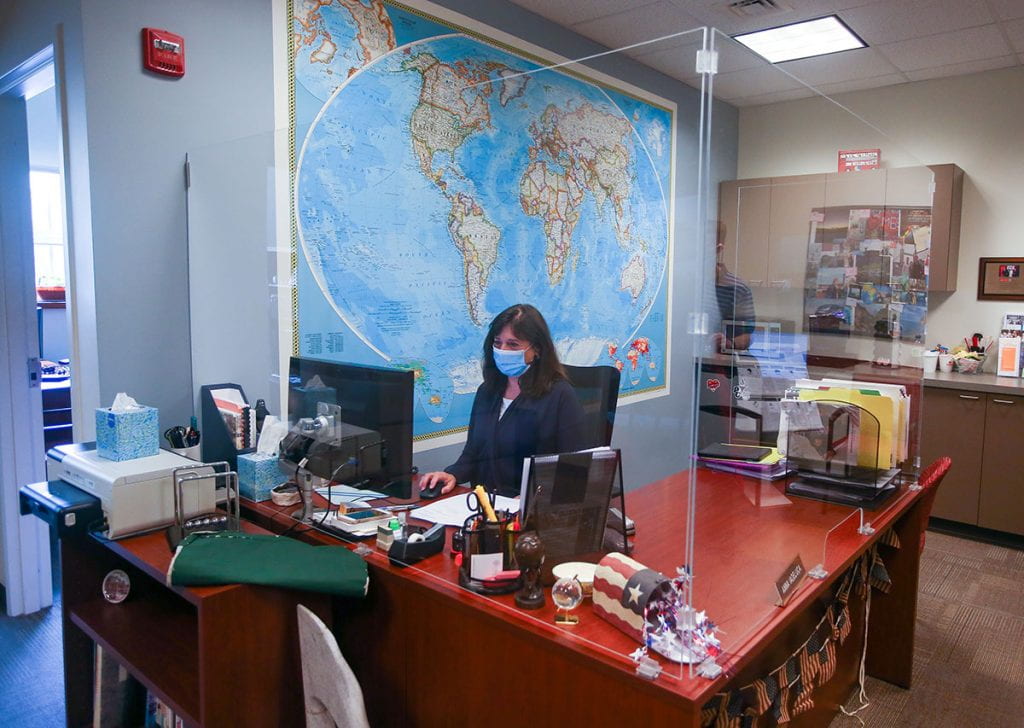 All students are required to show proof of a negative coronavirus test before moving to campus. Through an arrangement with certain CVS locations, the College is covering the cost of that testing. After arriving on campus and before moving into their residence halls, each student is required to have a second coronavirus test in Peterson Recreation Center, administered by Broad Institute under a contract with PC.
Results of that second test are available in 24-36 hours. While awaiting the results, students are to remain in their residence hall rooms, except for periods outdoors and while obtaining their meals. After receiving a negative test result, they are free to move about their own residence hall and other accessible buildings on campus in accordance with safety protocols.
Each staff and faculty member also will be tested before returning for the fall semester. In addition, the College said it would test about 300 people per day throughout the semester as part of an effort to contain positive cases arising within the community. Measures are in place for contact tracing in the event of a positive test.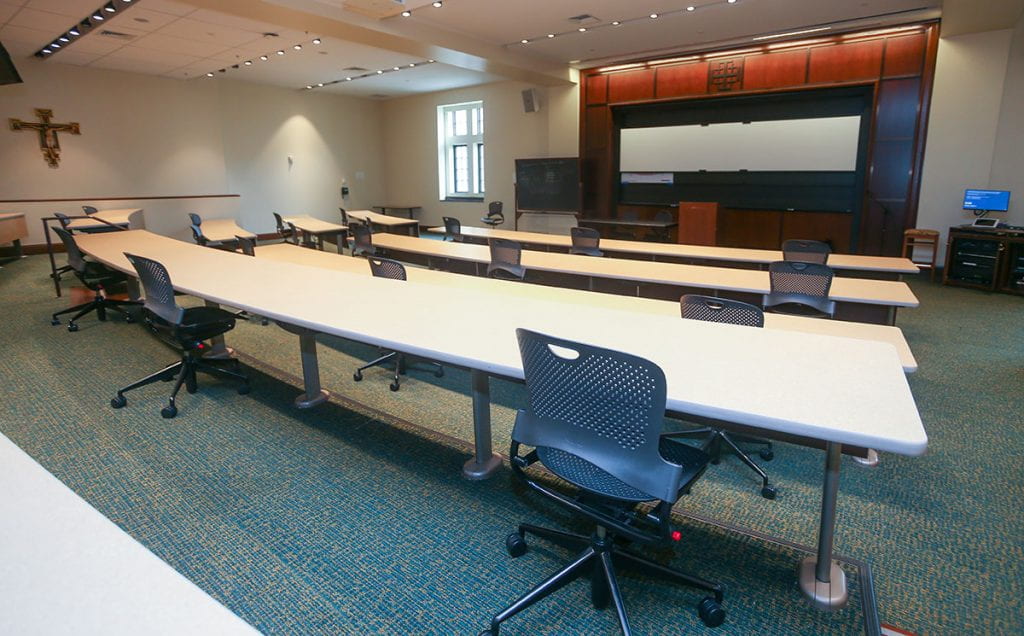 Move-in dates have been staggered. International students began arriving on Monday, Aug. 10, and students from "hot spot" areas on Friday, Aug. 14, to be tested and to quarantine for 14 days. First-year students were assigned move-in dates over four days, from Monday, Aug. 24, to Thursday, Aug. 27. Sophomores, juniors, and seniors move in between Friday, Aug. 28, and Sunday, Aug. 30.
Classes will begin on Monday, Aug. 31. In preparation, all 90 general-use classrooms were adapted for physical distancing with the removal of seating.
In a partnership with Barnes and Noble, the College is paying the cost of textbook rentals for all undergraduate students in the fall, including shipping fees if students are studying at home.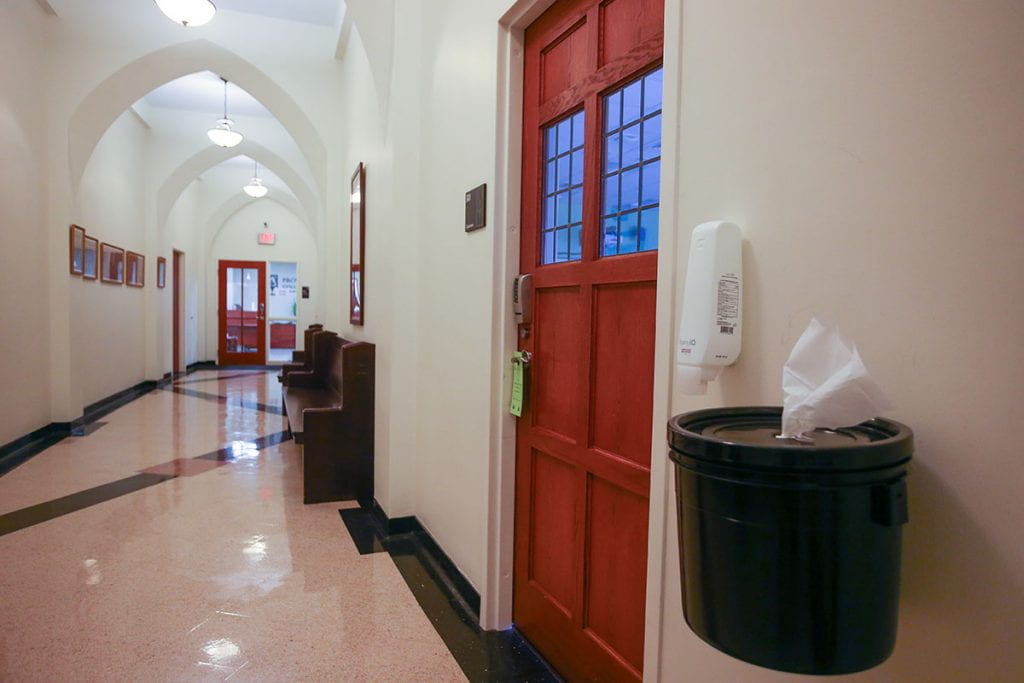 "In preparation for the fall semester, Providence College has made tremendous investments in technology, faculty development, and instructional resources," said Dr. Sean Reid, provost and senior vice president for academic affairs. "Moreover, all faculty know well in advance that at least part of every course they teach will be delivered remotely. Faculty are well prepared and eager to deliver the high-quality academic experience that students and families expect and deserve."
Large, lecture-style classes are among those that will be presented remotely, Reid said.
"Certain aspects of coursework that require close physical contact will be impossible because of the mandate to maintain six feet of physical distance, even when masked," Reid said. "Some courses, such as large lecture classes, those classes where diction and facial cues are important, and other classes with specific pedagogical considerations, currently are much better suited to remote instruction. In addition, every class — even those planned to be in-person — will have at least some online component when we shift to remote instruction after Thanksgiving."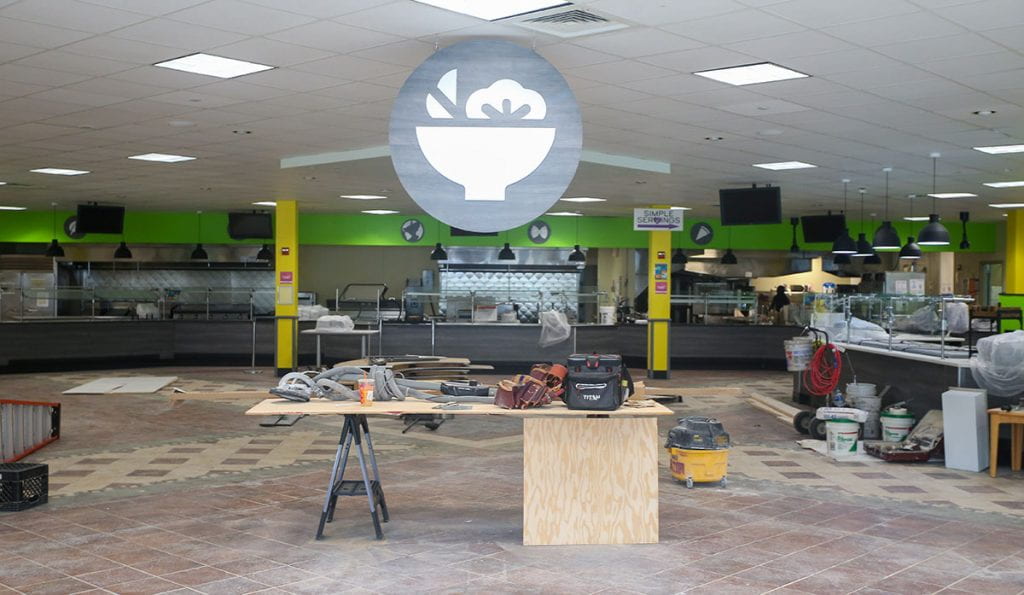 With student health and safety in mind, the College has secured additional off-campus housing options for students.
Dining facilities in Raymond Hall, Alumni Hall, and the School of Business were reconfigured to improve flow and reduce congestion. Self-serve stations were removed. Touchless payment systems were installed. Take-out options were added with an app to allow food to be ordered in advance. Grab-and-go kiosks were installed in new locations around campus. A large tent outside Raymond Hall will permit outside dining for those who prefer it.
"Our chances of having a successful fall semester are directly related to our willingness to work together toward our shared goal of creating the best academic and campus experience possible," said John M. Sweeney, senior vice president for finance and business and CFO. "We are in this together, and we are all fortunate to be part of a community known for its commitment, ingenuity, and spirit."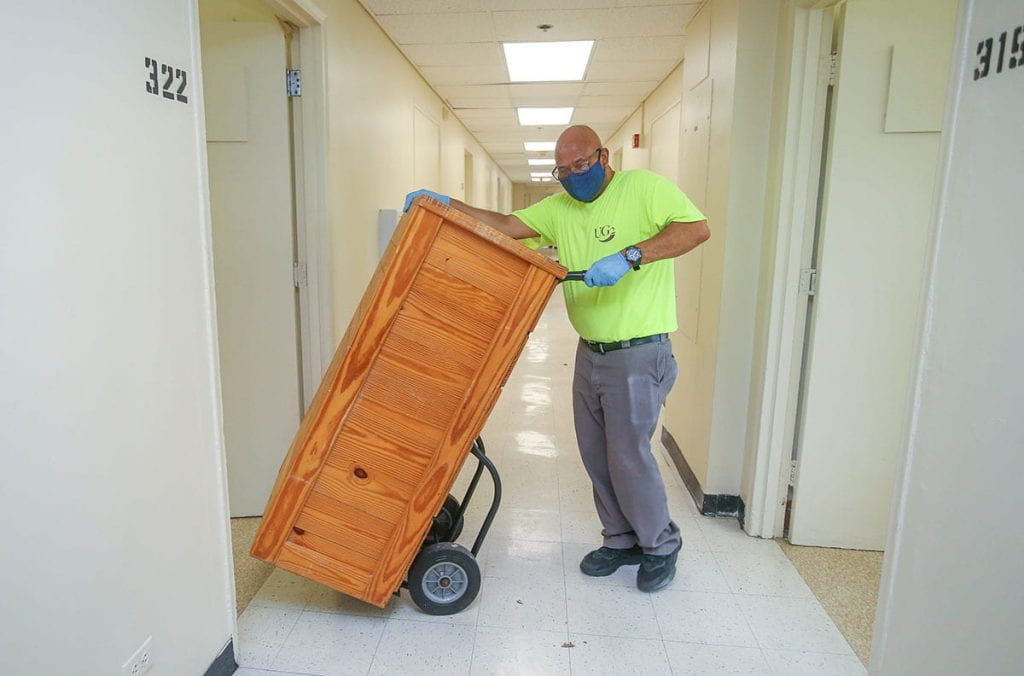 Students were warned that their willingness to comply with College and state guidelines will be important to the success of the in-person semester. Rhode Island now limits social gatherings to 15 people. If the College learns about a gathering of more than 15 — through reports from resident assistants, students, police, neighbors in the community, or photos and videos on social media — students will face disciplinary action, said Martin A. Connell, director of community standards.
"We cannot have any non-College-sponsored gatherings or parties on- or off-campus, starting right now," Connell said in a message to students.
In addition, students who are ordered to isolate or quarantine must remain in their rooms except during times of supervised outdoor exercise and relaxation. Students who violate isolation or quarantine by leaving their rooms without authorization may be sent home to study remotely for the semester without a room and board refund, Connell said.
"We are all part of the Friar Family, and our goal should be to do everything we can to keep each other safe and well, even when it means avoiding each other through social distancing," Father Sicard said. "Honoring and protecting the well-being of each other is at the very heart of our Catholic and Dominican mission and is second nature to us. If this were not the case and we could not rely on the goodness and integrity of our students, we would not consider in-person reopening."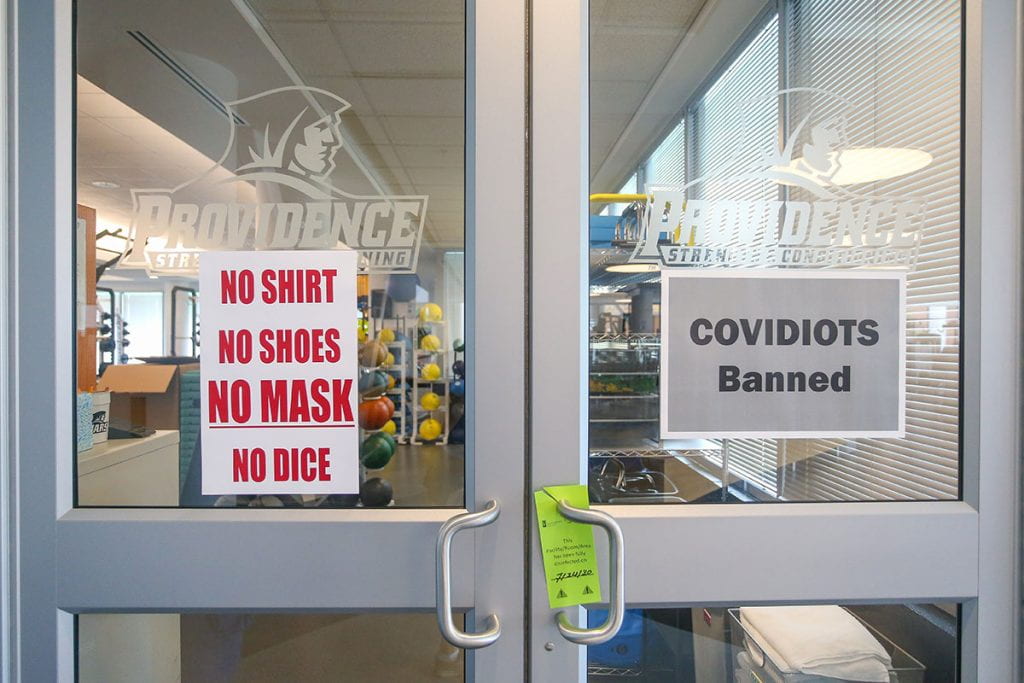 Please consider a gift to The Fund for Providence College to make it possible for all students to continue to experience the value of a PC education.
support emergency student need