July 30, 2019
Health policy and management students present research at SURF Conference
By Vicki-Ann Downing

Among the Providence College students presenting their research at the annual Summer Undergraduate Research Fellows Conference at the University of Rhode Island were three health policy and management majors who studied how women managed employment while being treated for breast cancer.

It marked the first time that RI-INBRE, the Rhode Island IDeA Network of Biomedical Research Excellence, awarded the College a grant for research in a social science, according to Dr. Jennifer E. Swanberg, dean of PC's School of Professional Studies and professor of health policy and management.

Swanberg, whose research specialties are worker health issues, occupational health disparities, and low-wage work, used the grant to hire three student researchers: Cameron Mimoso '20 (Brick, N.J.), Madison Palmer '21 (Sutton, Mass.), and Emily Wall '21 (Brewster, Mass.). Peter Murphy, who is studying in PC's MBA Program, served as their project manager.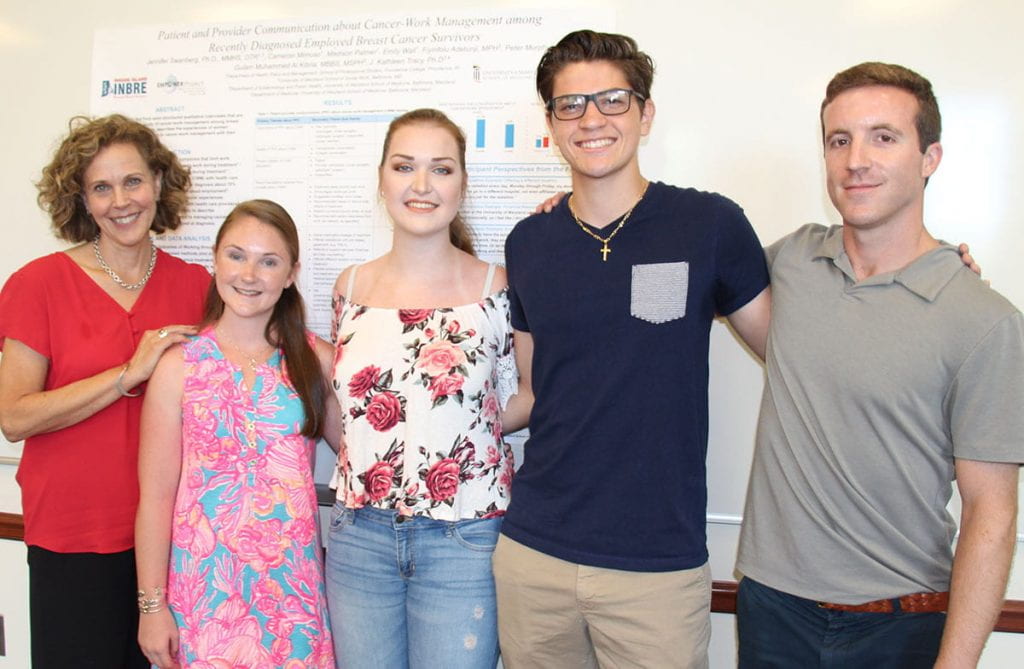 The students spent 10 weeks this summer analyzing 500 pages of transcripts from interviews with 48 breast cancer patients who are participating in the EMPOWER study (Employment and Potential Outcomes of Working through Cancer) at the University of Maryland.

The students culled information about whether the women discussed how to manage work with their health-care providers, the quality of the conversations, who initiated them, whether the women received recommendations or accommodations as a result, and their overall satisfaction.

In the computer laboratory, they used ATLAS.ti software to turn their qualitative findings into statistical data.

The students found that 40 of the 48 women did talk with their health-care providers about issues related to their return to work, but only 13 had discussions that could be classified as in-depth. Most conversations took place with the surgeon and were limited to information about the time the women needed to take off for recovery. Only eight women talked about work concerns with the nurse navigator.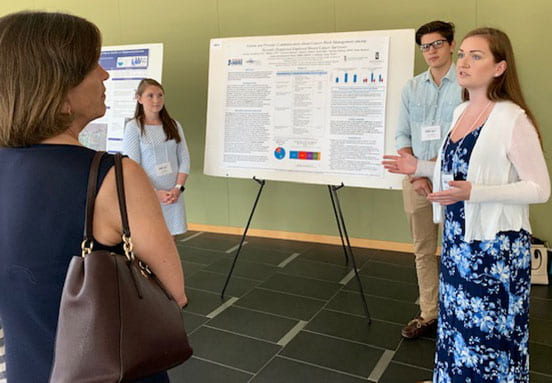 A surprising find was that while only nine of the women initiated the conversations themselves, the majority of those women had in-depth conversations, received accommodations in managing their return to work, and were satisfied with the outcome.

"It was interesting how similar the women's stories were, and how different their outcomes were," Mimoso said. "When the patient initiated the conversation, she was more likely to have an in-depth conversation with useful recommendations."

Palmer noted that breast cancer survival rates are increasing and that most patients under treatment are 20-69 years old, the prime time for employment. Cancer-care teams have an important role in helping with the work management plan for patients and can provide accommodations that make the transition to work easier, she said.

"Circumstances are important. There can't be one rule for everyone," Wall said. "We can empower working women to be able to share their stories."

Swanberg commended the students on their research.

"I gave them just enough structure and direction to go discover the answer to the project's research question," Swanberg said. "They moved fast. Their ability to gather and synthesize information and apply reasoning put them on the level of first-year Ph.D. students."

At the SURF Conference, dozens of PC students presented the results of their summer research in cell biology, chemistry, environmental science, microbiology, molecular biology, and neuroscience.