April 22, 2020
Health policy and management students witness the relevance of their major during pandemic
By Vicki-Ann Downing
The coronavirus pandemic has disrupted learning for college students around the country. But for those majoring in health policy and management at Providence College, it also has provided an opportunity to watch every aspect of their chosen field applied to real life. COVID-19 may be keeping them home, but it's also demonstrating the relevance of their academic work.
"The students really understand that this is a once-in-a-lifetime opportunity," said professor Dr. Robert B. Hackey. "Their course work is playing out in the headlines daily."
About 200 students, including 67 seniors, major in health policy and management, which has been offered at the College since 1976. It prepares students for careers in the health care industry through interdisciplinary study and a required field experience internship. Graduates work in administration and financial management at hospitals, long-term care facilities, and community health centers; find careers in health insurance and employee benefits; and serve in health professions around the country.
The major enables students "to understand and think critically about health and health care from multiple perspectives and vantage points," said Dr. Todd Olszewski, associate professor. "To take the historical, the ethical, the economic, and the social, and distill everything down in order to think critically about important issues of access, cost, and the quality of care in our health care system."
When classes switched to remote instruction on March 18 following spring break, professors adapted lesson plans to include the pandemic. Dr. Jessica M. Mulligan, associate professor, offered a required COVID-19 webinar in her course, Epidemiology of Health and Disease. After she opened it to all interested students, 70 joined in to hear her present an epidemiological overview of the virus. Associate professor Dr. Deborah I. Levine provided a historical look at pandemics in the United States, the country's response, and the impact of the response. Associate professor Dr. Tuba I. Agartan explained how other countries dealt with coronavirus outbreaks.
The pandemic allowed Hackey and Olszewski to add a chapter to a book they are writing, with assistance from 17 students, for a series called Across the Aisle. The book, Today's Health Care Issues: Democrats and Republicans, is scheduled to be published in January 2021. The new chapter, which they now are completing, will be about partisan responses to the pandemic.
Stay-at-home advisories interrupted the internships of seniors who were undertaking their required field experience this semester in fields such as emergency response and preparedness, employee benefits, and insurance. But many have been able to continue their work remotely, from home, assisting their supervisors with research and participating in conference calls and video meetings, Olszewski said.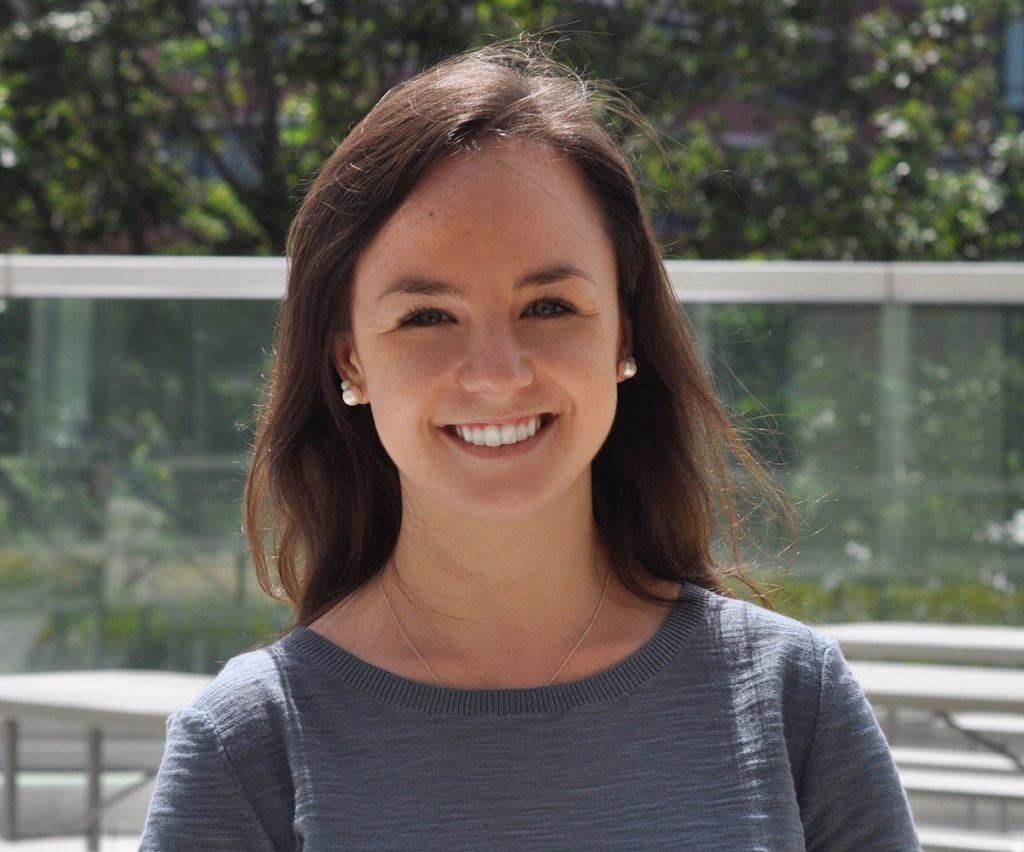 Erin Walsh '20 (Norfolk, Mass.), an intern with the Center for Emergency Preparedness and Response at the Rhode Island Department of Health in Providence, was present in February when the center activated its Incident Command System in response to the coronavirus.
"It meant that every day we would have a command and general staff meeting in which everyone would provide updates on new cases, on shipments of masks and other equipment, and how hospitals and others were responding," Walsh said.
"This is an experience I never would have imagined having as a college student — getting firsthand learning experience so close to the front lines of information and decision-making," she said. "Part of me wishes that I could still be there, but I know it's for the best to keep it online right now."
Walsh even brought her study of health policy and management overseas. She took three courses related to her major during a semester abroad in Copenhagen, including one that examined the Danish health care system. She would like to one day pursue a master's degree in public health with a focus on epidemiology.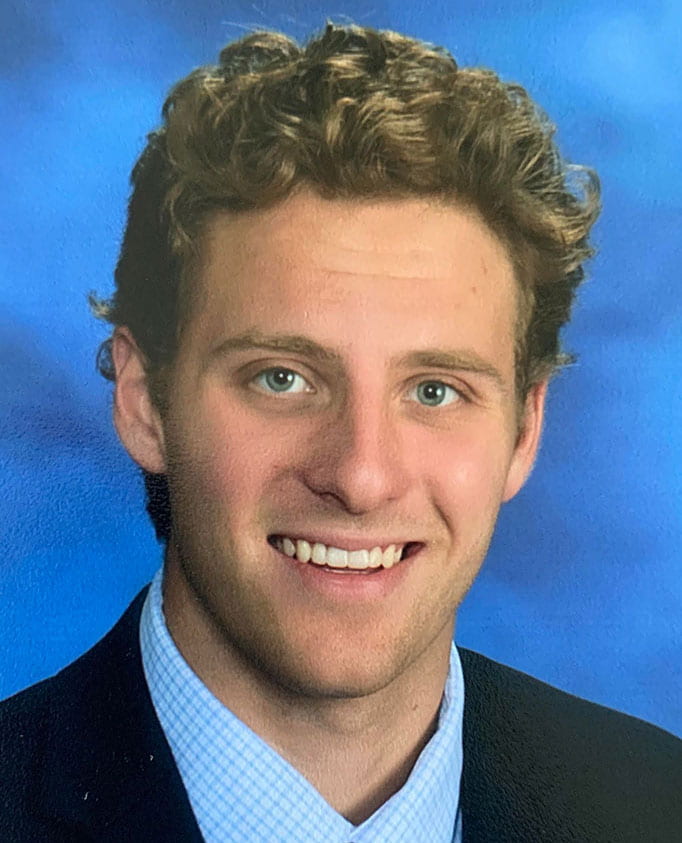 Justin LaPorte '20 (Plainville, Mass.) has been interning with the Providence Emergency Management Agency. When the semester began, he had the opportunity to take online courses for certification through the Federal Emergency Management Agency. As the weeks went on, he watched as PEMA began tracking the progress of the coronavirus and collecting data.
"Slowly we saw the numbers rising, and then all of a sudden it hit home," LaPorte said.
"If you can envision the Houston Control Center at NASA, with all the monitors, that's what the Emergency Operations Center looks like fully activated," LaPorte said. "They are in the response phase. They are coordinating with public schools to make sure kids have meals. They track the number of calls to public safety and how many are relative to COVID-19. They have their hand in everything. They are the backbone of the city's response."
The internship appealed to LaPorte because of its hands-on nature. He likes the idea of a job that would allow him to work free from a desk and computer, and he hopes to find a position that also allows him to use his minor, business and innovation.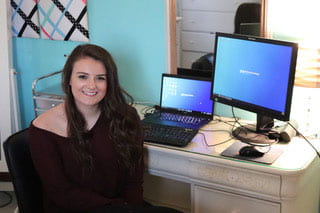 Since September, Julia Lorkiewicz '20 (Sutton, Mass.) has been a paid intern at the Worcester office of Marsh & McLennan, the global insurance, risk management, and investment firm. She will begin a full-time job there in August as an associate consultant serving the insurance needs of businesses with fewer than 100 employees.
The internship has demonstrated how the pandemic and the shutdown of the economy has deeply affected small businesses, she said.
Lorkiewicz found the internship through Handshake, an online search tool for jobs, internships, and fellowships offered by PC's Center for Career Education and Professional Development.
She came to PC on a pre-law track and would like to pursue a law degree or a master's degree in health administration after graduation.
The health policy and management introductory course, HPM 101, The American Health Care System, convinced her to major in the subject, she said.
"You learn the history, how an insurance plan works, the difference between an HMO and a PPO, and why we pay for prescriptions," Lorkiewicz said. "In our first year we were learning about the Affordable Care Act as it was being adapted and changed. The situation with the pandemic has been something completely different, but I can understand what the doctors are saying on TV, the concept of herd immunity, and why it's important to stay home. It's opened my eyes to everything I've learned in my courses. HPM travels with the times."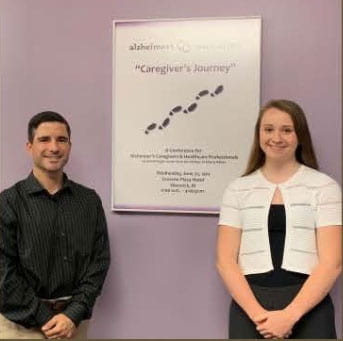 Theresa Durkee '20 (Salem, Conn.), a member of the women's soccer team, will start a full-time position in June as a benefits analyst with Boston Benefit Partners, an employee benefits consulting firm.
"My job will be mainly researching, evaluating, and analyzing different health-care medical plans for employers so they can give their employees the best benefits," Durkee said. "With the passage of the stimulus bill, there's a lot of legislation regarding benefits for certain groups. Enrollment periods have been extended and things are constantly changing."
Durkee, who is interested in government relations and lobbying, began the semester as a registered lobbyist for Rhode Island Right to Life, but had to stop work when the Rhode Island State House closed its doors to the public because of the pandemic.
"I'm fascinated with how fast policies are starting to change," Durkee said. "I was interning as a lobbyist, talking to legislators, and now a person can't physically get into the State House. The power comes from the people; that's the way the nation runs. This pandemic has disrupted all that. With all these executive orders, the governors and the president are running things. It's an interesting shift. Difficult as these times are, it's a great learning experience."
Durkee, who has a minor in finance, also has interned with the Hospital Association of Rhode Island and with the Alzheimer's Association of Rhode Island. Her participation in a Campus Mission service trip to Guatemala helped her realize how insurance can be used to improve lives.
"I found a love of insurance — I think it's a lot more powerful than many people understand," Durkee said. "Insurance has a big impact on people. It affects their health and how well they live. I am interested in a consulting or lobbying position where I can advocate for people. You're advocating for a person's health through the kind of insurance they have."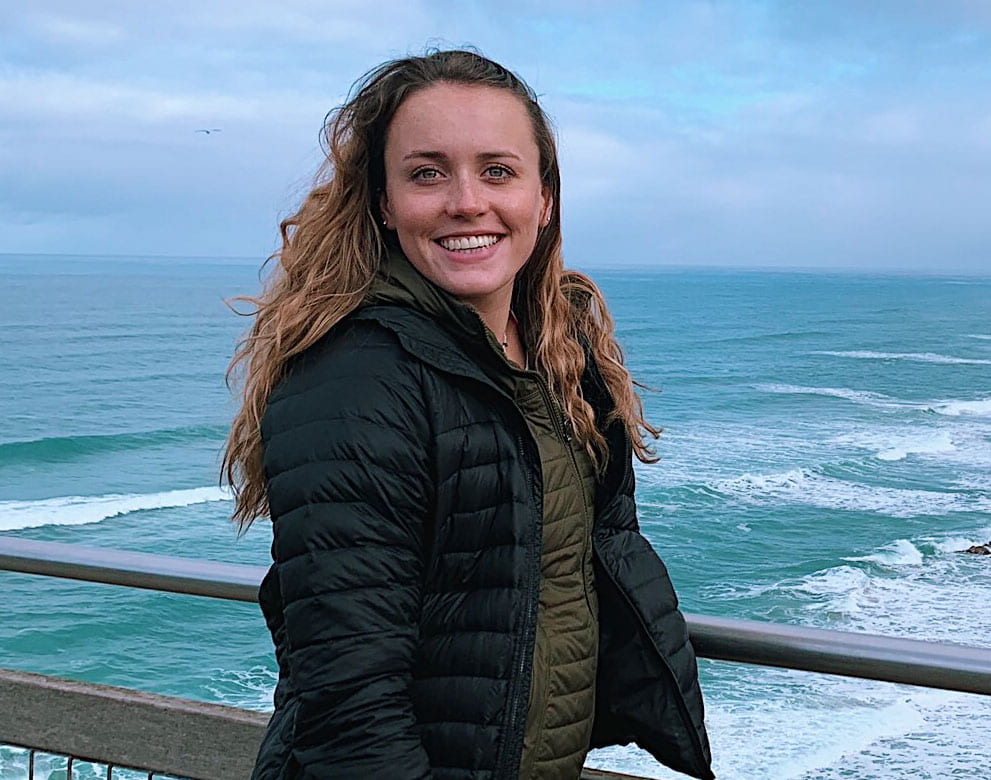 For her Issues in Global Health course, taught by Agartan and Eric Sung, associate professor of photography, Stephanie Gilet '21 (Chelmsford, Mass.) planned a final project with St. Pius V School across from PC's campus. Since the school closed due to the pandemic, she changed direction and began a project to convince college students to practice social distancing. She is creating an Instagram account to share fitness videos and cooking ideas.
"I am looking at why people my age continue to disobey social distancing guidelines," Gilet said. "Dr. Agartan just shared an article with me that says some young people are out partying because they believe they have a reputation to uphold. How can I, within a smaller community, bring light to that and encourage people to stay inside?"
Gilet, a business and innovation minor who studied abroad last semester in Australia, is interested in the intersection of health care and business. During the summer, she will intern in the health care department at Fidelity Investments in Merrimack, N.H.
All of her HPM courses are relevant to the pandemic, including Policy in the Health Care Sector, taught by Hackey, she said.
"Everything we're talking about is directly related to COVID-19," Gilet said. "We have chat room debates every day on social distancing, the stimulus package, and testing. It's interesting to hear everyone's opinions."
Students studying health policy and management realized the relevance of their studies during the coronavirus pandemic. Please consider a gift to PC so that students with emergency need can continue to experience the value of their education. 
support emergency student need