July 12, 2022
History major Evan Diliberto '22 receives Fulbright award to teach in Slovak Republic
By Vicki-Ann Downing '21G
Four years ago, when Evan Diliberto '22 left his home in Waterbury, Conn., for Providence College, he was a first-generation college student seeking to uncover his path by exploring the academic interests he was passionate about.
Now with some answers, Diliberto is headed to the Slovak Republic, where he will teach English as a cultural ambassador through the Fulbright Program, the flagship international program of the U.S. government. He is one of five Providence College students who have been offered Fulbright English teaching assistantships this year, the most in college history. The others are Sara Conway '21 (Taiwan), Grace Maffucci '22 (Mexico), Jesus Maldonado '18, '21G (Colombia), and Elisabeth Sudbey '21 (South Korea).
The possibility of a Fulbright was not even on Diliberto's radar in May 2021, when he opened an email from Darra Mulderry, Ph.D., director of national and international fellowships and scholarships and associate director of PC's Center for Engaged Learning.
"Dr. Mulderry said that because of my academic performance and course of study I could be a Fulbright candidate," Diliberto said. "I had not even considered it. Then I went to an information session where it seemed that most of the other students were a lot more interested and further along in the process than I was."
Still uncertain, Diliberto met with Mulderry to discuss the possibility.
"She said she would not be encouraging me to apply if she didn't think I had a good chance of being successful," Diliberto said. "I thought it was a good opportunity, did a little research, and once I got started, I was all in."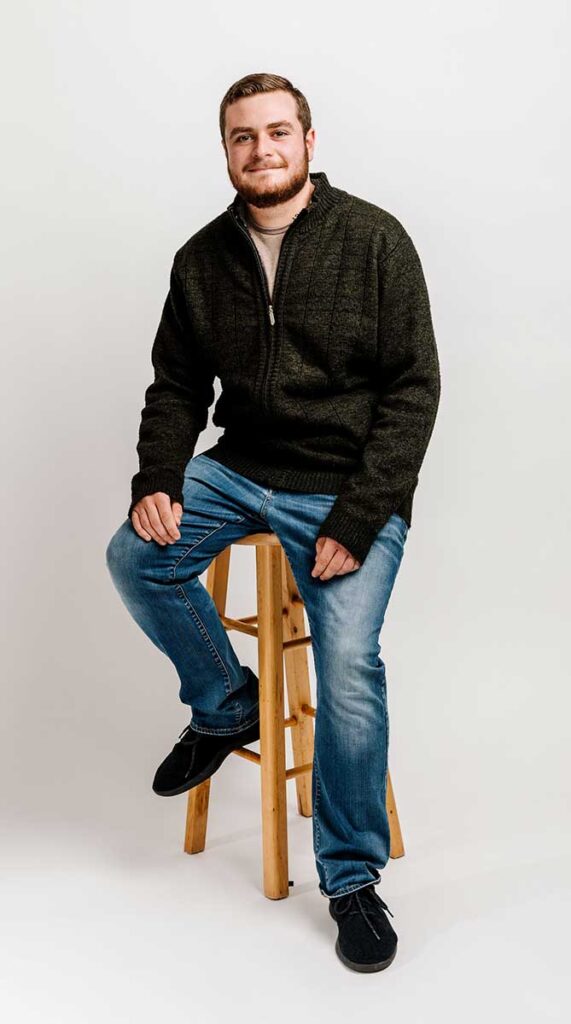 Diliberto was notified of his Fulbright award in April. He is scheduled to arrive in the capital city, Bratislava, at the end of August, a week before classes begin on Sept. 5. During the 10-month academic year, he will be paid the local teachers' salary to teach in an electro-technical secondary school. He must find an apartment and is thinking about starting a choral music or English language club.
"I am beyond excited," Diliberto said.
Diliberto majored in history and minored in philosophy at PC. He considered a major in political science, but European history during the Cold War, particularly in the Eastern bloc and Iron Curtain countries, intrigued him. Until the pandemic derailed his plans, he was scheduled to spend a semester abroad in the Czech Republic during his junior year.
"For the Fulbright, I thought about applying to Russia or Belarus, but there was a Russian language requirement," Diliberto said. "I also thought about Ukraine and the Czech Republic, but Slovakia's history was more interesting to me. The Slovak Republic was an Axis power during World War II and even more efficient than the Nazis at exterminating Jews, Roma, and others. The head of the government, Jozef Tiso, was a former Catholic priest."
The Czech Republic and Slovak Republic, united as Czechoslovakia after World War I, became independent republics after the so-called velvet divorce in 1993.
"The Czech Republic is more allied with Western Europe," Diliberto said. "Slovakia borders Ukraine and is a member of the European Union. The Slovaks are Catholic and more Eastern European. I'm Catholic and the culture appealed to me – I'd like to be immersed in it."
Diliberto wrote his 94-page senior thesis on the Stasi, the East German secret police, government rhetoric, and reality. At commencement, he received the Rev. Cornelius Forster, O.P. Award for excellence in the study of European history.
"I appreciated every professor I had in the history department," Diliberto said. "I learned more than I ever thought I would, especially about oral and written communication."
His favorite was Thomas Grzebien, Ph.D., assistant professor of history.
"He helped me out a lot on my Fulbright application and with history as well," Diliberto said. "He is a specialist in medieval history. He helped me make connections to the modern era, and I loved his lectures."
Until he came to PC, Diliberto never had studied philosophy. He learned about the ancients —Plato and Aristotle — through to the modern philosophers, Nietzsche and Hagel.
If not for the Fulbright teaching assistantship, he would have begun studies this fall at the University of New Hampshire's Franklin Pierce School of Law. During the summer of 2021, in addition to preparing a Fulbright application, he took the LSAT and worked on law school applications.
"I was interested in international law. But the Fulbright has reignited my interest in diplomacy," Diliberto said.
Diliberto paid for his own college education through scholarships, financial aid, and hard work. Throughout his first year at PC, he was a waiter and bartender at the Breachway Grill in Charlestown, R.I., where his grandparents live. During his junior year, he lived with them and attended classes remotely. As a sophomore and senior, he was a student worker in PC's mailroom, often working the maximum 20 hours per week.
Through the Center for Orientation, Transitions, and Leadership, the college offers PC1G, a mentoring program for first-generation college students, defined as those whose parents did not complete a four-year education, and to any student in need of its resources. Diliberto was aware of the program but did not take part.
"I was a solo first-generation student finding my own way, but I was OK," he said.
He plans to spend the summer visiting his baby niece in New Hampshire, taking an online course on Teaching English as a Foreign Language, and possibly learning a little Slovak, a language similar to Polish.
"I have this saying, 'Don't follow your dreams, follow opportunity,'" Diliberto said. "I think Providence College is mostly to thank for this one."
More Fulbright scholars
More Providence College news