October 25, 2014
Holy Cannoli!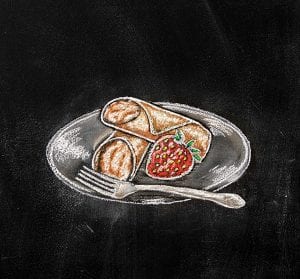 Valerie Bono '01 is the second-generation owner of Golden Cannoli Shells in Chelsea, Mass., the nation's largest cannoli company. Founded by her father in the 1970s, it produces more than 100,000 hand-rolled cannoli shells a day, and chances are you've eaten one.
"If it's a bakery, coffee shop, restaurant, club store, supermarket, or food cart, if they have cannoli shells,
99 percent of the time we make the shell and the filling that goes into it," said Bono, who majored in management and played ice hockey at PC.
Anything delicious can be put inside a crispy, fried cannoli shell, from the traditional sweetened ricotta cheese to pudding, mousse, custard, ice cream, whipped cream, or yogurt.
Golden Cannoli makes shells dipped in chocolate. It flavors the dough with cocoas, cinnamon, or garlic and chives for savory appetizers. It sells cannoli chips dusted with powdered sugar or cinnamon for dipping as a snack.
Bono said the chips are a way to "educate the next generation of cannoli eaters" who might never experience a cannoli in an Italian bakery.
"I like the straight-up version of cannoli with the traditional filling, but I'll tell you, there's nothing better than spinach and artichoke dip in a cannoli shell out of the oven," said Bono. "Serving it hot as an appetizer is phenomenal."
— Vicki-Ann Downing
Read all the Friars and Food stories: