August 16, 2019
Homecoming Weekend offers programming for all ages
Alumni, students, parents, and families are invited to Homecoming Weekend, Oct. 4-6, to experience campus in the fall while enjoying programming designed to please Friars of all ages.
With Homecoming Weekend, the College has combined the best features of three traditional weekends — St. Dominic Weekend in October, New Student Family Weekend in November, and Alumni & Family Weekend in February — into one.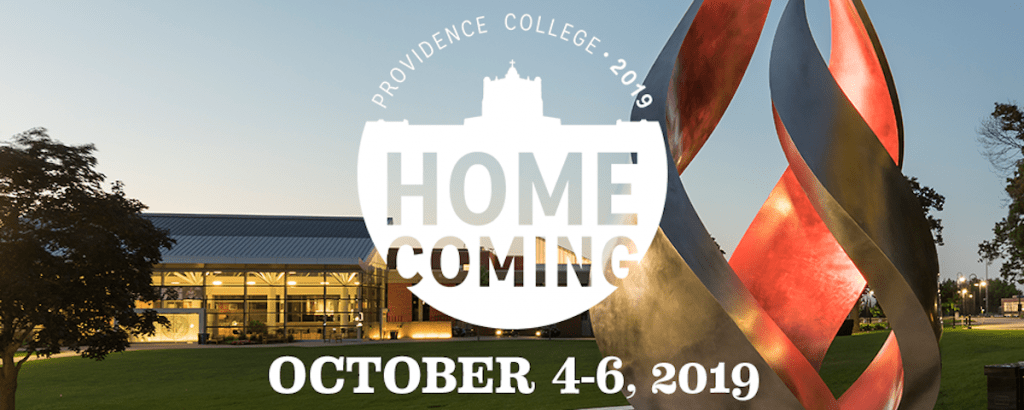 The 10th annual Friar 5K, a road race to benefit the National Alumni Association Scholarship Fund, takes place at noon on Saturday. It will conclude in time for participants to join Oktoberfest on the lawns outside Slavin Center and Aquinas Hall. Running from 12:30 to 3:30 p.m., Oktoberfest will offer live entertainment, food from local vendors, and activities for the family, and is open to everyone attending the weekend.
Late Night Madness, the traditional start of the men's and women's basketball seasons, moves this year from Mullaney Gym in Alumni Hall to the Dunkin' Donuts Center in downtown Providence. Headline entertainment will be provided by Grammy Award-winning singer and songwriter John Legend and rapper A Boogie wit da Hoodie. Tickets are available for purchase by the College community and by basketball season ticket holders. Doors open at 6:30 p.m. Saturday.
Fans of Lidia Bastianich, the restaurateur, cookbook author, television personality, and grandmother of Miles Bastianich '22, can hear her discuss her book, My American Dream: A Life of Love, Family and Food (Knopf, 2018), in Mullaney Gym on Saturday at 2:30 p.m.
Comedian Paul Mecurio '82 will bring his act to Mullaney Gym on Friday at 10 p.m. Mecurio is a writer for The Late Show with Stephen Colbert and won Peabody and Emmy awards for his work on The Daily Show with John Stewart. He appears in the film Chuck, the story of the boxer Rocky Balboa, and has a one-man Broadway show, Permission to Speak.
Former trustee Arthur F. Ryan '63 & '90Hon., who with his late wife gave the lead gift for construction of the Arthur F. and Patricia Ryan Center for Business Studies, will present the annual Fiondella Lecture on Friday at 5 p.m. in the Palmisano Atrium in the Ryan Center.
Ryan will discuss how his education prepared him for his career as president of Chase Manhattan Bank and CEO of Prudential Insurance Company of America. The Fiondella Lecture, established by Robert W. Fiondella '64 & '16Hon. and Carolyn Fiondella, brings accomplished leaders to campus to discuss the importance of the humanities to careers in business and other fields.
Homecoming Weekend retains programming important to parents of first-year students, including a welcome breakfast, tips on academic strategies mid-semester, and information about career planning and study abroad. There will be opportunities for alumni engagement. Varsity athletics contests will include men's and women's ice hockey, soccer, and field hockey.