May 12, 2022
In a class on spiritual crisis, I found my vocation as a teacher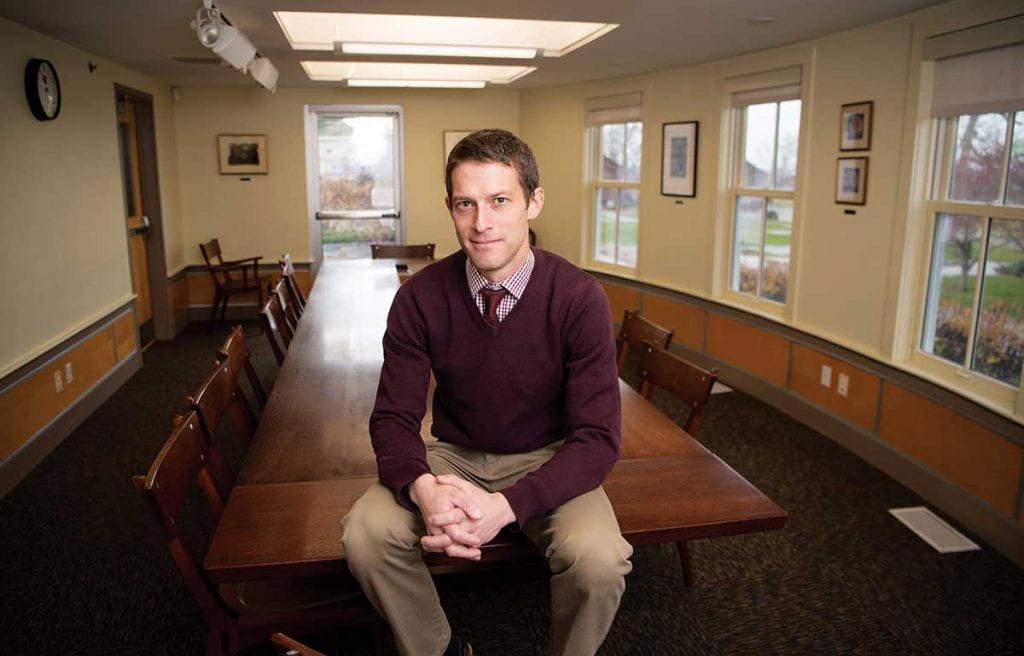 By Mike St. Thomas '05
I remember the moment distinctly. It was the spring of 2003, and I was a sophomore at Providence College, one of 15 or so students sitting around the big table in a seminar led by Rodney Delasanta, Ph.D. '53 on Literature of Spiritual Crisis. Dr. Delasanta, who by then was near the end of his storied career as an English and Western Civ professor, had just handed back our quizzes from last class. I don't recall the grade he gave me, but to this day I remember the words he scrawled in blue ink at the top. "This is good literary criticism," he had written, and then, as a way of chiding me for being one of the quieter students in class, he quoted Christ's parable, "Don't hide your light under a bushel." The last sentence was underlined for effect.
For all I know, Dr. Delasanta wrote these kind of things on students' quizzes all the time. In fact, I'm almost sure he did, given the amount of student respect he garnered during his long tenure at PC. However quotidian his comment was, it spoke to me in a singular way. At that point I was trying to figure out who I was, what I was passionate about, and what direction my life would take. I knew I loved reading and writing, but I didn't know how to admit that to anyone yet. I was a reticent student, full of ideas, but terrified of giving voice to them and making them real. As it turns out, I had been hiding something under a bushel.
Looking back on it, that's no doubt why I was drawn to a seminar on spiritual crisis in the first place. It turned out to be one of the best classes I ever took. We read plays by Sophocles and Shakespeare, and novels by Flannery O'Connor, Sushaku Endo, Graham Greene, and Cynthia Ozick, among others. As we sat around the table each week, we discussed the important questions that animated each of these works: What is the point of suffering? What does it mean to communicate with a God who often remains silent? What does spiritual consolation look like? As we gained confidence throughout the term, Dr. Delasanta talked less and we talked more. As we discussed the characters' dark nights and beatific visions, whether we knew it or not, we were also attempting, however tentatively, to make sense of our own. This, I realize now, was the real purpose of the class.
That attempt at sense-making — not just of literature but of life — was what the note on the quiz encouraged me to do. During the course of that spring, I became a regular contributor to class, and began the process of discovering what I thought — and who I was — by engaging with literature and with others. Towards the end of that year, I declared as an English major. In large part I was spurred on by the spirit of Dr. Delasanta's note, emboldened by the realization that someone whom I respected thought that my ideas were worth considering.
As with so many of my teachers at PC, Dr. Delasanta was a master at that kind of encouragement. His passion for literature had the effect of dispelling fear in the classroom and giving his students courage to wrestle with the big questions themselves. Other experiences in my four years stand out for similar reasons. I'll never forget reading Moby-Dick for an entire semester with Dr. Margaret Reid, and her genuine zest for the daunting task. Or spending hours discussing Dublin and James Joyce with Dr. William Hogan, or hearing Dr. Stephen Lynch expound a line from Shakespeare, or looking through one of Dr. Bruce Graver's stereoscopes as he explained the connections between William Wordsworth and Frederick Law Olmstead. I will never forget the enthusiasm with which these teachers approached their subjects, nor will I forget the respect with which they treated me, as if I were a fellow scholar who, but for a little experience, was on the same footing as they.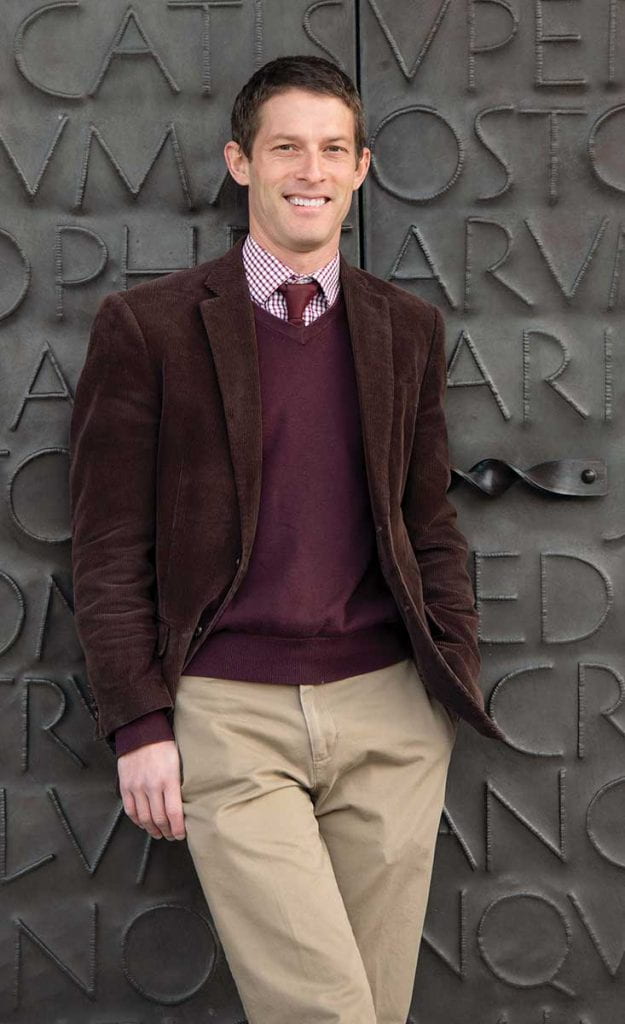 Vocation is a word often associated with discerning a career in the religious life, but really it refers to any calling to live out a specific purpose. My teachers clearly had such a calling. It was evident in their approach to their discipline and their students. It was evident in their desire to work at a place like PC, where teaching, not research, holds priority. And it was evident in their desire to help their students discern their own vocations, whatever they may be.
My vocation also turned out to be teaching. For the last 14 years I have taught English to high schoolers, and just this year I crafted a senior class that, with a nod to Dr. Delasanta's seminar, I dubbed Modern Spiritual Crisis. The class reads several of the same authors we covered in the Honors seminar — Shakespeare, Greene, O'Connor — along with others — Franz Kafka, Marilynne Robinson, James Baldwin — whose works engage similar questions. With any luck, the class will not only provide examples of spiritual searches for my students, but also invite them to embark on their own, as the Honors seminar did for me.
The poet W.H. Auden, reflecting on the art of teaching, stressed the importance of recognizing one's vocation to the profession:
To teach at all is hard, to teach well is impossible, but at least it will be something if we
realize that without a vocation of our own, without a passion for teaching ourselves, we cannot hope to help others…[I]t is only thus that we shall be able to restrain our natural lust for power and approval, to exhibit in our relation to our pupils that careful indifference, that conscious refusal to help … which is, I believe, the proper educational obstacle to arouse subjective passion.
Auden's emphasis on teachers consciously withholding help from their students strikes me as exactly correct My teachers at PC did not hand me answers, though they certainly could have done so. They demanded that I discover them for myself. Their job was to coax, challenge, encourage, and eventually, step aside. As Auden knew and Dr. Delasanta exemplified, a teacher's true calling is to overturn bushels so that students might discern the paths their lights illumine.
Mike St. Thomas '05 chairs the English Department at the Portsmouth Abbey School in Portsmouth, R.I., where he lives with his wife and children. His essays and reviews have appeared in Commonweal, The Hedgehog Review, Plough Quarterly, America, and other publications.
More from the Spring 2022 magazine
More Providence College news