March 18, 2020
In just 48 hours, professors ramped up for the move to online instruction
By Vicki-Ann Downing
More than 125 faculty members attended online-teaching trainings led by members of the academic staff and their faculty colleagues on Monday, March 16, as Providence College prepared for the move to online instruction.

Additional sessions were offered on Tuesday, March 17, by the Instructional Technology Development Program, the Department of Information Technology, and the Center for Teaching Excellence. The CTE also used the Zoom video conferencing platform for an hour-long informational meeting and for one-on-one consultations with faculty.

With in-person classes suspended until Tuesday, April 14, due to the coronavirus pandemic, courses began remotely on Wednesday, March 18.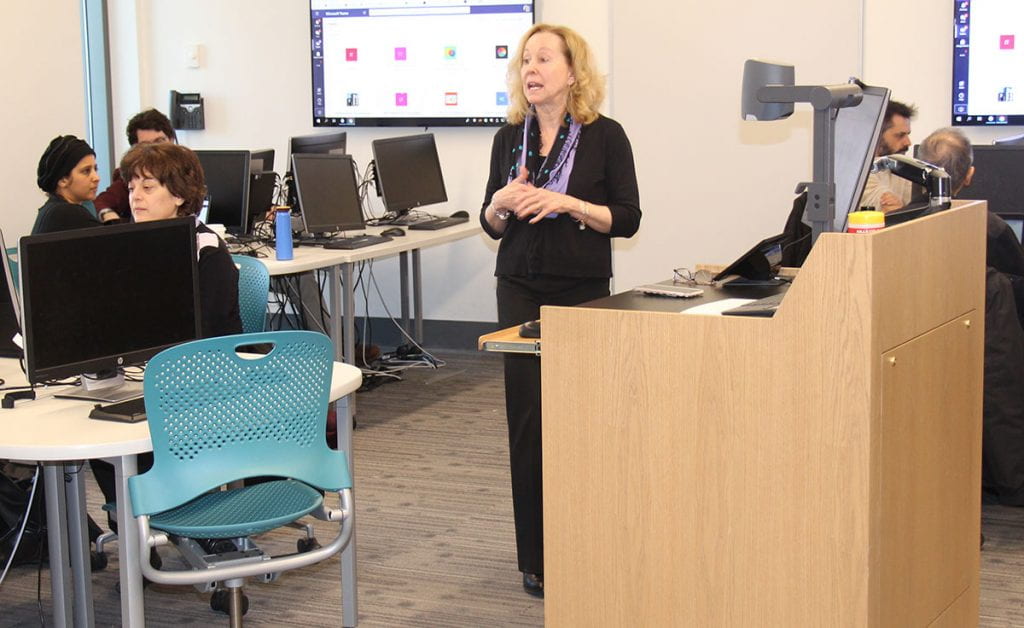 Dr. R. Alexander Orquiza, Jr., assistant professor of history, hosted a 90-minute Zoom training session on Monday for 42 faculty members who teach in the Development of Western Civilization Program, including professors in English, history, philosophy, and theology.

Orquiza was inspired by a similar training for history faculty hosted last Friday, during spring break, by Dr. Sharon Ann Murphy, professor of history.

Orquiza has technical expertise because he worked as a database designer in the Silicon Valley before he started graduate school.

"It came together really quickly," Orquiza said. "Part of the discussion was about functionality, learning how to use Zoom, pedagogical challenges, and how to adapt. It turned into a session about resource-sharing, screen sharing, to maximize use of the LMS, how to administer quizzes and post readings in Sakai, how to manage seminars, lectures, and record PowerPoints. It became a sounding board and a form of therapy, a big message board and meeting space. I was actually touched by how many people took part."

Orquiza teaches second-year DWC, including a colloquium with Dr. Anthony Jensen, professor of philosophy, on DWC Through Food. The colloquium format includes a large-group lecture and smaller seminar discussions. With the start of online courses, Orquiza will post the lectures online ahead of time and Jensen will host the live discussions. Readings for the course that were not already available online have been scanned and added by the professors.

Orquiza also set up a YouTube account as a resource for faculty. He used QuickTime screen capture to narrate a how-to video on using Zoom to capture PowerPoint presentations as video files. Julie DeCesare-Cicilline, coordinator in the Instructional Development Technology Program, is developing similar resources for professors, he said.

Orquiza also will offer late-night office hours for students through Zoom, from 8:30 to 10 p.m., because he will be busy during the day caring for his 2-year-old daughter. Her day care has closed and his wife is a physician at Boston Medical Center.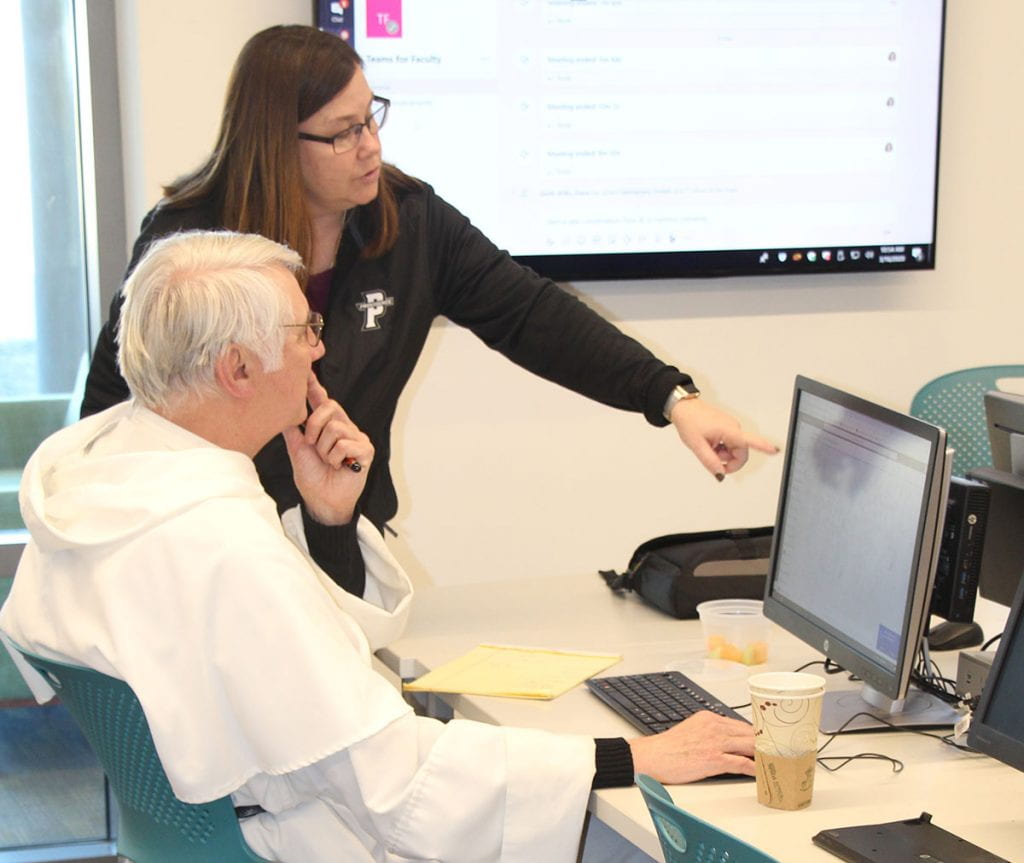 Dr. Kathleen Cornely, professor of chemistry, said many chemistry faculty members plan to run their courses with their students meeting as a group using Zoom. Some will deliver the content by posting narrated PowerPoints of their lectures on Sakai and use Zoom for office hours, she said.
"We've also been very fortunate to be offered resources for no cost to us or to our students," Cornely said. "For example, Carnegie Mellon is waiving their $25 per student view to access their Open Learning Initiative. I've created a course for my CHM 101 class using it.
"We also use a molecular modeling program called Spartan that is normally not able to be used off-campus, but our department chair requested and was provided with a number of free licenses that we can distribute to our students so that they can access the program off campus."

Dr. Kenneth Overly, associate professor of chemistry, established a Microsoft Teams site to allow professors to communicate with each other and share ideas to provide students "with the best possible learning environment under the current circumstances," Cornely said.

The training offered by the College has been beneficial, she added.
"I feel that I navigate Sakai very well, but in the last two days I've learned about features in Sakai that I hadn't used before and intend to use now," Cornely said. "Perhaps a silver lining to all of this is that we are all gaining tools that we can use in the future when things get back to normal."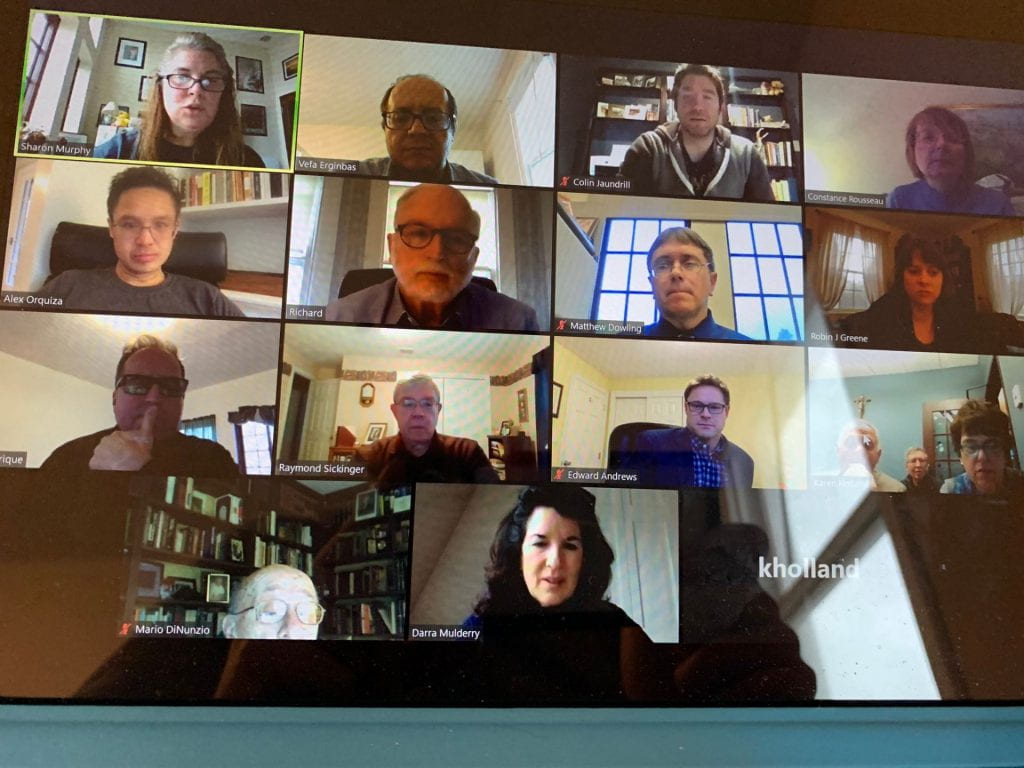 Megan Chang, assistant professor of voice and speech in the Department of Theatre, Dance, & Film, said many disciplines, including the arts, face unique challenges in the transition to online courses.
"What complicates matters even more is the unique situations that our students are facing," Chang said. "I polled my students over the weekend to see what resources they have available and on what schedule they'll be able to access those resources.
"For example, some students are at home sharing a computer with siblings or helping to care for younger siblings. Others are trying to work, and some are volunteering to babysit for families who need to keep working despite their child's school being closed. On the other hand, some want the sense of normalcy that meeting synchronously during our regular class time can bring."
As a result, Chang said she is recording her lessons as a series of mini-lectures so that students can watch and complete them on their own schedules. She also will use Zoom to be online during the regular class meeting periods for students who are able to attend. Students also can join at that time to ask her specific questions.
"I know it's not going to be perfect, but it will keep my students engaged and connected until we're able to safely return to campus," Chang said. "Maintaining the social connection with their classmates and a continued engagement with the course material will hopefully stave off some of the isolation and fear that many of us are feeling."
more about the coronavirus response
To address the critical needs of students who have been impacted by the ongoing coronavirus public health crisis, PC has started to raise funds for Emergency Student Support through The Fund for Providence College.
support emergency student need