May 20, 2015
In Memoriam: Dr. Robert I. Krasner '51, professor emeritus of biology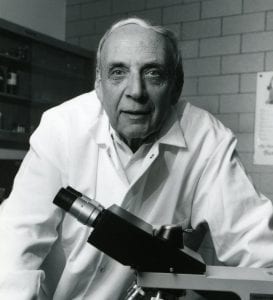 Dr. Robert I. Krasner '51, professor emeritus of biology who taught at Providence College for 50 years, from 1958 to 2008, died Oct. 9, 2014. He was the husband of Lee (Friedman) Krasner '78 and a resident of Rehoboth, Mass.
When Dr. Krasner retired, the Department of Biology established the Robert I. Krasner Award in his honor. It is presented to a graduating biology major who best exemplifies Dr. Krasner's commitment to teaching inside and outside the classroom.
In addition to a master's degree and a doctorate in biology from Boston University, Dr. Krasner earned a master's degree in public health from the Harvard School of Public Health when he was 68 years old. He was invited to study microbiology at the Pasteur Institute in France and to study tropical diseases at Hebrew University in Israel.
He wrote two textbooks, 20th Century Microbe Hunters: Their Lives, Accomplishments, and Legacies (Jones and Bartlett Publishers, 2007) and Microbial Challenge: Human-Microbe Interactions (ASM Press, 2013), and continued to write scholarly articles until the time of his death.
With research interests that included microbiology, immunology, and biotechnology, Dr. Krasner presented at national and international conferences and directed numerous educational grants and programs. He developed and directed the Summer Science Program for High School Students, which he led from 1975-2006, and the Biotechnology Workshop for Secondary School Science Teachers.
Dr. Krasner served as an Army lieutenant in Japan following the Korean War. An Eagle Scout, he was involved with the Narragansett Council of the Boy Scouts of America for more than 30 years and was camp director of Camp Yawgoog in Rhode Island.
In addition to his wife of 50 years, Dr. Krasner is survived by a son, Jon Krasner of Franklin, Mass., and a daughter, Dr. Lisa Sussman of Dover, Mass.; a brother, Harold Krasner of Cranston, and two sisters, Frima Marquez of Las Cruces, N.M., and Blanche Levine of Scottsdale, Ariz.; and six grandchildren.
A funeral was held in Temple Beth-El, Providence.