November 09, 2017
In Memoriam: Friars basketball was pure love for 'Stat Beast' John A. Zannini '83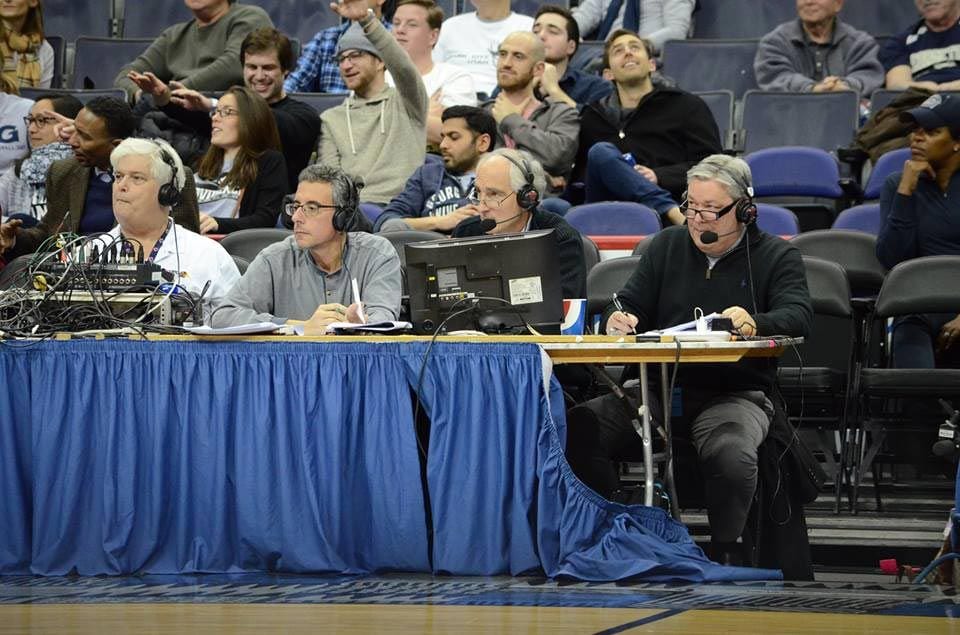 By BRENDAN McGAIR '03
John A. Zannini '83 was already part of the statistics crew for Providence College men's basketball home games in the 1980s when he grew starry-eyed.
In his case, he was more stats-eyed.
Instead of tracking just one category — which was his primary function with the crew at the scorer's table — Mr. Zannini was intrigued by the thought of keeping a more detailed and thorough log of every rebound and every assist.
Luckily for him, the opportunity to become a "full-time" statistician was located a few seats down from his courtside post at the then-Providence Civic Center.
One night during the 1988-89 season, Mr. Zannini introduced himself to John Rooke after a live airing of a television show featuring then-PC coach Rick Barnes. Rooke also happened to be the Friars' play-by-play radio voice.
"We made small talk, and John said that he really liked doing stats and that if I ever needed any help during the broadcast to call him," said Rooke. "He really wanted to get involved."
Rooke was aware that Mr. Zannini and his father, John Sr., traveled to every Friar road game. Spelling it out in crystal-clear terms, Rooke told Mr. Zannini that if he happened to see an empty chair alongside him and broadcast partner and former PC basketball standout Joe Hassett '77 to join them and record statistics.
Mr. Zannini's first opportunity came at a 1990 NCAA Tournament contest in Salt Lake City as PC took on Ohio State. He grabbed a headset and, in no time, a Friar radio legend was born — one who quickly came to be known as "The Stat Beast."
John A. Zannini was a credit to his alma mater, where the history major also served as a member of the Friar Front Court Club and the Friends of Friar Hockey booster organizations. His attention to detail enhanced the Friar radio broadcasts and complemented his unbridled passion to see the basketball team succeed.
The 2017-18 season marks the first time since that 1990 NCAA contest that Mr. Zannini isn't involved with the PC basketball radio family. The Cranston, R.I., native passed away in June 2017 at age 55 following a lengthy battle with cancer. He leaves behind his wife Lisa and two children, Matthew and Alexandra.
A cherished on-air tradition
Following Friar home games, Mr. Zannini couldn't wait to get into his car and rush home to see his family. But, before exiting the Dunkin' Donuts Center, he would wait for an on-air acknowledgment from Rooke. For nearly three decades, Rooke would close the postgame show with, "And for the BIG EAST Stat Beast, John Zannini, and my broadcast partner, Joe Hassett, we thank you for listening."
Mr. Zannini would stand up and position himself next to Rooke while his good friend wrapped up the broadcast with what in Friar circles became known as a signature signoff. As soon as Mr. Zannini heard Rooke say his name, he would offer a fist pump to the man who welcomed him into the Friar broadcast world.
"It was a thank you for acknowledging his work, his dedication, and his passion for his school and putting out a good product," said Rooke.
How Mr. Zannini became known as The Stat Beast stemmed from doing what he did best. Listening to Rooke and Hassett describe the action, he would quickly react with a stat or an anecdote. Functioning at fast-break speed, he quickly jotted it down on a piece of paper before handing it off to the on-air talent.
"One night I turned and said, 'John, you are a beast!'" said Hassett.
Rooke added, "Yes, that's why he's the BIG EAST Stat Beast."
"It was easy to take him for granted because he was so good," said Hassett. "I would be saying something during the heat of the action … someone who was shooting the ball at a hot clip or the Friars having more turnovers than assists. Before I would finish the sentence, he would have a stat ready. He would come up with the numbers based on what I was saying and do it all the time."
The penchant Mr. Zannini displayed when it came to conjuring up basketball tidbits that were done with the intent of enhancing the listening experience was never lost on the Friars' broadcast team.
"John was absolutely invaluable to our broadcast. Anybody who's stuck with myself and Joe through the years knew what he brought to the table. Whether it was knowledge, statistics, humor, or overall enjoyment, John had great insight," said Rooke. "He listened to our conversations and anticipated what we were going to talk about, but he also he listened to the game as a fan himself. He was a diehard PC fan who was a Friar through and through. He fed myself and Joe information that fans could relate to."
A Friar all the way
As an indispensable contributor to the PC radio broadcast, Mr. Zannini was paid for his services, but the money hardly mattered. A paralegal and statistician for the law firm of Roberts, Carroll, Feldstein & Pierce, of Providence, he would fly to away games at his own expense and return with the team. He became roommates with Rooke on the road and had a press pass and an open chair waiting for him at every contest.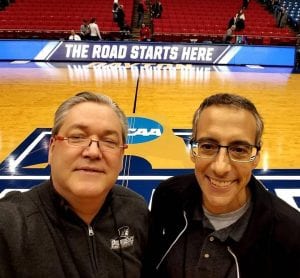 "He's everything that Providence College has ever stood for in terms of class, loyalty, and dedication," said Rooke. "The guy loved the school, he really did."
Men's basketball staff members and associates said Mr. Zannini took a lot of pride in the fact one of the team's annual post-season awards was named after his father. The John Zannini Coaches Award, established in the early 2000s, is presented to a player who is a model student-athlete who may not get a lot of attention but who is an integral part of the team.
In recent years, Mr. Zannini continued to soldier along despite battling his illness, determined to follow his Friars and assist his broadcast partners. His final game associated with the Friar basketball program came in March 2017 when PC traveled to Dayton, Ohio, for a First Four NCAA Tournament contest against Southern California.
"I can't say enough good things about John's loyalty. He was just a high-class individual who's going to be sorely missed," said PC coach Ed Cooley. "I don't think there will be another John Zannini who gives back to the program in the fashion he did. He epitomized what it meant to be a Friar fan even during his dying days."
"John was one of the most kind and big-hearted individuals I have ever known," said Robert G. Driscoll, Jr., PC associate vice president for athletics and athletic director. "He loved the Friars unconditionally. Game Day in Friartown won't be the same without him."
The chair that Rooke once offered Mr. Zannini will remain vacant for the time being.
"That empty chair, it's going to be the weirdest feeling in the world," said Hassett. "There's nothing we could do that would be good enough to properly honor him."
Added Rooke, "It's his job, and it needs to stay his job for a little while longer. We've got a lot to live up to, but his spirit will be with us every time we put the headsets on."
A Mass of Christian Burial for Mr. Zannini was celebrated on June 29 at St. Mary's Church in Cranston.