February 06, 2020
In Memoriam: John G. O'Hurley, Sr., M.D. '48; father of former PC trustee
John G. O'Hurley, Sr., M.D. '48, a retired surgeon and the father of former Providence College trustee John G. O'Hurley, Jr. '76 & '06Hon., died on Feb. 1, 2020, in Milton, Mass., where he had recently lived. He was the husband of the late Jean A. (Quirk) O'Hurley, to whom he was married 64 years.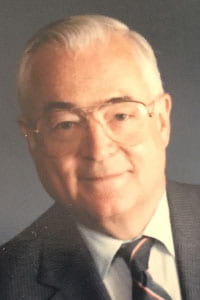 A resident of Connecticut for most of his life, Dr. O'Hurley received a bachelor's degree in biology from PC. He earned his medical degree from Jefferson Medical College of Philadelphia before serving for three years in the U.S. Navy. He served in the Korean War and advanced to the rank of lieutenant.
Dr. O'Hurley went on to a medical career as an ear, nose, and throat specialist that spanned nearly four decades, primarily in Hartford, Conn. He practiced family medicine in East Hartford for three years before receiving specialty training in otolaryngology and head and neck surgery at Boston VA Hospital and serving a residency at Beth Israel Deaconess Medical Center in Boston.
After serving on the staff of St. Francis Hospital in Hartford, Dr.O'Hurley moved to Fort Lauderdale, Fla., where he was an ENT surgeon at Holy Cross Hospital. In 1973, he returned to St. Francis Hospital in Hartford and later continued in private practice until his retirement in 1993.
During his career, Dr. O'Hurley held positions and memberships in several medical associations and societies, including the Hartford County Medical Association, the American Medical Association, and the New England Otolaryngology Association.
In addition to his son John, an acclaimed actor, TV show host, and entrepreneur, and his wife, Lisa, Dr. O'Hurley is survived by his son Neal T. O'Hurley '79 and his wife, Christine Lynch O'Hurley '79, son Bruce and his wife, Jeanne, and daughter Suzanne Arend; 14 grandchildren, including Patricia J. O'Hurley '15; and four great-grandchildren. He was the father of the late Carol Jean O'Hurley.
A Mass of Christian Burial for Dr. O'Hurley was celebrated on Feb. 6 at St. Pius X Catholic Church in Milton. Burial with military honors was in Fairview Cemetery, West Hartford.
Contributions in Dr. O'Hurley's name may be made to one of the following:
• Providence College, Office of Institutional Advancement, 1 Cunningham Square, Providence, RI 02918
• Saint Francis Foundation, 95 Woodland St., Harftord, CT 06105
• Epilepsy Foundation, 8301 Professional Place West, Suite 201, c/o SUDEP Institute, Landover, MD 20785