October 01, 2020
In Memoriam: PC was like family to Andrew C. Corsini, C.P.A. '57
From the time he was awarded his diploma, Andrew C. Corsini, C.P.A. '57 never stopped expressing his gratitude for his Providence College education and the impact one of his business professors made on his life.
Mr. Corsini, a former National Alumni Association president whose service and generosity to PC went hand-in-hand for more than 60 years, died on Aug. 27, 2020. Just one week before he passed away in Lakeville, Mass., where he resided, he added to a previous gift commitment he had made to the Gus Coté Scholarship Fund. Mr. Corsini established the fund in memory of his accounting professor, Gustave C. Coté '62Hon.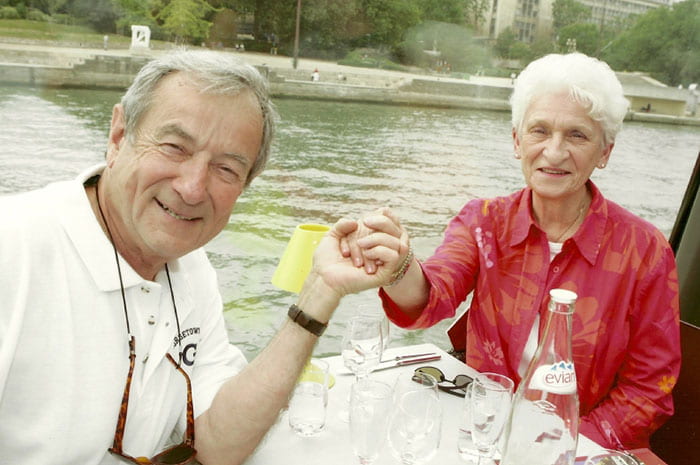 The scholarship fund and his leadership of the NAA were two hallmarks of his lengthy association with his alma mater. Mr. Corsini, who was NAA president in 1990-91, held leadership roles or served in other capacities with his class reunion committees, the annual fund, and the Providence President's Council. He was a class phonathon regular and volunteered in other areas when needed. He was presented the Service to the Alumni Association Award in 1987.
Mr. Corsini and his late wife, Yvonne, to whom he was married 56 years, were fixtures at alumni and College events, with Mr. Corsini's snappy dress and warmth gaining favor among alumni and staff alike. Many who knew him remarked that the PC community was like family to him.
A native of Middleboro, Mass., he attended public schools through eighth grade and later graduated from Monsignor James Coyle High School. His experience at PC the next four years profoundly influenced the remainder of his life, professionally and personally.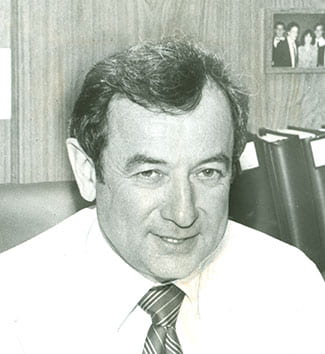 Mr. Corsini worked his way through college, paying for his education by holding several jobs. He delivered both milk and gravestones, pumped gas, and worked in cranberry bogs, sometimes holding down more than one job at the same time. An accounting major, he was one of fewer than a dozen such majors in his junior and senior years.
One of his accounting professors was Mr. Coté, who was named professor emeritus of business administration after he retired in 1989. Mr. Coté took a liking to the industrious student, whom he knew had lost his father in high school, according to Mr. Corsini's daughter, Lynn A. Corsini '81.
"Gus would gently shake him awake when he fell asleep in class and helped him with any questions or troubles he had with the class material," said Lynn.
Mr. Coté also played a key role in Mr. Corsini's decision his senior year to enlist in the U.S. Navy Officer Candidate School in Newport, R.I., after graduation. Another of Mr. Corsini's children, Bryan M. Corsini '83, recalled that an uncle of Mrs. Corsini, Albert Parent, a career Navy officer, had initial talks with Mr. Corsini about officer candidate school, and "Gus sort of got him over the top."
Mr. Corsini graduated as a lieutenant, junior grade. He served for four years in the Navy, including in Japan. In 1961, he moved back to Middleboro and attained his C.P.A. certificate, then launched a career in financial services that extended 36 years.
"My dad told me he wasn't sure what direction his life would have gone in without Gus' guidance," said Lynn Corsini.
Mr. Corsini and Mr. Coté remained in contact for the rest of Mr. Coté's life, said Bryan Corsini, who took an intermediate accounting course with Mr. Coté in his sophomore year at PC.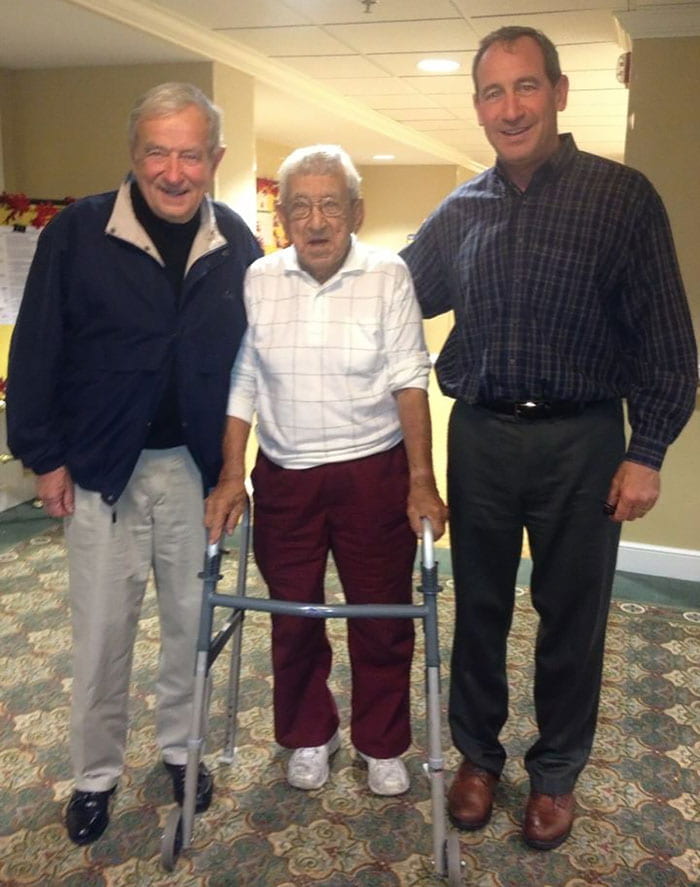 In 2018, less than three years after Mr. Coté died, Mr. Corsini established the Gus Coté Scholarship Fund. The fund provides support for a student with financial need, with first preference for a student majoring in accountancy and living with only one legal guardian. If no such student is eligible, the scholarship may be awarded to a student majoring in accounting.
Mr. Corsini, who still held an active C.P.A. license at the time of his death, began his financial services career in 1961 at Lyman, Ross Brothers and Montgomery in Boston. One of the top eight C.P.A. firms in the country at the time, it is also where Mr. Coté worked for four years during a leave from the College.  
Mr. Corsini was named treasurer and CFO of Swank, Inc., in Attleboro, Mass., in 1967 and remained with Swank for 30 years before retiring.
Known for his strong Catholic faith, he loved to entertain family and friends, and he enjoyed numerous hobbies, including traveling, boating, fishing, and following New England professional sports teams.
In addition to Lynn and Bryan and their spouses, Bill Volpe and Heather, Mr. Corsini is survived by two other children, Stephen Corsini and his wife, Liz, and David Corsini; his late son's wife, Missy (Corsini) Watson, and her husband, Rusty; 12 grandchildren; and eight great-grandchildren. In addition to his wife, Yvonne (Grenier) Corsini, he was predeceased by his son, Andrew C. Corsini, Jr.
His life was celebrated on Sept. 3 at a Mass of Christian Burial at Saints Martha & Mary Church in Lakeville.
Donations in Mr. Corsini's name may be made to the Gus Coté Scholarship Fund, in care of Providence College, Office of Institutional Advancement, 1 Cunningham Square, Providence, RI, 02918.