February 20, 2020
Introducing For Good — a hand cream developed and manufactured by MBA students
By Vicki-Ann Downing
A priest and a rocket scientist walked into an MBA class — but the result was no joke.
The priest was Rev. Nicanor Austriaco, O.P. '20G, professor of biology and of theology. The rocket scientist was Dr. Robert J. Camp '18G, once an aerospace engineer in the defense industry. As an assignment for an MBA course in which they were students, Father Nic and Camp developed a rejuvenating hand cream — and, with the encouragement of their instructor, Dr. Helen M. Caldwell, assistant professor of marketing, refined it and brought it to market.
For Good is an all-natural, vegan, cruelty-free hand cream. It is made from the root of the costus plant. The costus plant has anti-aging properties. It is the first product manufactured by Semper Veritas LLC, a business incorporated in Rhode Island in October 2019 with Father Nic, Camp, and Caldwell as partners. It is available for purchase online through the Providence College Bookstore, with 10% of the profits benefitting Father Nic's biology laboratory, where students study genes involved in skin cancer.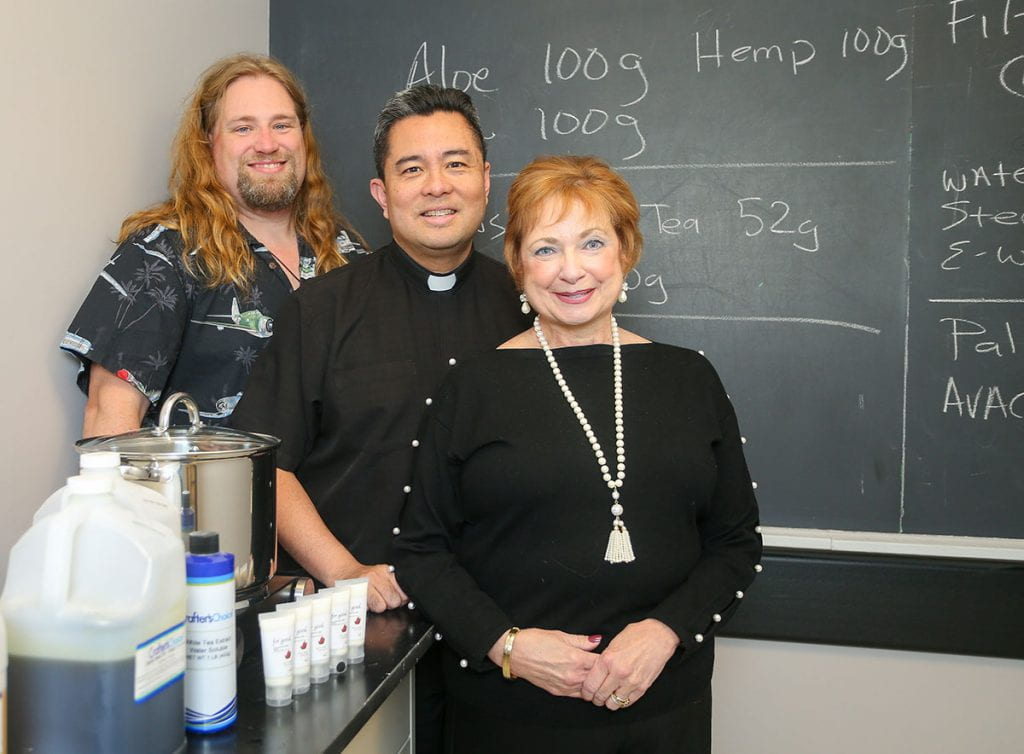 The College provides incubation space for the new enterprise in Albertus Magnus Hall. Students are employed as independent contractors to help with packaging and delivery. Through a fund to promote student entrepreneurship and research, established with donations from the Board of Trustees, Semper Veritas was awarded a grant of $10,000 in January. The money will be used to provide educational opportunities for students, including internships in product development and marketing.
Father Nic got the idea for the business while taking courses toward an MBA, which he is scheduled to receive in May. He already holds doctorates in biology and in theology.
"As a biology professor, I run a lab in the School of Arts & Sciences for undergraduates, and it is life-changing and career-inspiring for them," Father Nic said. "I thought, 'How could I do that for the School of Business? What would be the equivalent of a lab for them?' It's a business. I hope this will set up engaged learning and signature work experiences for business and science students, too."
Caldwell, who taught Father Nic and Camp in a course called Marketing Management in Competitive Environments, said students had never created an actual product to fulfill a class assignment — usually they presented their work in digital form. But Father Nic had access to a lab, and he had just finished reading an article in a scientific journal about the anti-aging properties of costus, native to Asia. He suggested creating a face cream as a group project, incorporating costus extract into the recipe. Camp, an associate professor of engineering at Massachusetts Maritime Academy, agreed.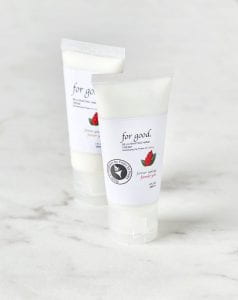 Producing the first version of the cream for the class assignment in the summer of 2018 was relatively simple. Father Nic obtained a recipe from the Dominican Nuns of Summit, N.J., who manufacture several products for sale on their website, including face, hand, and foot creams. Father Nic and Camp added costus root powder to the cream base. It looked OK in its glass jar, but it had the consistency of oatmeal, and not many people wanted to sample it.
When the course ended, Caldwell, who has a Ph.D. in the marketing of cosmetics, encouraged Father Nic and Camp to work on the cream with the goal of eventually bringing it to market. The two enrolled in an independent study with her in the fall semester of 2018.
"They were adult students with really strong backgrounds, and they actually had a product," Caldwell said. "It needed work, but they knew that."
Caldwell also brought the project to the attention of MBA students in her Promotion Strategy course that fall. The students acted as marketing consultants. At the end of the course, they presented their recommendations to Father Nic and Camp as their clients. The students helped name the business, and they suggested the product be a hand cream rather than a face cream, because consumers are more willing to try a substance on their hands than on their faces.
"The students loved it because it was a real project," Camp said.
Camp estimates that he spent about 75 hours over 18 months developing the hand cream. Sometimes he worked at home in his kitchen, other times with stainless steel pots on a hotplate in a corner of Father Nic's lab. He gave test samples to everyone he encountered. He knew he had the right formula when his wife, Dr. Julia M. Camp, associate professor of accountancy, told him it was a product she would use.
"Cosmetics are surprisingly easy to make, but the challenge was finding the right consistency," Camp said.
The partners made every effort to develop an organic hand cream but were unable to find an organic preservative. They chose Germaben, a natural ingredient that inhibits mold and yeast. The other ingredients — water, palm butter blend, avocado butter blend, stearic acid, emulsifying wax, aloe vera oil, hemp seed oil, rice bran oil, tapioca starch, and white tea extract — are organic, vegan, and readily recognizable by the consumer, Camp said.
"Every single ingredient is there for a reason," Camp said.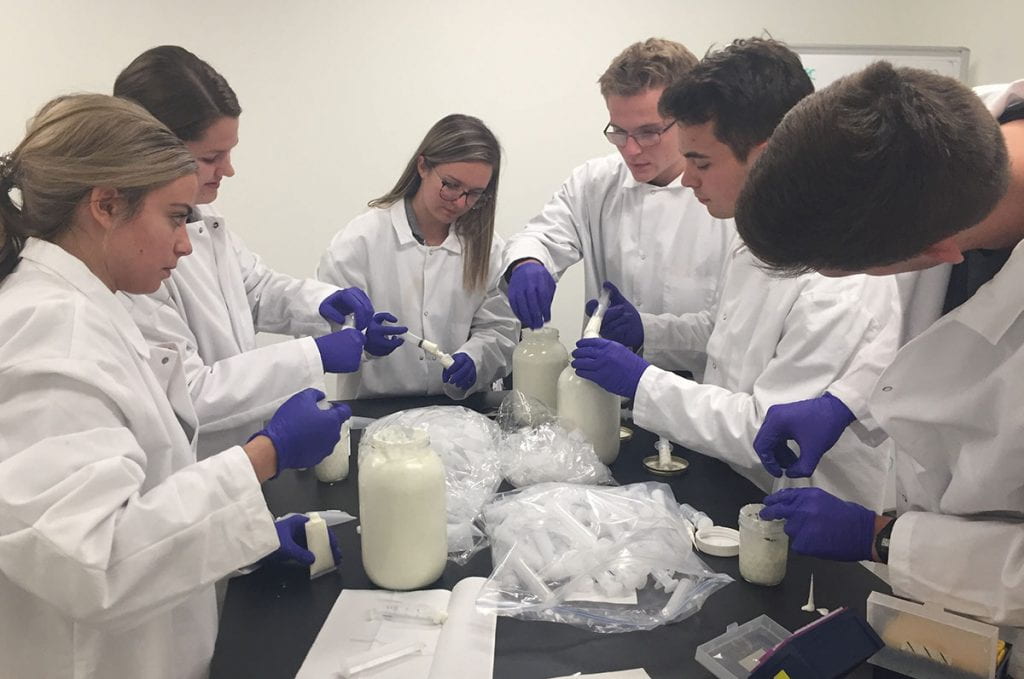 Father Nic researched cosmetics by visiting Target and Whole Foods and looking at the Instagram accounts of skin care "influencers." He ordered plastic tubes to hold the cream and bought a pump and customized filler to fill the tubes. The partners figured out how the tubes could be mailed and what the hand cream price should be. Father Nic designed the product logo on his computer and had stickers printed at Staples.
"It's amazing," Father Nic said. "Everything starts somewhere. You realize that every business started this way."
The business incorporated in time for Homecoming Weekend in October. Father Nic made $1,000 in sales in a single day in Slavin Center, selling the cream for $9 a tube, tax included.
Camp completed his MBA in 2018 and now teaches in PC's program. As the research and development director of the company, he has more ideas for cosmetics, all using the costus root as a base. Caldwell, the company's marketing director, hopes to improve the logo and eventually introduce the hand cream to small shops in Providence.

"I'm hoping that seeing this happen will encourage others going forward," Caldwell said. "We are hoping it can be a collaboration between business and the liberal arts."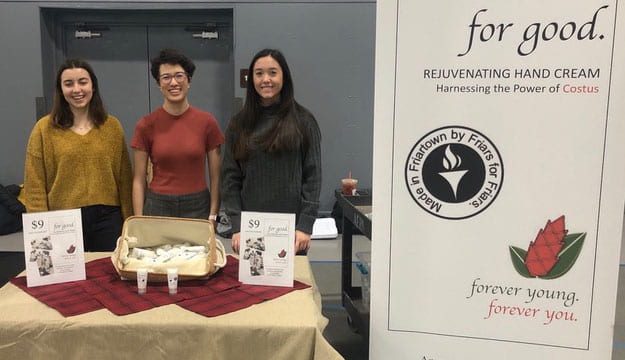 Camp and Caldwell are co-owners of the company because Father Nic took a vow of poverty when he became a Dominican priest. Father Nic began his MBA studies to assist him in his work as a consultant to the Vatican on adult stem cell research.
He is involved in the organization of the fourth international stem cell conference at the Vatican at the end of May.
"When I was asked by the Vatican to engage with stem cell companies, I discovered that the CEOs of these companies were speaking a language that I couldn't speak, the language of business," Father Nic said. "I took it to prayer, and I realized that I should go ahead and learn their language so that I could speak to them on their terms."

In his biology lab, Father Nic and his students study programmed death in cells to learn more about cancer cells. Some profits from the sale of the hand cream will go to the lab to assist in its cancer research.
Purchase for good