May 08, 2020
Jack Murphy '20 awarded Fulbright to teach English in Paraguay
By Vicki-Ann Downing
Throughout his four years at Providence College, Jack Murphy '20 was able to explore his passion for social justice in Guatemala, Mexico, and Nicaragua. Now the social work and Spanish double major has been awarded a Fulbright English Teaching Assistantship to Paraguay — one of only two such awards granted each year to students from the United States.

Murphy, from Brunswick, Maine, is scheduled to begin teaching English in Paraguay in February 2021, when the new school year begins there. Through the Fulbright Program, the flagship international program of the U.S. government, he also will serve as a cultural ambassador for the United States. He hopes to further his interest in community building, his skills in decision-making in the moment, and his love of Latin America.

"I have always heard really great things about the Fulbright Program," Murphy said. "This experience will directly inform my social work career. Social work always deals with people who come from a diverse array of backgrounds, so the cross-cultural experience of being an ETA in Paraguay will provide me with invaluable experiences for my profession."

With Dylan Black '20 and Nicole Gottlieb '20, Murphy is one of three PC students offered a Fulbright this year. Black will teach English in the Czech Republic. Gottlieb declined a Fulbright to teach in Indonesia and will become a special education teacher at an international school in Uganda.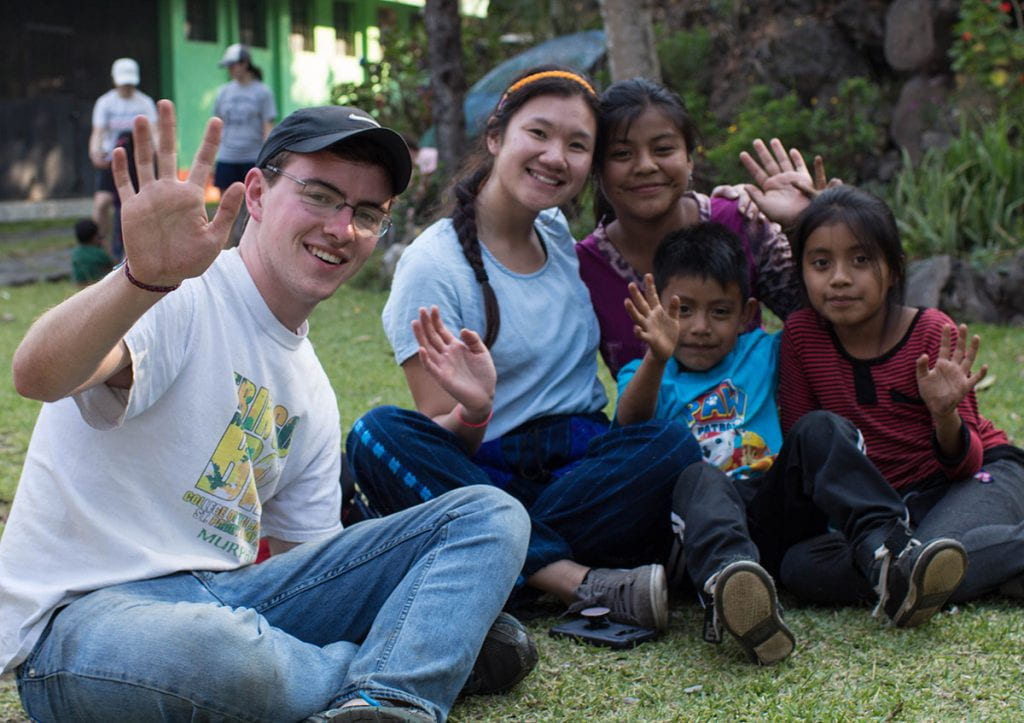 Kendra Marasco, director of field education in social work, said it has been an honor to know Murphy. She nominated him for PC's Rev. Martin Luther King, Jr. Vision Award, which honors individuals or groups whose scholarship, community engagement, leadership, or service to others has advanced the principles by which Dr. King lived. Murphy received the honor in January during PC's MLK Convocation, which included a keynote address by Ndaba Mandela, the grandson of Nelson Mandela.

"Jack possesses an innate intelligence and capacity for compassion that is rare," Marasco said. "His desire to serve others, which he does quietly for countless hours in a variety of settings every week, coupled with his strong academic abilities, make him a student any PC professor would be proud to have in class. Jack represents the best of what this world has to offer."

Murphy was formed by his family's commitment to the Catholic faith. His father is a deacon at their church, All Saints Parish in Brunswick. His mother was a Catholic school teacher who taught his seventh-grade religion class and directed his high school youth ministry program, which included mission trips around the country. She always has been interested in liberation theology and is committed to "finding God in the sick, the hungry, the poor, and the outcast," Murphy said.

After graduating from Brunswick High School, Murphy was considering the priesthood. A priest recommended PC's philosophy program. But Murphy wanted a gap year before beginning his studies. His sister had volunteered with the Medical Mission Sisters in Peru and Venezuela. Murphy decided to spend nine months with Franciscan priests in Asunción, Paraguay.

The experience was a challenge. Murphy did not speak Spanish or Guaraní, the pre-colonial language of Paraguayans. The Franciscans had never hosted a volunteer and did not have a plan for him. So he made his own way, first helping children with basic mathematics in an after-school program, then at an elementary school. He accompanied a deacon on weekly prison visits. Through a connection with a Jesuit priest, he taught English to children and volunteered at a nursing home, leading sing-alongs with his guitar.

"The Franciscans were always generous, open, and welcoming to me," Murphy said. "I would eat all my meals with them and attend Mass with them."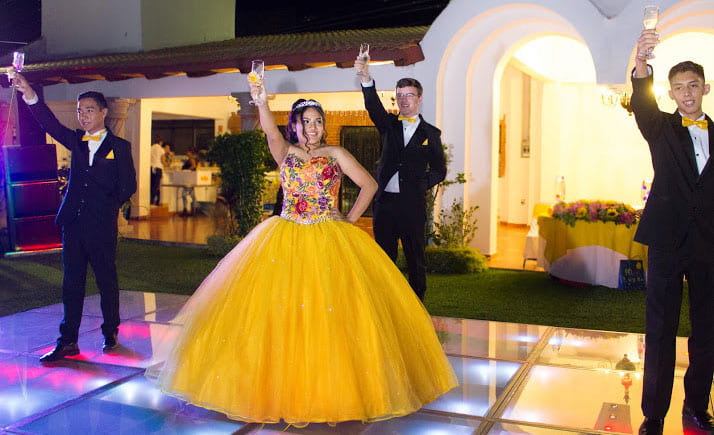 Murphy was invited to join the Liberal Arts Honors Program at PC. As a first-year student, he participated in a community service program piloted by the Office of Residence Life. He escorted children walking to their Providence elementary school and served as a bilingual tutor to support the school's social worker. On weekends, he transported groups of student volunteers to Emmanuel House, a men's shelter in Providence, to serve meals.

If you had asked Murphy in high school what his college major might be, he would have said chemistry because his favorite courses were in math and science. At PC, he began studying philosophy but was drawn to the hands-on nature of social work. He added Spanish as a major after a conversation about Paraguay with associate professor Dr. Alison Caplan, then the foreign language studies department chair.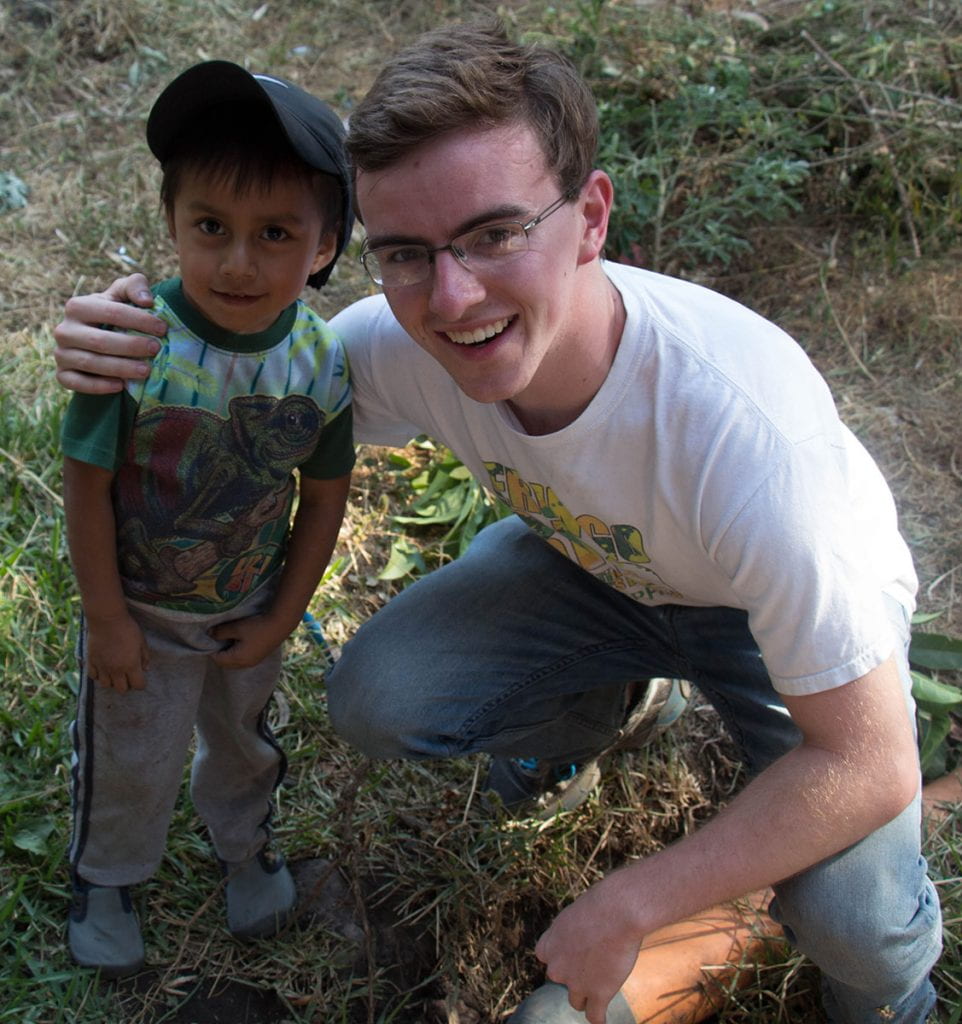 Murphy had the opportunity to return to Latin America his sophomore year. He was enrolled in a theology course, Global Service in Solidarity, taught by associate professor Dr. Dana L. Dillon, which included a spring break trip to Guatemala. Students learned about Christian social principles, the colonial history of the country, and the work of San Lucas Tolimán Mission.

When he wanted to apply for a Father Philip A. Smith, O.P. Student Fellowship for Study and Service Abroad, he sought advice from Rev. David T. Orique, O.P., assistant professor of history and director of Latin and Latino/a American Studies. The fellowship offers students the opportunity to spend a summer studying and serving with Dominicans around the world.

Father Orique suggested that Murphy work with the Dominican Friars in Rivas, Nicaragua, where he would help teach English at Colegio Santo Domingo de Guzman, a K-12 school. Murphy was awarded the fellowship in the summer of 2018. Unfortunately, days before he was to arrive there, anti-government protests made it impossible for his hosts to meet him at the airport in Managua, 60 miles away.

They suggested he postpone the trip for two weeks, but Murphy had other ideas.

"I flew into Costa Rica and took three different buses to the Nicaraguan border," Murphy said. "I crossed the border on foot, then took another bus to Rivas. When I was awarded the fellowship, the committee had me submit an emergency exit plan in case I had to leave the country. I just reversed the plan."

When Nicaragua shut down for two weeks because of more protests, Murphy left Rivas to live with a host family 20 miles away. He visited a plantain farm with them, hiked in the mountains, and visited the Pacific Ocean, a half-hour ride away.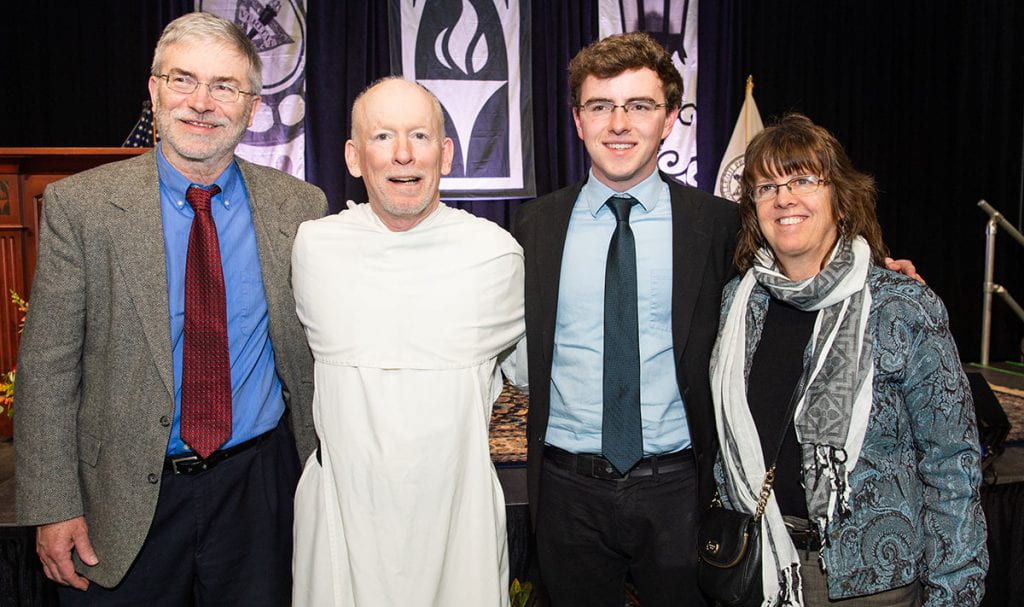 During his junior year, Murphy was the first PC student to participate in social work's new study abroad program in Cuernavaca, Mexico. He spent the spring semester learning about social work in the Latin American context.

For the summer of 2019, he was awarded a $4,000 grant from PC's Veritas Distinguished Internship Program to intern full time at Progreso Latino, a nonprofit in Central Falls, R.I., that supports the state's Latino and immigrant communities. He helped stock the food pantry, assisted people completing government forms for social services, facilitated a domestic violence victim support group, and helped with a middle school youth program.

"Once a week I would go to court with domestic violence clients and their caseworker and observe," Murphy said. "The clients were seeking to have restraining orders continued. It was interesting to see how daunting the process could be for those who did not speak English. The court seemed intimidating to me. I can't imagine how it seems to an immigrant woman of color who doesn't speak English."

When Progeso Latino reopens after the pandemic, Murphy will move to Central Falls and work for the organization until he leaves for Paraguay.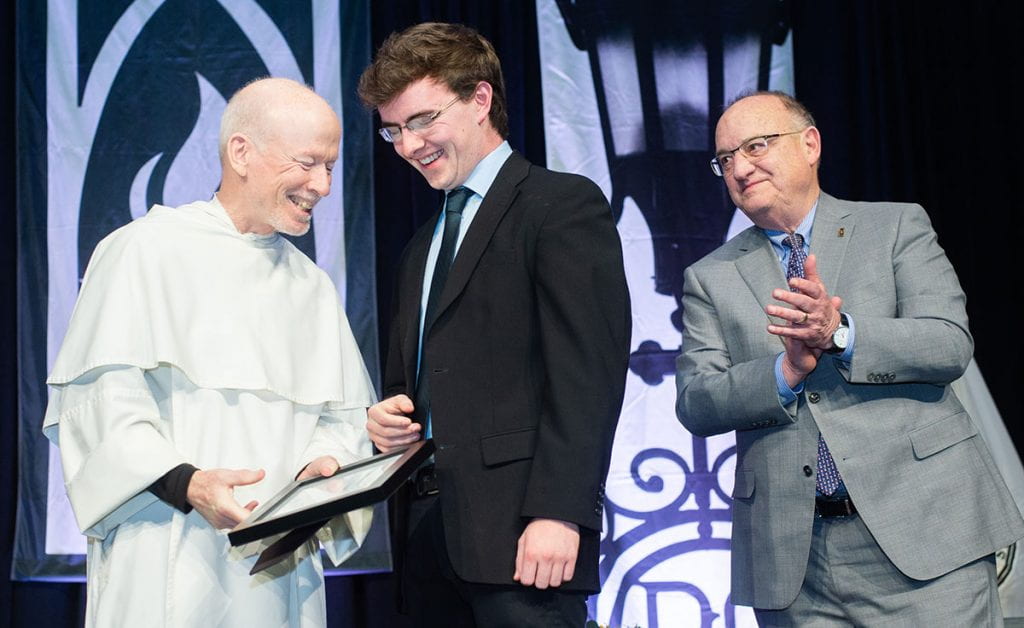 "I'm grateful for all the travel opportunities and professional studies opportunities I've had through PC," Murphy said. "I would never have imagined being able to travel to three different Latin American countries or have professional experience through the internship."

His other activities at PC — as a peer minister for students studying abroad, as a Spanish tutor, and a resident assistant in DiTraglia Hall — all helped him with relationship building. The MLK Vision Award, which recognized all his achievements, was an honor, he said.

"Especially being white and winning an award that represents Martin Luther King, Jr., was an extremely humbling experience for me," Murphy said. "It made me reflect a lot on people who are different from me. Cornel West says there is so much you can learn from the way that black and brown people continue to love in spite of being systematically hated. That MLK's message was about peace and love bears so much witness to the best of humanity."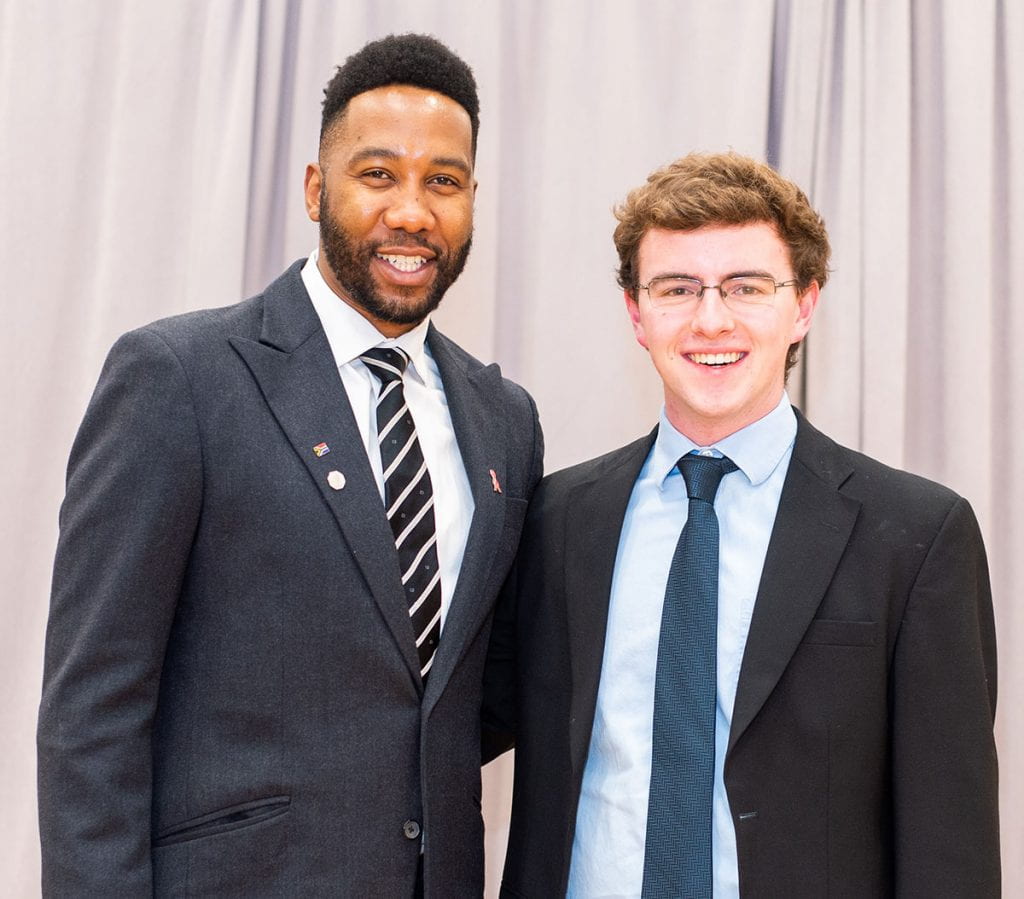 Murphy is looking forward to his return to Paraguay.

"When I think of the times I have been most happy in my life, I think about the second half of those nine months in Paraguay," he said. "I was in a working-class area of the city of Asunción and I saw the interdependency of the people. Everyone has someone they can rely on in the community.

"In America we tend to think of ourselves as autonomous and self-sufficient. It's a lie. To quote Cornel West again, 'We are who we are because somebody loved us.' The reason we're able to be here and be present and be saved is because of all the people who loved us and supported us. In Paraguay there's not even an effort to say 'We're self-sufficient.' It's liberating in a way. They are not even trying to mask how needy everyone is and how much they rely on each other."
Dr. Darra Mulderry, director of national and international fellowships through PC's Center for Engaged Learning, met Murphy in August 2019 when he contacted her about applying for the Fulbright .
"About half way into our face-to-face meeting, after Jack finished telling me about his interest in social work and his work at Progreso, and finished telling me about his experiences in Paraguay and Nicaragua, I thought, 'Oh, what a great fit Jack Murphy would be as a Fulbright ambassador and educator in Paraguay.' I am thrilled that Fulbright drew the same conclusion," Mulderry said.

Please consider a gift to The Fund for Providence College to make it possible for all students to continue to experience the value of a PC education.
support emergency student need