May 21, 2020
Jacquie Kelley '20 headed to England to study for a graduate degree in disability studies
By Vicki-Ann Downing
Jacquie Kelley '20 will spend the next academic year at the University of Leeds in England, pursuing a master's degree in disability studies with her service dog, Moose, at her side.

Kelley was named an alternate for an award from the Fulbright Program to cover the cost of her graduate school education. The UK Partnership Award is one of Fulbright's most competitive, given to only one U.S. student each year for graduate study at Leeds, said Dr. Darra D. Mulderry, director of national and international fellowships through PC's Center for Engaged Learning.

Kelley, from Grand Isle, Vt., near Burlington, majored in political science and minored in music at PC. She participated in Student Congress and sang in I Cantori, the College's premier ensemble. As one who confronted accessibility issues on a daily basis on campus, she also educated others about the need for change. She was a student worker in the Office of Student Development and Compliance; a member of the College's ADA Committee; and served as the student consultant to the ADA coordinator, Dr. James F. Campbell.

"Jacquie has been a wonderful contributor to the life of the College," said Campbell, assistant vice president for student development and compliance. "As a student staff member in my office and as a member of the ADA Committee, Jacquie was a leader and an advocate for access for everyone. She led an audit of campus facilities to identify ways we could do a better job in accommodating persons with disabilities. Her passion for the cause is grounded in hard work and hard facts. She will be incredibly successful in grad school in the UK."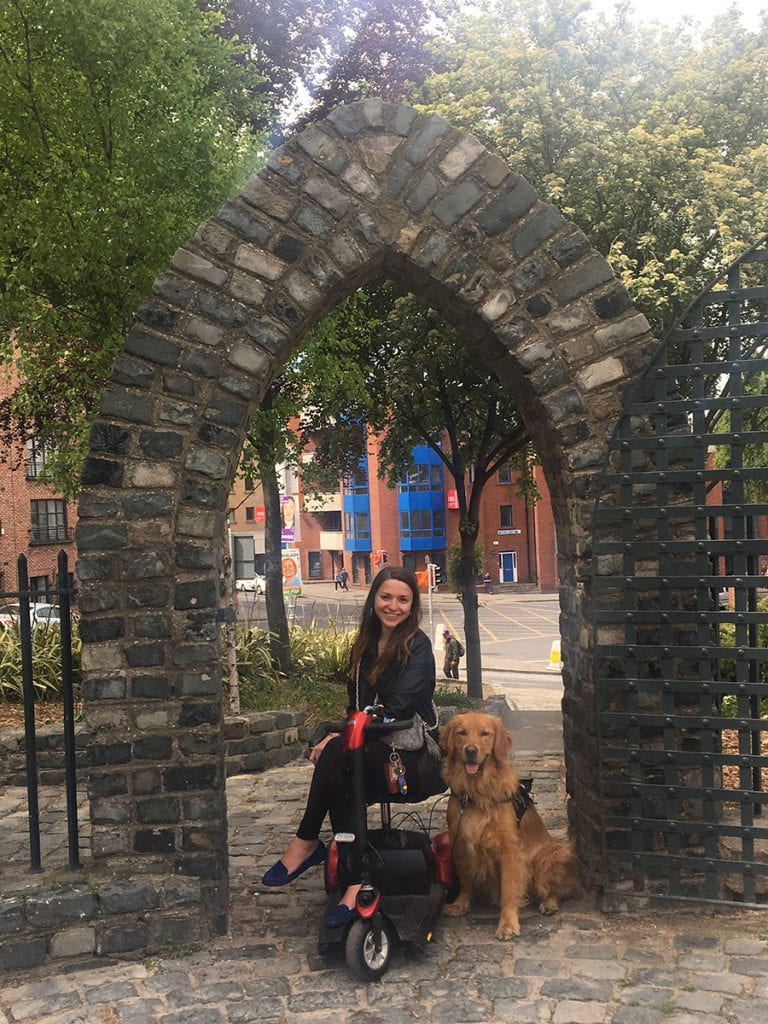 Dr. Anthony Affigne, professor of political science, said Kelley excelled in two of the department's most demanding courses, Race and Politics in the Americas and Seminar on the Politics of Climate Change, demonstrating "extraordinary curiosity and determination."

"Jacquie is a thoughtful, talented student who brought to my classrooms a sincerity of purpose which is rare among undergraduates," Affigne said. "Beyond the classroom, she worked to improve conditions facing herself and other differently-abled students, established a group to inspire self-confidence while challenging discrimination, and was a leader in campus-wide organizations including Student Congress and Pi Sigma Alpha, the political science honor society."

Kelley, who has muscular dystrophy, walked without assistance until eighth grade and began using a scooter for mobility as a high school junior. She was in her second year at PC when she adopted Moose, a golden retriever, from an organization in Ohio. She trained with him in Vermont and Rhode Island. He helps her to stand from seated positions, especially in chairs without arm rests.

"He also is there as support," Kelley said. "I felt uncomfortable going anywhere by myself when I didn't have him. As a person in a wheelchair, I feel vulnerable. I can't defend myself or run away, and my scooter only goes five miles an hour. I also knew that I wanted to study abroad, and I didn't want to go abroad alone."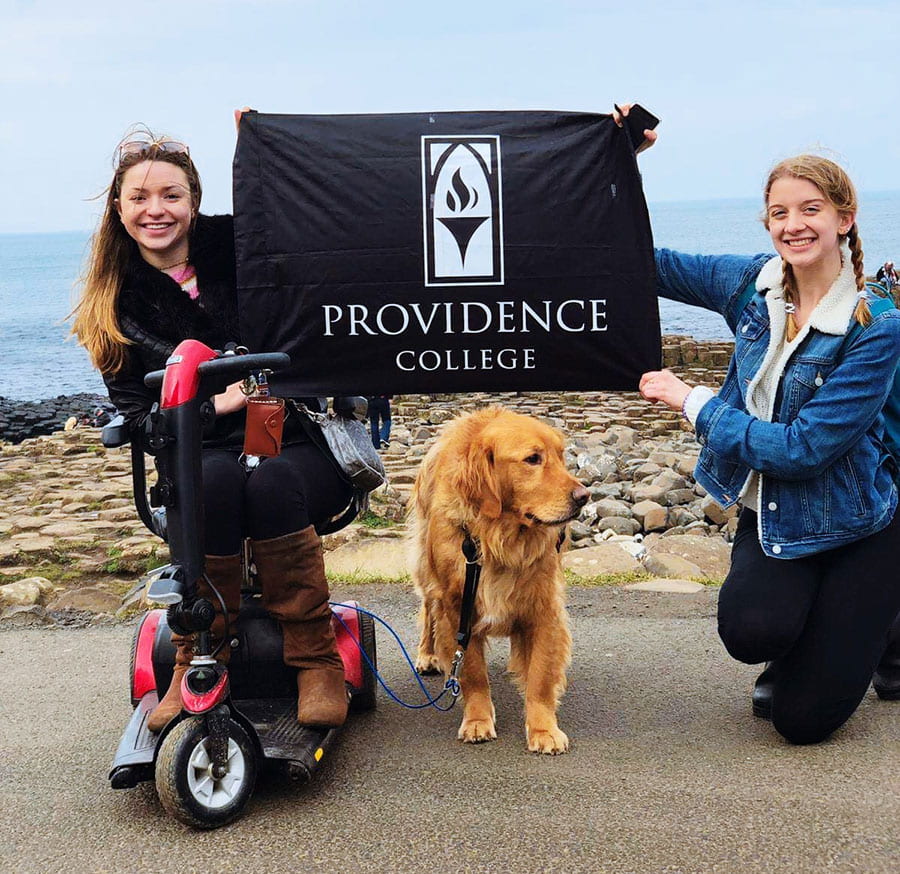 Moose and Kelley spent the spring semester of her junior year at University College Dublin. She lived in an on-campus apartment and took political science courses with international students, including students from Ireland. With Moose at her side, she also traveled to Barcelona, Nice, Copenhagen, and Northern Ireland. But a weekend trip to Lisbon at the end of the semester was a disaster when she was not allowed to board a return flight to Dublin.

USA Today reported on her dilemma in May 2019. Moose was barred from flights on three airlines because he did not have certification from Assistance Dogs International. ADI certification is a requirement in Europe but not in the United States. Kelley flew to Lisbon with Moose on TAP Air Portugal without difficulty. The problem occurred when she needed to change the date of her return flight and was not allowed to buy a new ticket.

Kelley was helped by PC's study abroad program provider in Ireland, the Institute for Study Aboard, which provided contacts and even paid for her cell phone minutes.

"I was stuck in Lisbon for four extra days trying to argue with TAP Air, Ryanair, and Aer Lingus, and eventually TAP Air let me get on my flight," Kelley said. "It was costly and I missed some school. It was finals. The professors were all really nice and let me have extensions."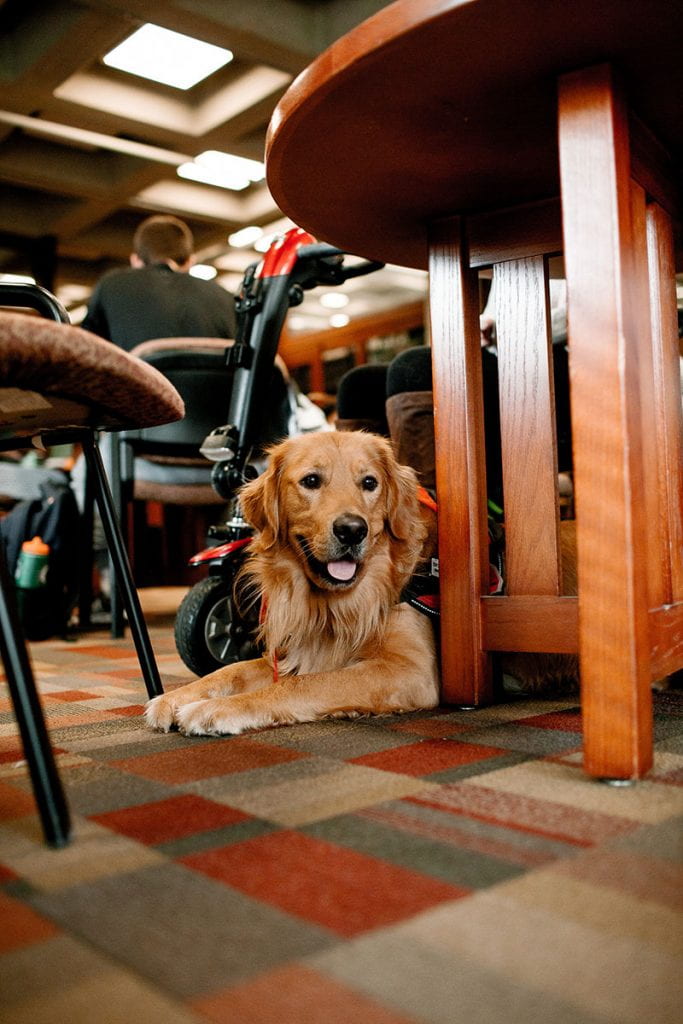 Kelley wishes Moose had ADI certification. She wasn't aware of the need for it when she acquired him, and when she checked into obtaining it, discovered she would have to spend six months living and training with him in New Mexico.

"I think every service dog trainer, whatever the organization, should be ADI certified," Kelley said. "It's difficult to leave the United States without it."

She is hoping her travel to Leeds will be easier. She has been assured by professors that the campus is accessible and hopes the city will be as well. Dublin was easy to navigate and Barcelona was best of all, she said.

"It's definitely challenging. You can look online and you can ask about it, but it's hard to know what it's really like until you get there," Kelley said. "Just because Barcelona is accessible doesn't mean other places are. I wanted to visit Seville because so many PC students were there, but I was glad that I didn't. My friends told me it wasn't accessible at all."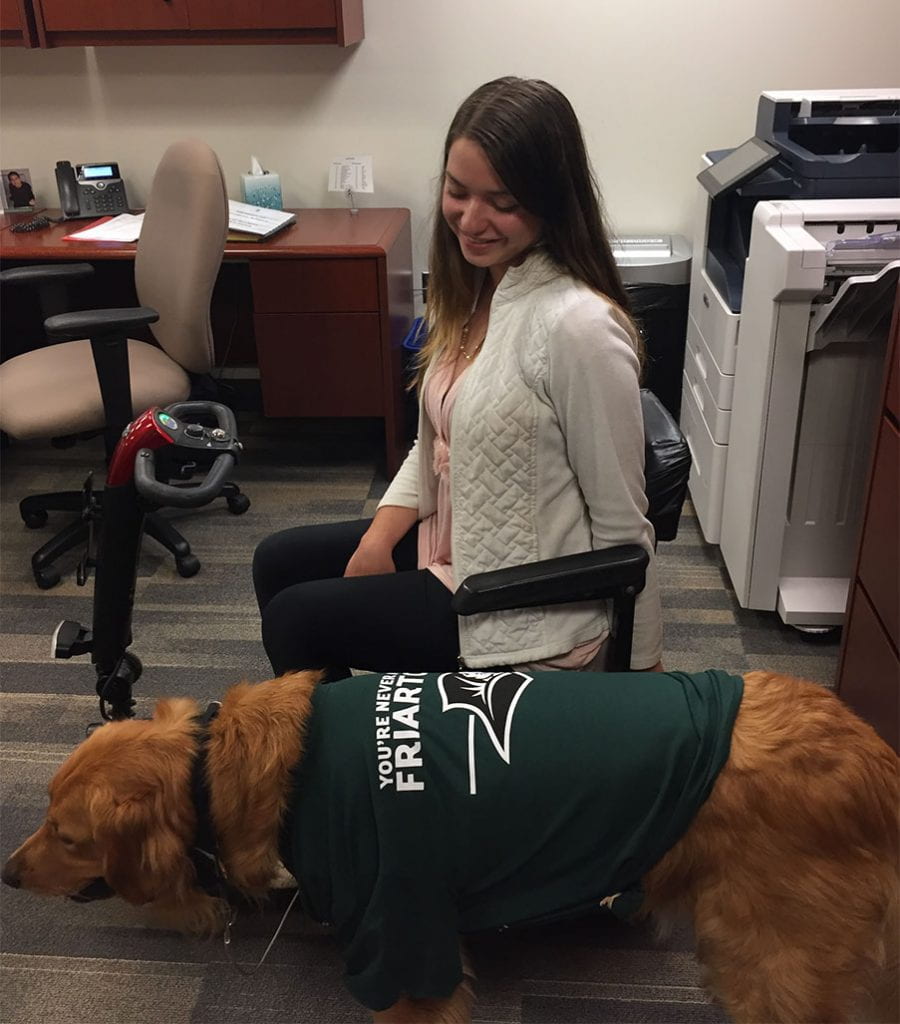 An elected member of Student Congress during her first year at PC, Kelley's first achievement was to have the College buy a wheelchair-accessible van. She was following through on legislation written by Francisco Oller '16, who graduated before it could be enacted. The van now is referred to as the "medical shuttle" because it's so frequently used by students with leg injuries, she said.

Kelley also weighed in on the proposal for the new plaza and stairs that replaced Guzman Hill when Huxley Avenue was eliminated as a city street bisecting campus. Kelley encouraged a modification of the design to make it more accessible to people using wheelchairs. The resulting circuitous pathway, which opened in 2017, has won praise from visitors to campus.

Working with Campbell, Kelley conducted an audit of campus, listing areas that could be improved to better meet the needs of people with vision, hearing, or mobility issues.

"It was unofficial; I'm not a professional," Kelley said. "It was pages long. I went through every building and arranged everything from most important to least important. Dr. Campbell sent it to the ADA Committee, which I am also on. We met monthly to discuss it."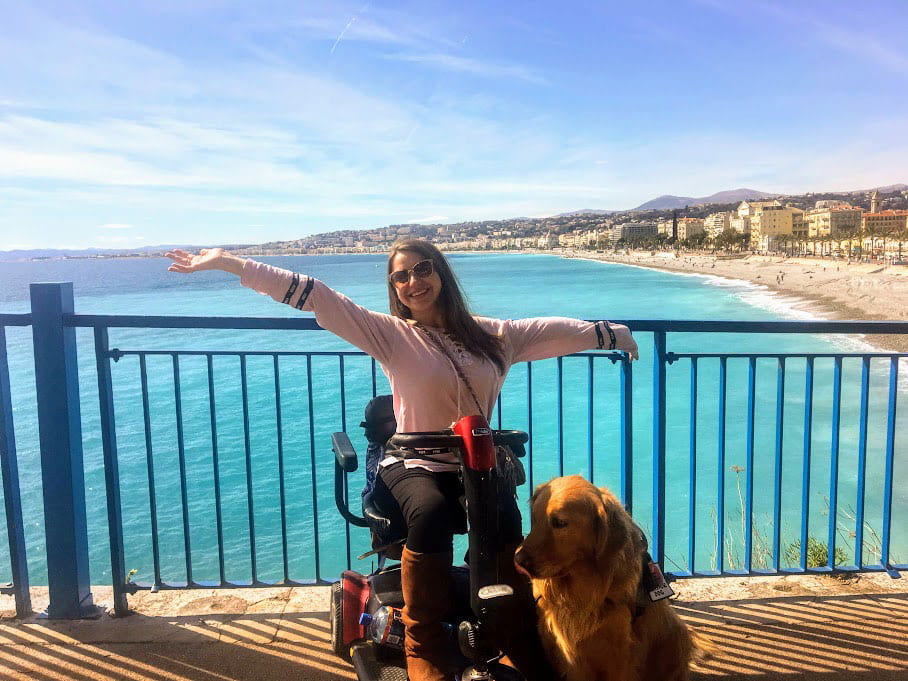 Kelley was an elected representative to Student Congress during her first two years at PC and on the Student Life and Legislative Affairs committees for junior and senior year. She also was a resident assistant in Davis Hall and president of Believe, or Be Educated Live with Inspiration and Evaluate Equity, a new club dedicated to disability issues. She also was a member of Dance Club.

"I wanted to do it because I really wanted to dance, but also because I wanted to show that people like me can dance as well," Kelley said.

Kelley, who also enjoys singing, joined a choir during her first year at PC. Dr. T.J. Harper, then associate professor of music and director of choral activities and music education, encouraged her to minor in music. She especially enjoyed music theory because it combined music and mathematics. She was a member of Oriana Women's Choir in addition to I Cantori.

Kelley is considering a career in disability law. When she was searching for a graduate program, Mulderry found the University of Leeds and encouraged her to apply to the Fulbright Program as well.

"Dr. Mulderry is so great as a Fulbright adviser," Kelley said. "PC is lucky to have her."

Most universities offer master's degrees in public policy with a concentration in disability, but Kelley was seeking something specific.

"Kelley's career goals include further study of public policy and the practice of law, to create urban infrastructures which are fully accessible to individuals with a wide range of physical capabilities and limitations," Affigne said.

Her program in Leeds is expected to run from September to September, although it may change to January to January if the pandemic continues to make travel difficult.

"I don't feel the need to jump into the workforce right away, so I may continue in school for a while," Kelley said. "I'm interested in Teach for America and I'm interested in law school. I'm hoping that something in the master's program will speak to me and help me find my direction."
Please consider a gift to The Fund for Providence College to make it possible for all students to continue to experience the value of a PC education.
support emergency student need