December 11, 2019
Jennifer Rivera '06SCE & '13G remembered for her dedication to students with disabilities
By Vicki-Ann Downing
For students with disabilities, Jennifer Rivera '06SCE & '13G was the first person they met at Providence College — and often the one they remembered most.
Francisco Oller '16 was born with a disorder that affects his ability to walk. When he arrived at PC from San Juan, Puerto Rico, in 2012, he met Ms. Rivera, assistant director for disability support services in the Office of Academic Services. Even after Oller learned to navigate campus, and discovered his passion as a motivational speaker, he continued to visit Ms. Rivera's office in Phillips Memorial Library almost daily to share chocolate, admire her Derek Jeter bobblehead, or read the children's books she kept there.
"She empowered me to pursue my goal of sharing with students how they can live life with passion, purpose, and perseverance," said Oller, who earned an MBA from the University of Tampa and works as a digital operations and marketing assistant for BeniComp Health Solutions in Tampa. "Jenn touched my heart and soul. She meant the world to me."
Ms. Rivera, 46, died on Friday, Dec. 6, almost a year after being diagnosed with metastatic breast cancer. Throughout her illness, she maintained ties with her former coworkers and students. Just six days before her death, she attended the wedding of her former graduate assistant, Nicole Rozzero '16G, now academic disability specialist at the Rhode Island School of Design.
"I cannot think of anyone who was more fully committed to Providence College, its mission, and its people," said Dr. Bryan D. Marinelli, director of academic services and the Writing Center at PC. "She was a beloved colleague and friend to her coworkers and an invaluable mentor to her students. The lengths that she would go to in supporting students with disabilities were truly awe inspiring, and she never sought thanks or special recognition. She was satisfied knowing that she had done everything she could to support them to the best of her ability."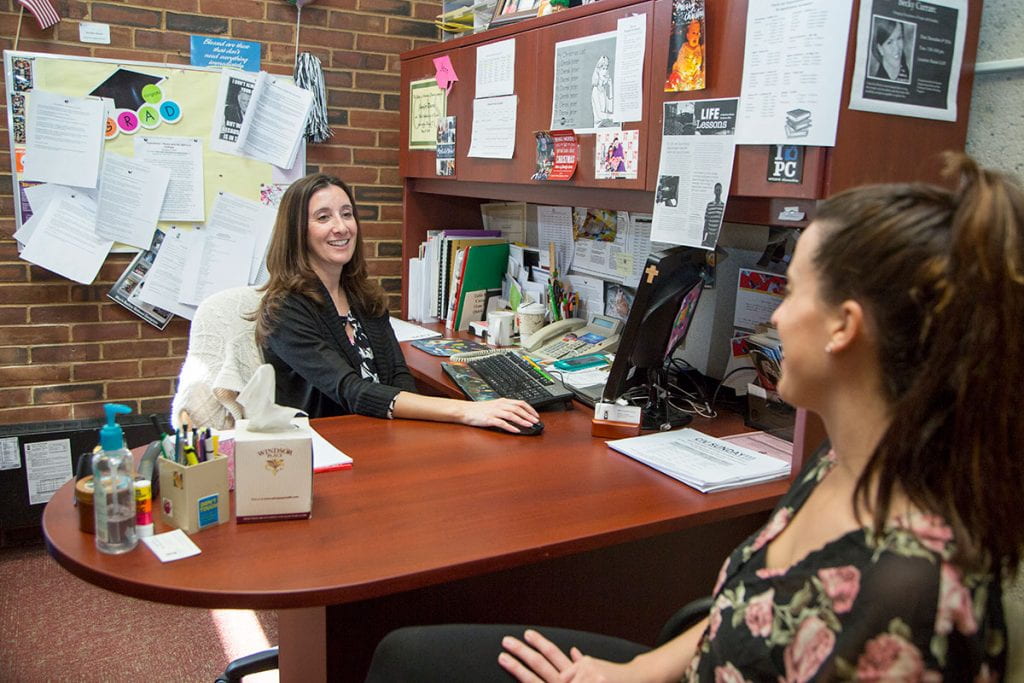 Ms. Rivera began working at PC in 1998 as administrative assistant in the newly established Office of Academic Services, then located in the lower level of Meagher Hall. She engaged students from the beginning, remembered Sister Carolyn Sullivan, O.P. '02G, who worked alongside her for 20 years as assistant director for tutorial services. Ms. Rivera had the innate ability to understand when struggling students needed sympathy — and when they needed a push.
"Jenn and I were the steady enders, like in the old jump-rope game," said Sister Carolyn, who retired in June. "We came through office history together, assisted dynamic students, and were the resources when anyone needed information."
Ms. Rivera held an associate degree from the Community College of Rhode Island when she first joined the College. She went on to complete her bachelor's degree at PC, taking courses at night through the School of Continuing Education, and then studied for a master's degree in educational counseling. She was promoted to assistant director in 2009.
Meghan Murray '02 & '04G first met Ms. Rivera as a student, then worked with her for 10 years as associate director of student success and retention at PC. In a Facebook post, Murray shared memories of her friend not captured in the facts of her obituary.
"She would spend the summer at the beach and start the semester with a solid tan," Murray wrote. "She treasured spending time with her nephews and had family dinners every Sunday night. She loved celebrating her birthday every year with a group dinner or seeing World Premier Band. She dressed up for every single Halloween. She enjoyed a tea every morning, and afternoon walks around campus with Sister Carolyn. She found happiness in Disney movies and adored her two cats."
Students with visual impairments relied on Ms. Rivera to teach them the layout of PC's campus. In a story written at the time of her graduation, Jessica Laurie '15 recalled how Ms. Rivera walked her to class every day at first — and how she would still call Ms. Rivera to say, "I have no idea where I am!" Over the course of four years, Ms. Rivera scanned about 200 of Laurie's textbooks, not available in Braille, so they could be read on a computer screen reader.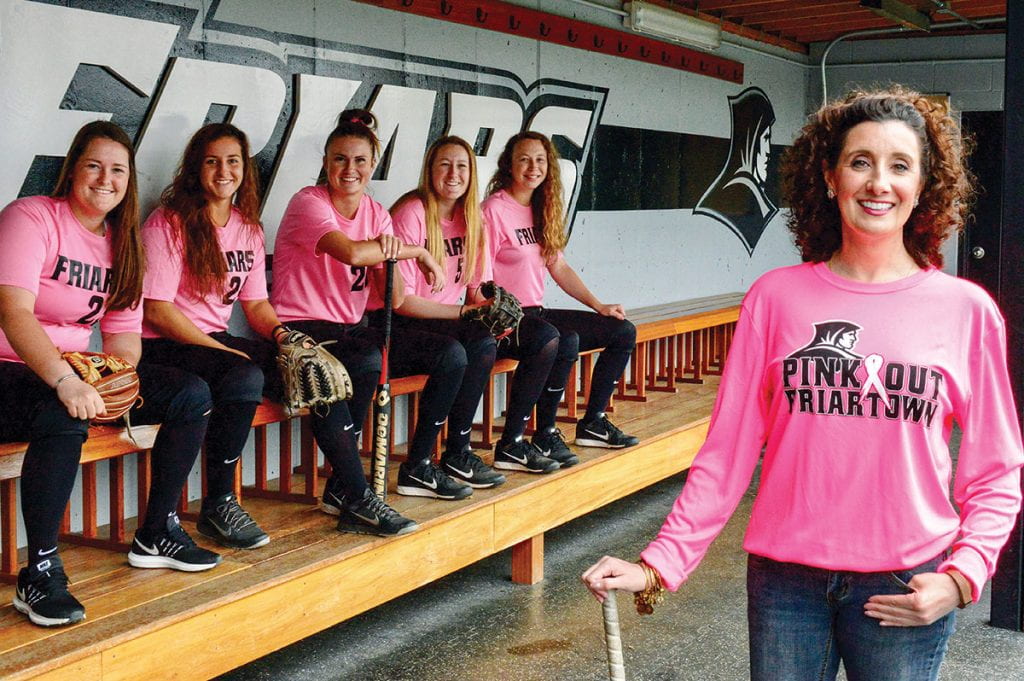 Ms. Rivera was diagnosed with breast cancer in May 2016 and returned to work in January 2017. The diagnosis began her relationship with the Gloria Gemma Breast Cancer Resource Foundation, which featured her photograph in its 2019 calendar with the quotation, "Everyone has stress in his or her life, but how you choose to deal with it is what makes the difference. I choose to be positive and thankful."
She participated in the foundation's fashion shows and charitable walks. Her team of family and friends raised $4,000 while sporting custom T-shirts that read "Jenn's Pretty in Pink."
Forever a Friars fan, Ms. Rivera held special relationships with student-athletes and coaches. The softball team supported her with a signed card and T-shirt during her illness and invited her to throw out the first pitch during its annual Pink Out Friartown game in the spring of 2018.
"Jenn was one of our biggest program supporters and was in the stands whenever she could be," the former coach, Kerri Jacklets '01, explained last year. "She took on softball players and student-athletes as though they were her own children and taught us a thing or two about going above and beyond to help young people find success."
Ms. Rivera learned in December 2018 that her cancer had returned. In February, the women's basketball team honored her at halftime of its Pink Out game, presenting a jersey to her family members. Unable to return to work, she left her position in June.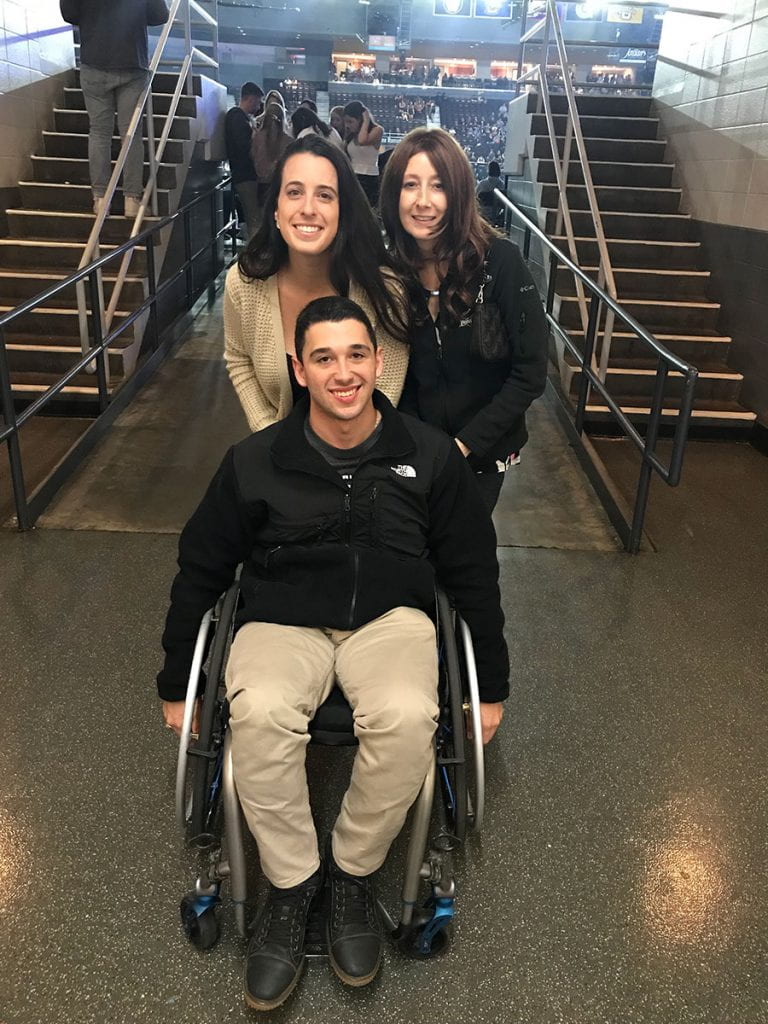 Though she relied on a wheelchair as her health declined, Ms. Rivera attended Sister Carolyn's retirement party on campus in May. She supported PC basketball by attending Late Night Madness at the Dunkin' Donuts Center during Homecoming Weekend in early October, posing for a photograph with Oller and Rozzero.
Later in the month, she made a trip to Target with Sister Carolyn to shop for Halloween.
"It was late October; it was very pretty," Sister Carolyn said. "We had an ice cream. We took the long way home and we looked at the leaves."
It is difficult to have faith when one loses a friend like Ms. Rivera, but one must, Sister Carolyn said.
"There is definitely grace," Sister Carolyn said. "God just unpinned her from the cross of cancer and gave her a crown that she so merits. And she's got it for all eternity."
Ms. Rivera is survived by her parents, Roberto and Ann Rivera of North Scituate, R.I., and her sister, Lesley Green, her husband, Jay Green, and their two sons, also of North Scituate. Her funeral Mass was scheduled for Thursday, Dec. 12, at 11 a.m. in St. Joseph Church, North Scituate. Those attending were encouraged to wear pink or PC attire.