April 19, 2023
Joseph Colaluca '09, '15G is the man behind Strive real estate
Visitors to Providence College's campus can't help but notice signs of development along Admiral Street — literal signs. The name "Strive," simple white letters on a black background, adorns dozens of properties in the neighborhood and across the city.
The company's founder and CEO is Joseph Colaluca '09, '15G, a marketing major with an MBA from PC. Colaluca was a senior when he purchased his first property at 441 Admiral Street, across from the fire station, for $141,476, using money saved while working for his family's plumbing and heating supply business. He crossed the street between classes to work on renovations to the two-story, 3,200-square-foot building, returning to the classroom covered in paint and sawdust. The work took six months, and shortly after, Colaluca leased the three apartments to college students and young professionals. He still owns the property, now valued at an estimate of more than $380,000. The apartments rent for between $1,250 and $1,650 per month.
"My family was not in the real estate business and I really didn't have much construction experience, but I knew I had the drive to get the job done with help from my father and grandfather," Colaluca said.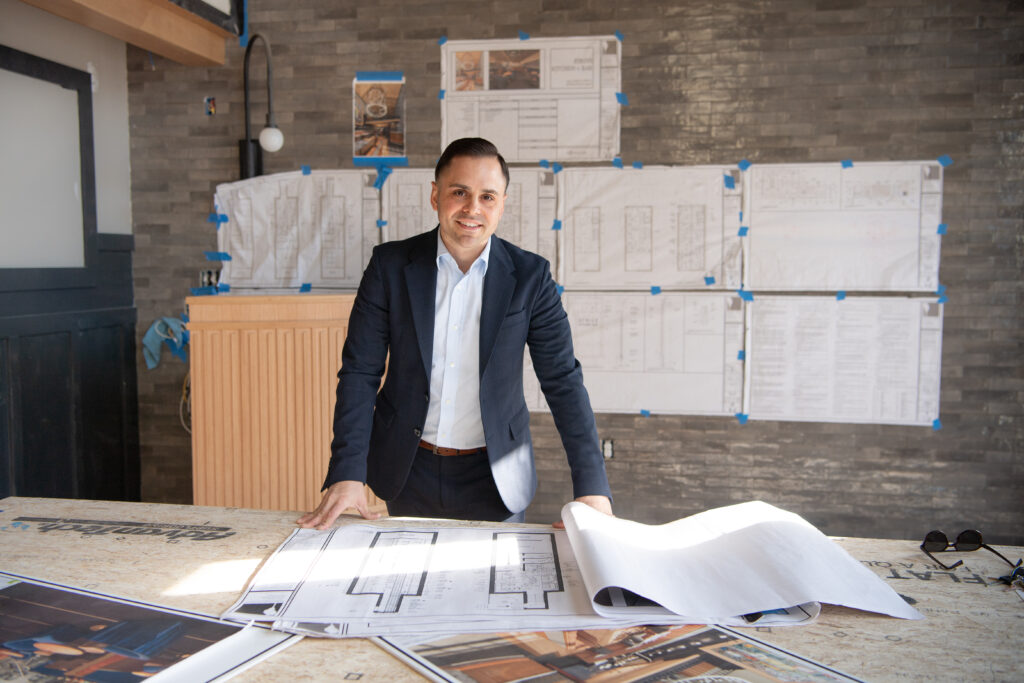 In his senior year, for an internet marketing course with Cemal Ekin, Ph.D., professor emeritus of marketing, students were assigned to build a website for a local company. Colaluca chose his father's business, Atlantic Plumbing and Heating in Coventry, and created a fully functional e-commerce site that took orders for parts and equipment from all over the country. Ekin became an advisor and mentor, helping Colaluca discern his career path.
"I first knew Joe as a student in my Marketing on the Internet class, where he was always eager to learn more and always had a smile on his face," Ekin said. "When he started his real estate company, he wanted to discuss various ideas, company names, and strategic moves. I built his original website, took many photographs for different purposes, but most significantly, designed his first logo with a steep hill to symbolize what drives him even today: Always strive to be better. And he still strives for improvement."
After graduation, Colaluca earned a real estate license and worked for Coldwell Banker while developing a small portfolio. He worked for two other firms before founding Strive, a full-service real estate brokerage, in 2013. He added Strive Construction in 2015, the year he earned an MBA from PC.
Colaluca has roots in the neighborhood. His great-great-grandfather ran a bottling company where the Walgreens now stands at Admiral Street and Douglas Avenue. He grew up attending Friars games with his grandfather, Frank DePetrillo '59, a season ticket holder. After graduating from La Salle Academy, he enrolled at the University of Virginia as a soccer team walk-on. When Rhode Island tugged at his
heart, he transferred to PC as a sophomore.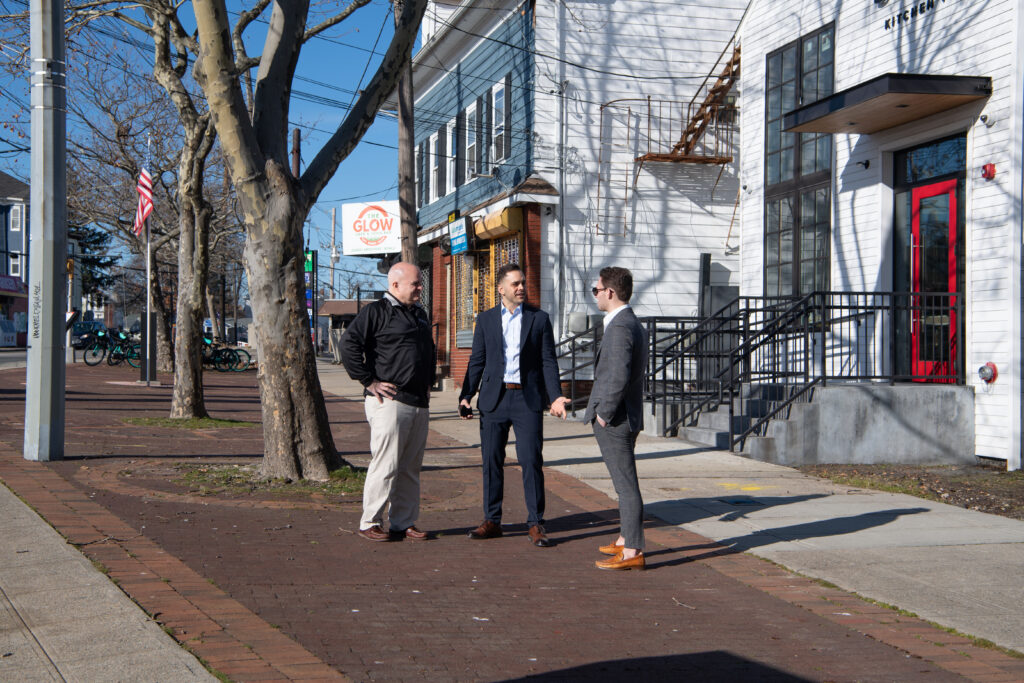 "As a student and young entrepreneur, Joe exhibited tremendous work ethic and ambition," said Mark DeFanti, Ph.D., associate professor of marketing, who still advises him. "In my Principles of Marketing class, Joe finished among the top 20 students nationwide in Chevrolet's Super Bowl ad competition. Since then he has worked tirelessly at building Strive into the formidable real estate company it is today."
This past semester, Colaluca served as the business school's real estate industry expert for PCBiz Basics, a six-week workshop series that introduces students to careers in real estate, investment and wealth management, and sports management. Among Strive's 19 employees are Kenneth McCarthy '23, a marketing major from Jamaica Plain, Massachusetts, who has worked with Colaluca in a variety of roles since September 2020 and now is brand director. Emma Mitchell '23, a marketing major from Great Barrington, Massachusetts, works in leasing. Jolade Oshinkanlu '25, a psychology major from Providence, is an office assistant. Caroline Franks '22, a management major from Pelham, New York, was a Strive intern before joining the commercial real estate firm CBRE.
Colaluca describes himself as a hands-on manager. He awakens most days at 4:30 a.m. to set up job sites. By 6:30 a.m., contractors are calling him as they start their days. His workdays don't end until 9 p.m.
Strive boasts a portfolio of more than 300 units, most in multifamily homes, and rents to "a healthy mix" of undergraduates, graduate students, and young professionals. The company's real estate offices are located in Strive Lofts, a converted mill with 56 rental units at 553 Atwells Avenue. But the primary area of focus is the neighborhood north of Admiral Street, where Strive owns 60 properties in about a one-mile radius.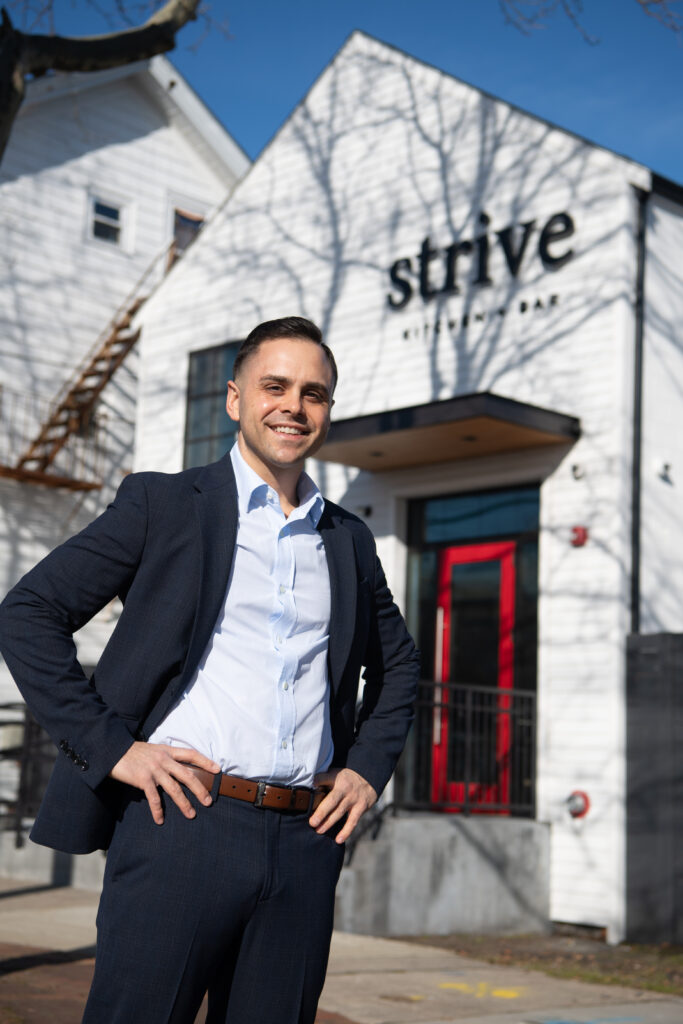 At 383 Admiral Street, once the home of Club Eagles and Clubbies, Strive Kitchen + Bar offers three floors of dining, including a basement speakeasy. A vacant laundromat at 361 Admiral was converted to a first-floor coffee shop, Admiral Coffee Company, with one-bedroom and studio apartments upstairs. Strive also plans a new five-story apartment building at 663 Admiral, near River Avenue, with 48 one-, two-, and three-bedroom apartments. Other properties throughout the neighborhood and the city are identifiable by the simple Strive sign.
To critics who say that redevelopment brings gentrification, displacing low-income residents, Colaluca said, "There is a need for the housing that we provide, too. My connection to this neighborhood runs deep — it's where my family settled after emigrating from Italy. I'll always work to improve the area I love."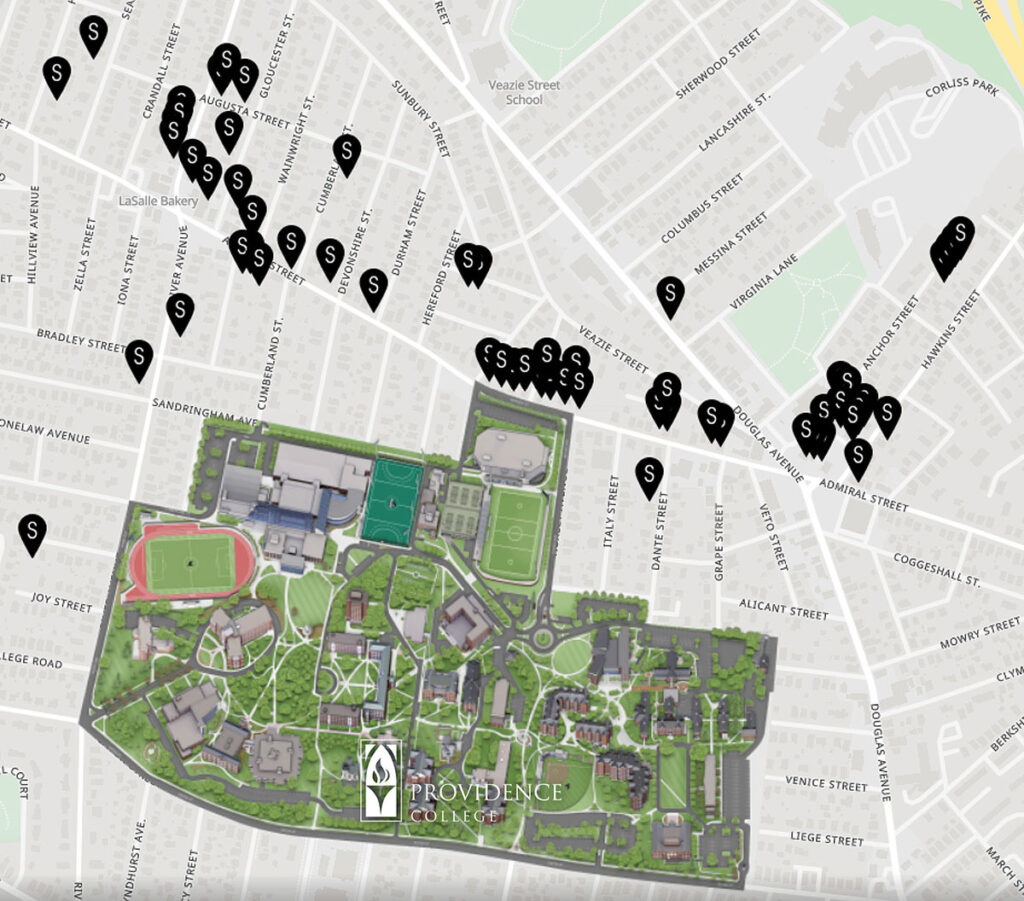 More from the Spring 2023 magazine
More Providence College news