December 02, 2021
Joseph Hagan '56 and his Providence College ring are reunited after 65 years
By Vicki-Ann Downing '21G
Dr. Joseph H. Hagan '56, '96Hon., former president of Assumption University and Roger Williams University, has a great Providence College story — and so does his class ring.
Like many students, Hagan purchased a ring before graduation, but he gave it away to a classmate when he entered the Dominican seminary to study for the priesthood. He never thought about it again until this summer, when it was returned to him after being discovered in an unlikely place — in a jar of objects collected by an upholsterer who restored Pullman passenger cars in Atlanta during the 1950s and early 1960s.
Along with the ring, Hagan received "a wonderful letter" from a woman in South Carolina who explained how it came to be in the possession of her father. A son of Sicilian immigrants who was raised in New Jersey, the man settled in Atlanta after training there as an ambulance driver during the war, married, and raised a family.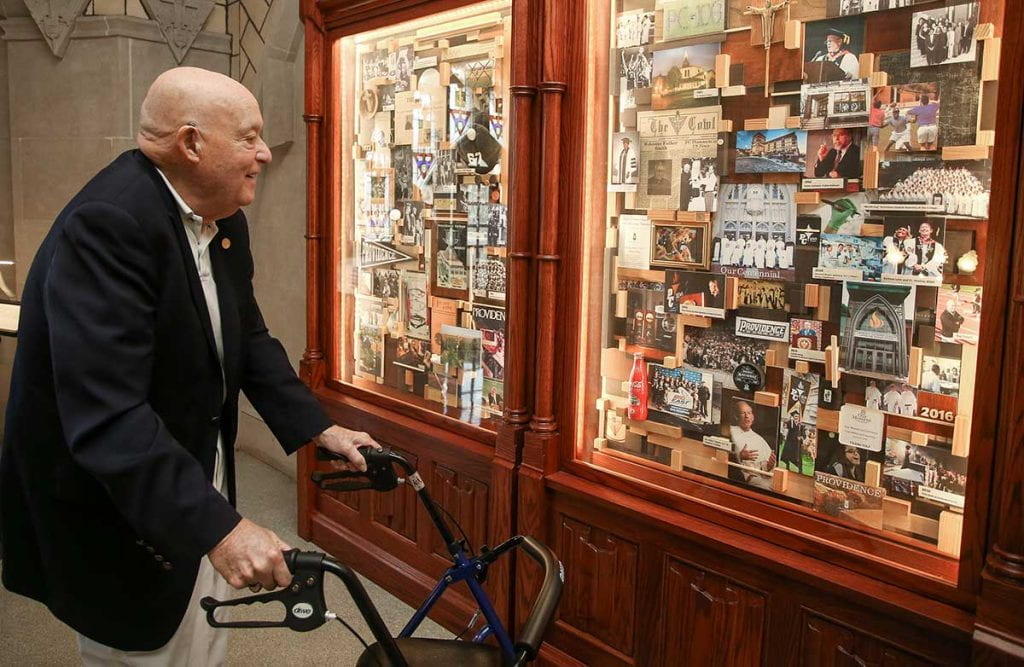 "He was hired by the Pullman Train Company to restore, repair, and rehabilitate the Pullman passenger cars between runs during the 1950s and into the early 1960s, mostly at Atlanta Union Station," the woman wrote. "In the process of repairing seats, he often ran across loose change, jewelry, and other objects that fell into or under the cushions. In most cases there was no way to trace the owners and the objects would get tossed in the company lost and found and, if never claimed, were kept by the finder."
Small items, such as rings and tie clips, wound up in a jar in her family's kitchen cabinet. But her father, who had a keen eye, added objects that he spotted in parking lots, on sidewalks, and in parks, so it's difficult to know exactly where Hagan's class ring was discovered.
When her father died in 1993, the woman inherited the jar. It remained untouched until this summer, when her stepson and his wife were helping her go through relics of family history.
"Among the interesting trinkets, we found the ring," the woman wrote. "At close inspection, my stepson spotted the initials PC and the word 'Friars' on the ring. He rightly identified it as Providence College."
The stepson, who lives in Rhode Island, has a friend who knows Robert Ferreira '83, assistant vice president for special projects and strategic initiatives at PC. Ferreira arranged for the ring to be brought to Hagan's home in July, in time to be worn to his Golden Friars reunion in September.
"I believe that my father would be so thrilled and amazed to know that the ring can be restored to you, Mr. Hagan, and I am so happy that we can get it back to you, along with a little background of how it ended up in the family," the woman wrote.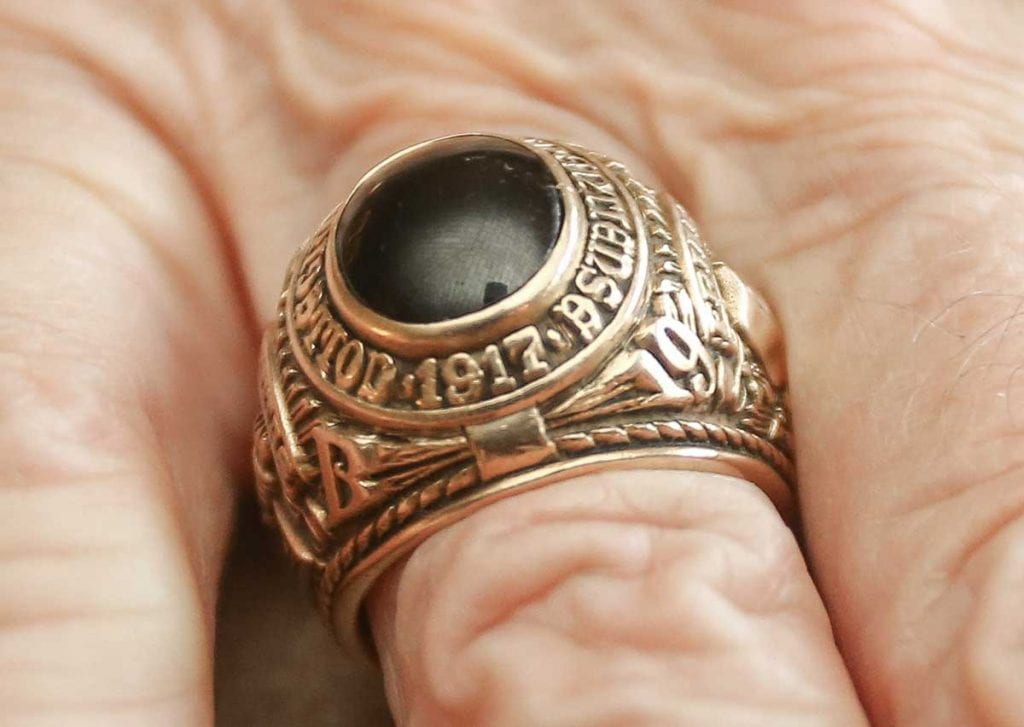 Though delighted to have the ring back after 65 years, Hagan says he did not think about it through the years — "I never wore a ring, except a wedding ring," he said. He spent two years studying for the Dominican order at St. Joseph's Priory in Somerset, Ohio, and St. Stephen's Priory in Dover, Mass. While he did not become a priest, he is a lay Dominican, a member of the Fraternities of St. Dominic.
Hagan, who was born in Providence, studied history and education at PC and was a member of Friars Club. His brother, James G. Hagan '58, was president of the Greater Providence Chamber of Commerce for many years and a Rhode Island state senator.
"I have wonderful memories when I was 17 years old at the beginning of my freshman year," Hagan said. "I remember putting my hand on the bannister to climb the stairs to the second floor of Harkins Hall and thinking, 'Every time I walk here I will touch this bannister and remember this moment.' When I visit Harkins Hall I still do that."
After PC, Hagan earned a master's degree from Boston University and taught in Providence schools for three years. He went to Washington, D.C., to become a legislative assistant in the House of Representatives, a staff assistant to the President's Committee on Juvenile Delinquency, and a special assistant in the U.S. Office of Economic Opportunity. He later was appointed to the National Council on the Humanities by President George H.W. Bush.
Hagan was president of Assumption University from 1978-1998, emeritus professor of Assumption in 1999, and interim president of Roger Williams University from 1999-2001. During that period he was appointed a trustee of John Cabot University in Rome, eventually serving as trustee chair. He also became a Gentleman in Waiting to the Pope, escorting dignitaries, including U.S. presidents, during papal visits.
Hagan and his wife, Patrice, live in Little Compton, R.I., where they are members of St. Catherine of Siena Parish and where Hagan was active in local government. He also served on the Rhode Island Board of Governors of Higher Education and is a former PC trustee. Their son, Kevin Hagan '98, is a lawyer and municipal court judge in Middletown, R.I.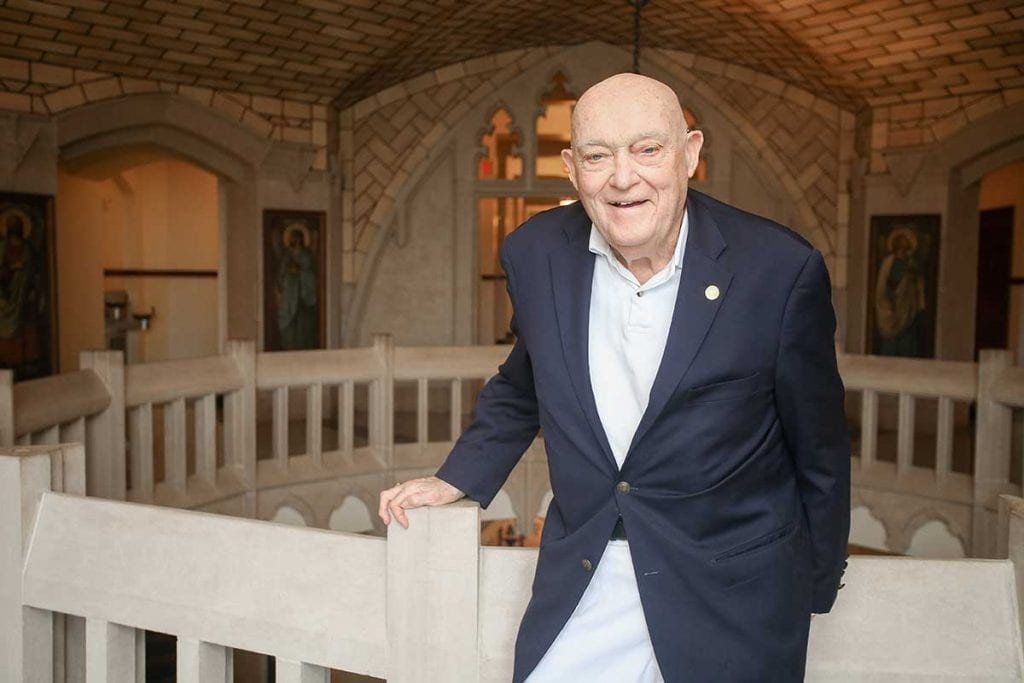 More from the Fall 2021 magazine