September 08, 2022
Justin Babu '23 followed Frederick Douglass' footsteps in Ireland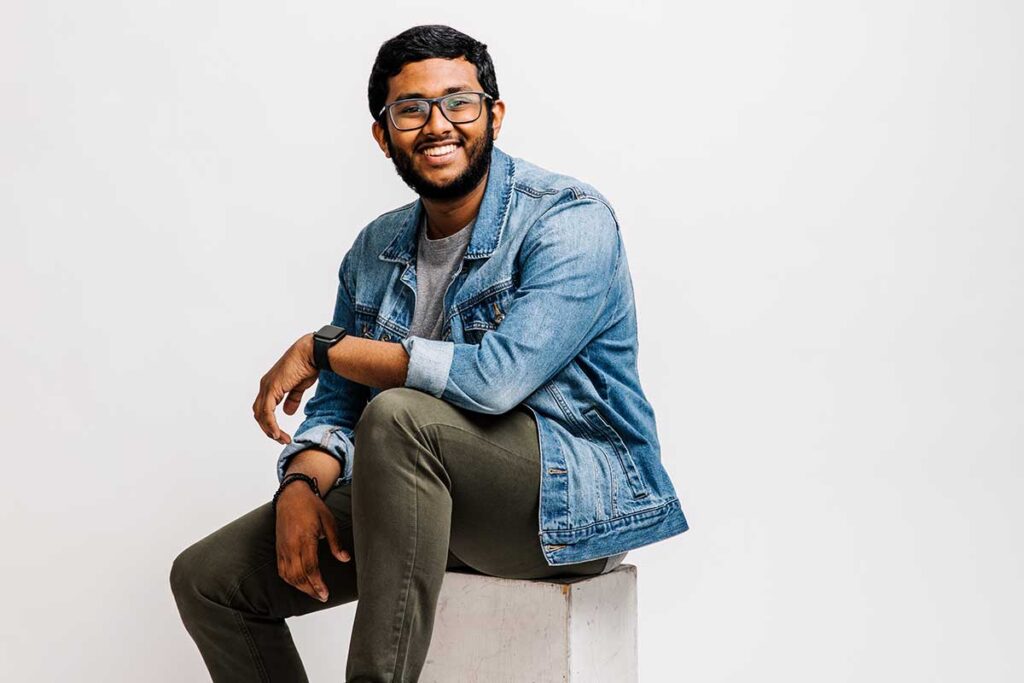 By Michael Hagan '15, '19G
"Educate, educate, educate!"
That was the message Justin Babu '23 shared with students, educators, and diplomats at the Deerfield Residence in Dublin, the official residence of Claire Cronin, United States Ambassador to Ireland (and mother of Friar alum Kerry Cronin '17).
Babu was completing a four-week Frederick Douglass International Fellowship when he was invited to speak on behalf of the fellows at the ambassador's house. Offered through the Council on International Education Exchange, the fellowship invites 16 undergraduate students of color from American colleges and universities to spend part of the summer in Ireland following in the footsteps of abolitionist Frederick Douglass, who visited the country in 1845.
Babu based his words on Douglass' adage, "Agitate, agitate, agitate" — a call to challenge injustice with restless persistence. A biology/secondary education major from East Meadow, N.Y., he is eager to challenge the status quo and heal division caused by racism and other social ills in schools. Agitation impels a response; education inspires receptivity.
"Conflict arises from deep hurt, but also from a mindset that doesn't even want to hear the other side," Babu said. "Education can repair that broken mindset."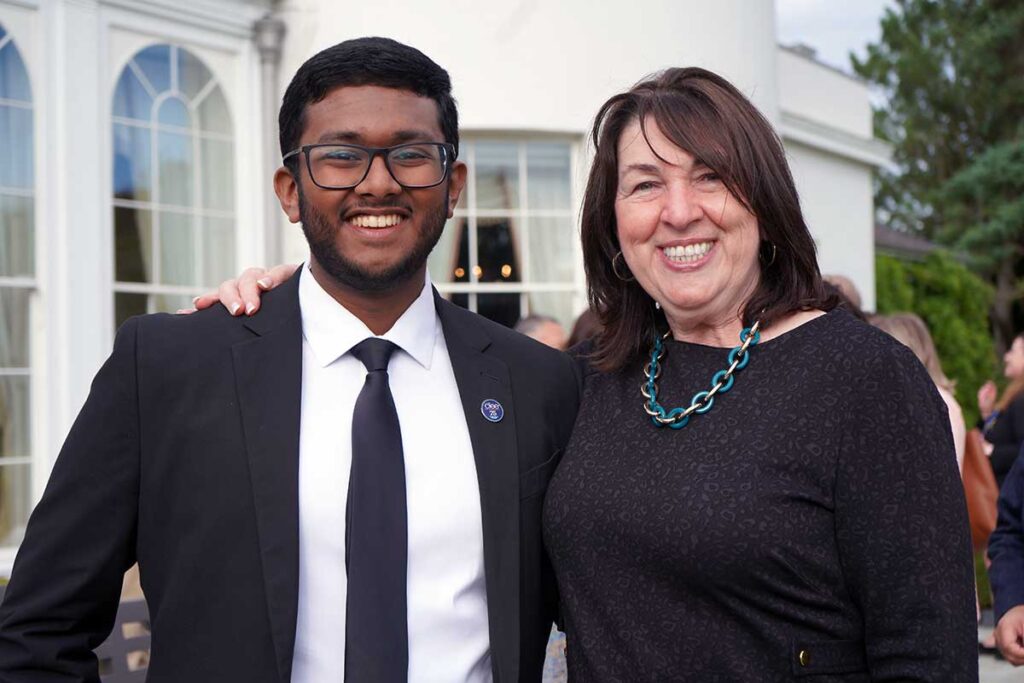 The Frederick Douglass International Fellowship is based in Dublin and sponsored in part by the Irish government. Fellows are housed at Dublin City University. When he applied, Babu did not realize that he was one of more than 700 applicants for just 16 seats in the program.
"I'm actually glad I didn't realize how prestigious the fellowship was. Not knowing allowed me to be a little more authentic. I didn't overthink the application," he said.
While in Ireland, the fellows took a course titled Transformational Leadership Across Cultures. They were styled "global ambassadors" and challenged to think beyond American perspectives on conflict around the world.
One instructor shared his experiences living under South Africa's apartheid regime. Another, who was born to Moroccan immigrants in the United States and later moved to Morocco as an adult, discussed her ancestry and ethnic tension in Morocco.
In the third week of the program, the fellows met Don Mullan, an Irish author and documentary filmmaker whose 1997 book, Eyewitness Bloody Sunday, prompted an official state inquiry into the 1972 Bloody Sunday massacre in Derry, Northern Ireland.
The fellows also met Nettie Hancock Washington Douglass, who is a direct descendent of both Frederick Douglass and Booker T. Washington, educator, adviser to presidents, and first president of Tuskeegee Normal and Industrial Institute (now Tuskegee University).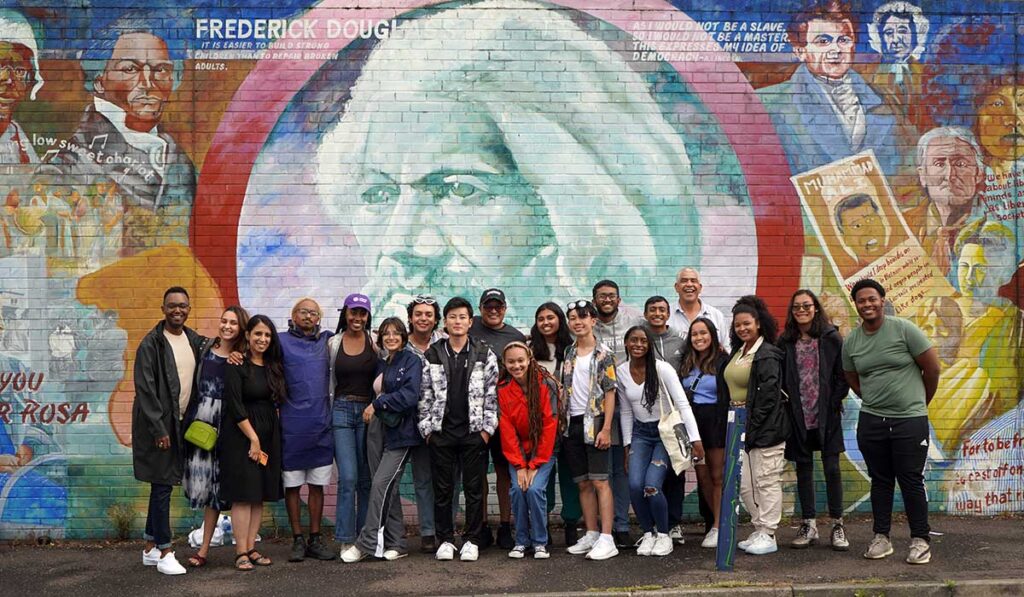 Fellows were afforded time for planned excursions and independent travel. At one point, the group was met with hostility while taking a photograph in front of a mural of Frederick Douglass in Belfast. A small group of young people shouted slurs and threw eggs at them. Babu recognized racial animus in the attack, but also considered it in the context of conflict between republicans (who advocate a united Republic of Ireland) and unionists (who believe that Northern Ireland should remain part of the United Kingdom).
"The murals and memorials around Belfast are sacred to people on both sides of the conflict. Without excusing their behavior, it's understandable that people are sensitive about tourists in these spaces," Babu said.
Excepting this incident, Babu's experiences in Ireland were positive.
"The best part was the people, followed closely by the beauty and history of Ireland," he said.
On one excursion, Babu purchased an inexpensive guitar to play for the other fellows. Each of them signed it.
"We brought that guitar everywhere. We had lots of impromptu karaoke sessions, probably to the dismay of our neighbors," he said.
Babu intended to ship the guitar home as a memento, but the cost was prohibitive. Instead, he entrusted it to one of the program's Irish student leaders.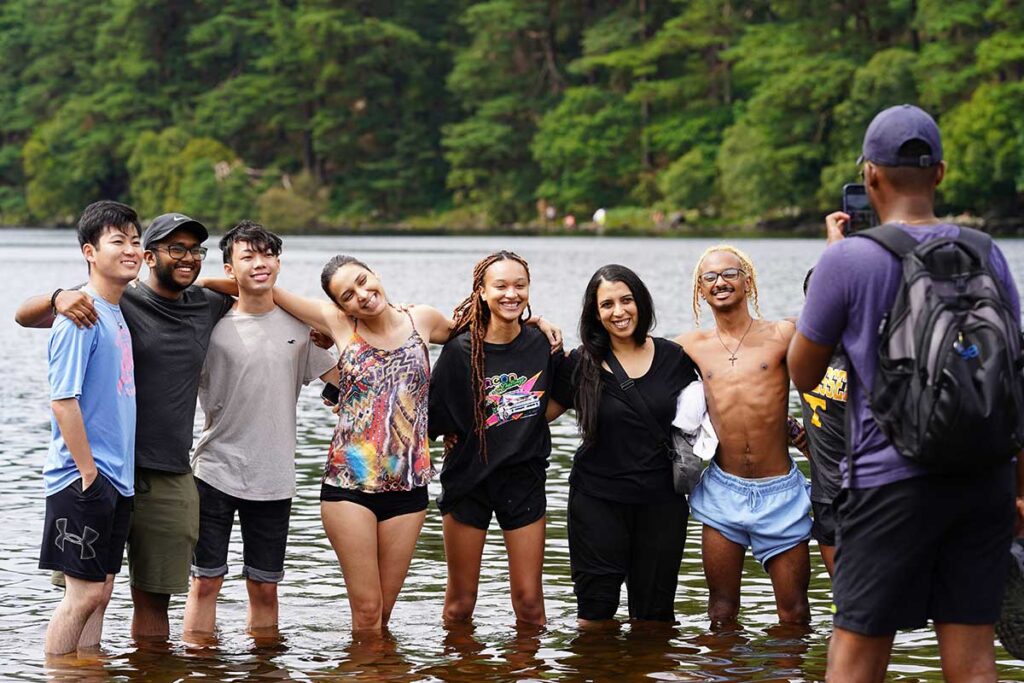 Upon the program's conclusion, Babu returned home to Long Island, eager to begin his senior year at Providence College.
"PC has been a wonderful opportunity. I've had so many unique experiences I wouldn't have had elsewhere," he said. "This year, I want to make the most out of the opportunity and maximize my impact in the community."
A leader on and off campus, Babu has been a Feinstein Community Fellow since his sophomore year. He has volunteered with the YMCA of Greater Providence. As a junior, he was a philanthropic leadership fellow at the Providence Shelter for Colored Children. Formerly a home for orphans, it now is a philanthropic foundation supporting organizations serving Black children. He also sits on the diversity committee for PC's School of Professional Studies.
Babu is a student minister in Campus Ministry, leading the St. Cecilia Ensemble that provides music during Eucharistic adoration in St. Dominic Chapel. Though he is a non-Catholic Christian, adoration — "a very Catholic thing" — has become one of his favorite parts of the week.
"I've been able to have such fascinating conversations about the faith," Babu said.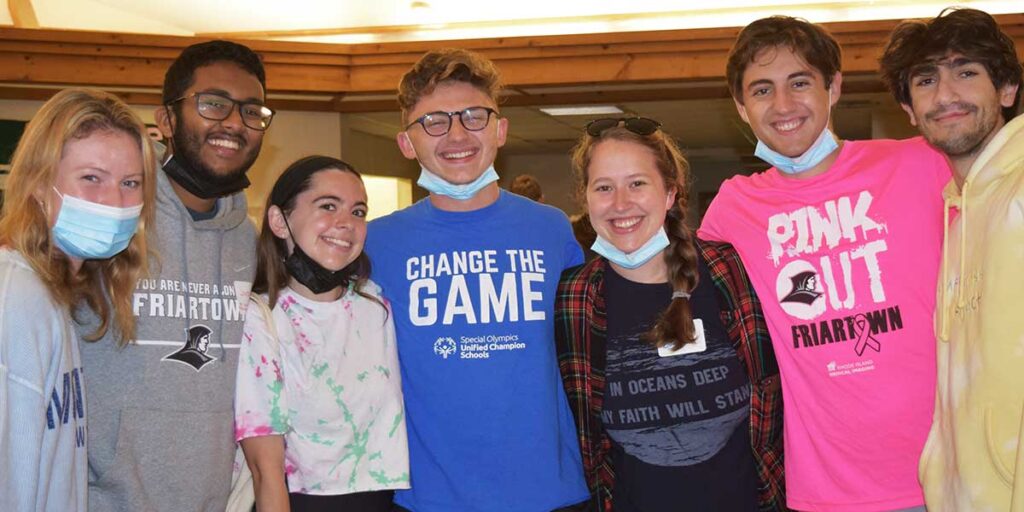 Along with Jessica "Jess" Gilman '23 (Warwick, R.I.), Babu hosts the late-night radio show "Last Three Brain Cells" on WDOM. Since their first year at PC, Gilman and Babu have been on the air from 10 p.m. – midnight every Saturday. They leave the studio door open because much of the fun is seeing who will visit.
"Random people come into the booth and just have conversations with us. It's the beauty of the show. We talk about everything from the last email from Dean Sears to Friars basketball," Babu said. "People are always down to talk, and people are always down for good music."
His attitude about the radio show — that "people are always down to talk" — says much about his approach to work, study, and life. Babu is focused on people.
"It's very easy to think mechanistically about conflict. 'If Person X experiences discrimination, let's refer them to Person Y, who will take the issue to Person Z.' We have to remember that behind each variable is a real person," he said.
More Providence College news