February 08, 2022
Lawyer to Linguist: Meet Dr. Eva Michelle Wheeler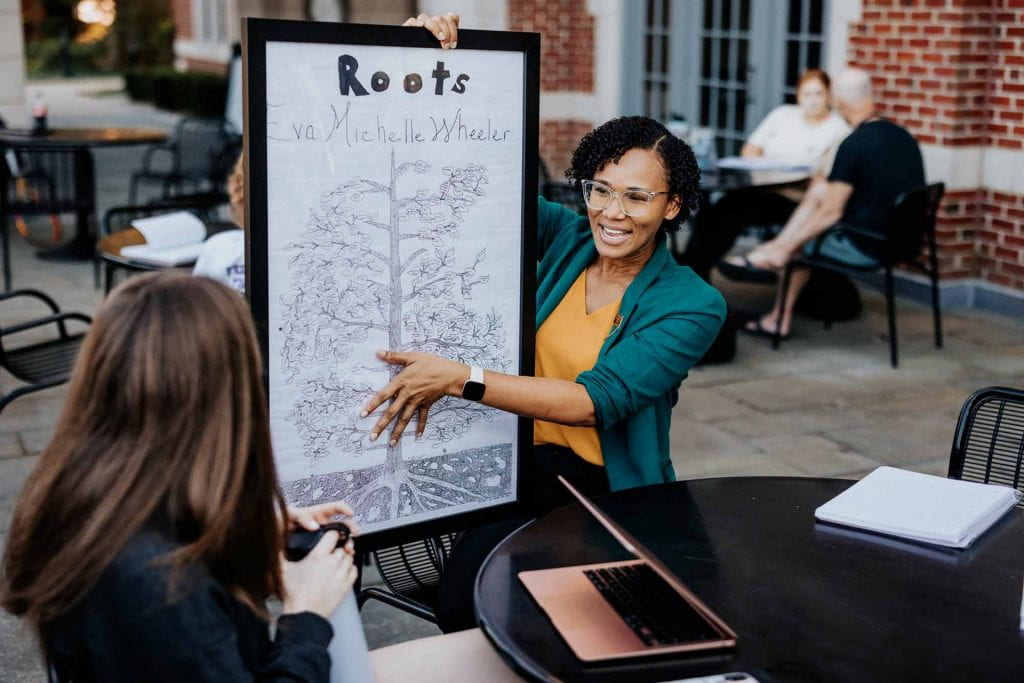 By Michael Hagan '15, '19G
Dr. Eva Michelle Wheeler is a socio-cultural linguist, former practicing attorney, and one of Providence College's newest faculty members with a joint appointment in the Black Studies Program and the Department of Foreign Language Studies. When not hard at work at the intersection of Black Studies and linguistics, she's a Rubik's Cube enthusiast, avid Criminal Minds fan, and self-proclaimed international karaoke sensation. We sat down to talk about her background, her work as a scholar and educator, and her first year at Providence College.
What does it mean to be a socio-cultural linguist? What kinds of big questions does your discipline pose?
As a sociocultural linguist, I use language as a lens for the interdisciplinary analysis of complex social phenomena such as race, beauty, cultural otherness, and diasporic positionality. For me and others in my field, language is not merely a byproduct of these socially constructed ideas, but rather a primary vehicle through which social projects are enacted; and my research questions generally explore the role of language in the construction of social categories in Spanish and Portuguese-speaking settings in the U.S., Latin America, Europe, and Central Africa. For as long as I can remember, a deep-seated sense of curiosity has driven me to explore the world around me. Whether I was studying abroad in Spain as an undergraduate, managing document review projects in Costa Rica as an attorney, or conducting dissertation research in the Dominican Republic, language was always the key that afforded me access to the new places and spaces that I wanted to discover. Ultimately, my desire to understand the world led me to pursue a career where I could follow my professional curiosity for a living. Through methodology-driven research, I constantly seek to examine social phenomena in new ways and to give a voice in academic literature to underrepresented groups.
When I first met you, you were sharing a beautifully designed and framed family tree with students. Tell me about that family tree and how it relates to your teaching.
In Introduction to Black Studies, we talk a lot about how racial categories are constructed and how racial logics are formed — "Who is Black," "What whiteness is" — conversations like that. My family tree tells, among many stories, the story of my mother, who is the daughter of one white parent and one Black parent. Labeled as "white" on her birth certificate, a description that many people have echoed based on her appearance, my mother came of age as a Black woman in the United States because of a uniquely American racial logic known as the "One Drop Rule" — the idea that a single drop of "Black" blood makes a person Black. The family tree that I show my class has the names of family members from my mother's maternal line — enslavers and those they enslaved, relatives who "passed for white," and others who were marked as "lost to the white race." It gives the class a personal window into how race has functioned in one U.S. family over the course of six generations. And, ultimately, it contributes to our conversation on how the concept of race is more complicated than people often assume; it's a socially constructed category not based on ancestry or appearance alone.
You were hired as part of an exciting new cohort of jointly appointed faculty in Black studies and connected disciplines. What is it like to be part of that group and the Black Studies Program more generally?
Dr. Edgar Mejia, my chair in Foreign Language Studies, and Dr. Zophia Edwards, my director in Black Studies, have been so wonderfully intentional in helping me to successfully navigate the roles and responsibilities of the joint appointment, and I cannot overstate just how fantastic my colleagues have been in both programs. From ideas for courses to conversations about scholarship, I have found camaraderie, support, and community in both groups. Additionally, I count myself privileged to be part of such a dynamic incoming cohort. My co-joint appointees entering this year, Dr. Aisha Scott (Black Studies/Health Policy and Management) and Dr. Rahsaan Mahadeo (Black Studies/Sociology and Anthropology), are both phenomenal teachers and formidable scholars, and they are a part of the cadre that inspires me to do my best work in the classroom and in my research. I am excited about the possibilities for exploring the intersections of Black studies and foreign language studies by developing courses on Afro-Latinidad(es) and language and race. I look forward to many more conversations with students and colleagues in both programs.
You're one of several professors who teach Introduction to Black Studies. How is your approach to the course unique?
Although my BLS 101 section shares a certain core with other sections of the course, my approach to Black studies is very focused on the Black diaspora. I want students to understand the idea of global Blackness and to realize that there is a global struggle that has local particularities (a phrasing that I credit to a BBC article by Lauren Collins). So we begin the course by discussing Black activism and Black life in global perspective — in Brazil, France, Cuba, the U.K., and Puerto Rico. As the semester develops, we engage intersectional identities in the Black diaspora — Afro-Latinxs, Afro-Europeans, Black queer Studies, etc. We talk about Black feminisms in the U.S., Latin America, and Africa, about Black language varieties and language ideologies from all around the world. I craft my syllabus to include writers and texts from diverse spaces in the Black diaspora, and my hope is that students will take away an understanding of the overlapping social, political, and cultural histories of these diasporic groups. The breadth of what we cover means that we can't dive too deeply, but we whet the students' appetites to continue in Black studies.
How does your focus on the Black diaspora come to bear on your instruction?
In addition to our class discussions, my students complete a Black diaspora in Providence project. Rhode Island may be the smallest state in the U.S., but it is also incredibly diverse. Among the Black community in Rhode Island are Jamaicans, Cape Verdeans, Afro-Dominicans, Haitians, Senegalese, and others, and they're visible in many different ways. For the project, I ask students to explore the ways that a given diasporic group is visible and invisible in our community. They consider how different groups are represented in terms of cuisine and culinary products, religion, community organizations, education, policy initiatives, politics, law enforcement, and other lenses through which people see and are seen by different groups. At the end of the project, they present their findings to the class. I would love to find additional ways to connect the course to the community and to different Black diasporic groups.
In addition to your Ph.D. from the University of California – Santa Barbara, you hold a J.D. from New York University School of Law. Say a little about this impressive combination of degrees.
Honestly, the dual degree was never my objective. The J.D. was supposed to be it. When I was seven years old, it was a presidential election year, and I decided I wanted to be president of the United States. A relative told me I should become a lawyer as a step toward that goal. Over time, the presidency started to look too stressful, but I still wanted to be a lawyer!
I knew from the early days at my law firm that it wasn't where I wanted to stay. I had studied in Spain as an undergrad, so, when my firm sent me to Madrid on a business trip, my passion for language was reawakened. I wondered, "Could I make a career out of this?" My undergraduate Spanish professor used to always say, "I wish you would be a professor." At the time, that didn't seem like my future, but, a few years down the line, I felt drawn back to grad school. It was a bit of a risk — leaving a six-figure salary at a major law firm to take a chance on a new career (I should mention that my undergraduate majors were finance and English/professional writing. Although I had been a Spanish minor, my acceptance into a Ph.D. program in Spanish linguistics was by no means a foregone conclusion.) So, at the beginning of my graduate program, I gave myself a one-year timeline. If things were going well, I would continue. If they were not, I would go back to law with no regrets. But at the end of my first year, I was ready to keep going. My legal training had taught me linear thinking, problem solving, and a passion for advocacy; and my training in linguistics provided me with tools for exploring language as a lens for examining social and cultural questions. It was the best possible combination. For the first time, I felt like I was on a career track that reflected my interests as well as my expertise. That's something that has kept me in this profession for 12 years.
How do you like living in Rhode Island?
Believe it or not, when I accepted this position, I had never stepped foot in Rhode Island. When I arrived in August, I was taking everything in for the first time. I've lived in the Northeast before (three years in New York for law school), but this is my first time living in New England. There's a lot to love. The food is great. In my first week here, I had Dominican food, Haitian food, and West African food. There are a lot of tasty vegan and vegetarian options. Where I went to college in Alabama and in some places I've lived, there was nowhere near this diversity of cuisine. Rhode Island drivers are unpredictable — both in their kindness, and in their un-signaled lane changes. It's also a perfect location for someone like me who loves to travel. With airports in Providence, Boston, and New York, I've been able to travel to Zanzibar and Portugal so far. I'm not a fan of the winter, though, so please wish me luck.
What are your impressions of Providence College in your second semester teaching here? Are there unique challenges to teaching Black studies at a primarily white institution like ours?
I am inspired by the work my peers are doing as scholars and teachers, and I'm appreciative of people who have gone out of their way to make sure I know about opportunities for my own scholarship. Every institution has a unique set of strengths and challenges. Here at PC, many students in our Black studies courses are learning about these topics for the very first time. Some people might view this as a challenge, but I see it as one of our greatest opportunities. The field of Black studies was born on college campuses, where students and faculty demanded more diverse and inclusive curricula, and, since that time, a primary function of the field has been to "fill in the gaps" — to supply more accurate accounts of past and present events, to provide knowledge and data about African-descended peoples that are usually misrepresented or omitted from the historical record, and to aid in the development of remedies for the problems that we identify (thanks to Alan Colón for that description). Every student who takes a seat in my classroom is there for what our MLK Convocation speaker Dr. Bernice King calls "courageous conversations," and it is my privilege to provide a space for those conversations.
What was a particularly rewarding experience from your first semester at PC?
The fall semester was a period of transition. It was my first semester at a new school, in a new place, and first time back in a physical classroom in more than two years. My students were great, though somewhat reserved, and it wasn't always easy to gauge how they felt about the class. But on the final day of my Intro to Black Studies section, one of the students came up to me and told me that it had been their favorite class all semester. Then, when I came back from winter break, I received a notecard from a student in one of my Spanish classes that read, "I wanted to thank you for being so helpful and patient with us. I loved going to class because of the passion and energy you bring to teaching. Thank you for such an amazing and interesting class." Those are the moments that inspire me to return semester after semester and that reaffirm the leap of faith that led me from the courtroom to the classroom.
More Providence College news