May 19, 2017
Honors Program Reception student address: Lauren Berolini '17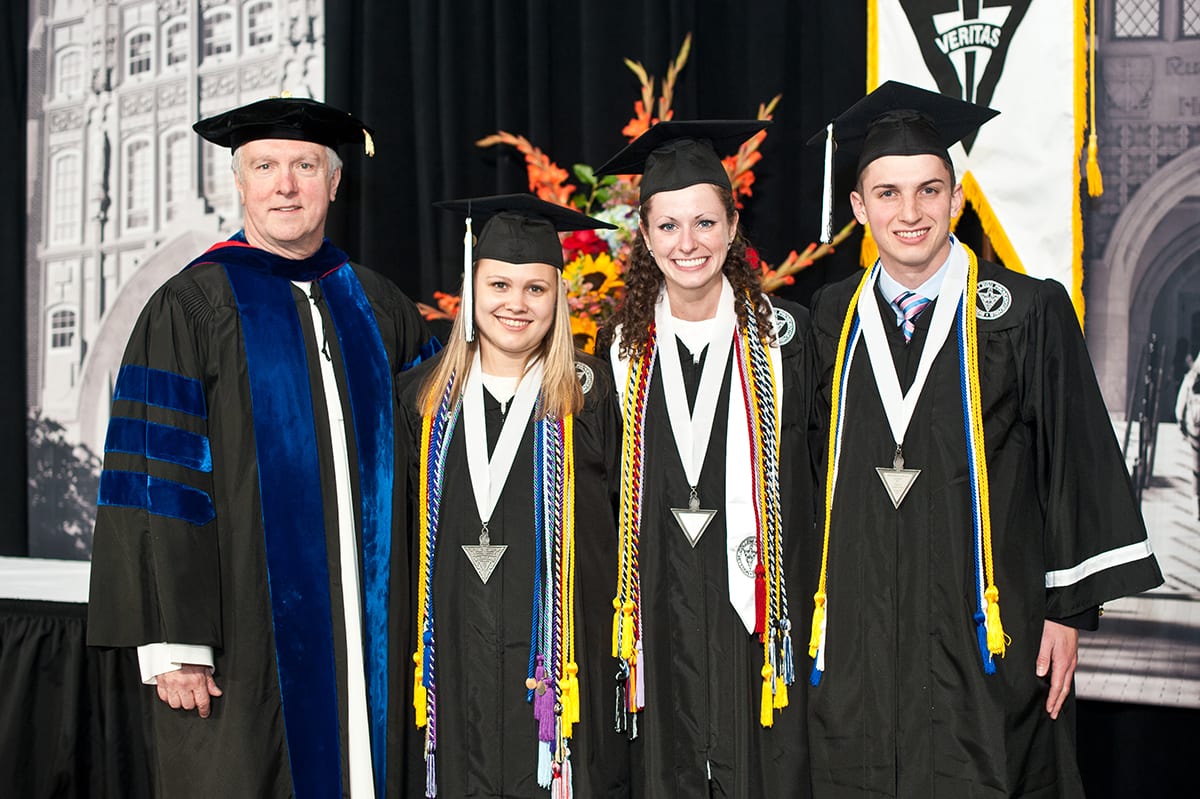 Lauren Berolini '17 (Bridgewater, Mass.) was one of two students chosen to speak at the Liberal Arts Honors Program Reception on Commencement Weekend 2017. A history and secondary education major with a minor in English, she was one of three student scholars to share highest in academic rank honors in the Class of 2017. Berolini, who will pursue her master's degree in literacy at PC, was the recipient of the Rev. Daniel F. Reilly, O.P. Award for excellence in historical scholarship. She served as president of the PC chapter of Colleges Against Cancer. Here are her remarks:
My first experience as a student in the Honors Program began with an email from Dr. Lynch (Dr. Stephen J. Lynch, professor of English and program director) containing the Gilgamesh reading for our first Civ lecture. Nervous for my first Civ class and expecting honors Civ to be nearly impossible, I carefully read the Gilgamesh poem, and by the morning of the lecture, I think I read the poem three times. However, when I arrived in Ruane that fateful morning and apprehensively pulled out my copy of Gilgamesh with nearly every other sentence highlighted, my perception of the Honors Program quickly changed. Dr. Andrews (Dr. Edward E. Andrews '01, associate professor of history) was the first to stroll in and immediately lightened the mood in the classroom. He jokingly instructed us to clap when Dr. Lynch and Dr. Macfarlane (Dr. Patrick J. Macfarlane, assistant professor of philosophy) entered, and once the lecture began, following our meek and nervous applause, Dr. Lynch, Dr. Andrews, and Dr. Macfarlane introduced themselves as the three amigos.
Within an hour, I began to more closely understand the epic poem, and Dr. Lynch involved us throughout much of the lecture. To wrap up the class, Dr. Lynch concluded with an image of Miley Cyrus twerking on the dance floor from the award show the night before explaining that this image would help us grasp the harlot character in Gilgamesh. Needless to say, I was not expecting Miley Cyrus to make an appearance in my Civ lecture, and leaving Ruane that day, I wasn't entirely sure what happened in that Civ class, but I was pleasantly surprised and was excited to see what was to come.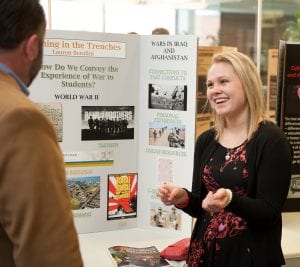 As the semester continued to unfold and in the coming semesters, I realized honors Civ was more than a class; it was an experience. Whether it was Dr. Macfarlane giving very detailed explanations of the many times he was kicked out of museums or Dr. Lynch and Dr. Andrews PhotoShopping historical images to liven up lecture and make us laugh, you never knew what would happen in the Civ classroom. This trend continued throughout sophomore year, and Dr. Sickinger's (Dr. Raymond L. Sickinger '71, professor of history and of public and community service studies)  notes somehow always followed an alliterative pattern, and who could forget when he spontaneously serenaded us with his original piece, "In the Arms of Saint Vincent." This lively and unpredictable atmosphere also extended into the seminar room, and Dr. Fournier (Dr. Suzanne J. Fournier '77, associate professor of English and associate director of the Honors Program) would bring treats to seminar while challenging us to engage with that week's literature on a deeper level.
Nevertheless, this Civ experience was not without its challenges. I don't think any of us will miss the weeks freshman year when we had a Civ exam and a Civ paper the same week, nor the Saturday at midnight paper deadlines, and there were many Civ study group sessions in which we were more ready to accept Socrates's declaration, "I know that I nothing," than take the exam the next day. Further, I doubt any of us are eager to revisit Dostoevsky's six-hundred page The Brothers Karamatzov, and to this day, sophomore year Civ is the most difficult course I have taken at PC. Nevertheless, it was through these exams, papers, and seminars that we became better writers and thinkers and were able to see the world and the past through a broader and more nuanced lens.
In addition to the many hours spent in the Civ classroom, the honors program experience challenged us and encouraged us to exert ourselves outside of the classroom and grapple with current, real-world issues. In honors sociology with Dr. Veliz (Dr. Eve Veliz-Moran, associate professor of sociology), we surveyed and analyzed social issues and trends and learned to see the interconnectedness between different sociological concepts while studying mildly outrageous social anomalies. Further, in Storytelling and the Public Square with Dr. Hackey (Dr. Robert L. Hackey, professor of health policy and management), we contemplated veterans' affairs and American health care through the stories of those in the military and health care field. We uncovered connections between Greek tragedies and PTSD, and this storytelling angle enabled us to see these issues through a more insightful and empathetic light. We also coordinated veterans' awareness events on campus through panels, galleries, and documentaries, and Dr. Hackey provided us with extensive support and encouragement throughout the entire process. My group chose to facilitate a panel of past and present PC veterans in honor of Veteran's Day, and through this process we learned and helped others learn more about the experiences of those who have served through a personalized lens. Following our panel, Dr. Hackey was more excited for us than we were for ourselves, and I will never forget the email he sent us after the panel stating, "I'm beaming down here like a proud parent, telling everyone I meet (my wife, daughters, any random folks I encounter) what a great event this was!" In many ways, Dr. Hackey was like a parent to us and his seminars would often conclude with life advice and encouragement. At the end of the semester, he even took us out for pizza and a play and drove us to the play in the Hackey family mini van complete with the latest Adele soundtrack.
The Honors Program extends outside of the country as well, and throughout our four years at PC the Honors Program has traveled to Italy, Spain, and Portugal, Ireland, and London over spring break. I was fortunate enough to attend the Ireland trip last spring, and it was one of the best and most memorable weeks in my PC experience. I had the privilege of meeting the famous and essentially perfect Chris and Lourdes, our tour guides, and on the Yeats bus, or as Dr. Lynch liked to call it "Air Force One" since Father Shanley was also on our bus, I had the opportunity to explore Ireland. We ate scones in Irish castles, drank Guinnesses in the Guinness Factory, visited a monastery in the pouring rain, explored Killarney via horse- drawn carriage, took pictures along the Ring of Kerry, and saw lots and lots of sheep. Even though it rained at least briefly every single day, we had a blast; and it was a great opportunity to further our connections with our peers in the Honors Program and socialize with our professors outside of the classroom. After all, not many people can say they dined at the oldest pub in Ireland or explored an Irish gas station dedicated to Barack Obama, yet, the Honors Program made these and so many other experiences possible.
To conclude, I would like to discuss the sentiment that comes to mind when I think of my past four years in the Honors Program: gratitude. I am beyond grateful for the friendships I made in the program, grateful for all the amazing professors in the program, grateful for the scholarship that allowed me to attend PC, and grateful that the program challenged me and pushed me to achieve more than I ever thought possible. In many ways, the Honors Program is what made my education at PC special and worthwhile. The program introduced me to the best professors who have provided me with endless support and encouragement along the way, and I do not know where I would be without them. I have taken classes with many of these professors again and again and they have become my advisors. One, Dr. Mulderry (Dr. Darra D. Mulderry, visiting assistant professor of history), even advised my thesis this past year. In addition to the support, I am grateful for the challenging learning environment. While I might not have appreciated the countless papers, long Dante readings, or dense philosophical readings in the moment, they have made me a better thinker, writer, and person, and I cannot imagine my life without the honors Civ experience.
As we leave the walls of PC and move forward onto our next endeavors, whatever they may be, it is important that we have confidence in ourselves. The Honors Program has sharpened our critical reading, writing, and thinking capacities, and has taught us the value of resilience. It has also encouraged us to contemplate what it means to be a good person, and self-reflect while reading and discussing the trials, beliefs, and insights of those who have come before us. We are all better thinkers and people as a result of this program, and I have no doubt that we will achieve great things in our future. Thank you for allowing me to speak on behalf of this incredible program and class, and I wish you all the best!