April 14, 2020
Love in a time of quarantine: Ryan Frazier '15 and Emma Beer '16 marry in St. Dominic Chapel
By Vicki-Ann Downing
A pandemic is no match for a Friar love story.

Ryan Frazier '15 and Emma Beer '16 were married in St. Dominic Chapel on Sunday, March 22, as the world shut down around them. Rev. James Cuddy, O.P. '98, vice president for mission and ministry, witnessed their vows as six wedding guests and a photographer looked on.

After the ceremony, the wedding party moved to the Harkins Hall rotunda, where Ryan and Emma shared a champagne toast, a small cake, and their first dance — to Queen's "You're My Best Friend," played through Spotify on Father Cuddy's iPhone. Everyone kept the required six feet apart, and when it was over, the guests went their separate ways.

It wasn't the wedding Ryan and Emma imagined at their engagement on Nov. 9, 2018 — but it's one they will never forget.

"We have the sacrament, we have each other, and it's a great story we'll be able to tell," Emma said. "We can have our party later. This is much bigger than us."

After the wedding, Emma and Ryan returned to medical school at the Uniformed Services University of the Health Services, located on the grounds of the Walter Reed National Military Medical Center in Bethesda, Md. They were commissioned second lieutenants in the Air Force after completing officer training in Alabama in 2017. They will graduate in May 2021 and, after residency, give the military seven years of service as physicians, possibly in separate locations.

Less than two weeks after the wedding, Father Cuddy, a Navy chaplain, was himself ordered to active duty. After the required period of quarantine, he will serve as chaplain aboard the USNS Mercy, the hospital ship docked in Los Angeles.

A scaled-down wedding was necessary for the greater good, the couple said.

"Father Cuddy spoke to our concern for public health," Ryan said. "That definitely engendered in us, especially as future doctors, a sense of responsibility not only to our family members but the College, Rhode Island, and the United States."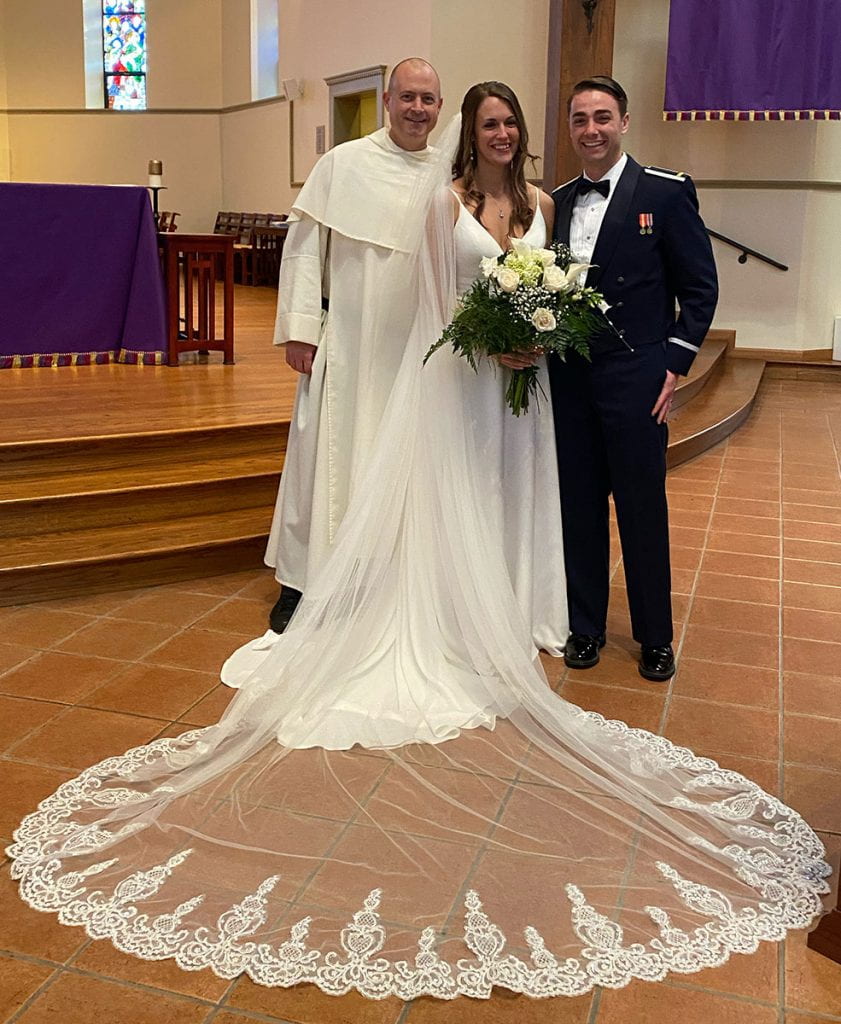 Ryan and Emma began dating in January 2015 when he was a senior and she was a junior. Both were biology majors and members of Friars Club. They worked with biology professors who shared a research lab — Ryan with Rev. Nicanor Austriaco, O.P. and Emma with Dr. Brett Pellock.

But they really got to know each other in the fall of 2014, when Emma was seeking a Fr. Philip A. Smith, O.P. Student Fellowship for Study and Service Abroad. The program allows students to spend a summer serving and learning with Dominicans around the world. Emma wanted to go to the Solomon Islands, where Rev. Christopher Cardone, O.P. '80 & '00Hon. is archbishop.

Emma sought Ryan's advice because he spent the summer of 2013 as a Father Smith fellow in the Solomons, volunteering and observing in a rural hospital, including in its operating room, and blogging about the experience. After graduation, he planned to return there for six months of service through Dominican Volunteers International.

Emma received the fellowship. Her time in the Solomon Islands intersected for a couple of weeks with Ryan's service there. In August, she returned to PC to be a resident assistant in DiTraglia Hall, and they began a long-distance relationship as he stayed on in the Solomons until February 2016.

"Emma was enjoying her senior year," Ryan said. "We exchanged letters. She somehow had a cell phone plan where she could call me once a week from the other side of the world with very crummy reception."

When Emma graduated in May 2016, she and Ryan worked for a year as nurse's aides at Beth Israel Deaconess Medical Center in Boston while applying to medical schools. They conducted independent searches, planning to make their own choices based on their preferences and acceptances, and manage as a couple if they had to be apart.

Ryan's uncle went to USUHS and encouraged them to apply there. On the day of their in-person interviews, they were impressed by the service nature of the university and its emphasis on leadership and family.

"Emma had to talk me into going to the interview," Ryan said. "The day before we had to decide what school to attend, I was on the phone asking Emma, who had more options than I did, where she wanted to go, and she said USUHS. My heart leapt, because that was where I wanted to go ever since I left it. We were going to make it work even if we had chosen different schools, but God has a funny way of putting you in places together when you need to be."

The only item that remained for the couple was their wedding. The planned to marry in St. Dominic Chapel on Saturday, March 28, with a reception at the Aldrich Mansion in Warwick. Of the 160 guests who were invited, five were priests, four of them Dominicans.

"I realize that these are the people we call friends, and it makes sense, because Jesus called us to be friends with people we admire and who are like him," Ryan said.

Father Nic, professor of biology and of theology, and Rev. Justin Brophy, O.P., associate chaplain when they were students, were to celebrate the Mass. Seth Pinches '16 and Jeanine Justiniano '16 were to reprise favorite music from PC's "Last Chance Mass," which takes place on Sunday nights, for the meditation and communion songs.

Everything seemed to be on track — until an email from Father Cuddy on March 12.

"They were only two weeks out from their wedding date and things were starting to fall apart," Father Cuddy said.

Due to the virus, PC had just announced that students could not return to campus after spring break and courses would be conducted remotely. Rhode Island was limiting gatherings to 250 people. Emma and Ryan discussed their options, including postponing the wedding or marrying in a different location, but two things were clear, Father Cuddy said.

"Ryan and Emma really wanted to celebrate the sacrament together as soon as possible. They were so excited to begin their lives as husband and wife that they couldn't imagine postponing," Father Cuddy said. "And, they really wanted to get married in St. Dominic Chapel, which has been such an important place to them, individually and as a couple. So, we determined that if there was a way to make that happen, we were going to make it happen."

Over the next week, the restrictions on public gatherings in the state only became tighter — limited to 100 people, then 50, then 25. Father Nic was stuck in the Philippines, where he had gone to visit family during spring break. Father Brophy would not be permitted to leave South Bend, Ind., where he is completing a Ph.D. in political science at the University of Notre Dame.

Father Cuddy offered to celebrate the Mass for them — until the Diocese of Providence said that for health reasons, weddings could no longer include Masses. Ryan and Emma could still receive the sacrament of holy matrimony through a simple Liturgy of the Word and an exchange of vows. They decided to move the ceremony ahead by six days.

"They received permission from their military superiors to travel, and it looked like we were good to go for a simple celebration of the sacrament with about 25 people in attendance," Father Cuddy said. "Then, the day before the wedding, the governor banned gatherings of more than 10 people."

That was a difficult day, Emma said.

"Father Cuddy helped us cope with changing our expectations and focusing on what's important," she said. "Saturday was certainly a stressful day, but Sunday was wonderful."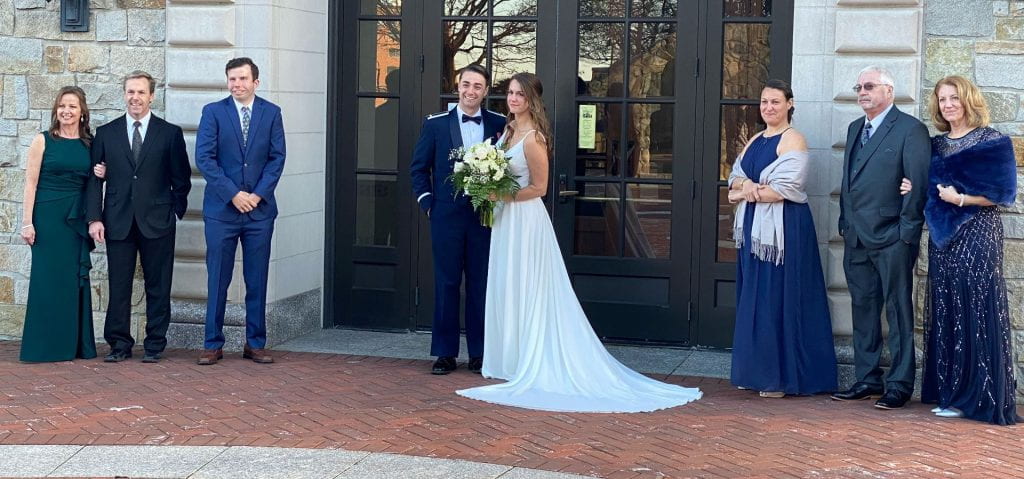 The pared-down guest list included Emma's mother and stepfather; Ryan's mother and father; Emma's sister serving as maid of honor; and Ryan's best man, Christopher Wasilewski '15 & '19G. The wedding photographers were a husband and wife team. To keep within the limit of 10 people, Ryan and Emma asked one of them to remain outside the chapel.

In his homily, Father Cuddy likened Ryan and Emma's experience to that of Francis Xavier Nguyen Van Thuan, who had just been appointed auxiliary bishop of Saigon when the city fell to Communist insurgents in 1975. Imprisoned without trial for 13 years, he vowed to live in the present moment. He decided that the prison was his cathedral and his fellow prisoners were his parish, Father Cuddy said.

"While a global health crisis may force us to strip down the celebration of this day to the bare minimum, it cannot touch the power of love," Father Cuddy said. "You have made the bishop's words your own: 'We will not spend time waiting. We will live the present moment and fill it with love.'

"I thank God for that. In these days of fear and anxiety that have washed over the world and our nation like a tidal wave, you have given all of us, those present and those who join you from afar, a great gift. You are bearing witness to the love of God — and the love that is given you to share that is corona-proof. At a time when the world needs the love of God so badly, this moment is a great gift to us all."

Ryan and Emma remain grateful to Providence College, which brought them together and instilled in them the importance of service. They encourage everyone to give to what influenced them the most — the science program and the Father Smith Fellowships.

"We are partial to them because they gave us the background to be the kind of people we are today," Ryan said.
Ryan Frazier '15 and Emma Beer '16 were shaped by PC's science program and Fr. Philip A. Smith, O.P. Student Fellowships for Study and Service Abroad. Please consider a gift to PC so that students with emergency need can have the same experiences.
support emergency student need