October 30, 2023
Meet at Brad's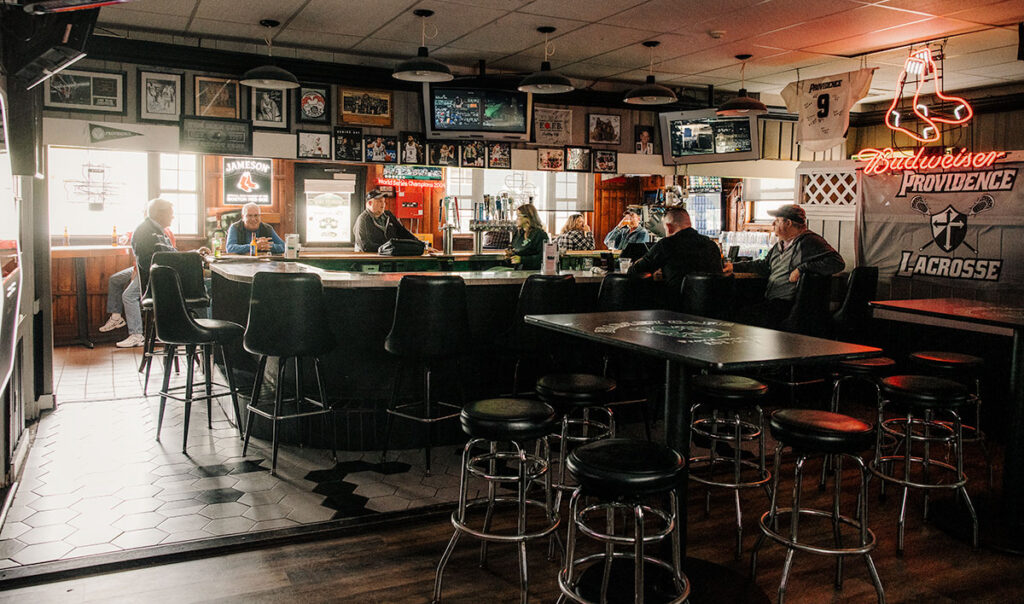 By Michael Hagan '15, '19G
The men's basketball team is playing an away game tonight. In the evening's darkness, seniors trickle across campus toward Admiral Street, to the single-story building with the green and white sign weathered to a slight patina from years of exposure. At the door, a man checks IDs. Older patrons glance at the time and finish their drinks, ready to surrender the establishment to the younger crowd.
Each generation of Providence College students has had its favorite watering hole: Louie's Tavern, Club Eagles, Clubbies, the Rathskeller, to name a few. Where those places have faded to memory, the Bradley Café at 571 Admiral Street, better known as Brad's, endures, anchoring the campus neighborhood as it has for more than 85 years. Popular with residents and students, a place where college mingles with community, Brad's really is a place where everybody knows your name — and where Brad's Brew is still $2 a draft.
"People come back after years, even decades, and say, 'Wow, this place is exactly the same,'" said Craig Viens, who has owned Brad's since 2015 with his wife, Amy, and friend Gary Cicillini.
Bill Allen '70, now from Cumberland, Rhode Island, was a commuter student who worked most nights, so he was never a Brad's regular. Still, he felt he had stepped back in time when he visited last summer for the first time since graduation.
"On the occasional night off, Brad's was a good place for a pitcher of 'Gansett," Allen said. "That was more than 50 years ago. I can't believe how little it's changed."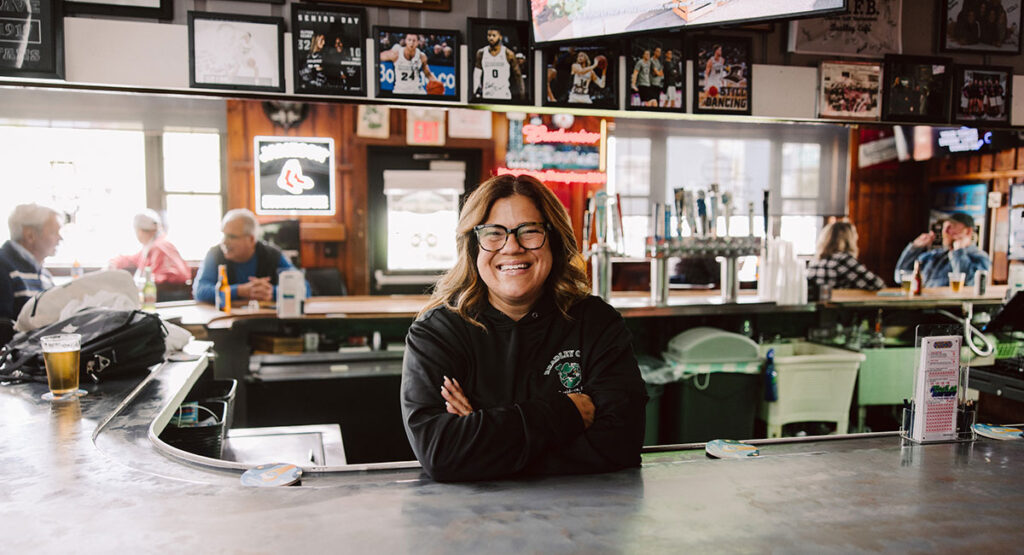 The horseshoe-shaped bar, recently refinished, divides Brad's into sections. Up front, around high-top tables and chairs, older folks watch news, sports, and Jeopardy, fill out Keno slips, and chat with the bartender. Young alumni can point out the signed photo of the 2015 NCAA Champion men's hockey team, on the wall across from the bar, and recall what it was like to be on campus that night. Students gather in the larger area in the back, feeding dollars into the digital jukebox to queue up favorite songs. By tipoff on game nights, the students are nearly shoulder to shoulder. When the bartender switches the bar's speaker system to the broadcast, the space is filled with arena sounds.
The Bradley Café was established in 1937 by Daniel Colanduolo and his wife, Rose Verrocchio Colanduolo. A sports fan, Daniel sponsored athletics teams in the city — the Bradley A.C. in baseball, the Bradley A.A. in football, and the Bradley Redjackets in basket­ball. When he died in 1950, Rose continued to operate the bar with her daughter, Ann, and son-in-law Winston "Winnie" Copp, until she retired in 1978. Winnie and Ann remained the proprietors of Brad's until their retirement and move to Florida.
The Feeney family took over owner­ship of Brad's in 1995. James "Jimbo" Feeney, who died in 2010, and his wife, Christine, along with Jimbo's brother, Brian, and his wife, Susan, kept Brad's a vital neighborhood institution. They hired family and friends to tend bar. They rallied patrons and neighbors to support Toys for Tots campaigns and hosted a Christmas party for neighborhood families complete with a visit from Santa Claus on a fire truck. Each St. Patrick's Day, Sue, who also was a registered nurse, would personally prepare corned beef for sandwiches.
"If you knew the Feeneys, you were like family. To Sue, everyone in these four walls was family," Cicillini said.
Cicillini and Viens became denizens of the bar under the Feeneys' ownership. The two met at Stuffies, a now defunct bar in North Providence. They frequented Stuffies on the same nights — "which makes sense, given that we were each there about six nights a week," Viens said.
When Stuffies closed, the pair chose to relocate to Brad's and befriended the Feeneys "almost instantaneously."
"Brian was like a dad to me," said Cicillini.
"To both of us," Viens added. "The whole Feeney family will always be part of the Bradley Café."
After Sue Feeney died of cancer in 2015 at age 56, Brian sold the bar to Craig, Amy, and Gary, who were determined to preserve what the Copps and Feeneys had created. The Feeney family remains close to the current owners and clients, and since Sue's death, have hosted fundraisers for cancer causes at the bar.
When Brian Feeney died unexpect­edly two years ago, his obituary mentioned Brad's: "He effortlessly made anyone who walked through the door feel a part of his family. With his gentle giant demeanor, his accepting, compassionate, and loving nature was felt by all who he encountered. He had the ability to change how the room felt simply by being a part of it."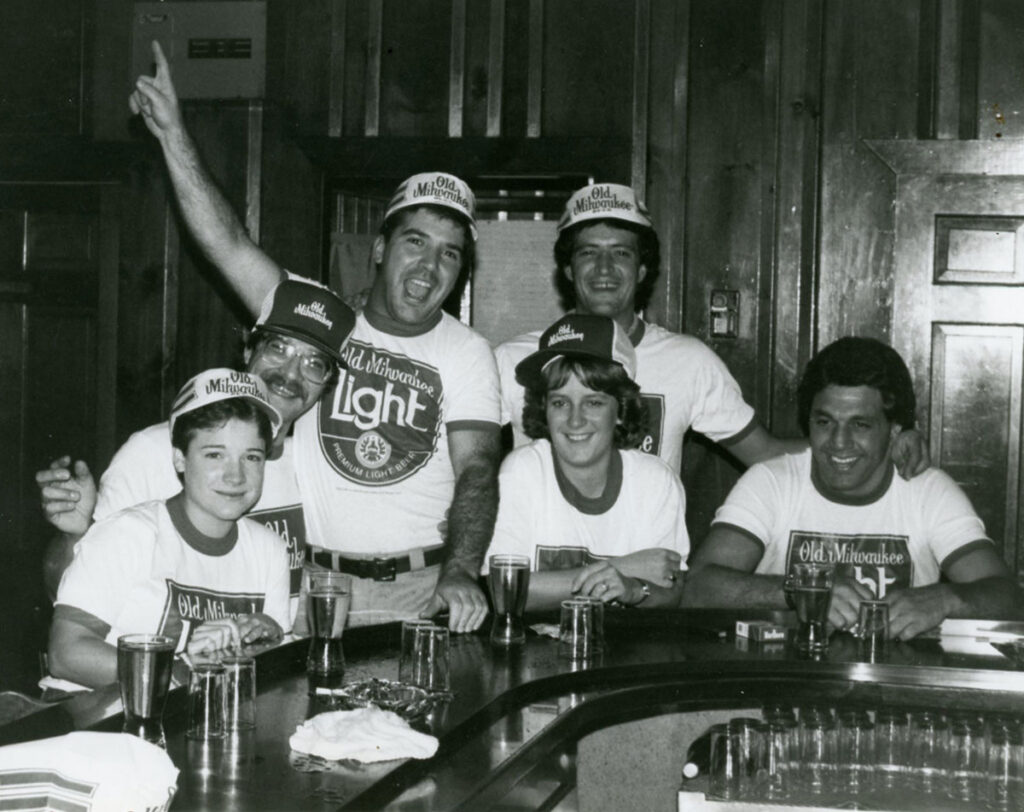 The current owners have overseen some painting and redecorating at Brad's, but they are careful not to change too much. The bathrooms, for instance, will never be painted because of the decades' worth of PC student autographs on the bare wood.
"There are some things you just can't touch," Cicillini said.
In a recent refresh of the bar décor, they hung several new pieces of Friars gear and memorabilia on the walls and labeled the spacious backside of the horseshoe bar "the Friars' Den."
"Game days are big for us. If it's an away game, the seniors are here. If it's a home game, they're here as soon as it's over. As much as PC students love us, we love PC," said Viens. "Brad's is Friartown."
And Friars do love Brad's. Around campus, the #MeetAtBrads hoodie is a wardrobe staple (the term "#MeetAtBrads" was first used on Twitter by basketball broadcaster Doris Burke '87, '92G, '05Hon.).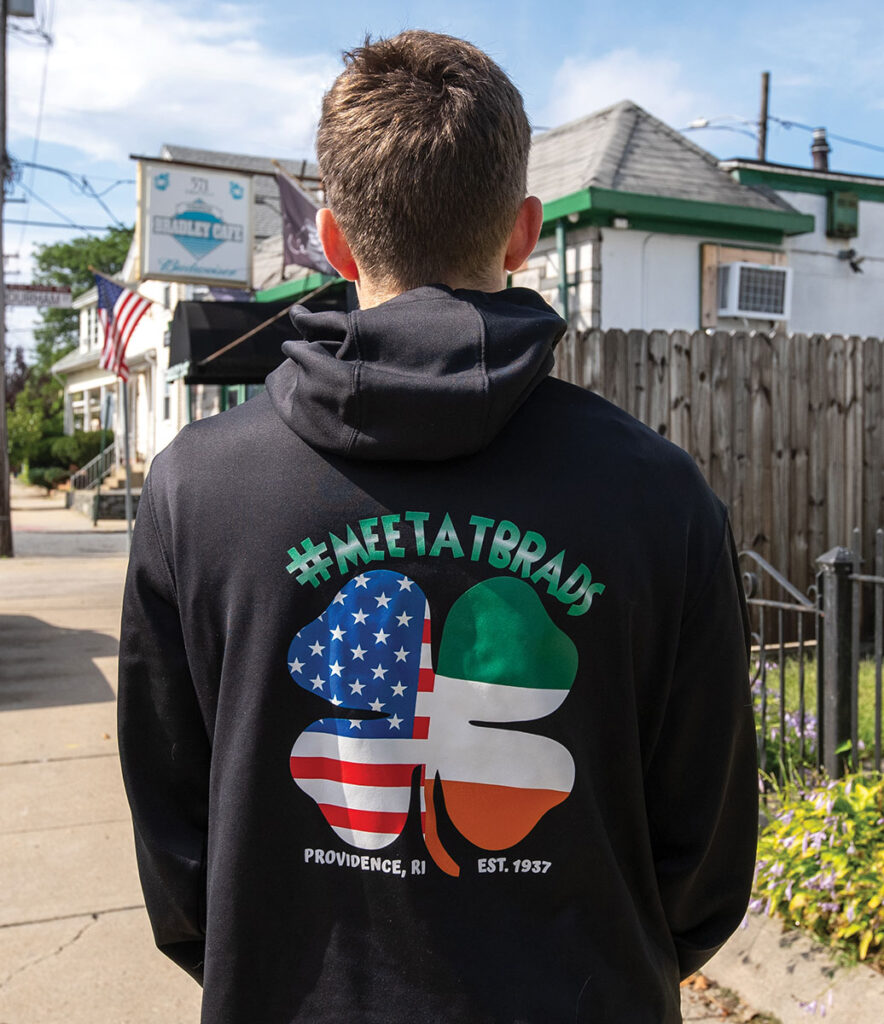 A pilgrimage to Brad's is a key part of many alumni visits.
Mike Tagliafierro '13, Brendan Nelson '13, Tim Reid '13, and Matt Spurling '13 visit the bar annually to host "A Very Bradley's Christmas." It's been held on a Saturday in December every year since 2014. The tradition began when Tagliafierro returned from service with the U.S. Army in South Korea.
"We were trying to figure out the best way and the best place to get friends together I hadn't seen in more than a year. We thought, 'What better place than Brad's?'" Tagliafierro said.
As Nelson is fond of saying, "Every day is Bradurday."
Along with classmates from the Class of 2013, attendees through the years have included Rev. Iriarte Andujar, O.P., PC's associate dean of admission, and the late Sgt. Major Gary Fortunato '00SCE, Tagliafierro's instructor in PC's ROTC Patriot Battalion.
Each year, the organizers design a commemorative T-shirt in a different color.
"Brad's is woven into the fabric of the PC community. You walk through the door and you feel at home, you feel like you're in college again," said Tagliafierro.
Amy Viens, who tends bar in addition to co-owning and managing the establishment, loves that she's always among friends and family while she works. She describes the current ownership as in it for the long haul.
She said, "We love this bar. We love this neighborhood. Why would we ever want to sell a place like this?"
More from the Fall 2023 magazine