January 30, 2023
MLK Convocation speaker Hill Harper addresses structural inequalities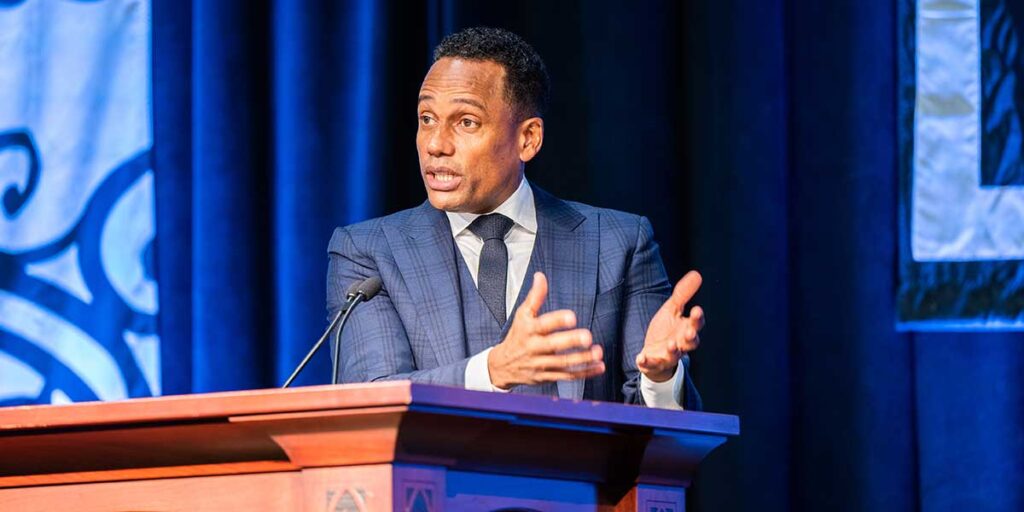 By Michael Hagan '15, '19G
Activist, actor, and author Hill Harper, the featured speaker at Providence College's sixth annual Rev. Dr. Martin Luther King Jr. Convocation, addressed structural inequalities in the United States, including the racial wealth gap and mass incarceration.
Speaking in Peterson Recreation Center on January 26, Harper expanded upon Dr. King's message that "we are all tied together in a single garment of mutual destiny." He argued that the racial wealth gap and mass incarceration are "inextricably linked, because 90% of the incarcerated are poor." Historical and, in certain cases, continuing exclusion from full economic participation — whether by law or in practice — underlies the fact that Black Americans are incarcerated at a disproportionately high rate (five times the rate of white Americans, according to the NAACP).
"Wealth and wealth inequality don't just happen," Harper said. "It has effects, and communities are crippled by it."
Adebimpe "Addie" Dare, assistant dean and director of multicultural student success, introduced Harper, whose acting credits include The Good Doctor, CSI: New York, He Got Game, and Lackawanna Blues. He is founder and chairman of The Black Wall Street Digital Wallet and App; co-owner of an award-winning New Orleans hotel, International House; and has a thriving coffee franchise in Detroit called The Roasting Plant. He started the Manifest Your Destiny Foundation, a nonprofit dedicated to empowering underserved youth, and has established The Pierce and Hill Harper Arts Foundation. Dare noted that Harper also was included in People Magazine's 2014 list of "sexiest men alive" and that he hopes to win the award again.
A graduate of Harvard Law School, the John F. Kennedy School of Government at Harvard, and Brown University, Harper has written four books, including The Wealth Cure: Putting Money in Its Place, which offers lessons on establishing financial security and freedom to pursue passions.
"Passion means energy," Harper said told the PC community. "Physics tells us that you cannot move a mass in stasis without a greater or equal amount of energy. Big problems require big energy."
Closely connected to energy for Harper is courage, "one of my favorite words in the English language because it comes from the French 'coeur,' meaning 'heart.'"
Harper noted that if Dr. King were giving the address, he'd likely conclude by leading the assembly to demonstrate and even get arrested, as Dr. King did numerous times in his public life to protest injustice.
"He'd speak, and they'd march with the American flag before them into guns, dogs, and police," Harper said.
"Dr. King's legacy calls us to step up in passion and reason and courage, to be the best versions of ourselves as we make the new version of what our country could be."
After the presentation, Harper spoke with Santiago "Santi" Najarro Cano '24 (Pawtucket, Rhode Island), a Benjamin Family Social Media Fellow in the PC School of Business. Cano, a marketing major and theatre minor, aspires to be a professional actor. Harper answered his questions and offered advice based on his own experience.
"I meet so many people who tell me they're not passionate about anything. I just think that they've never really asked themselves the very simple question, 'What makes my heart beat faster?" Harper said.
"New generations have open to them a level of fearless freedom no previous human has ever been able to dream of," Harper said. "Go out and use it."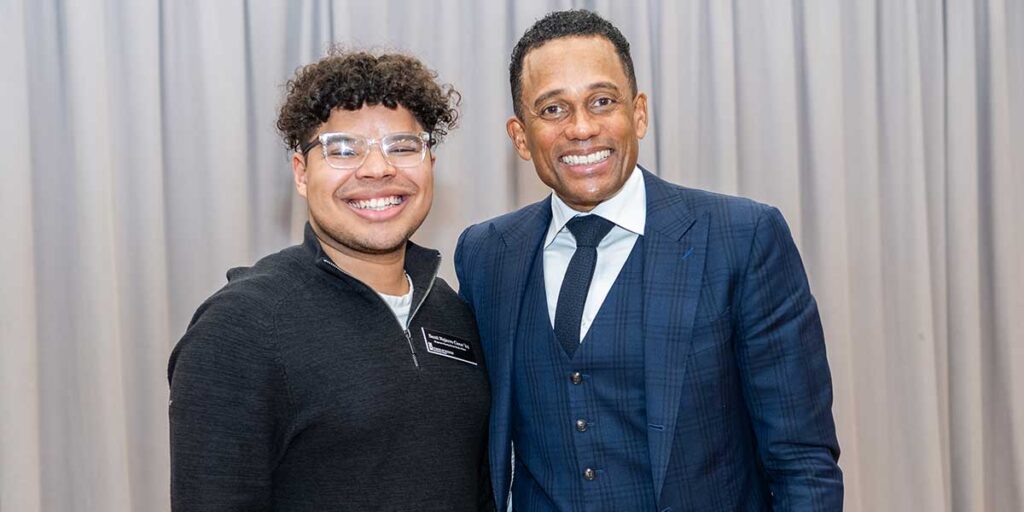 Also during the convocation, College President Rev. Kenneth Sicard, O.P. '78, '82G announced the recipients of the 2023 MLK Vision Awards, who will be honored at a prayer breakfast on February 15 at 7 a.m. in Slavin Center '64 Hall. They are Justin Babu '23 (East Meadow, New York), a biology/secondary education major and leader on and off campus, and Rev. Dr. Anderson Clary Jr. '69, a pastor and community leader in Hampton, Virginia, who began his career as the first Black public school teacher in Pawtucket, Rhode Island.
MLK Convocation at PC was established in 2018, the 50th year after Dr. King's assassination, as a way to highlight his vision, work, and legacy.
Previous MLK Convocations
More Providence College news