August 29, 2022
New minor in Catholic humanities puts Catholic lens to human experience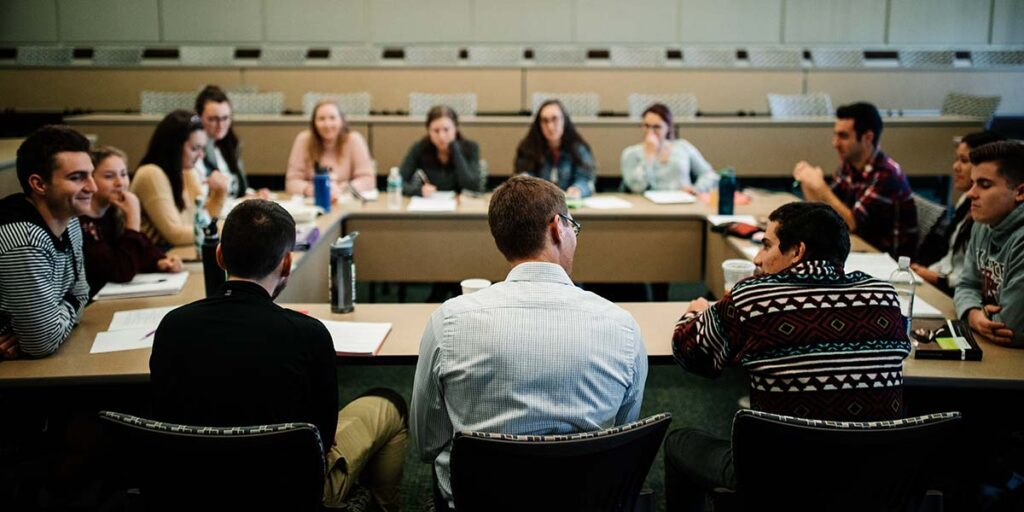 By Michael Hagan '15, '19G
What does it mean to be human, and what is our place in creation? These questions are at the heart of Providence College's new minor in Catholic humanities, offered by the Humanities Program.
For decades, the Humanities Program has offered a rigorous humanities major that integrates courses in classical and world languages, literature, fine arts, history, theology, philosophy, and more. The Catholic humanities minor launched in 2021 to provide broad yet cohesive experience in humane studies to students who do not major in humanities.
The humanities focus on human experience, intellect, and creativity. The Catholic humanities minor centers God's relationship with humankind as it considers intellectual and creative work from antiquity through the present day.
Catholic humanities is not a program in Catholic studies.
"Catholic studies programs study Catholicism itself. Catholic humanities students study the world and our place in it from a Catholic perspective," said James Keating, Ph.D., associate professor of theology and director of the Humanities Program.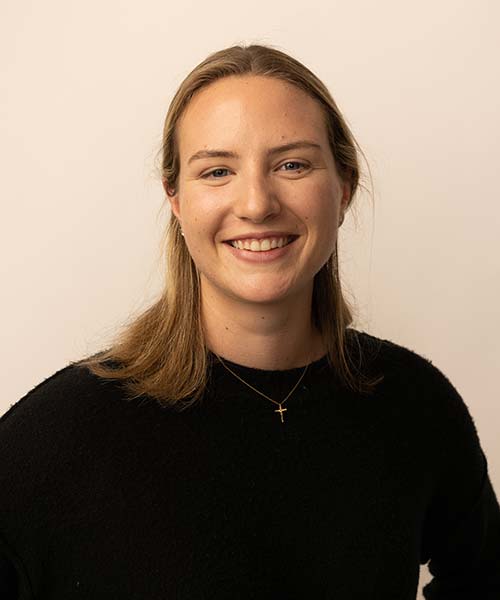 "A Catholic approach to the humanities begins with a basic vision of the human person as the image and likeness of God," said Elizabeth Duffy '23 (East Greenwich, R.I.), a humanities and theology double major. "Humanity is itself a revelation. When we learn about ourselves as human beings, we learn about God, and vice versa."
Catholic humanities minors explore the Catholic intellectual tradition, an inheritance originating in scripture and spanning millennia. They might read the theological reflections of Augustine, the poetry of Dante, the philosophy of Edith Stein, the fiction of Flannery O'Connor (Duffy's favorite), or anything in between. They engage Christian and non-Christian voices and ideas. There are few limits to what students can study.
"Any person or work taken up by Catholics or other Christians as a source of inspiration or provocation (or both!), has a place in this tradition," said Raymond Hain, Ph.D., associate professor of philosophy and associate director of the Humanities Program. "There is no subject matter which would be excluded from the Catholic intellectual tradition. It is concerned with everything that concerns human beings. Of course it considers figures like Aristotle and Aquinas, but it's also in conversation with Marx or Derrida or the films of the Dardenne brothers."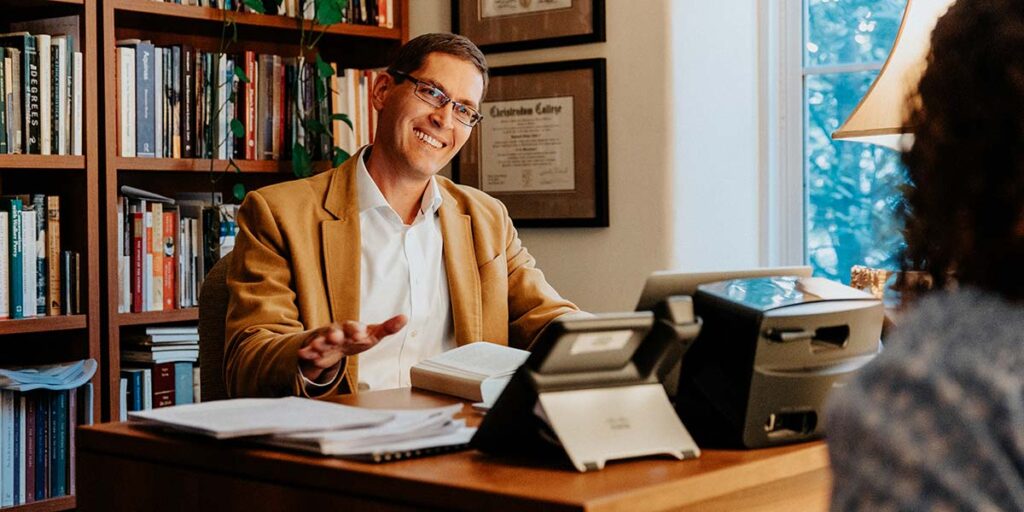 Thomas McSweeney '23 (Holbrook, Mass.) is a political science and history double major who chose to minor in Catholic humanities last year at the recommendation of Rev. Jordan Zajac, O.P. '04, assistant professor of English. McSweeney is particularly interested in the history of Catholicism and its relationship to culture through the ages. He looks forward to his capstone course this year in which he will apply methodology from his historical studies to a research project of his own design.
For McSweeney, humanities courses are an extension of the Development of Western Civilization courses that, like all Providence College students, he took in his first two years. One of his favorite thinkers is Søren Kierkegaard, the 19th century Danish philosopher considered a father of Christian existentialism. Though he was not Roman Catholic, Kierkegaard's theological and philosophical writings continue to influence Catholic thought.
"I appreciate the way that this whole experience is geared toward making you a more well-rounded and whole person. This is what Providence College is centered around as a Dominican institution. All of my classes are oriented toward the goal of veritas — truth," McSweeney said.
Humanities Program leaders see the Catholic humanities minor as a natural expression of the college's Catholic and Dominican mission. The new minor and the humanities program itself have attracted the attention of several donors who have generously supported their development.
"We noticed that there was no program of study committed to the Catholic intellectual tradition. This minor fills that need in a way distinctive to the college's Dominican identity," Keating said.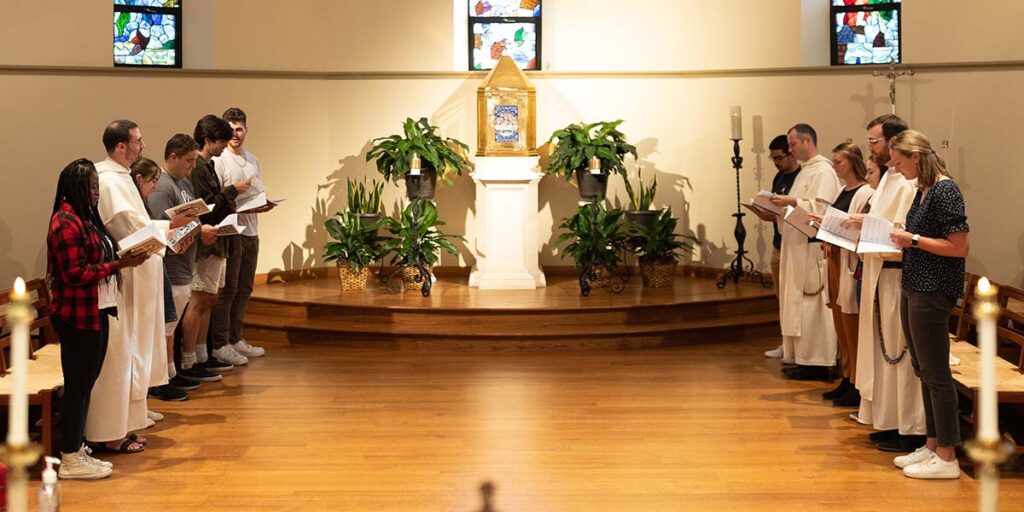 The minor is designed to be flexible and accessible to students from all majors. In McSweeney's case, certain courses from his history studies apply toward his Catholic humanities minor.
"We have two aims in our course offerings. First, we want it to be as easy as possible for students to enroll in these classes and integrate them with courses from their majors. But we also want the traditional rigor characteristic of studies in the humanities," Keating said.
Three-credit courses in the Humanities Program are designed to satisfy core requirements and proficiencies, making them a practical option for students in any major. The program also offers one-credit courses that meet for one hour each week. Duffy has taken several.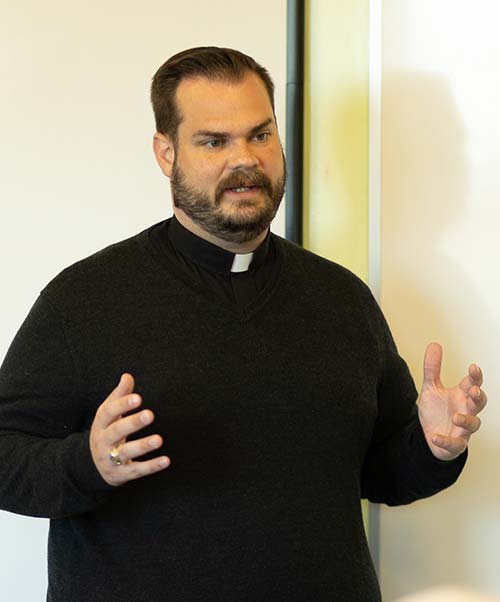 "My one-credit course on Walker Percy with Father Brophy was more like a reading group than a class. It was everything I loved about Civ seminar but without as much pressure," Duffy said. (Rev. Christopher Justin Brophy, O.P., is an assistant professor of political science).
Courses this fall include Stargazing; Sports, Leisure, and Philosophy; and The Soul of Rock 'n' Roll (offered by Rev. Justin Bolger, O.P., PC chaplain and member of the popular bluegrass band, The Hillbilly Thomists). Elective courses like these complement Introduction to Humanities, a course on the Catholic and Dominican intellectual tradition, and a humanities capstone — the required courses for the minor.
Some courses are more hands-on than a traditional seminar, including a one-credit course on illuminated manuscripts offered last spring by Daria Spezzano, Ph.D., associate professor of theology, during which students created their own illuminated pages. Duffy took a one-credit course in Gregorian chant in which students learned and practiced the ancient liturgical art of chanted music.
"Classes like these," said Hain, "focus on learning a particular physical skill within the context of the Catholic and humanistic tradition. They have quickly become some of our most popular course offerings."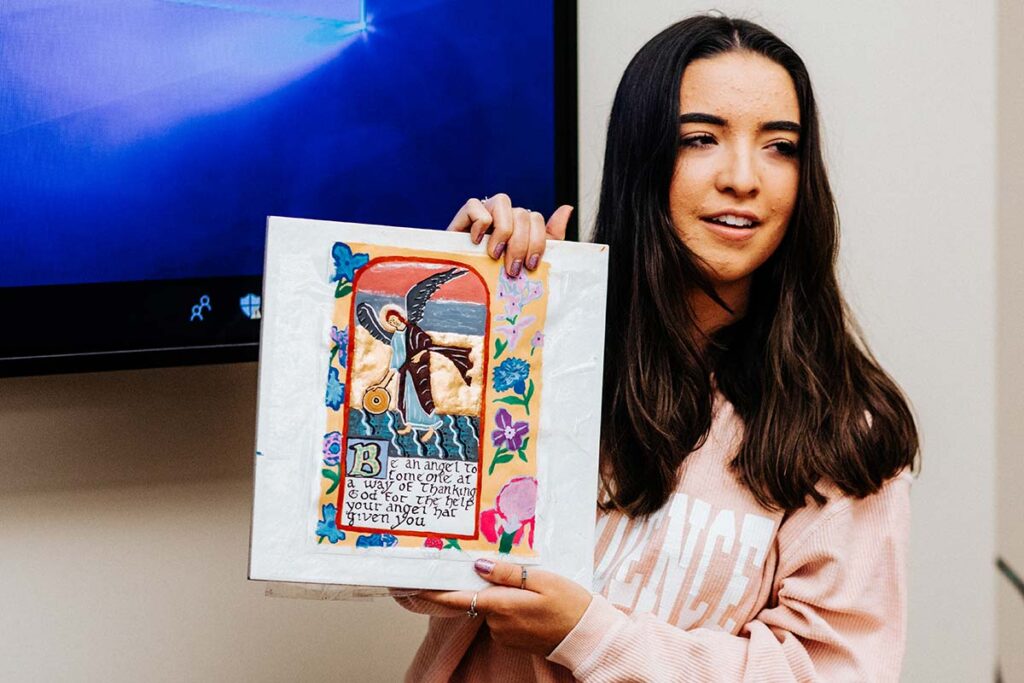 Though they intersect in myriad ways, Catholic humanities differs from theology. Theology critically examines the Christian faith. Catholic humanities minors use Christian faith and Catholic tradition as lenses to examine the human experience.
"The word 'catholic' means universal," said Hain. "The Catholic intellectual tradition aspires to an integrated understanding of the world and our place in it."
For faculty, part of the joy of teaching humanities courses comes from being able to share writings or art they love most. Hain particularly enjoys showing his students "The Tree of Life," a 2011 film directed by Terrence Malick starring Brad Pitt, Sean Penn, Jessica Chastain, and others.
"'The Tree of Life' is Malick's greatest achievement. It does an extraordinary job reflecting on human life: our relationship to the transcendent, hope for life after death, need for forgiveness, and appreciation of beauty. It often has a profound effect on religious and non-religious students alike," Hain said.
Who is the ideal Catholic humanities student?
"Anyone," Hain and Keating said together.
"We're convinced that every student would benefit from taking time to consider this tradition," Hain said. "It's an invitation to enter into something very old and very rich. There's an important place for this in every student's education."
More Providence College news