October 17, 2016
O'Connor '75 develops tax case that leads to historic Supreme Court ruling
By REBECCA KEISTER
Many lawyers dream of leading a case to the U.S. Supreme Court, but not every one of them gets there.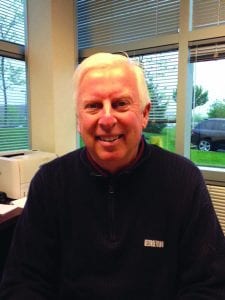 However, Richard J. O'Connor, Esq. '75 did — with a big assist from his alma mater. He said his history-making lawsuit would not have been possible without his undergraduate education at Providence College and his decision to take Dr. Neil T. Romans' Constitutional Law class as an elective during his junior year.
"I believe that the heavy concentration of reading and papers at PC was a wonderful preparation for a top law school," O'Connor said. "Dr. Romans made the class very interesting and challenging, and as a result, I decided to go to law school." Romans retired from the PC faculty in 2015 as associate professor of political science after teaching here for 48 years.
O'Connor credits the education he received at PC while earning his bachelor's degree in political science — and graduating summa cum laude in the Liberal Arts Honors Program — with providing him the foundation he needed to pursue a juris doctor degree at Georgetown University Law Center in Washington, D.C. He also received a master of laws degree from Georgetown.
"I was recruited to PC on a track and cross country scholarship, but I started focusing on academics rather than athletics," O'Connor said. "Dr. Romans' class was maybe the only elective like it in political science. Constitutional law is a very interesting area. I went to a very good law school, and I've had an interesting career."
Focusing on tax law — which O'Connor describes as intellectually challenging due to its complexity — is what led to his landmark lawsuit and the career high of navigating it to a victory in the Supreme Court.
The 5-4 decision last year in Comptroller of the Treasury of Maryland v. Wynne declared unconstitutional a long-latent tax law that allowed the state to double tax interstate businesses. The case is, to date, the most significant state tax law case decided by the Supreme Court and protects business owners who conduct interstate commerce in 42 states — an estimated 2 million persons.
"If you're a lawyer, you can never top that kind of victory. It's just not possible," O'Connor said. "The victory protects the rights of taxpayers in 41 other states from being double taxed on their income. That is a huge number of multi-state businesses."
As corporate tax director at Maxim Healthcare Services, Inc. in Columbia, Md., O'Connor was responsible for developing the original lawsuit in order to help his employer navigate a tax audit. After Maxim's 2013 victory in the Maryland Court of Appeals — the state's highest court — the attorney general of Maryland intervened to have the decision overturned, and the case went to the Supreme Court.
"For a six-year period, I developed the theory of why the tax law was unconstitutional and managed the case," O'Connor said. "I was not advocating a position that everyone would agree with. But we did win. As a result, I've been on a number of webcasts and interviews. People just love to talk about constitutional law."
The case was well covered in the media, including in The New York Times and The Wall Street Journal, elevating O'Connor's professional profile as one of this century's most innovative tax lawyers.
What he remembers most fondly about his academic career at PC is the diverse educational offerings he received in, among other subjects, Shakespeare and philosophy.
"But perhaps, most of all, I recall the even-handed manner in which Western Civilization lecturers in religion considered the history of Catholicism and its alternatives," O'Connor said.
With his wife, Dr. Patricia Haggerty, of the National Institutes of Health, he recently stopped by campus for a walk down memory lane while visiting Rhode Island. Haggerty is a trailblazer in her own field and recently worked with the doctor who led the governmental response to the Ebola crisis.