April 23, 2018
One of the first MLK scholars became a physician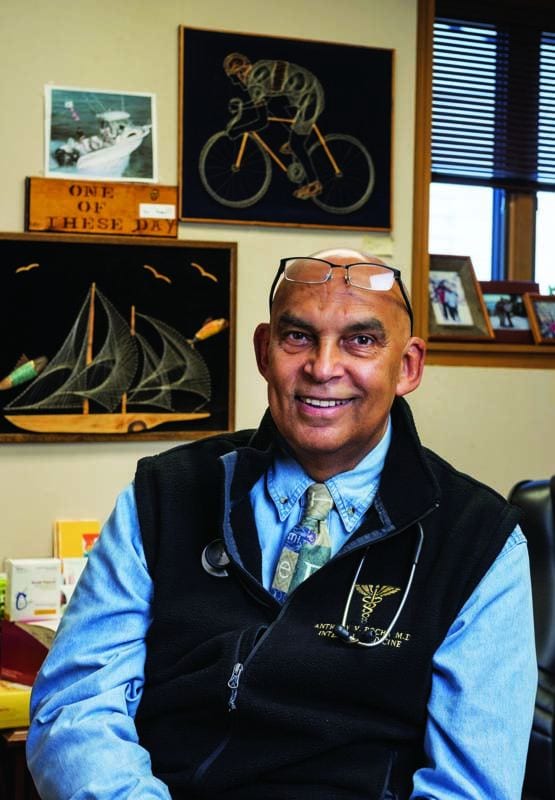 By Vicki-Ann Downing
When Anthony V. Rocha, M.D. '72  was a child growing up in Providence and said he wanted to be a physician one day, people usually responded: "That's a nice dream, but you may never get it."
Rocha didn't know any black doctors in the 1950s and 1960s. His father died when he was 13. His mother worked cleaning homes. His older brothers and sisters became role models by marrying and working to support themselves. Though he excelled at Hope High School and was accepted to colleges, there was no money for his education.
But then something unexpected happened. Providence College offered Rocha its Martin Luther King, Jr. Scholarship, implemented for the first time in September 1968. It would cover the cost of his tuition, dormitory, and meals for all four years.
It was a dream come true.
"PC made an incredible commitment to the black and minority students," Rocha said. "They were the only college that extended a hand like that."
A biology major, Rocha was the only student of color in his program through four years.
"I didn't see any of the other minority students until suppertime," Rocha said. "But I never had a problem with any of the students. They were very endearing and very helpful. We worked as a team to get through."
Eleven black students, the largest number in College history, were among the 515 graduates in the Class of 1972. They included the first five MLK scholars: Rocha; Renalto Bantum '72, an English major from Philadelphia; Albert L. Cooks '72, a history major from New York, N.Y.; Gerald J. Ramos '72, an English major from Providence; and Gregory Wigley '72, a general social studies major from Providence.
After PC, Rocha graduated from the Boston University School of Medicine. He completed a three-year residency at Rhode Island Hospital, then opened an internal medicine practice in East Providence, where he has worked for more than 40 years. He often sees the grandchildren of his original patients. One day a week, he treats people dealing with opioid addiction.
Rocha is a born-again Christian. His wife, Kathleen, is a nurse who runs his office. He is the father of a son and three stepchildren.
"I could not have fulfilled my dream if PC had not extended the financial help they gave me," Rocha said. "They were pace-setters back then and they continue to be."