March 23, 2020
PC students rally college students from around the country to create video promoting virus awareness
By Vicki-Ann Downing
Management students at Providence College created a two-minute video — featuring their classmates and friends from colleges across the country — to encourage young adults to take seriously warnings about the coronavirus.

The video, #collegesagainstcovid19, was posted Sunday evening on YouTube, Twitter, Facebook, and Instagram, and immediately drew thousands of views and shares. It features about 40 students from PC and other colleges, including Duke, Clemson, Syracuse, Vanderbilt, Penn State, Temple, and Vermont.

Valerie Antonio Cardozo '21 (Providence, R.I.), a finance and management double major and philosophy minor, said the video was created by students in the Organizational Theory course taught by dr. tom king, assistant professor of management.

Each semester, king (who prefers that his name not be capitalized) challenges his students to undertake a fundraising campaign for a nonprofit organization. In February, all 18 students in the course spent a week raising more than $3,800 for The Tomorrow Fund, which supports pediatric cancer patients and their families at Hasbro Children's Hospital in Providence. After that, the students split into two groups. One planned to continue to support the Tomorrow Fund while the other raised money for Alzheimer's research.

Then came the pandemic and the news that the College would switch to remote classes after spring break, beginning on Wednesday, March 18. The day before, as faculty members met on campus to structure their remote courses, king invited his class to join him in a planning session using Zoom video conferencing.

"We were really excited," Antonio said. "It was a major organizational change. We needed to redesign the class, and he wanted us to be part of the planning process."

Because so many events that the students had organized to support their charities would be canceled, the class decided to shift its focus, Antonio said. The COVID-19 virus was on their minds, so they first discussed fundraising for people impacted by the virus. But a video to raise awareness seemed to have the most potential for impact, especially after news coverage of college students in Florida enjoying spring break on beaches and in other crowded quarters.

"We thought it was important to spread awareness and have a social campaign, especially after that spring break video," Antonio said. "A lot of college students and young adults are not taking the virus warnings seriously, so we thought that having a message come from college students would have a bigger impact."

"We worked all day to plan it," she added. "We have been talking nonstop every day for the past week, even during the weekend."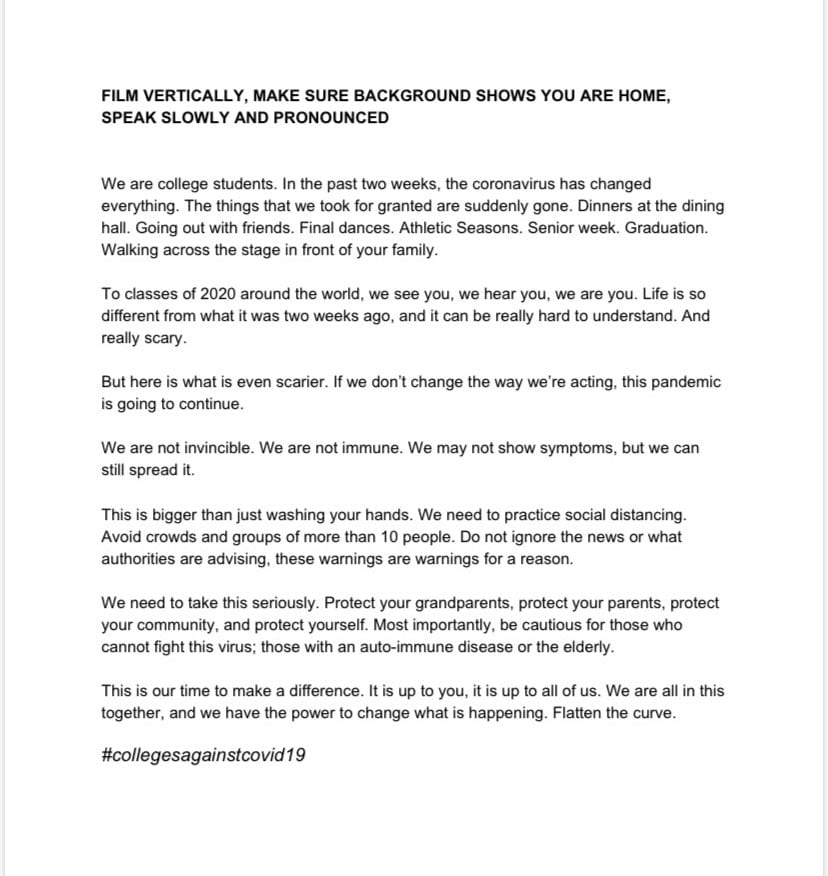 Meeting on Zoom and through a shared Google drive, the students developed bullet points to address in the video. They drafted a script, then revised it several times. At one point they agreed to take a break to allow everyone time to reflect on the message. They used an Excel spreadsheet to list the students they planned to invite to participate.

Once they agreed upon the the final script, they texted it to friends at colleges across the country. Each student was asked to read the entire message and record it on a cell phone, then text the recording back. William Sullivan '21 (North Andover, Mass.), a management major, used Final Cut Pro software to edit the videos into a single message during the weekend.

On Sunday, March 22, the class met again on Zoom to watch and revise the video as a group. It went live at 6 p.m. on YouTube, Twitter, Facebook, and Instagram. The next morning, it already had more than 17,000 views on Instagram alone.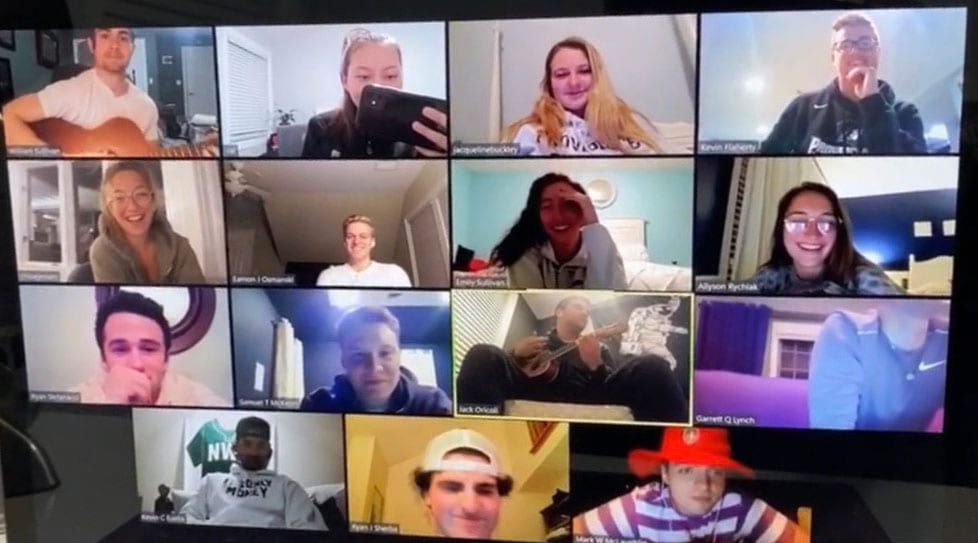 "I want to make clear that this was not an assignment given by our professor — it was completely chosen by us," Sullivan said. "Over the course of the semester, tom king inspired us to take steps on our own and to view bumps in the road as opportunities for growth. Our organizational effort was immense — the video was just a side effect of that."

Antonio, who canceled a planned spring break trip to Europe because of the virus, said the students also wanted to reassure their peers that it's OK to be sad about how the virus has changed their lives and their plans.

"We discussed how it affected all of us, especially the Class of 2020," Antonio said. "College students should be able to feel sad, especially seniors who won't get to finish their final semester on campus, in person. When people are literally dying, you may feel it's not right to be upset about something that seems trivial in comparison, but it is OK."

The class still plans to fundraise during the semester for those impacted by the virus, she said.

"One night at 10, after being online together for hours, two students started playing the guitar for the rest of us," Antonio said. "We developed a good friendship through all of this. We would never have guessed at the beginning of the semester that any of this would all happen."

Antonio also appreciated how king allows students to put organizational theory into practice.

"We really get the purpose behind it. We get committed to what we're doing and it never feels like homework," Antonio said. "He gives us so much freedom to go in our own direction. He leads us, but he doesn't necessarily manage us or instruct us. Especially for management majors, this is exactly what we need. We become so passionate that it doesn't even feel like school. We're doing it because we really want to, because we really care."
In addition to Antonio and Sullivan, students in the class are Ian Bannon '20 (Cos Cob, Conn.), Jacqueline Buckley '21 (Walpole, Mass.), Kevin Eustis '21 (Farmington, Conn.), Kevin Flaherty '21 (Beverly, Mass.), Peter Flynn '20 (Middletown, Conn.), Chloe Jensen '21 (Essex Junction, Vt.), Garrett Lynch '21 (Chester, N.J.), Sam McKeon '21 (Ridgewood, N.J.), Mark McLaughlin '21 (Mount Kisco, N.Y.), Jack Oricoli '20 (Southport, Conn.), Eamon Osmanski '21 (Norwell, Mass.), Allyson Rychlak '21 (Warrington, Pa.), Mackenzie Saitta '21 (Boxford, Mass.), Ryan Sherba '21 (Ellington, Conn.), and Ryan Stefanacci '21 (Upper Saddle River, N.J.), and Emily Sullivan '21 (Mansfield, Mass.).
providence college's covid-19 updates
To address the critical needs of students who have been impacted by the ongoing coronavirus public health crisis, PC has started to raise funds for Emergency Student Support through The Fund for Providence College.
support emergency student need