November 20, 2017
Places that inspire: a landscape reborn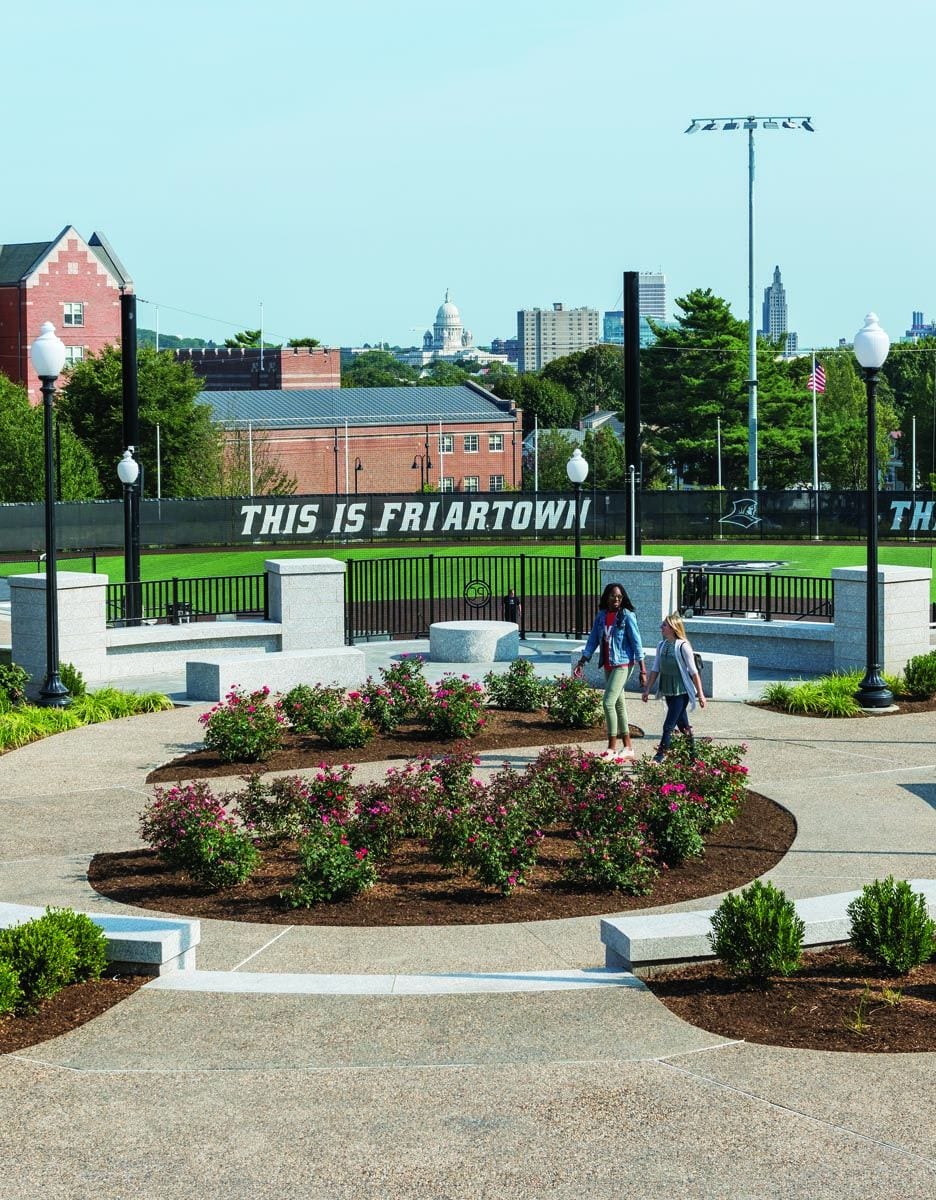 In Rhode Island vernacular, it's not uncommon to give directions based on former landmarks.
So if you haven't visited campus lately, you wouldn't believe what's going on where Huxley used to be. Or Dore Hall. Or the space between Al Mag and the library.
Gone are the days of Huxley Avenue crosswalks, Civ classes in Moore (or even Aquinas), and cars driving from Harkins past Slavin to the center of campus.
A transformation once unimaginable has yielded a campus practically unrecognizable. Today's PC — dramatically changed since Our Moment: The Next Century Campaign for Providence College began in 2010 — is now a stunning, pedestrian-friendly, park-like oasis in the city's northwest corner.
New and renovated buildings, including the Ruane Center for the Humanities (2013) and the Arthur F. and Patricia Ryan Center for Business Studies (2017), have become anchors of our landscape, and of our thriving academic program. Athletics facilities have grown in size and scope. And somehow, in the face of all this construction, campus actually gained green space.
All of this completes a picture purposefully created by trustees, administrators, faculty, staff, and outside partners determined to update the buildings and grounds in ways appropriate to PC's size, consistent with its mission, and respectful of its values.
"We have built places that inspire, in a way that fits us and fulfills our mission," said Senior Vice President for Business and Finance John M. Sweeney, the architect, figuratively speaking, of the multi-year campus transformation project. "Our facilities now come much closer to matching the quality of our people and our programs."
The images tell a story of Providence College as the Class of 2021 found it this fall — a campus thoughtfully designed to facilitate teaching and learning, community engagement, and personal fulfillment. It's where PC used to be. Only better.
Where Huxley used to be
For nearly half a century, Huxley Avenue divided campus in half — a busy, noisy, thoroughfare of two-way city traffic, with speed bumps eventually added to help students and faculty navigate the crosswalks.
And now it's gone.
In 2013, in an agreement with the City of Providence, the College purchased the approximately third-of-a-mile portion of Huxley Avenue from Eaton Street to Ventura Street. In May 2016, Huxley was permanently closed to traffic so that workers could begin preparations for replacing asphalt and sidewalks with a landscaped walkway and a pedestrian entrance at Eaton Street.
A new entrance for vehicles was created near Ventura Street, accessible from Admiral Street near Schneider Arena. The entrance includes a guard building, a bus shelter, and a traffic rotary. It is anchored by the Arthur F. and Patricia Ryan Center for Business Studies, home to the School of Business, at the site of the former Dore Hall, and by Chapey Field at Anderson Stadium, a new soccer and lacrosse facility.
It's now possible to walk past Dominic House, down Guzman Hill, on a set of terraced steps, and encounter at the bottom not a city street but a plaza affording a view of the Providence skyline.
It's the most significant transformation of the physical campus since the College began leasing the Chapin Hospital property from the city in 1968 (and purchased it in 1974).