November 04, 2019
Power point: Determination drives Kaela Webb '22 on and off the court

By Mark Divver

If you are going to succeed in Division I women's basketball at 5-foot-6, like Providence College's Kaela Webb '22, you better have more going for you than just your physical ability.

You'll need a big heart and a mindset that allows you to meet every challenge head on.

Webb, the Friars' starting point guard, has that covered.

"She's fearless,'' said coach Jim Crowley.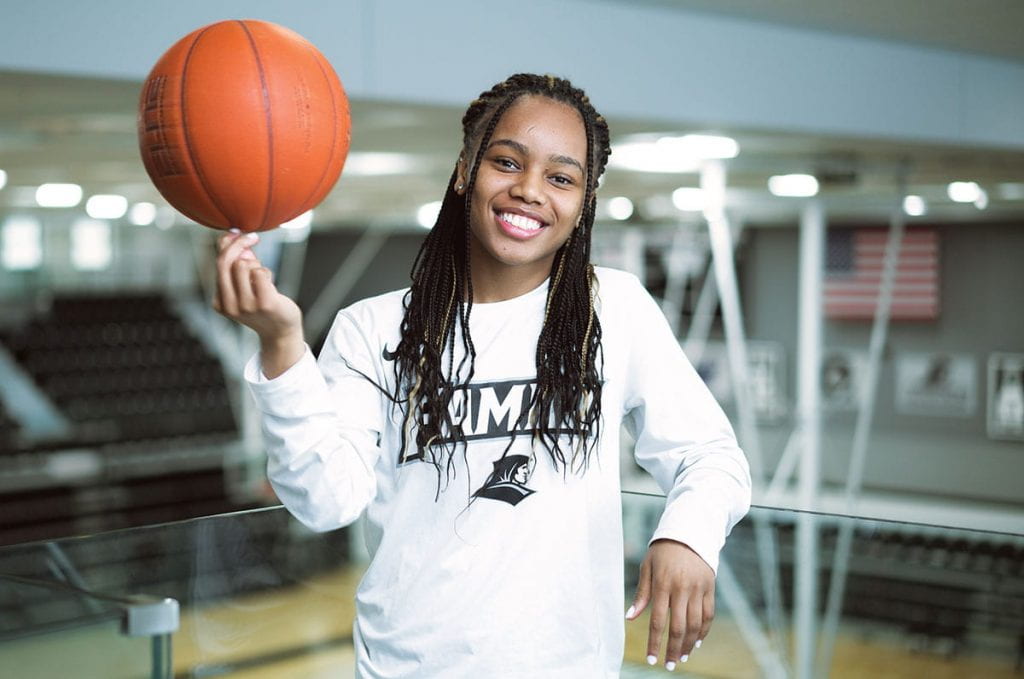 It's one of the qualities that drew the Friars to Webb, who capped a fine first season in 2018-19 by being named to the BIG EAST Conference All-Freshman Team.

"It doesn't matter who she's going against, who she plays. When she steps on the floor, she believes, and she helps her teammates believe that, 'Yeah, we're going to get them.' Our program needed that,'' said Crowley, whose freshman-laden team won 19 games and advanced to the round of 16 in the WNIT in 2018-19. The Friars won nine more games than the previous season.

Playing big, even when you're not, is second nature to Webb.

"No matter how small you are, it's a mental thing. If I feel like I'm 6-7, I can play like I'm 6-7,'' she said.

Webb started playing basketball in the second grade. Her father and mother, Tim and Shakela, always supported her and her four siblings in their pursuits, athletic and otherwise.
"My parents were always behind us; they would do whatever it took to make us happy,'' she said.

Webb comes from a basketball family.
"Her dad has coached at every level, and her mom probably could, she's been at so many games,'' said Crowley. "Basketball is really important to her, and so are the relationships that come with it, and that's important to us.''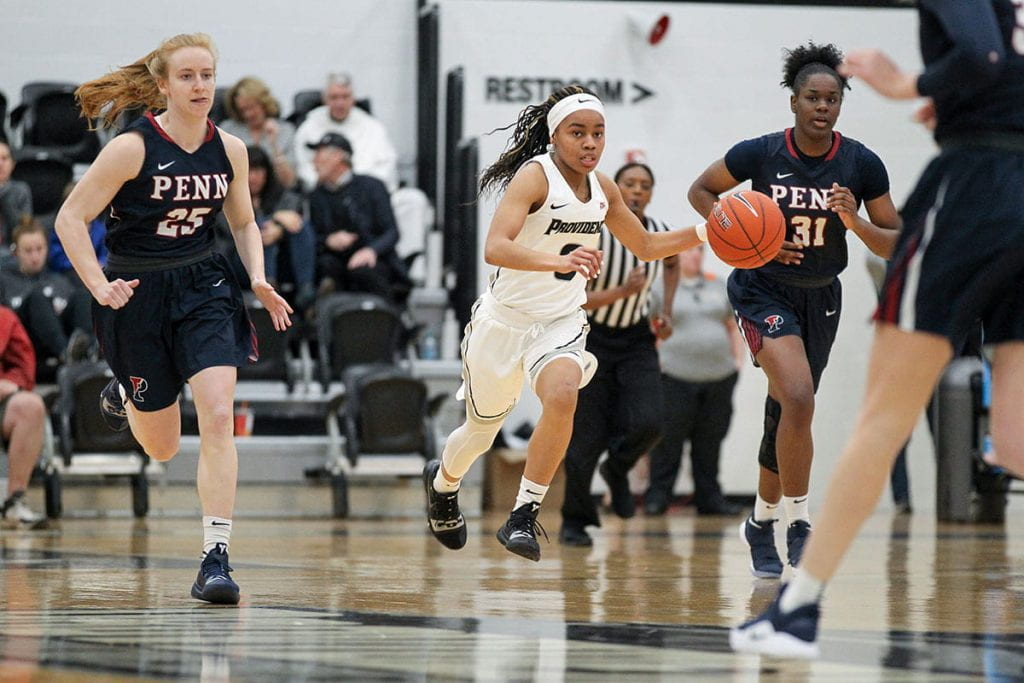 Webb's big heart shines through off the court, too. She has had a positive impact in her community in Pontiac, Mich., and hopes to continue to do so. While in high school, with help from her family, she wrote cards at Christmas and Valentine's Day and distributed them to about 30 military veterans in Pontiac. She organized a basketball clinic for children ages 6 to 12 with help from high school teammates and coaches.

"It's a way to give back to the community, the people that invested in us. They need to see someone setting an example for them so they know how things should be. We should strive to have the best city in the state,'' Webb said.

"At the end of the day, I do want to go back home and have a community center and rebuild the community there, which isn't all that great. The kids that are coming up should get that and have that experience, see someone who went off and (got an education and played basketball), then came back and did the things they wanted to do.''

She savors the relationship between the women's and men's athletics teams and other student-athletes at PC.

"We're pretty close with the men's basketball team. We try to do stuff like going to the beach this summer. We went bowling together. David (Duke) is from here so we kind of look to him because he knows the ins and outs of everything. We try to get out and see the city. We're good at going and exploring things,'' she said.

"They come to our games, we go to theirs. We're always around each other. We try to get out and go to hockey games and lacrosse games, a lot of soccer games. Just being together in the athlete community. It means a lot to us. Having that extra friendship goes a long way,'' she said.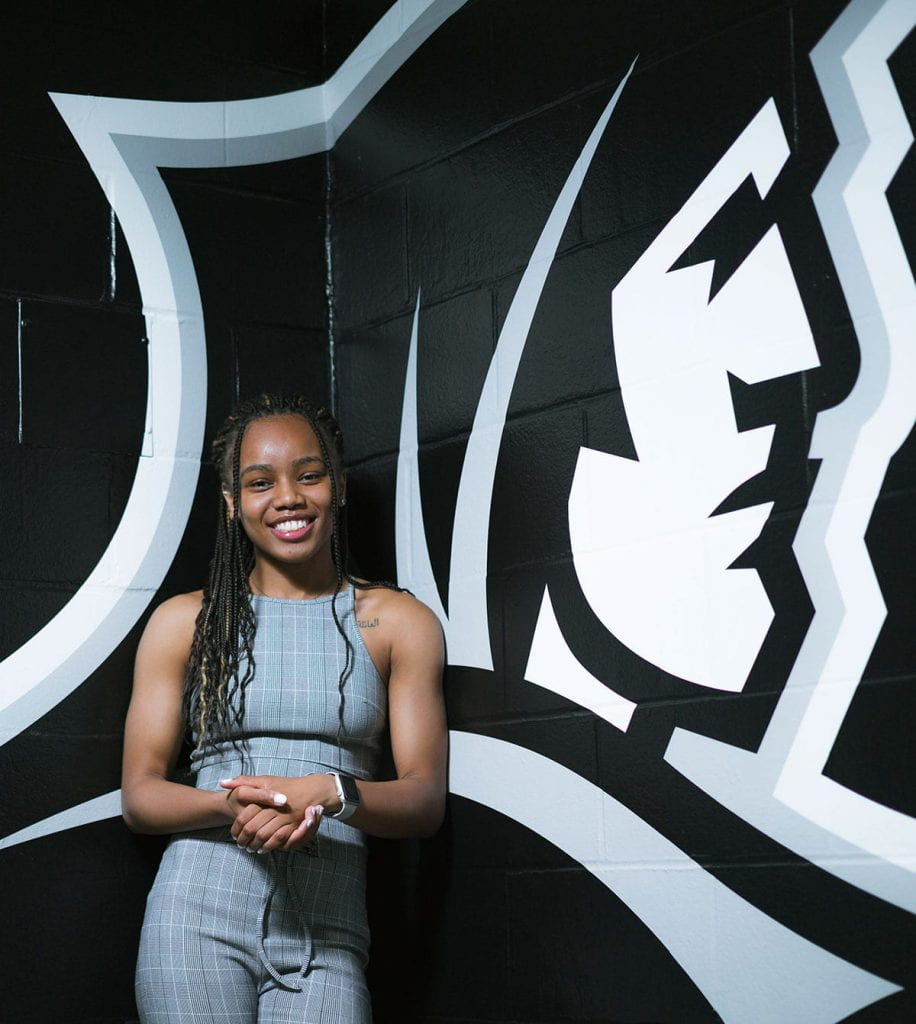 Webb-to-PC was a long shot at first. One of the top high school players in Michigan at Detroit Country Day, she had 20 college offers. She verbally committed to BIG EAST power Marquette in 2016 but later decided to reopen her search.

When the PC coaching staff reached out to her, she wasn't all that interested.

"But a month or so later, she called us and said, 'I just feel like I have to see it,''' said Crowley. "She came during Late Night Madness, had a great visit. She committed before she left.''

Why the change of heart?

"I made that (original) decision early in my high school career. I was blessed to have the opportunity to say, 'Hey, let's just look at the options I have in front of me.' I felt I owed it to myself to at least see what Providence had to offer,'' said Webb, who designed her own major in digital media and studies Mandarin Chinese as a minor.

The opportunity to be an important part of PC's rebuild under Crowley was enticing, too.

"Instead of going to a program that already had a (big) name, I wanted to be a part of the building process and be remembered in that way,'' she said.

Zero was Webb's uniform number in high school, and she's continued with it at PC. It's an interesting choice in that it reflects the way she sees her game.

"I don't have to score to be great. Distribute the ball, and I don't have to score to help my team succeed,'' said Webb, who averaged 8.1 points, 1.7 assists, and 1.3 steals a game in her first season.

Crowley is confident that she's only going to get better.

"She didn't scratch the surface of what she can be consistently. She knows that. We've had that conversation. She embraces that,'' said Crowley, who enters his fourth season at PC after two decades at St. Bonaventure.

With the ball in Webb's hands, better days are ahead for women's hoops at PC.

"We're on the right path to doing what we want to do,'' she says.

Mark Divver is a freelance sports writer from Seekonk, Mass.