January 26, 2022
Jackson named inaugural director of business analytics program
By Maeve Hickey '21, '22G
Dr. Jonathan Jackson, associate professor of finance, has been appointed the inaugural director of the Master of Business Analytics Program at the Providence College School of Business. Jackson teaches courses at both the graduate and undergraduate levels and was directly involved in adding more analytics and quantitative material to the business school curriculum and the initial design of the MSBA program.
The MSBA program enrolled its first class in the fall — 12 full-time and six part-time students. It's the second master's degree program offered by the business school, after the MBA.
Jackson has a unique educational and professional background. He received his undergraduate degree in material science and engineering from Washington State University. He then switched gears to earn his doctorate in operations management. Jackson felt the two disciplines complimented each other because both involved critical thinking, mathematics, statistics, and problem solving. When switching to operations management, Jackson practiced the same skills he did in engineering, but with a business focus.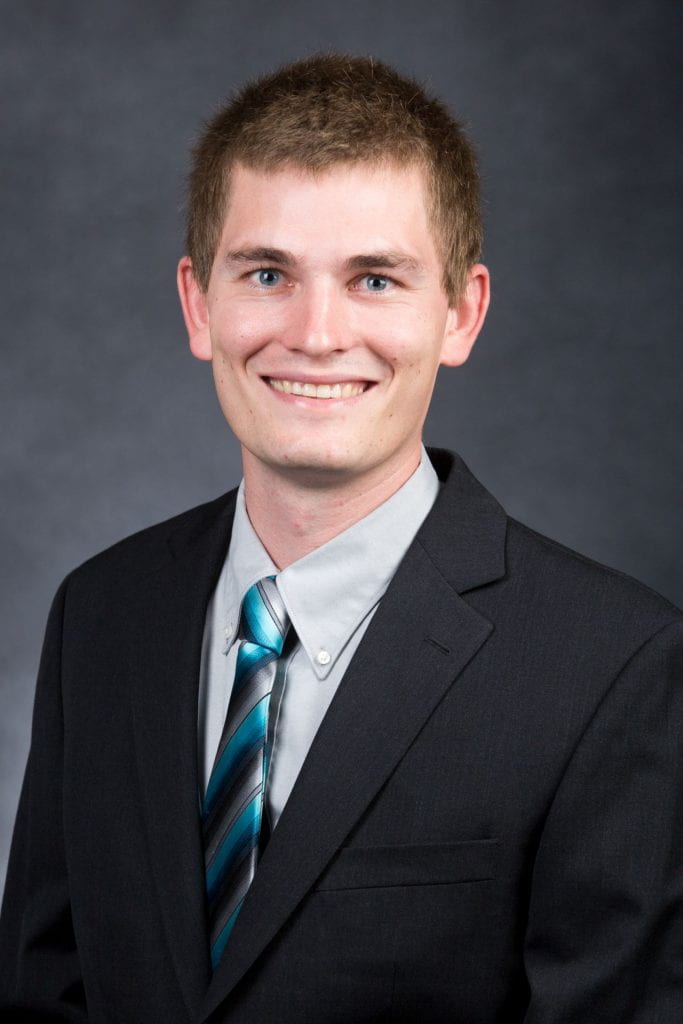 "Most Ph.D. engineers spend all day in a lab working on experiments that may or may not work," said Jackson. "I didn't believe that was the environment I wanted to be in long-term. The opportunity in OM came up, I saw a path that leveraged my skill set and presented job opportunities that I was excited about, and I took it."
Before pursing his doctorate, Jackson got his first job at Exotic Metals, an aerospace manufacturing company. He said the projects he worked on there connected more with his future teaching than he expected. He worked on several Kaizen events projects. Kaizen events are short-term actions that improve efficiency, a core topic taught in operations management courses.
"The context those projects provided is invaluable when teaching continuous improvement to illustrate the benefits of Kaizen events, but also some of the challenges companies face when trying to change company culture to recognize the value of the events themselves," said Jackson. "They also provided context for supply chain management."
In graduate school, Jackson and a classmate wanted to apply what they learned in class to their fantasy football league. They used their expertise in operations management to develop a model that produced the best fantasy football team. Optimization, modeling, and linear programming are key concepts in business analytics and were the backbone to the program's construction . They have continued to create iterations of the program over the past decade.
"The basic principle of optimization is how to best utilize your set of resources to maximize or minimize an objective subject to a set of constraints," said Jackson. "This is essentially how fantasy football drafts work."
Applying the limitations and restrictions that go into a fantasy football draft, Jackson created a linear programming model that incorporated player projections and reported back how to build a team with the highest projected outcome. The program does not guarantee success, but provides the manager with insights nearly impossible to translate without the use of analytical modeling.
Jackson started teaching Business Statistics and Intro to Operations Management as a graduate student at Washington State University. Although his teaching techniques have adapted in eight years ago, his goal has remained the same.
"My goal is to get students more comfortable working with data and the various software available for data analysis," said Jackson. "We are fortunate in the Providence College School of Business to have resources for students to gain experience in techniques and software that they will likely see in their careers."
Enhancing analytical skills
Students in the MSBA program come from a variety of undergraduate backgrounds, including psychology, economics, healthy policy and management, biology, and business.
"Looking around the market and the industry, as well as hearing from employers, it is clear that there is a huge need for more students coming out of institutions around the country who have strong quantitative and analytical skills," said Jackson. "This was a gap in our current offerings at the graduate and undergraduate level."
The program does not require a technical background, unlike many MSBA programs offered by other colleges. It pulls from a wide range of disciplines, which allows for a diverse array of perspectives.
"The ideal student would be someone who is looking to add a stronger analytics background to their list of skills," Jackson said. "You do not have to be from a specific major — it can be really anyone who is interested and wants to pursue analytics in their specific field."
Nine out of the 10 classes in the program are completely based in analytics, so students will learn everything they need to know to succeed in an analytical position, within their chosen industry.
"We built the program with the assumption some students would have zero prior analytical experience," said Jackson.
Near the conclusion of the program, students reserve the opportunity to take a capstone course and work on a consulting project with a real-world company. They use what they have learned throughout the program to solve the real analytical problems a company is facing.
"There are a lot of jobs out there that don't need someone on the top-end of the technical spectrum, but someone who can understand and work with analytics, as well as possessing the skills from other majors that PC is well known for. That combination can be very valuable," said Jackson.
Additionally, the program has a unique combination of computer science and business faculty, which contributes added value. The combination is helpful to get different perspectives about topics throughout the courses.
"Everybody needs someone who can work with data," said Jackson.
Ryan Ashe '21, '22G, a member of the first class of MSBA students, took Jackson's Visual Storytelling with Data course. As an undergraduate, Ashe was a marketing major with a political science minor. When choosing a graduate program, he felt the MSBA program best aligned with what the current business market is looking for in new hires.
"Professor Jackson has been incredibly helpful and supportive of everyone in the program," said Ashe. "He understands that a lot of us are in the position where we don't have a ton of prior knowledge. So, he has built a program that really teaches us from the ground up and has helped build up my confidence in my analytical abilities."
Ashe explained that undergraduate analytics courses give students a baseline understanding of analytical software, but the classes in the MSBA program allow students to learn how to apply the software to real-world problems.
Ashe said that he was hesitant in going into the program because he didn't have a background in analytics. However, the program has helped him learn how to confidently use programming languages such as R, Python, and SQL. He is excited to see how these skills make him more attractive to future employers. He hopes to obtain an analytics position in the marketing field after completing the program.
learn more about the MSBA
More Providence College news