May 20, 2019
Providence College 2019 Commencement Address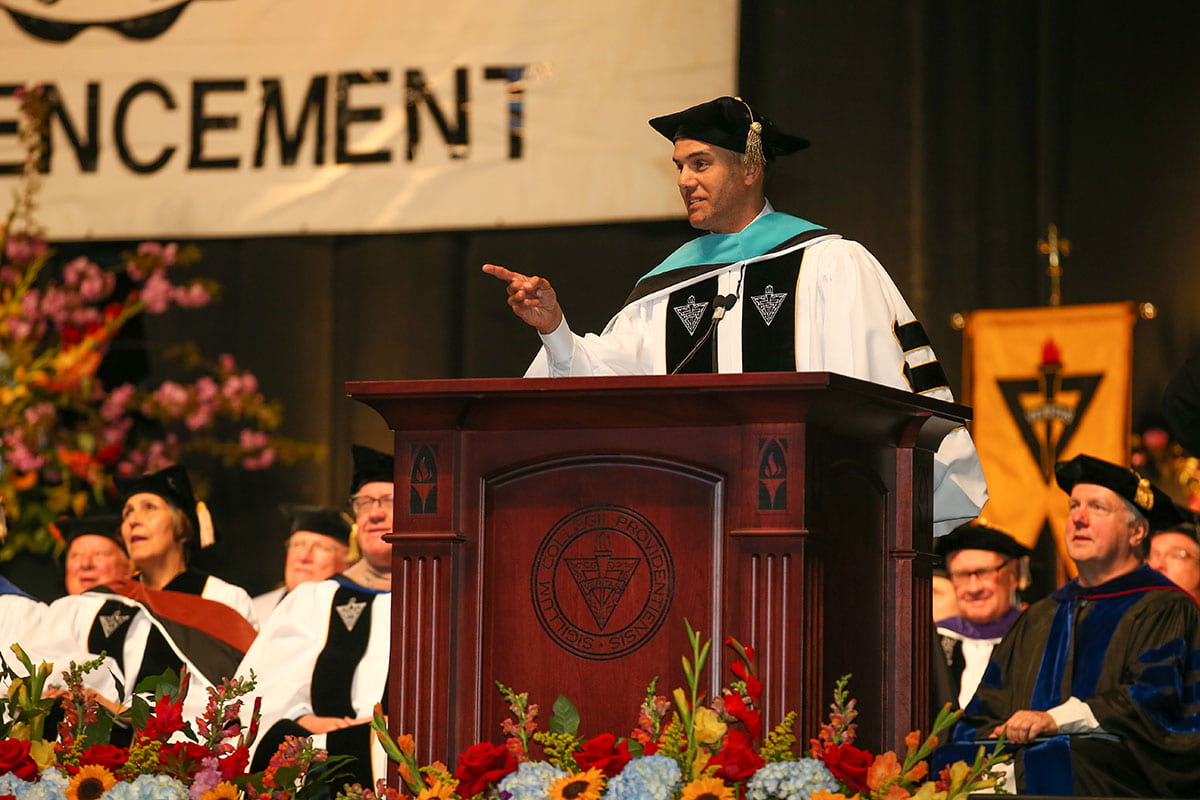 By Steve Pemberton
A battleship was at exercise in dark and stormy weather. The proud captain, neatly attired, if you can imagine him, was standing on the bridge issuing commands and surveying the performance of his team. The lookout, whose job was to be aware of danger, suddenly spots a light from another ship on the starboard side. He informs the captain of the danger to which the captain asks: "Is it steady or is it moving?"
"Steady," comes the reply.
The captain, keenly aware that the two ships were now on a collision course, ordered the lookout to signal to the other ship: "Change course 20 degrees. We are on a collision course."
The signal from the other ship comes back: "It is advisable for you to change course."
The captain signals back: "I am a captain in the U.S. Navy. Change course 20 degrees."
Back comes the reply: "I am a Friar of Providence. Class of 2019. You are the one who needs to change course 20 degrees."
The captain was furious. He sends back a message and says: "I am a battleship. For the last time, change course!"
And back comes the message from the Friar: "I am a lighthouse. It's your decision."
Now, in the interest of full disclosure, that story did not actually happen, nor can I take credit for being its originator. But I am going to take credit for the purposeful inclusion of the Providence College Class of 2019. So that joke has been around for quite some time, but I am very confident that I am the first to make that lighthouse keeper a Providence College graduate. And I did that for a reason as you'll soon see."
Good afternoon, Friar family! Thank you very much, Father Shanley, members of the faculty and staff, honored guests, my fellow honorees, family and friends, and most of all, this proud and accomplished graduating Class of 2019.
It really is an honor for me to be with you here, this afternoon, but the truth is, I'm supposed to say that. Every honoree is, but for this son of New England, born and raised just 31 miles from here, being invited to your day, this day is incredibly special. Providence College is more than familiar to me; I have been to this campus more times than I can count, consider many of its graduates amongst my closest friends, and I actually have fond memories of bringing my children to basketball camps here. I have always admired the mission of this great institution, and I know that your time here has prepared you to further that mission.
Commencements by their very nature really never lose their shine. Rarely do we get to be summoned together as a university community, and it is rarer still for that community to be further extended to our own families, for us to bear witness to this momentous day in your life.
So, I do recognize, understand, and appreciate the importance of this event. Having said that, the role of the commencement speaker has always been a rather curious one to me, in large part because most of the advice that you hear on commencement day is advice that you've actually heard before. The real truth is that the best thing a commencement speaker can actually do is to be brief in their remarks so you can get on with the celebration. Advice is a gift, and so is brevity. So, in conclusion, I want to thank you.
I suspect that most commencement speeches this year are really going to come down to two words: "Save us." There is a real fear in our nation that we find ourselves off course, that we are in a colossal struggle over our identity — who we are and who we are to become. There is a feeling that perhaps we will be unable to say that we have left the world better than we found it. In our uncertainty, we turn our eyes to you, considering the next generation our best hope at restoring some semblance of humanity and goodness.
There is an expectation and, quite the expectation, made all the more difficult by the reality, that it can be quite difficult to save the world and start a life, especially when you're trying to do both of those things from an apartment you can barely afford. At least that was the case for me.
But part of the reason I was also looking forward to joining you and accepted this humble invitation so quickly is because of my respect and regard for Providence College. And selfishly so, I was looking forward to spending some time with my dear friend and your basketball coach, Ed Cooley. Coach and I began our careers at UMass Dartmouth over 20 years ago, he as an assistant basketball coach and me as a junior admissions counselor. Shortly after that, we were both at Boston College working in the worlds of coaching and admissions — although it's still up for debate as to who was following who.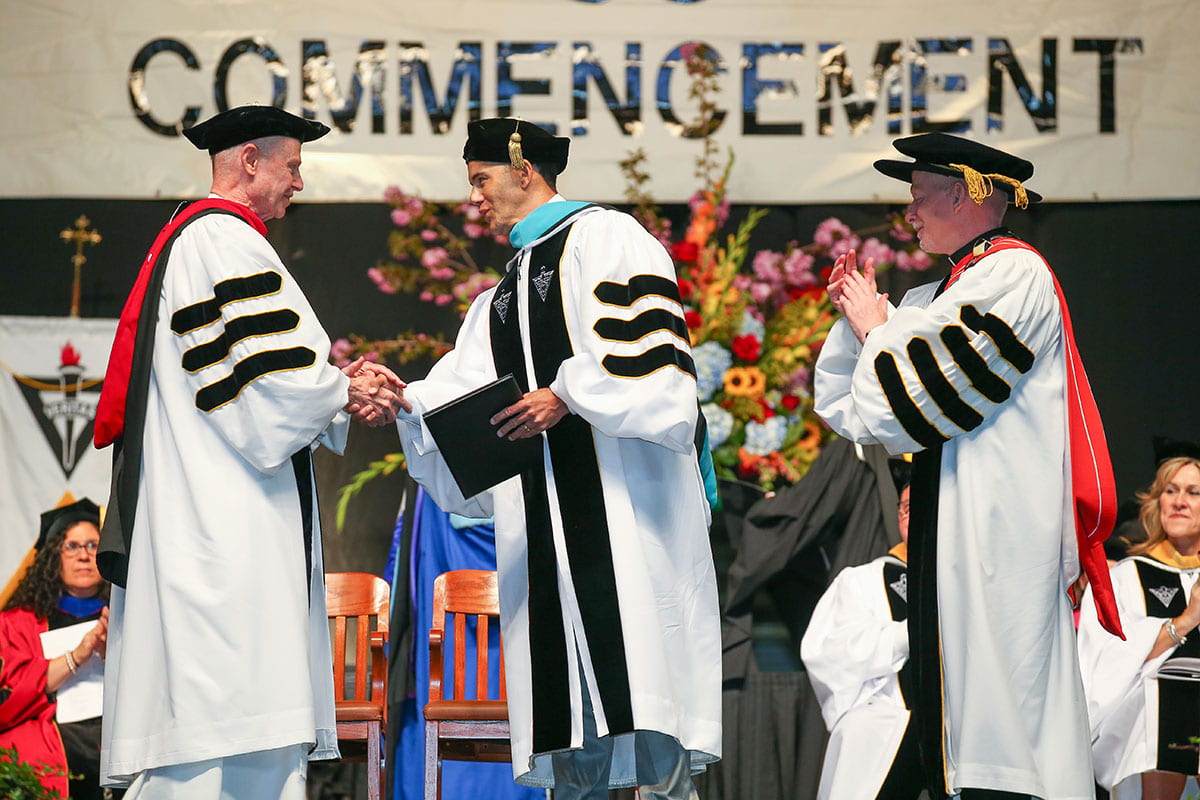 Every Monday, Wednesday, and Friday, the faculty and staff and coaches would have pick-up games. No students were allowed to play with us in large part because we wanted to hold onto the belief that we still had some game left. The reality is that the things we used to do all day now took us all day to do.
Coach and I would often sit down after these games and talk about the future, family, and what we hoped to accomplish. You should also know that as a point guard and as a big man, Coach and I ran quite a mean pick-and-roll. But our conversations were also quite serious. We talked about the kind of dads we wanted to be, even though children weren't yet on the horizon. Now the easy reach would be for me to say that we could have never imagined a day where I would have the honor of being a commencement speaker in the very same place where he is an accomplished head coach. But I was there for those conversations, so I can tell you that that would not be true, because the lives we live today as husbands, fathers, community citizens, and leaders in our respective professions were the lives we dreamed of back then. So, if nothing else, our lives are proof and evidence to you that the whisper of a dream that lies in your heart today can someday, one day, come to pass tomorrow.
So, I don't need actually to wish you success. Your degree from Providence College will make success far more likely than not. I wish for you something greater, something that I have learned is a bit more elusive, and that is fulfillment. Nor am I in a position to tell you and assign to you what that actually looks like, in large part because I am still trying to do that myself. The fulfilled life is always one in motion.
But there is something else Coach and I talked about that is perhaps helpful to you. What we talked about often, including earlier today, were about the people whose goodness bent the arc of our lives. For Coach Cooley it was the Searights, who took him in at a challenging moment and some inherited difficulties in his life.
And for me it would be John Sykes, a high school teacher. There was no more difficult day in my childhood than two days after Christmas, seated across from my well-intentioned social worker. I arrived in his office about 11 in the morning after having escaped this foster home that had been more like a prison for over 11 years. The hard truth of it is that I still bear the physical scars of escaping that day.
It was sunny outside, and I watched him for the course of a day, trying to get someone to take me in. It's two days after Christmas, I am black, I am male, and I have this enormous case file following me around that says, "He doesn't have a chance in the world." The daylight turned to dusk and dusk to darkness and still my social worker was there. I can still hear the sound of the turn of the pages. And the frustration that my life and the choices in my life were completely out of my hands. And I can honestly tell you in that moment all hope had seemed lost to me. In pure desperation my social worker asked me, "Steve, do you know anyone?"
And I almost said no, until I remembered John Sykes, who I overheard talking about me one day. He said to another counselor, "I don't have any children, but if I did, I would love them to be with that young man." And though John was supposed to be on vacation when my social worker called him, he was actually in his office, correcting papers.
And so, I went to live with him that night, and what was supposed to be a week turned into my last year of high school. It was John who encouraged me to take risks, none greater than when he told me that the best way for me to get to college was to apply for scholarships.
I didn't know what scholarships was and he said that it is free money, I know what that is. He sent me on this assignment to get the big book of scholarships. I did, and I am flipping through it and I am so desperate, to get to college, that I am applying for every scholarship I can get my hands on — including a scholarship for left-handers though I am not left-handed. But I was willing to be. John Sykes sees me doing this and he says, "Well, let me see that book then."
I handed him the book and he searched for one scholarship, and he handed the book back to me and said, "I think you should apply for that one too."
And I said, "Mr. Sykes, there is absolutely no way that I can ever win that scholarship."
He said I think you should apply anyway. I said, "No, no, Mr. Sykes, it literally says, 'Daughters of the American Revolution.'"
So, I applied for Daughters of the American Revolution, and just like I predicted they rejected me. I showed him my rejection letter and I said, "See, I told you they were going to reject me."
And he looked at me, and he said, "That's not right, I think we should write them back."
I said, "And say what?" He said, "Ask them if they're sure."
So, I did that too. I wrote the Daughters of the American Revolution back and I asked them if they were sure. And they wrote me back … they're real sure, we're not changing our rules for you. So, I was told no a lot, but I was told yes just enough to make college a reality.
I asked John one time, "Why did you give up your life to take me in? What was that phone call from my social worker like?"
And he said that when he got the call, he said the social worker is talking to him, "but as the social worker is talking to me, I'm talking to God."
And I said, "Well, what was that conversation?"
And he said, "I was telling God, 'Now God, you know I have no idea what to do with a sixteen-year-old boy.'"
And I said, "Well, what did God say back?"
And he said, "God said, 'This young man needs you. And because he does, I need you to trust me.'"
And so, he did. And today my children call him "Grandpa John."
John was a human lighthouse whose beacon had the power to guide and to save. You had those lighthouses, too. And if I am indeed your last professor and this is indeed your last lecture, then the following is your last assignment: You have to let those who were your lighthouse know how just how important they were to you. Text them, call them, whisper to them, and if they are not here, pray to them. Your assignment is due today, because tomorrow is not promised to you.
And that returns me to the conversation between the battleship and the lighthouse keeper.
Where our nation stands today is a lot like the captain of that battleship — proud, accomplished, mighty, and absolutely certain of her course. But when those leadership qualities tilt towards arrogance, incivility, and self-importance, when confrontation is the agenda, when you suspend the natural laws of dignity and respect, and when you see someone different from you as the 'other' … when man begins to behave as if he is God, catastrophe is never far behind.
History teaches us that.
All that stands in the way is us — the lighthouse. But the truth of it is … that it is all that is needed. The lighthouse is the tallest structure in the sea, and it is the most faithful. It needs no recognition and it seeks no rewards. Though lighthouses are different heights and colors and are built at different times, their mission is always the same: direct, correct, and protect the traveler. The lighthouse is steady, watchful, and humble, and it's always illuminating the path to stability and safety.
There are 21 lighthouses along the Rhode Island coastline and with the conferring of your degree, we are going to add more than 1,000 because the most powerful lighthouses in the world are the human ones.
And they are amongst you. I've met them and talked with them: Devin, Caroline, and Chris, who extended this kind invitation to me. And Brian, who will leave here with his master's degree in educational counseling and will head back home to Los Angeles. Jason, who is a finance major, and though he doesn't have a job yet, he will be a lighthouse too. And Daniel, who will graduate today and enter the Dominican Order; and Kevin, who will head off to teach English in Malaysia; Taylor, the fantastic writer at The Cowl; and Nurys, who returns to Providence College to complete her bachelor's degree after raising her family.
That's my humble, small request of you. Let your life be a lighthouse. Let your life be a lighthouse for this college who taught you. Let your life be a lighthouse for your community who raised you. Let your life be a lighthouse for your family who loves you. Let your life be a lighthouse for our nation. Most importantly of all, let your life be a lighthouse for another that needs you.
Congratulations, Class of 2019, and God bless you. God bless you.