May 25, 2021
Providence College awards degrees to 1,250 students in two commencement ceremonies held on campus
By Vicki-Ann Downing '21G
Providence College awarded more than 1,250 diplomas during its One Hundred and Third Commencement Exercises, which were held on campus for the first time since 1975 in two ceremonies, one for seniors in the Class of 2021 on Thursday, May 20, and one for graduate and School of Continuing Education students on Friday, May 21.
The Class of 2020 will be celebrated during Homecoming Weekend, Oct. 1-2.
The dual commencements marked the close of an in-person academic year that took place amidst a global pandemic, a reality referenced often by those who addressed graduates and their guests from a stage overlooking Hendricken Field. But as College President Rev. Kenneth R. Sicard, O.P. '78, '82G, participating in his first commencement as president, said, "When the narrative of the Class of 2021 is written, it should not be a chronicle of struggle, but a story of perseverance and achievement."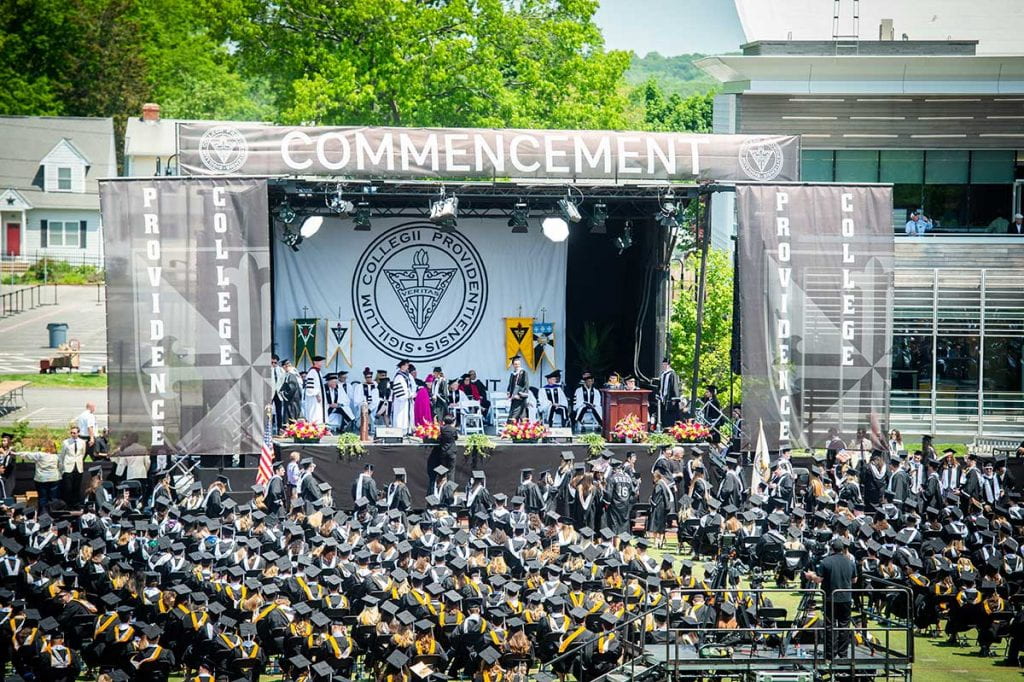 Seniors serving on the Honorary Degree Committee were clear about what they wanted in a commencement speaker. They wanted an upbeat message, and they found it in a happiness expert — Dr. Laurie R. Santos '21 Hon., a Yale University psychology professor and host of the popular podcast The Happiness Lab.
In addition to Santos, honorary degrees were awarded to Duane Bouligny '94, '21Hon., PC trustee emeritus and managing director/leveraged finance, Wells Fargo Securities; John Chan '74, '21Hon., restaurateur, music promoter, painter, and photographer; Emily D. Leary '21Hon., humanitarian and philanthropist; and Edward James Mulcahy Jr. '66, '21Hon., PC trustee emeritus and retired managing director/complex manager, Morgan Stanley.
Under cloudless skies and 75-degree sunshine, Santos told the 1,000 seniors in the Class of 2021 about the scientifically proven benefits of gratitude.
"I can't tell you what it means for a teenager from New Bedford who spent nine years in Catholic schools to come and speak to you today," Santos said in her welcome. "Back when I was growing up in the '90s, Providence College was the coolest, most cosmopolitan hall of knowledge I could possibly imagine. I would look at the signs for 195 and think, 'Providence … they have basketball there … and a mall.' … You are making my pre-teen fantasies come true."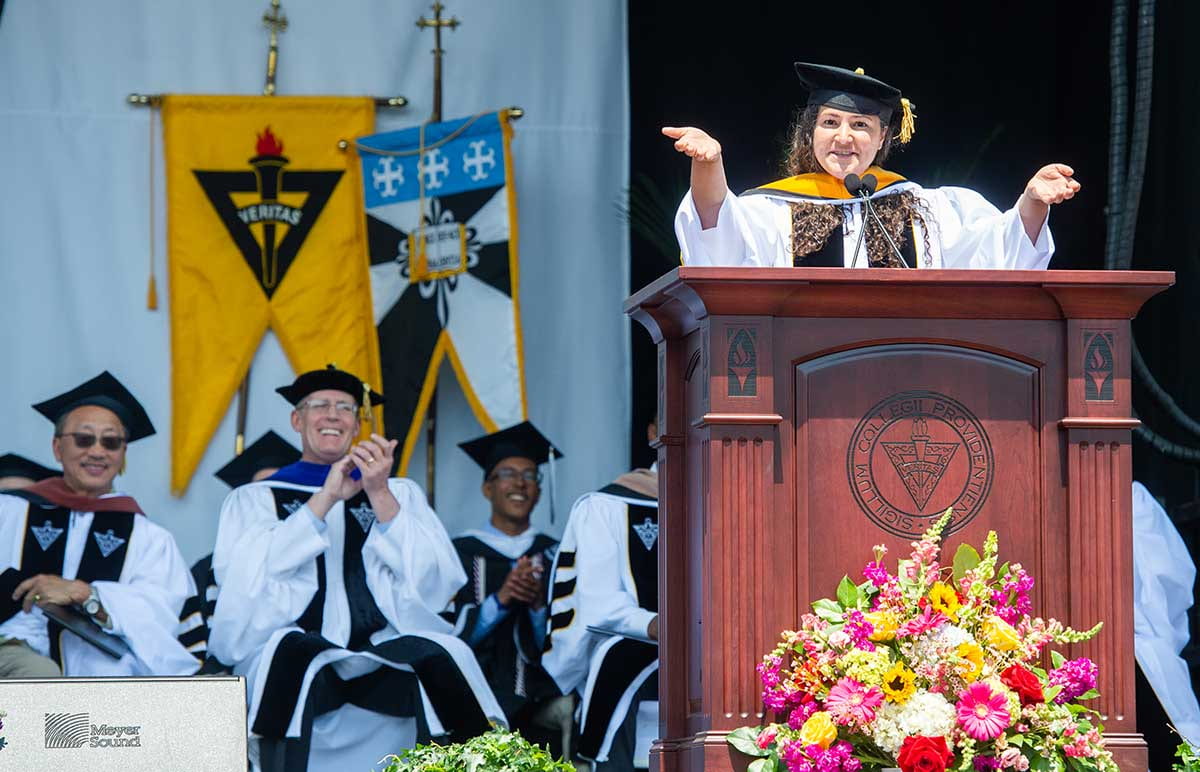 In an interview prior to commencement, Santos said she became aware that Yale students were struggling with their mental health when she began living with them as head of Silliman College, Yale's largest residential college, in 2016. To help them with their struggles, she created an academic course, Psychology and the Good Life, which immediately became the most popular in Yale history, with a quarter of the student body — 1,200 students — enrolled. It had to be moved to a concert hall to accommodate them.
The course resonated with so many people that Santos was asked to begin sharing its lessons with others, and The Happiness Lab podcast was launched in 2019. It has more than 35 million downloads and peaked at No. 3 on the U.S. Podcasts Chart.
In her address, Santos noted that she was addressing graduates during one of the most challenging times the country and world have ever seen. Because of the uncertainty, she chose a theme she could be certain about. While gratitude feels old school and countercultural, it's a proven scientific strategy, she said.
"Science shows that grateful people aren't just happier but they're healthier," Santos said. "They sleep better and they have stronger immune function. Gratitude can reduce depression and anxiety. But gratitude also makes you more productive. It turns out grateful people are more likely to save for retirement. There's evidence that they eat in a more healthy way, they are less likely to procrastinate, and they're more likely to do stuff that's hard in the moment, but they know will benefit them in the future."
Santos asked the graduates to participate in a science experiment — to close their eyes and remember their excitement the moment they learned of their acceptance to PC. She asked them to remember how it felt the first time they stepped on campus as enrolled students. And she asked them to recall the long journey since.
Their diplomas will feature not only their names but also the names of others written in invisible ink, including those in the generations before them who made the college experience possible. Santos, who was educated at Harvard, was a first-generation college student. She said the names of high school mentors are on the diplomas, as are those of all the people at the college who helped along the way, including Dot Marcello, who retired this year after a career in Raymond Dining Hall. She asked the graduates to feel grateful for the one thing they will miss most when they leave — each other.
"Take a quick moment to notice how you feel," Santos said. "A warmth in your chest, maybe? Some of you might have a genuine sense like you are connected to something bigger, the fact that there are a bunch of people in this world who have your back, and that feels amazing. That feeling that you have is gratitude. No matter where you go in life, this feeling is available to you. You can get it in your toughest times and your darkest moments. It can always be there when you need it. You just need to take time to turn it on and appreciate it."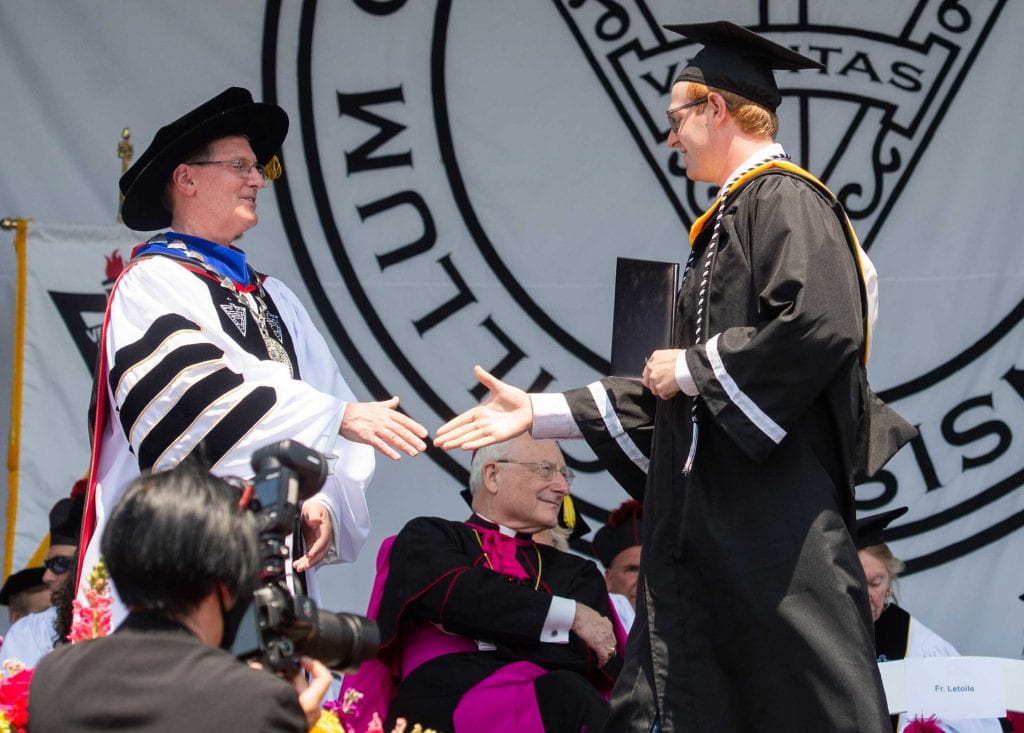 In his first commencement since joining the College as provost and senior vice president of academic affairs in July, Dr. Sean Reid spoke of the College's legacy of academic excellence.
"This momentous event celebrates a legacy of academic excellence at an institution built upon certain enduring values, among them faith and fidelity, love and loyalty, and respect and responsibility," Reid said. "We pursue what is true, we appreciate what is beautiful, and we praise God for his abundant blessings, as have those who preceded these graduates during these past 100 years."
"We should all feel immense gratitude to the College's senior leaders; the faculty and staff; and the corporation and trustees," Reid said. "Their collective efforts and collaboration have made it possible for PC students — including today's graduates — to experience the totality of Providence College in ways that might not have been possible 15 or 20 years ago."
Father Sicard, who became the College's 13th president on July 1, welcomed graduates with three words: "What. A. Year."
"No matter how hard you tried, pandemic life was impossible to escape," Father Sicard said. "We all became too familiar with words like 'self-quarantine,' 'isolation,' 'test site,' 'virtual or hybrid,' 'six-foot distancing,' 'I'm going to the Marriott,' and 'mask up.' Worse — much worse — we were confronted daily with disturbing reports of climbing numbers."
The events may at times have caused students at times to question their faith, Father Sicard said. But such moments are invitations from God, "calling you to seek understanding through truths of the faith and reason; to contemplate, study, and preach; and to seek and serve him with one mind and heart."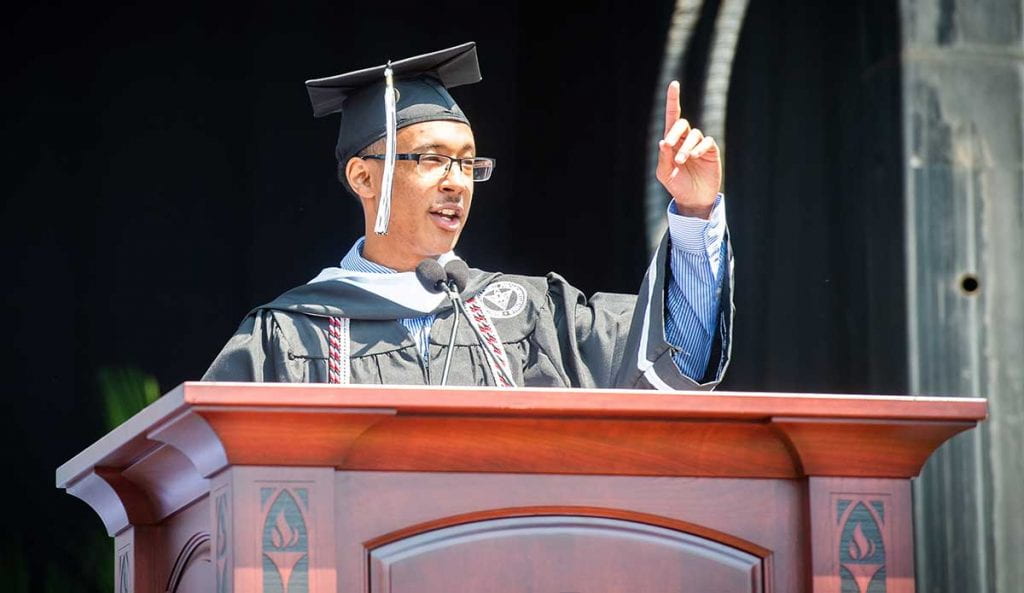 Malik Washington '21 (Washington, D.C.), a double major in political science and history who was elected president by the senior class, said the challenges of attending college during a pandemic bound the class more tightly together.
"As a first-generation college student … I never imaged that I'd be speaking to you at graduation," Washington said. "But just like every other PC alum, I am grateful to have experienced Providence College and its traditions. Most notably, there was Civ to remind us that we will never be on the level of Socrates. Then there was our beloved Aquinas Hall that developed our personality and grit … No other PC class, before us or after us, will ever be able to say they had a senior year like ours."
Because there was no Academic Awards Ceremony this year, the top scholars in the Class of 2020 were recognized at commencement:
Sean Gray '21 (Lincoln, R.I.), a history major with minors in philosophy and Spanish, will attend law school at Georgetown.
Sarah Heavren '21 (West Springfield, Mass.), a triple major in history, American studies, and mathematics, will study public history at Northeastern University.
Angus White '21 (Oakura, New Zealand), a double major in biology and psychology who earned a neuroscience certificate and was a member of the men's cross country team. White will either study business analytics at PC or medicine in Australia.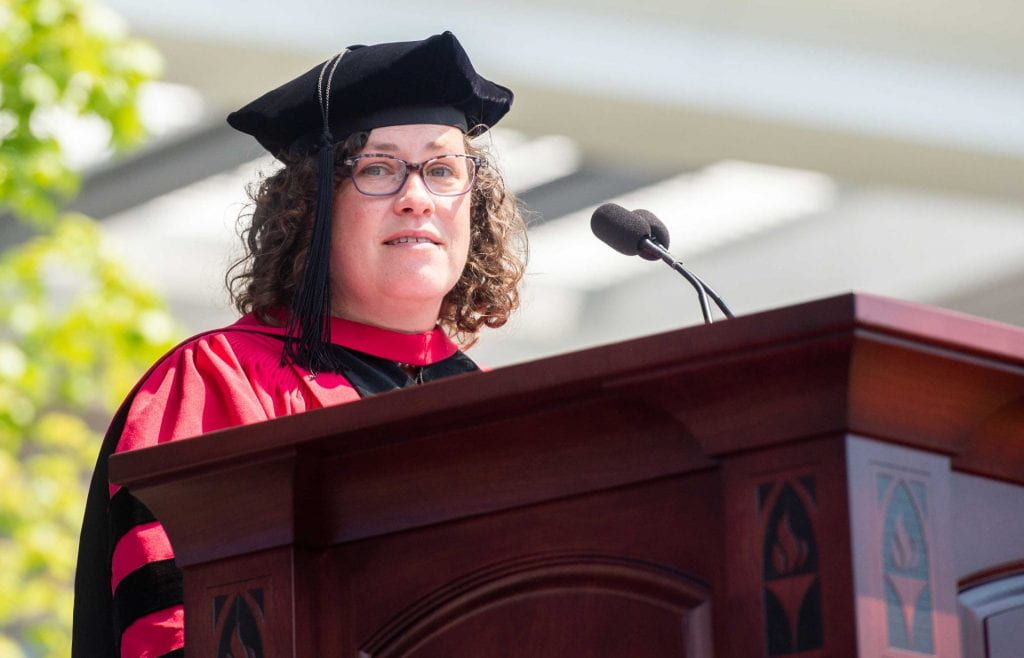 Dr. Deborah Levine, associate professor of health policy and management and recipient of the Joseph R. Accinno Faculty Teaching Award, the College's highest teaching honor, also addressed graduates. She referenced the "powerful moments of continuity" present in the on-campus commencement. During the polio epidemic of the 1930s, the eastern part of campus, then a city hospital, treated patients. Howley Hall, where her office is located, was the site of trials for a new invention that saved the life of a Catholic priest — the Emerson iron lung, precursor to today's ventilator.
"And so for as strange a year as this might seem to have been, the truth is that for a century now, the Providence College campus has played a central role in protecting and preserving the health of the community while at the same time playing a key part in advancing science and medicine, training future professionals, building scholarly communities, and fostering deep engagement with the key questions of philosophy, literature, history, theology, and so many other disciplines," Levine said. "Doing all of these things at once is not an aberration — instead it is symbolic of the example set by the College at its best."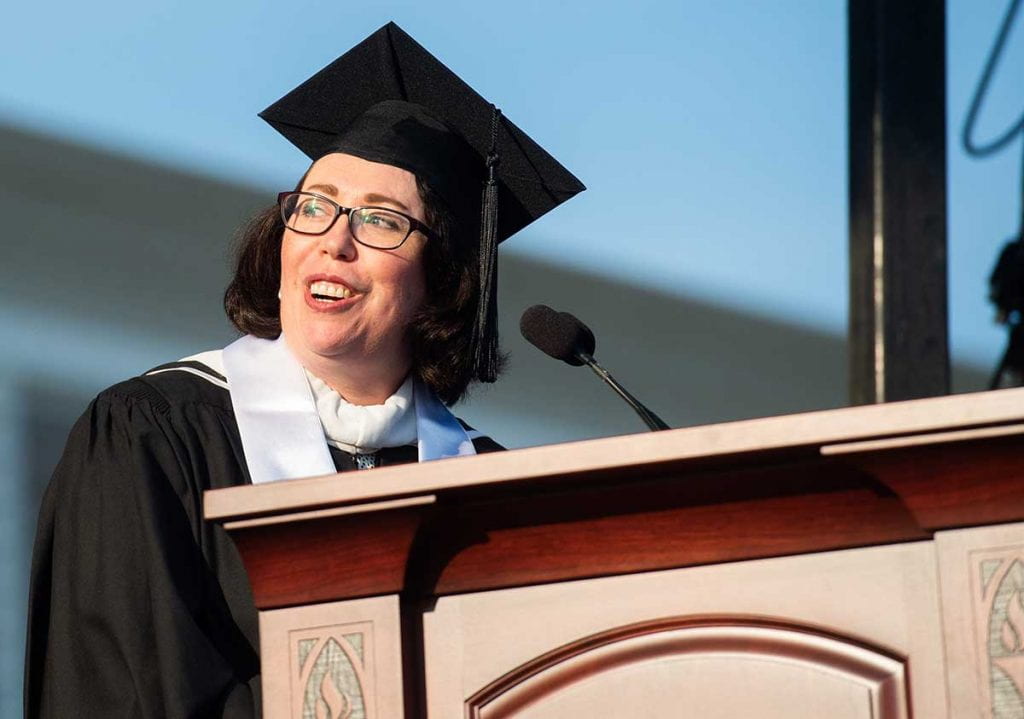 Kate Hennedy Kennedy '92, president of the National Alumni Association, remarked on the "absolutely gorgeous" setting that greeted her as she stood on the stage, looking out across Hendricken Field toward Harkins Hall. Kennedy is "a Friar from birth." Her father, Dr. John Hennedy, taught English at PC for more than 50 years, and her mother, Dr. Marie Hennedy, taught for 20. Her husband, brother, and sister are all alumni.
"I applaud your tenacity and resilience in reaching this milestone," Hennedy said. "Today is a day for celebration — a day when your ties to Providence College do not end but become stronger."
Seven students were commissioned second lieutenants in the Army during the commissioning ceremony for Patriot Battalion on Friday afternoon. They were Michael Casey '21 (Franklin, Mass.), Alexander DellaBianca '21 (Branford, Conn.), Kathryn Fama '21 (Trumbull, Conn.), Jackson Gordon '21 (Brunswick, Maine), Brian Powell '21 (Holliston, Mass.), Matthew Wolohan '21 (Shrewsbury, Mass.), and Collin McCadden '21G, who earned a master's degree in history.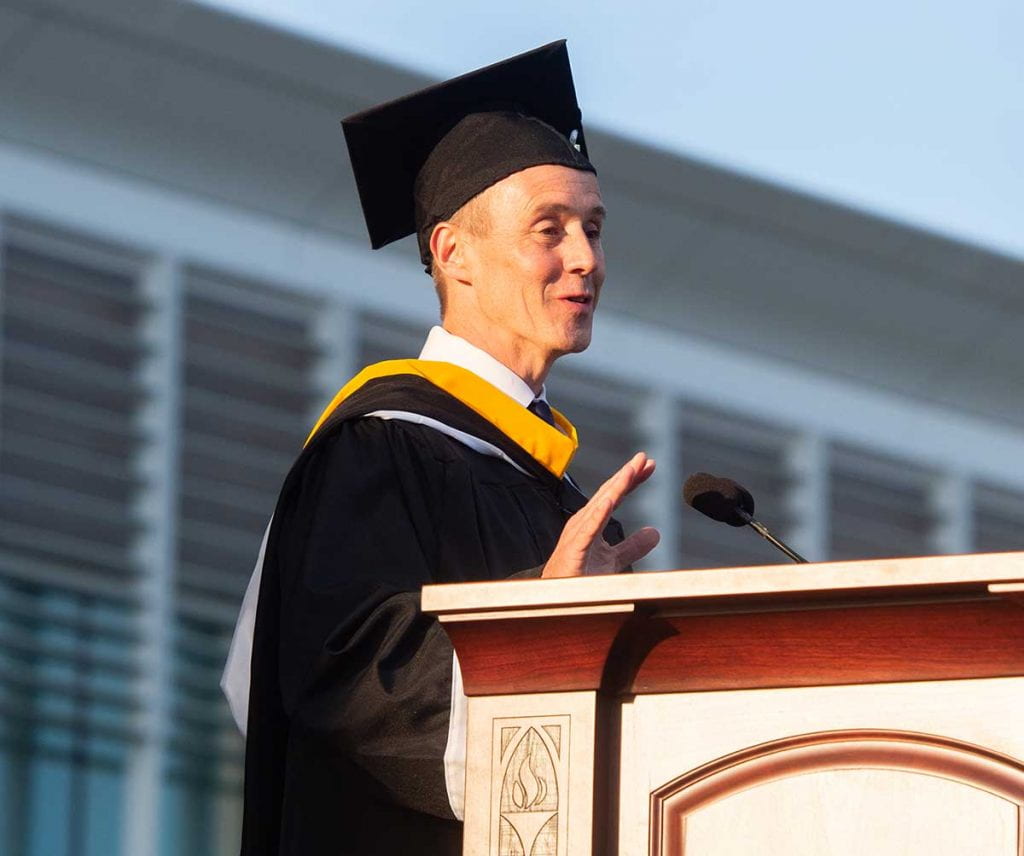 At the commencement on Friday evening for about 250 SCE and graduate students and their guests, the featured speaker was Adam Benjamin '91, a former Facebook executive who is the CEO and co-founder of UpperCampus, a career discovery organization focused on connecting high school and college students with universities and employers that match their career goals.
"I am aware that I am speaking to a group of graduates that runs the gamut of life experiences," Benjamin said. "Some of you are just a year or two removed from a traditional undergraduate experience while others have been working, contributing to communities, and raising families for decades — perhaps a few of you have a hair color that matches mine! But you all have something in common. You recognize that education is key to a better life. You have made the sacrifices necessary, especially this year, to get to this point today. I appreciate and respect all of you, and I am truly grateful to be part of your commencement ceremony."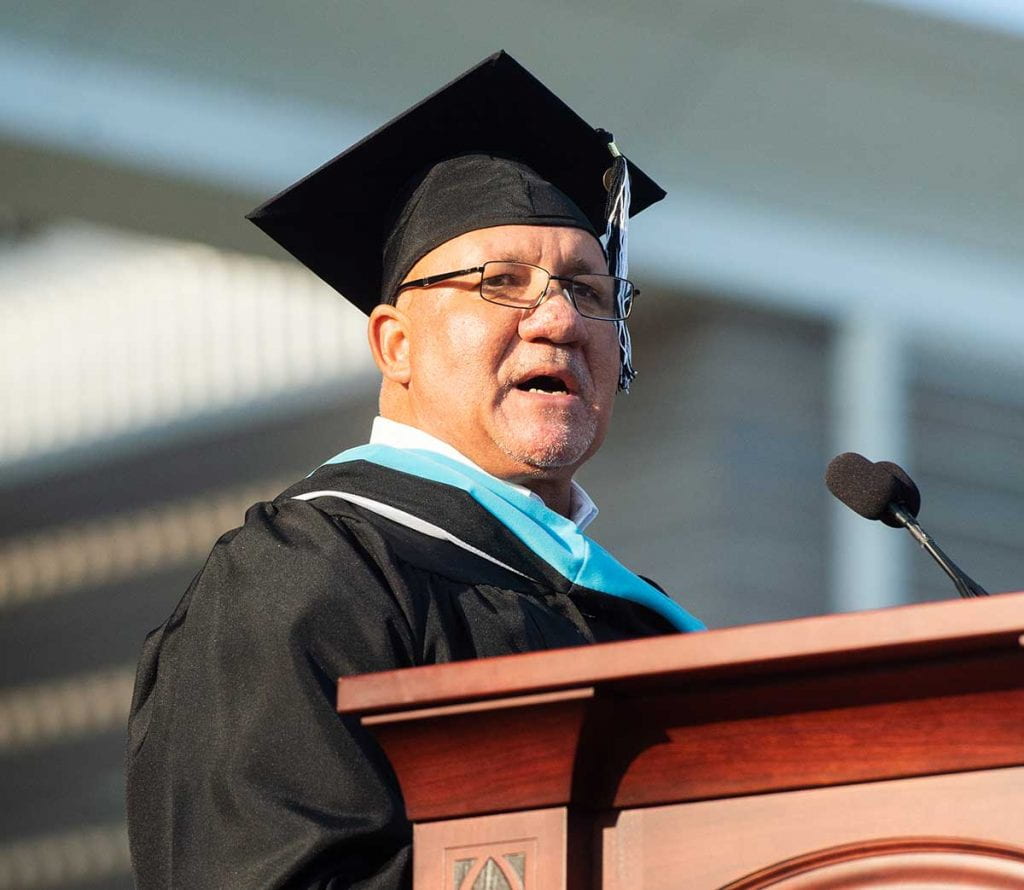 Also addressing graduates was Michael Bibeault '12SCE, '14G, who earned a degree in liberal studies from the School of Continuing Education, then added a master's degree in educational counseling from the graduate program. He now works as a mental health counselor and has taught courses in both the SCE and the graduate program.
"My time here at Providence College prepared me adequately to create my own professional identity that was exclusively mine, and I hope it has done the same for all of you," Bibeault said. "I remain connected with this institution as a faculty member and as a college benefactor because of how meaningful my experience was a number of years ago, and I encourage all of you to maintain an ongoing connection here as well and keep Providence College as a central character in your life's narrative moving forward."
At both ceremonies, MacKenzie Mary Cochrane (Franklin, Mass.) sang the Star-Spangled Banner and the Providence College Alma Mater. The invocation was by Most Rev. Robert C. Evans, auxiliary bishop of Providence. The benediction was by College Chaplain Rev. Peter Martyr Yungwirth, O.P., who will leave the College at the end of June to become pastor of the Parish of St. Vincent Ferrer and St. Catherine of Siena in New York City.
watch commencement livestreams, speeches, legacy video
see commencement photos
Listen to commencement addresses on the PC podcast