May 05, 2017
Providence College dedicates Ryan Center for Business Studies, a 'new kind of business school'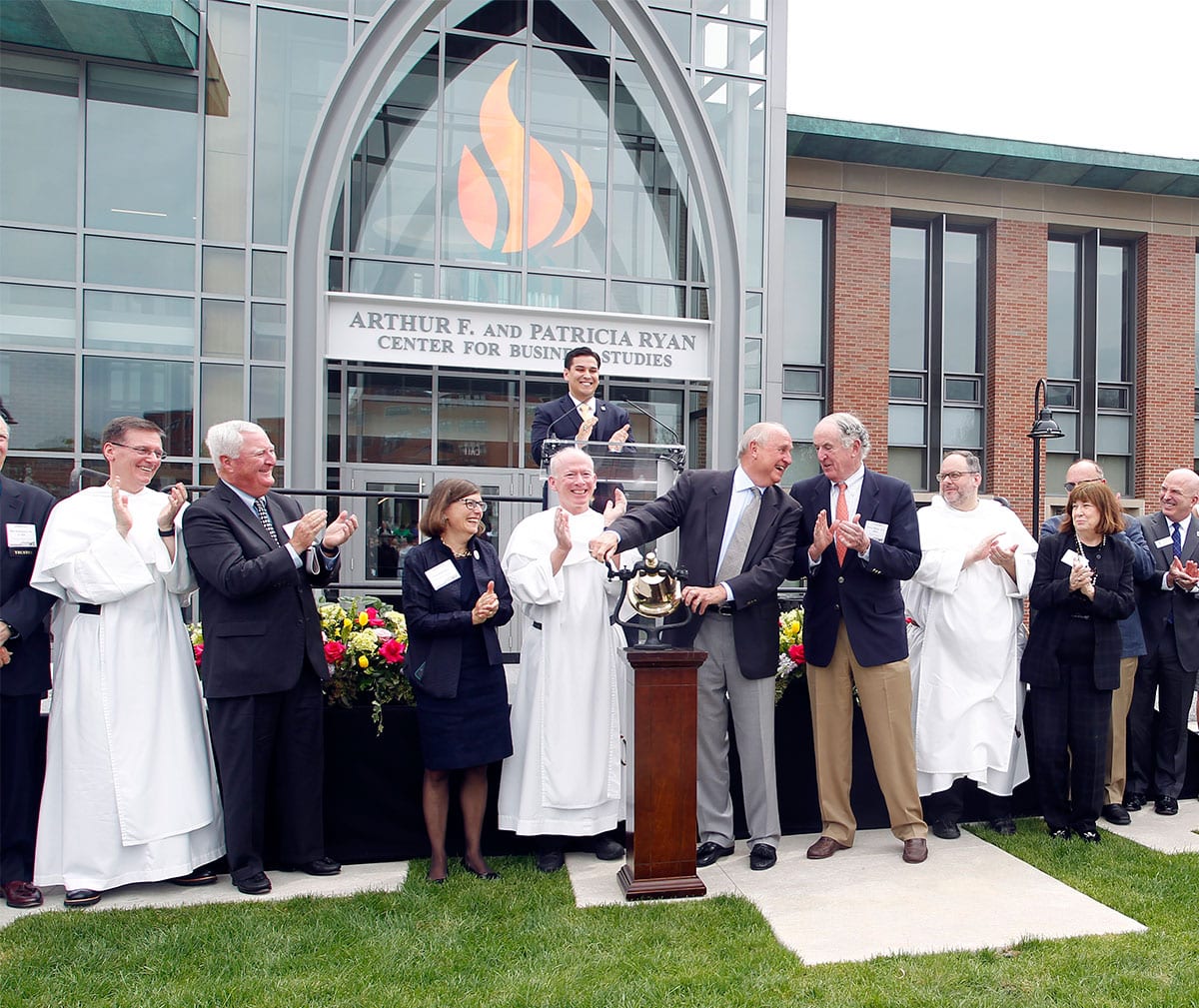 By Vicki-Ann Downing
On a warm Saturday morning in April, the sound of a bell rang out across the lawn of the Arthur F. and Patricia Ryan Center for Business Studies, heralding "a new day, and that we are bullish about the future," said business student Cristian Higuita Montoya '16 & '17G.
Providence College formally dedicated the Ryan Center, the new home of the School of Business, with a ceremony before more than 400 benefactors, administrators, faculty, trustees, and alumni. The bell, symbolizing the sound that opens the New York Stock Exchange, was rung by Arthur F. Ryan '63 & '90Hon., the former CEO of Prudential Financial who, with his wife, Patricia, provided the lead gift for the center's construction.
"For me, this is a particularly special moment," said Ryan. "It's a wonderful facility, it opens itself to all students, it fits in beautifully with this enormous transformation going on at Providence College. It is truly extraordinary. We are honored and humbled to be part of it."
The 64,000-square-foot, four-story Ryan Center, which combines the former Dore residence hall with a new addition, is located at the new entrance to campus, accessible from Huxley Avenue. It opened for classes in January and quickly became a hub for students and faculty. The addition has a large atrium, a 125-seat auditorium, a finance lab, a computer lab, nine teaching spaces, collaboration rooms, and lounges. The former Dore Hall houses more than 50 faculty offices, a café, conference rooms, and a faculty and staff lounge.
It is a new kind of business school, said master of ceremonies Higuita Montoya, who studied accountancy, then earned an MBA through the College's 4+1 MBA Program. He will work for PricewaterhouseCoopers, where he was an intern.
"The Ryan Center is not a quiet, sedate academic building," Higuita Montoya said. "It is a lively, interactive facility where people are actively involved in learning and teaching." Its construction was a result of "remarkable philanthropic support. I am grateful to every person who has helped make the Ryan Center a dream come true."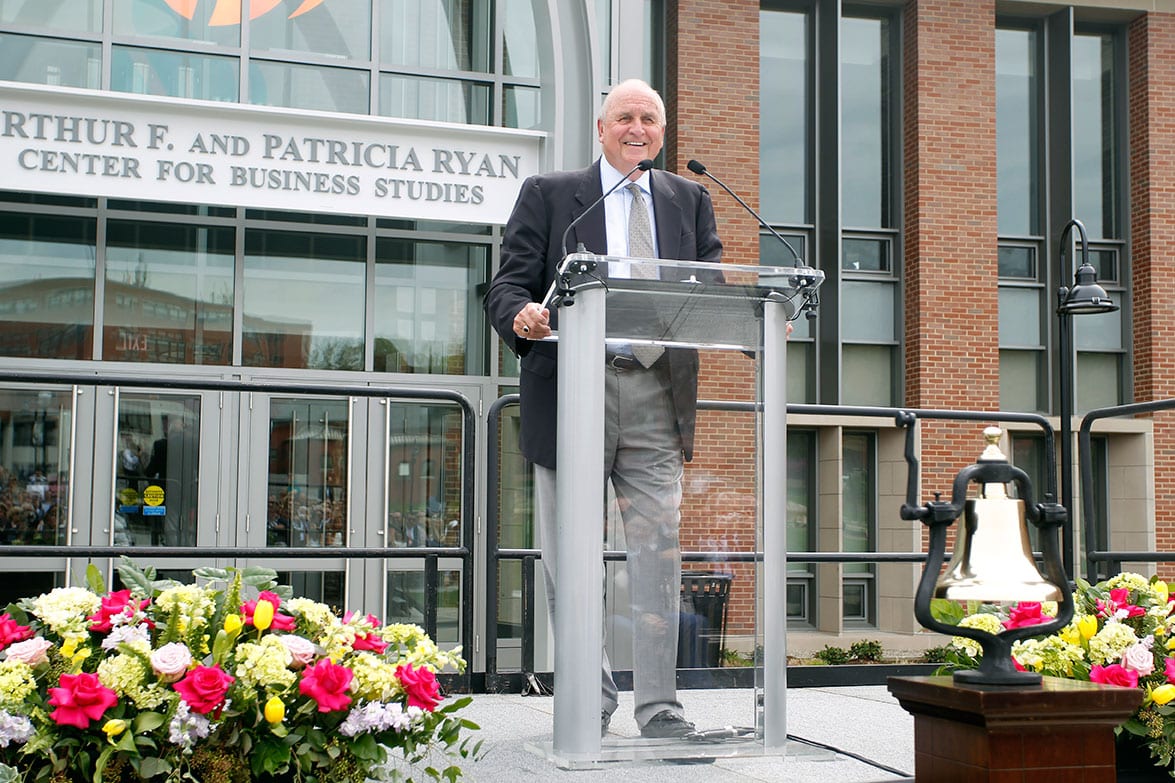 Ryan said he was delighted to attend the dedication with his wife, family, friends, and classmates. The College's combination of liberal arts and professional instruction, including business, is important, Ryan said. The College wants its students to become skilled doctors, dentists, and athletes, but with a foundation in ethics and values.
"Where else will you learn the critical skills you need to make good decisions? Where will you get the moral compass in order to do the right thing, even when the outcome is not always pleasurable?" Ryan asked. "We see in the world today all too many cases where's it's easier to make money, to be greedy, and to do something that is 'politically correct.'"
The design of the business school makes that outcome possible, Ryan said.
"It isn't just a place to learn about accounting and finance," Ryan said. "It's a place to gather, it's a place to communicate, it's a place to grow together."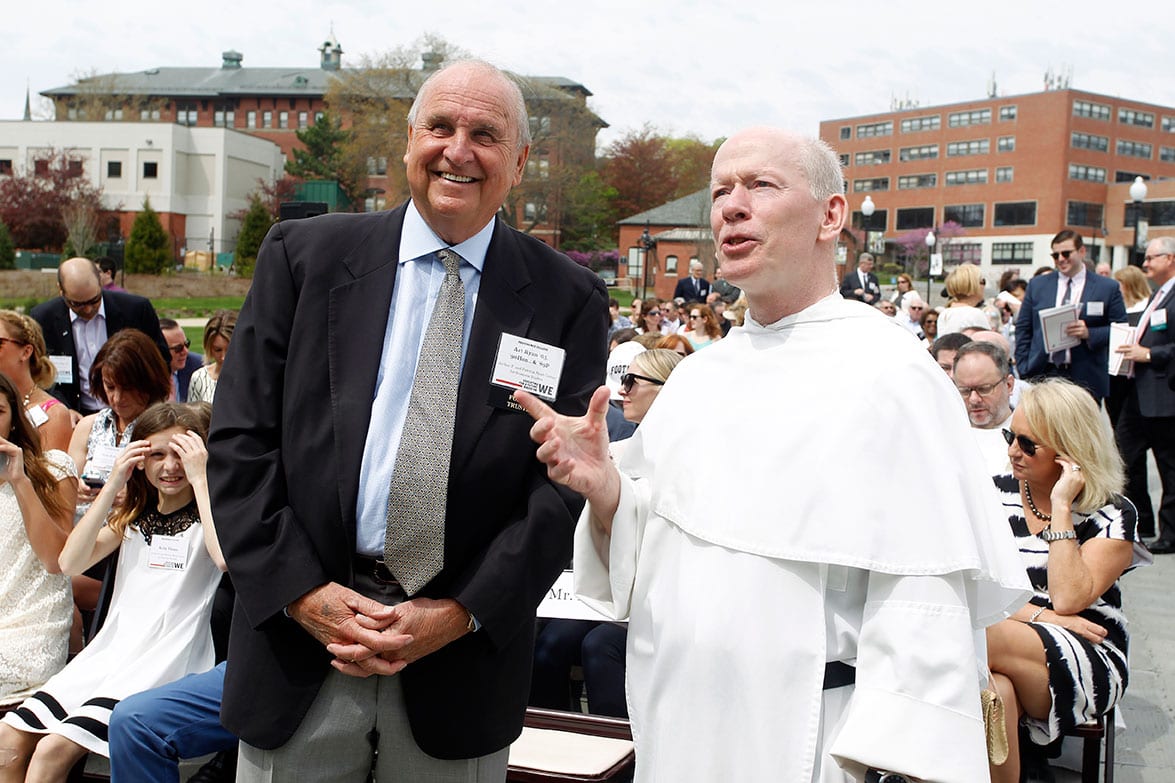 College President Rev. Brian J. Shanley, O.P. '80 said more than 150 individuals, corporations, and foundations contributed to the $30 million Ryan Center, proving the authenticity of the School of Business slogan, "The Power of We."
Twenty spaces in the building were named in recognition of gifts, including the atrium, named for Robert J. Palmisano '66; the courtyard, named for Kevin J. Phelan '66 & '15Hon.; and the finance lab, named for Edward L. Scanlon '55 & '00Hon. Three major accounting firms — Deloitte, KPMG, and PwC — are represented with named spaces. Father Shanley noted that two walkways bear the name of Rev. Thomas J. Ertle, O.P. '51, '82G, & '84Hon., including "Never Better Way," Father Ertle's favorite saying.
Father Shanley discussed a recent Wall Street Journal article about the decline of the liberal arts. Across the country, students and their parents are choosing "practical majors," such as business and health care. Their focus is "making a living" rather than "making meaning in their lives," the newspaper said.
"'Lives of meaning' includes making a living, because work is part of our lives," Father Shanley said. "But it is not the sum of our lives. What we do for work and for living is part of a larger search for meaning."
Ryan's success in business allowed him "to be able to give back," Father Shanley said. Father Shanley said he hopes that students who see Ryan's name on the building will want to learn something about his story and will discover how a man who was successful in business turned that success into a life of giving, to others and to his family.
Ryan, who studied mathematics at PC, became one of the youngest presidents of Chase Manhattan Bank in 1990. Four years later, he became the first president and CEO chosen from outside the firm to lead Prudential Insurance Company of America. Under his leadership, the company became the public entity known worldwide as Prudential Financial.
"We work to give, hopefully, in all of our lives," Father Shanley said. "The blessings that we get out of the work that we do gives us the ability to give back to our families, to our community, to our country, and to our church. … Part of a meaningful life is generosity, and gratitude, and leaving a legacy that you can be proud of, something you can put your name on for the rest of your life."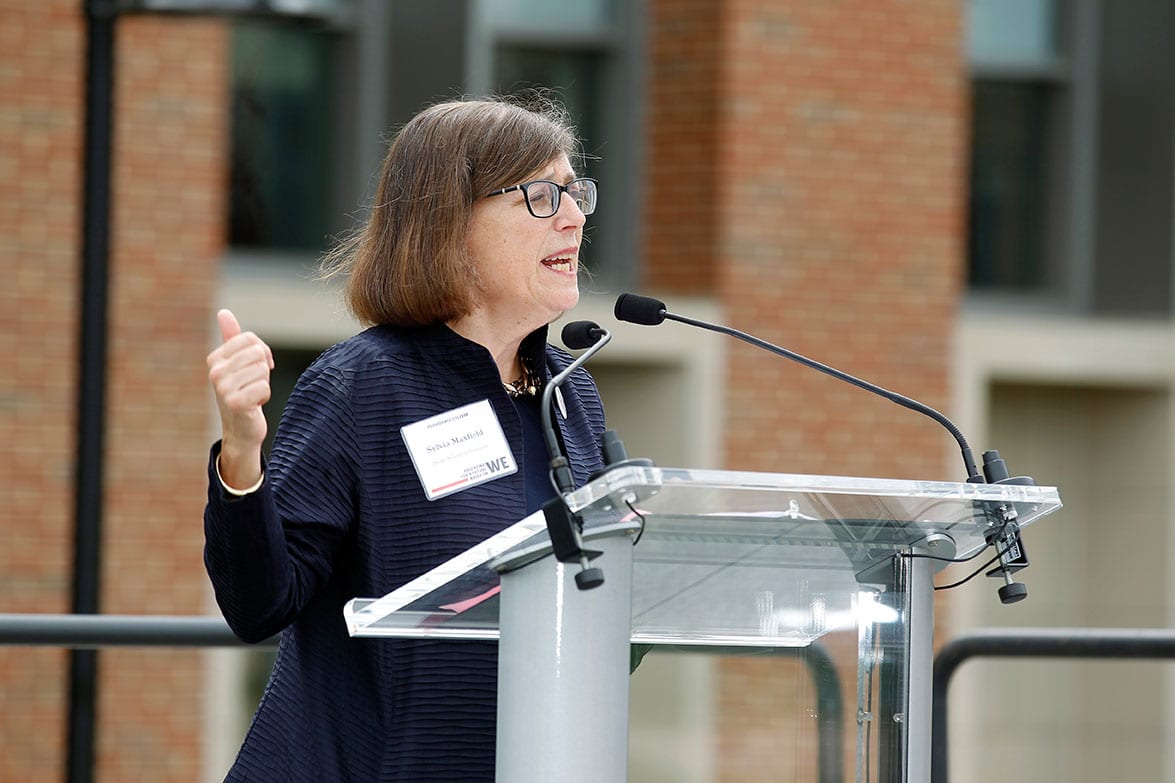 School of Business Dean Dr. Sylvia Maxfield said the Ryan Center for Business Studies "has already had far greater impact than I could ever have imagined." The building has brought joy to faculty and administrators and brings out the best in students, who've said they feel smarter just walking inside, she said.
The building has the largest percentage of "active learning" classrooms of any business school in New England, Maxfield said. The teaching spaces have the latest technology and flexible seating to facilitate discussion and encourage collaboration. Faculty are coaches in the classroom, rather than "arm's-length sages on a stage."
In some ways, its integration with the liberal arts makes the Ryan Center the "un-business" school, she said. It was designed on the theme of "the town square," a coming together of liberal arts and business education that serves as a gathering point for the campus community.
"True to PC's founding ideals, we believe that business can and should be a force for good in the world," Maxfield said. "If we lose sight of virtue and common good as business people, we lose everything."
It's no wonder that in 2016, a team of four business students from PC, including Higuita Montoya, won first prize in the Berg Cup, an international business ethics competition held at the University of Pittsburgh, she said.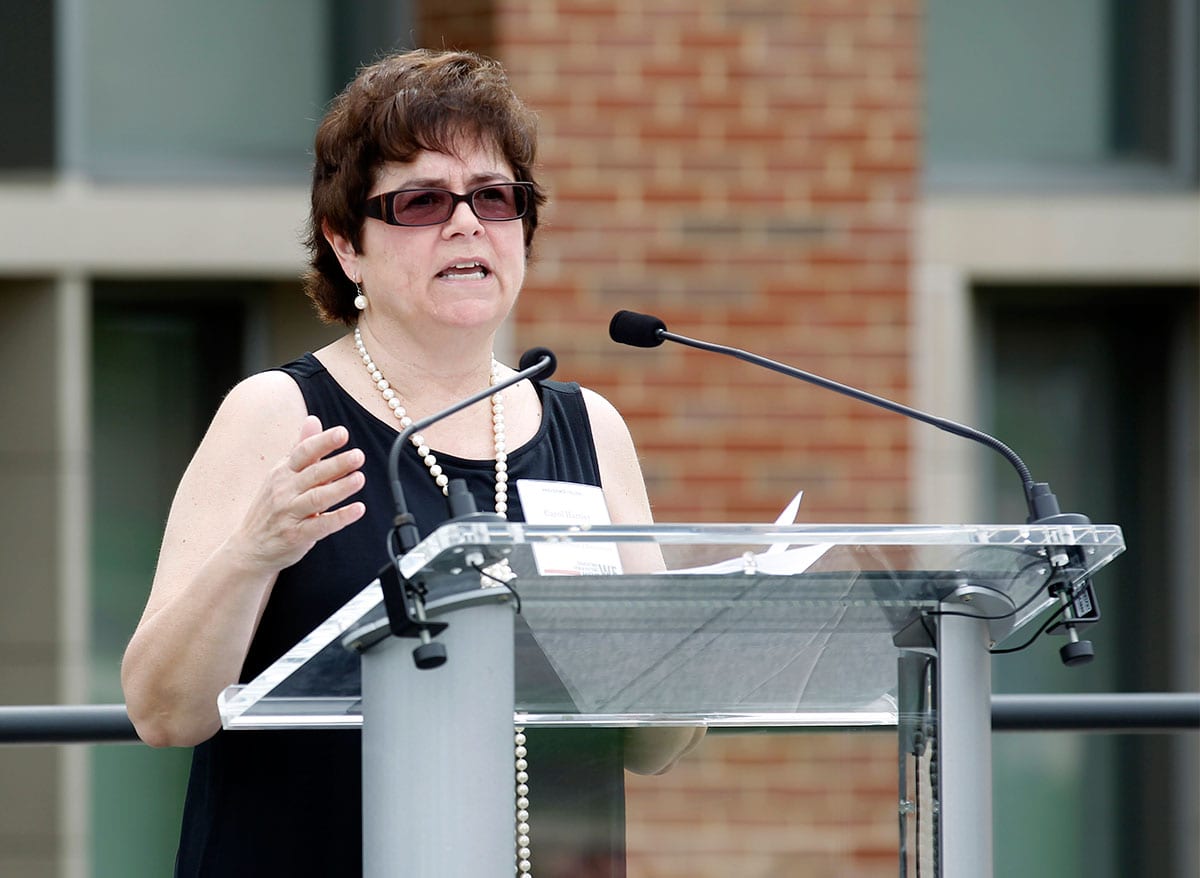 Maxfield introduced Carol Hartley, C.P.A., assistant professor of accountancy for more than 35 years, who shared her excitement about teaching in the new building.
In the fall, Hartley taught Intermediate Accounting in a traditional classroom. When the Ryan Center opened in the spring semester, the class moved into a new space where there is no passive sitting and "the more reticent student is ready to take the lead."
"There is no real front to the room," Hartley said. "You can have people gather in groups and work all the tables. We work through these problems on really large white boards. Everybody can see at the same time where we are. With a scan of the room, I can see who needs a nudge. It's easy for us to be more effective. The interactivity is great."
"I'll have students hold the marker, waiting for me to come around, and they're ready to drop the mic if they've got it right," Hartley said. "I had one student scream out loud, 'Wow, this is just so … so … so … active!' And I thought, exactly, that's what it is. I was beside myself with glee. It was like music to my ears."
Hartley encouraged guests to move inside the building after the formal ceremony to explore the learning spaces through a series of "interactive" experiences involving students, faculty, and alumni. A buffet lunch was served in the atrium.
"You'll see all the breakout rooms that help with the power of 'we,'" Harley said. "None of it would be possible without you. You're all part of our 'we.' Personally, reading the list of donors is really moving to me. I had a lot of you in class."