February 28, 2017
Providence College to give $100,000 to diocesan Catholic schools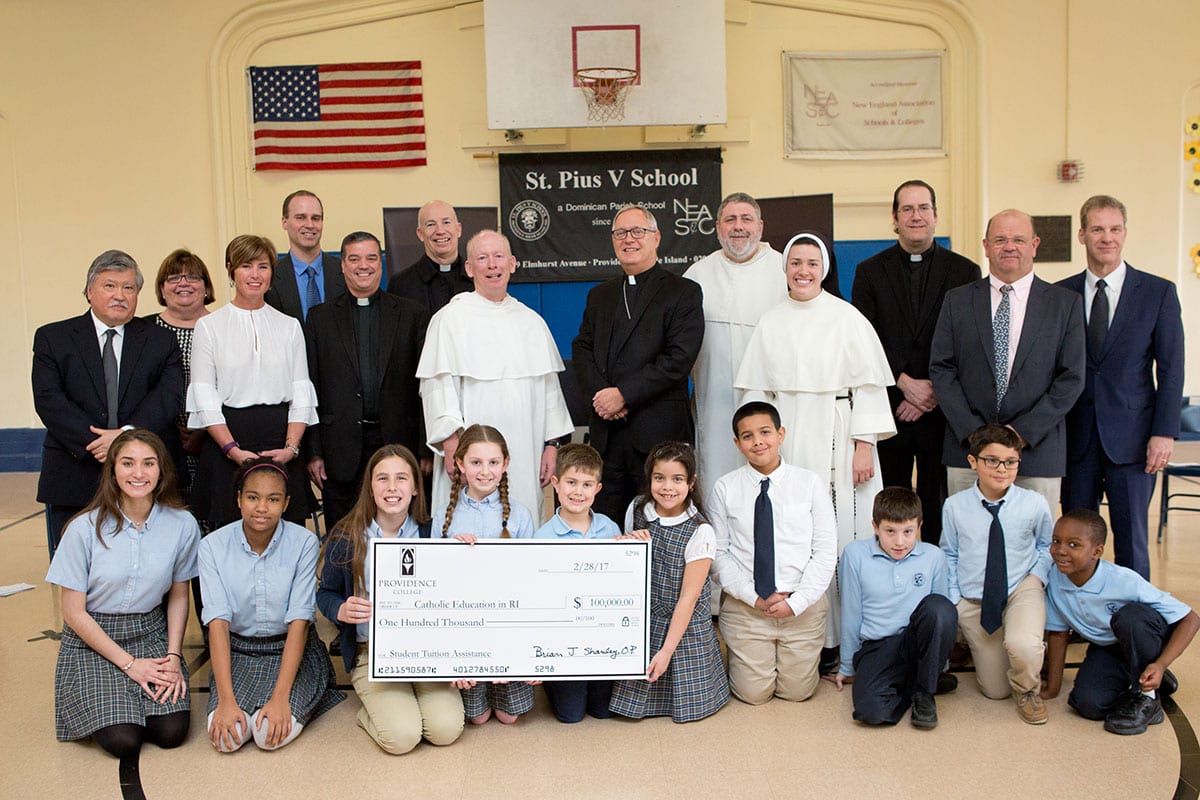 BY VICKI-ANN DOWNING
In honor of its centennial, Providence College will donate $100,000 to the Diocese of Providence to provide financial aid to children attending Catholic elementary and high schools.
College President Rev. Brian J. Shanley, O.P. '80 announced the gift during a ceremony at St. Pius V School, across Eaton Street from campus, that was attended by Providence Bishop Thomas J. Tobin, diocesan and school officials, College representatives, and children from St. Pius V and Bishop McVinney schools.
"In this, our centennial year, it is only fitting that Providence College recognize and support the efforts of Catholic education in Rhode Island," Father Shanley said. "There is no better preparation for an education at PC than the academic rigor and spiritual formation provided at a Catholic elementary and secondary school."
The gift to the Catholic Schools Office — $25,000 a year for four years — will be used to provide financial aid to students in the 39 diocesan Catholic schools through the diocese's existing fund, the Anchor of Hope Fund, beginning in September.
In addition, a portion of the gift will establish the Bishop Matthew Harkins Founder Fund, named in honor of the bishop who founded PC. The Harkins Fund will provide financial help to students in the five Catholic schools in Providence serving 1,000 children in kindergarten through grade 8 — Bishop McVinney in South Providence, Blessed Sacrament and St. Augustine in Mount Pleasant, St. Thomas Regional in Fruit Hill, and St. Pius V in Elmhurst.
In addition, the gift will include a service component involving students, faculty, and staff from the College with students and teachers at the five schools. PC will work with the Catholic Schools Office to determine the needs of each school and coordinate volunteer opportunities for the College community, Father Shanley said.
Bishop Tobin expressed his "heartfelt thanks for this wonderful gift," which he said affirms "the great work of our schools" and the importance of Catholic education and support for the Church.
"It's so important, so greatly appreciated," Bishop Tobin said. Catholic schools "don't just exist on goodwill and love. They need financial support as well," he said.
Daniel J. Ferris, superintendent of Catholic schools, said he is especially pleased by the service component of the gift.
"Let PC students be mentors, coaches, and examples, and bring children from these five elementary schools onto campus to experience what it would be like to be a student at PC one day," said Ferris. "I hope with this great support, many of the children in this room will find PC a familiar and welcoming place, a fulfillment of a dream, and will call PC their college, and one day their alma mater."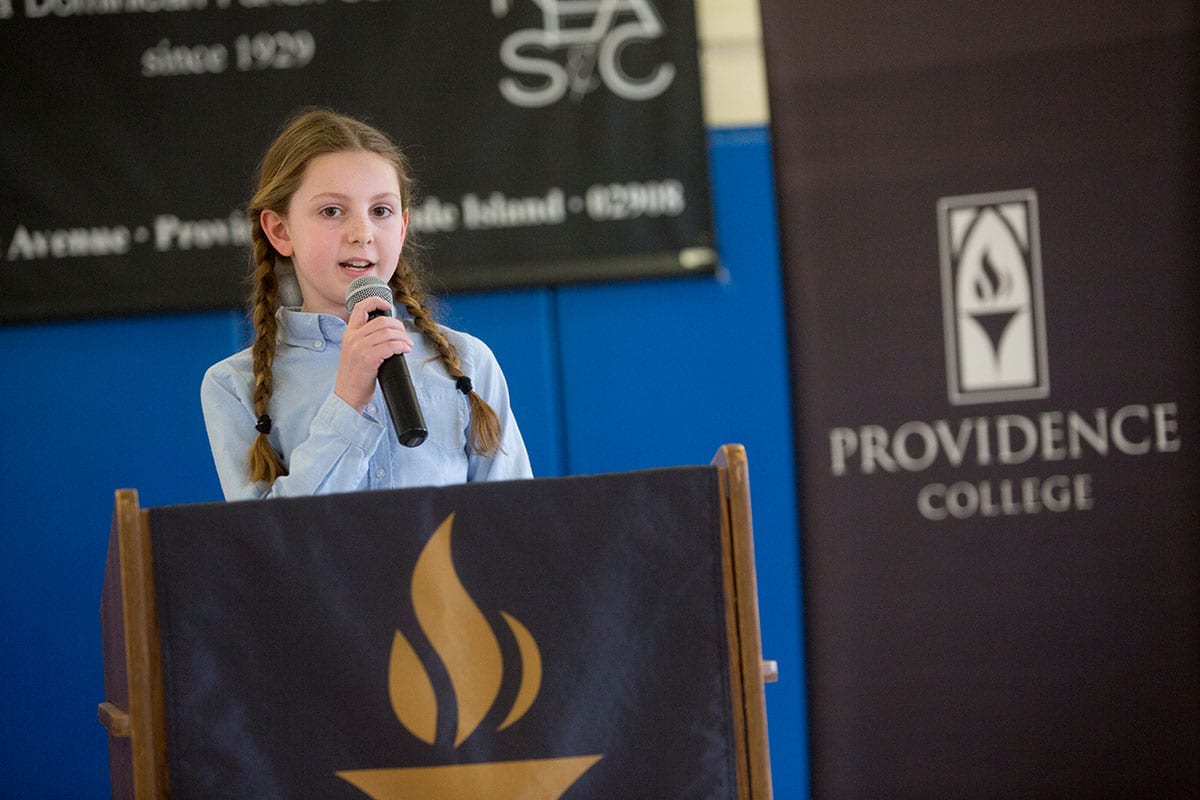 Sister Maria Francesca Wiley, O.P., principal of St. Pius V, said the College has been a good neighbor and friend to Catholic schools in the city, many of which have grown up with the College. Blessed Sacrament School is 92 years old, St. Thomas Regional is 91 years old, and St. Pius V is 88 years old, she noted.
Sister Maria Francesca introduced a fifth-grader, Catherine Galipeau, who stood on a stepstool to reach the lectern and share her thoughts about the importance of Catholic education.
"We learn, we play, and we pray," said Catherine. She said her parents have three children in Catholic schools and make sacrifices to pay their tuition, with financial aid from the diocese.
Edward J. Bastia, business administrator for the Catholic Schools Office, said 11,500 students attend Catholic schools. The annual cost of attendance ranges from an average of $5,500 at the elementary level to an average of $14,000 at the high school level, he said.
Steven J. Maurano, associate vice president for public affairs and community relations at PC, said that 100 years ago, Bishop Harkins was challenged to raise seed money to establish the College and so embarked on a fundraising effort reaching every parish in Rhode Island.
Eventually, Bishop Harkins collected $217,000 in nickels, dimes, and quarters from working-class, immigrant families who one day hoped their children could attend PC, he said.
"So, this announcement has a bit of symmetry to it," Maurano said. "I like to think that, 100 years after these families gave of themselves to help start the College, PC is now acting to support the grandchildren and great-grandchildren of many of these families. It is our way of saying 'thank you,' and that, 100 years later, we continue to remember and appreciate your sacrifice and support."