May 03, 2022
Providence College inducts first student members to its new chapter of Phi Beta Kappa
By Vicki-Ann Downing

In a "momentous event in the life and history of Providence College," Gamma of Rhode Island — Providence College's chapter of Phi Beta Kappa, the oldest and most prestigious honor society for the liberal arts and sciences in the United States — was formally installed during a ceremony in St. Dominic Chapel on April 26.

Two members of the national organization of the Phi Beta Kappa Society, Frederick M. Lawrence, Esq., secretary and CEO, and Peter Quimby, Ph.D., president, attended the event to install the new chapter, its charter members, and the six officers. They also inducted nine foundation members and the first 57 student members, including 52 seniors and five juniors.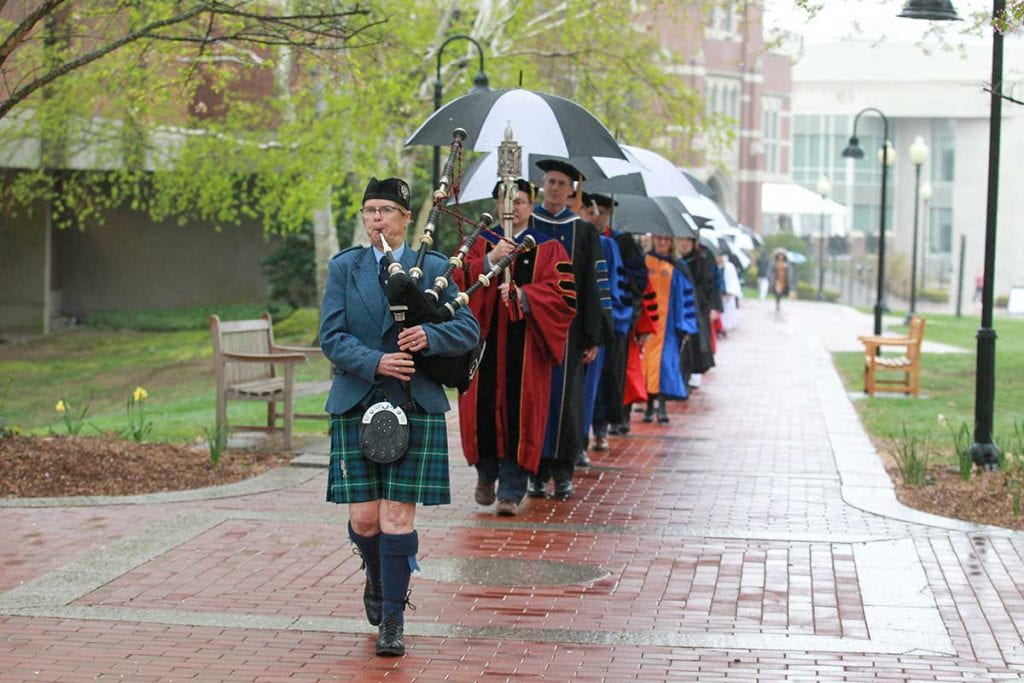 A procession of faculty, staff, and students, led by a bagpiper, marched from the Ruane Center for the Humanities to the chapel at the start of the ceremony. At the head of the procession were Robert J. Barry, Ph.D., associate professor of theology and president of the Faculty Senate, and Sean F. Reid, Ph.D., provost and senior vice president for academic affairs.

In her welcoming remarks, Joan R. Branham, Ph.D., professor of art history, associate dean of the School of Arts and Sciences, and the president of Gamma Chapter, spoke of the importance of the liberal arts.
"A liberal arts education celebrates a way of being in the world that students will take with them for a lifetime," Branham said. "It is a transformational training across the arts, humanities, natural, and social sciences that only begins in college but continues for many years beyond. It prepares students to reflect deeply about complex matters, to consider and analyze all the evidence before coming to a judgment, to think critically and fairly, to express oneself thoughtfully and with purpose, and to solve difficult problems in a very complex world."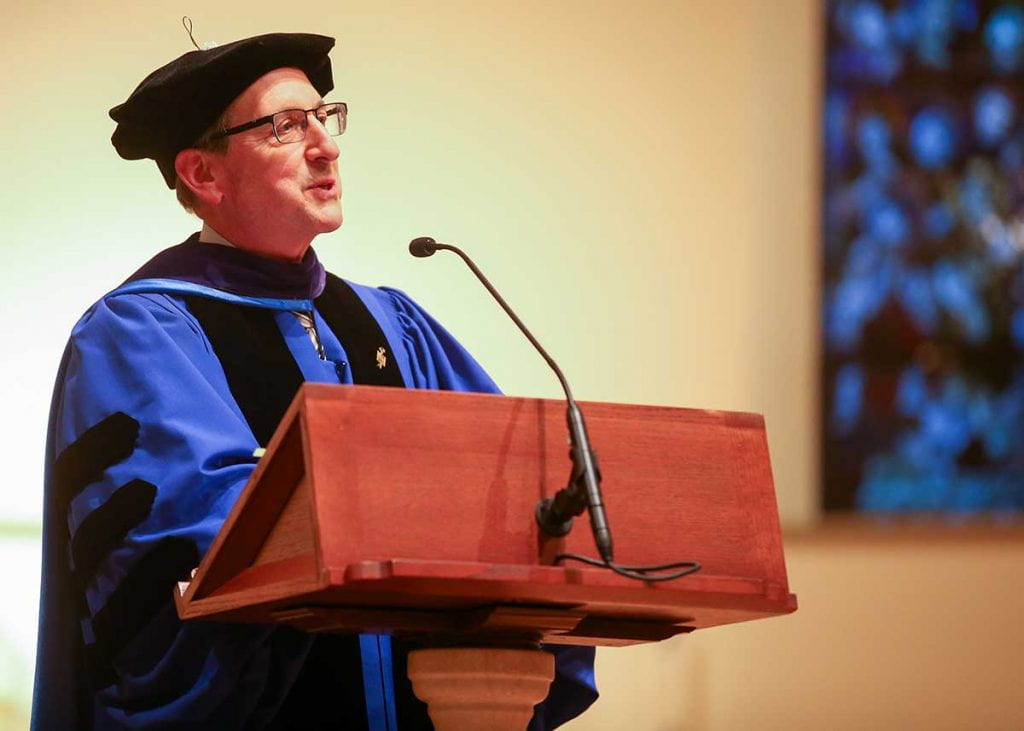 Frederick M. Lawrence, secretary and CEO of the Phi Beta Kappa Society, explained Phi Beta Kappa's origins at the College of William and Mary in 1776. Beginning in 1883, society members met every three years to authorize new chapters, including in August 2021, when Providence College was given permission to "shelter" the 293rd chapter, Gamma of Rhode Island.
 
Lawrence noted that the review process was intensive and rigorous. It was carried out by both Sheila Adamus Liotta, Ph.D., dean of the School of Arts and Sciences, and Branham, and Melanie Sullivan, director of institutional research, provided valuable support.
 
"This is a happy and momentous occasion in the life of this institution and of this community," Lawrence said. "The installation of this chapter is the result of years of effort by many college faculty and staff who themselves are Phi Beta Kappa members and will be inducted tonight as the charter members of this chapter.
 
"But I think it is also fair to say it is the result of the devoted labor and accomplishment of all of the faculty, administration, staff, students, alumni, and supporters who have created here at Providence College a rigorous academy community with a deep commitment to excellence in liberal arts that Phi Beta Kappa embodies and seeks to foster."
 
Quimby read the official charter and installed the charter members.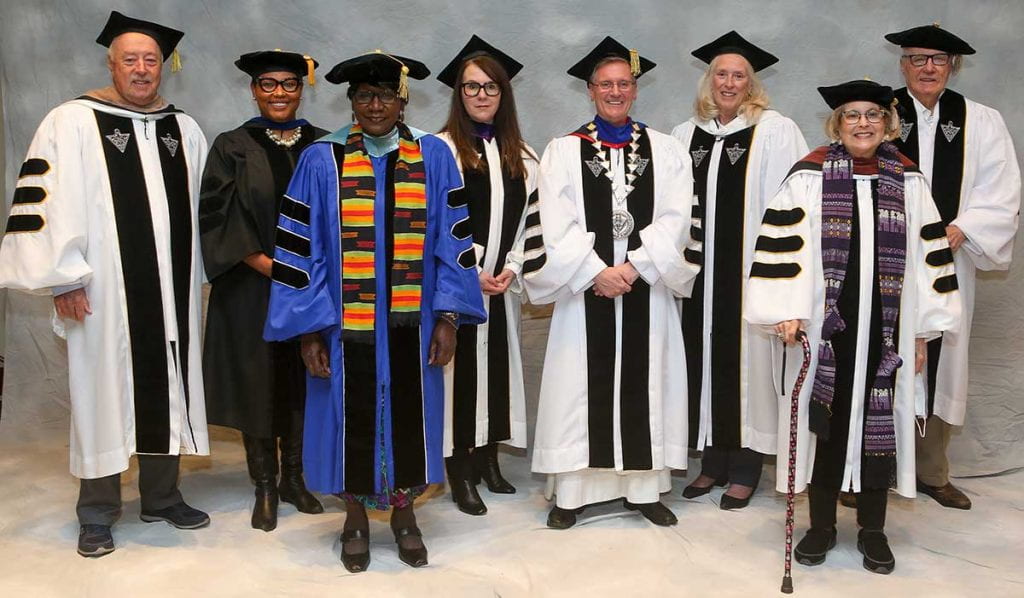 As part of the founding of the new chapter, the college was given a once-in-a-lifetime opportunity to install up to 10 foundation members in recognition of their support for the liberal arts and their unparalleled service to the college. Gamma Chapter chose nine, who were recognized as a brief biography about their contributions was read:
Wanda Ingram, Ed.D. '75, senior associate dean of undergraduate studies
Teresa A. Lavoie, J.D., Ph.D. '89, trustee and founder of the Anna E. Lavoie Memorial Lecture Series
Terza Silva Lima-Neves, Ph.D. '00, associate professor of political science at Johnson C. Smith University
Ann Manchester-Molak '75, executive vice president
John J. Partridge, Esq., '61, '11 Hon., former trustee and a member of the Liberal Arts Honors Program Leadership Council
Jane Lunin Perel, MFA '15 Hon., professor emerita of English
Michael A. Ruane, '71, '13 Hon., benefactor and former trustee
Rev. Kenneth R. Sicard, O.P., '78, '82G, college president
Rev. Brian J. Shanley, O.P. '80, the college's 12th president, now president of St. John's University, also is a foundation member, but was unable to attend the ceremony.

Installed as officers were Branham, president; Paul E. Herron, Ph.D., vice president; Amy Issa Cembor, MBA '21G, secretary; Darra Mulderry, Ph.D., treasurer, and Elizabeth Bridgham, Ph.D., historian. College faculty members and staff who were inducted into Phi Beta Kappa as undergraduates were installed as charter members of Gamma Chapter.

Students being inducted were called forward by name and by major and minor. They received honor cords to wear at commencement, a Phi Beta Kappa key engraved with their names, and a certificate, and were invited to sign the registry. They were selected based on their academic success in the arts and sciences and their good character, and each demonstrated college-level proficiency in mathematics and a foreign language.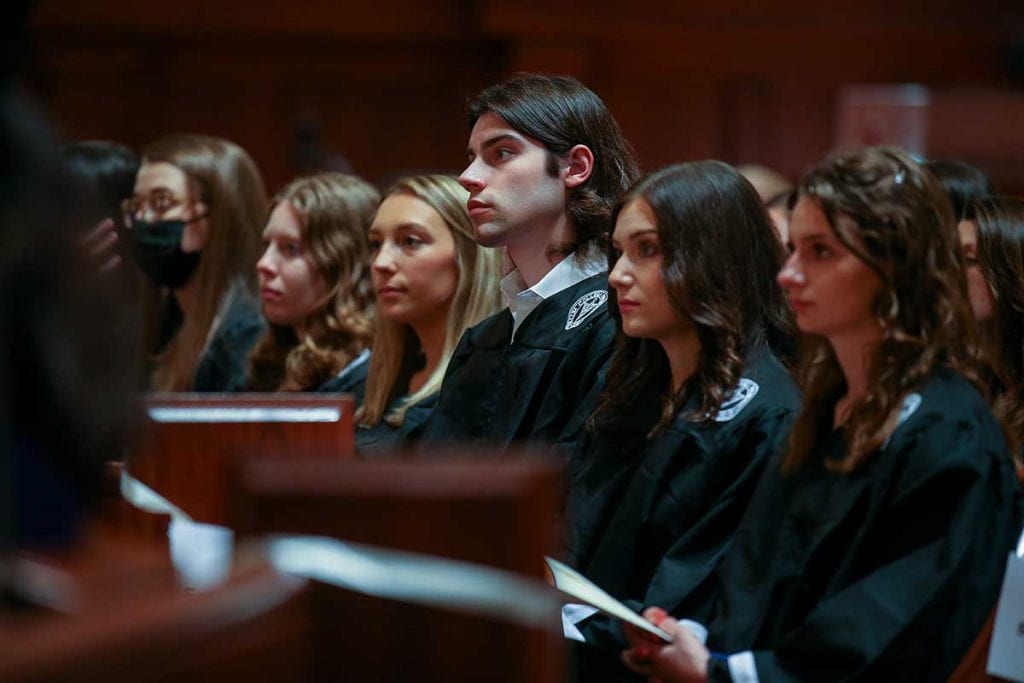 "To the students who comprise the inaugural class, I offer heartfelt congratulations," Father Sicard said in his remarks. "You stand out among your peers for your acumen in academic pursuits, but also much more. You exemplify character and integrity, among the ideals we value most highly here at Providence College. Phi Beta Kappa membership is a mark of distinction that will serve you well throughout your lives. It is a signal to all that you are a person of signature accomplishment with unlimited potential."
The invocation was offered by Rev. Mark Nowel, O.P., Ph.D., associate professor of biology, assistant to the provost, and a member of Phi Beta Kappa. The benediction was by College Chaplain Rev. Justin Bolger, O.P.

At the conclusion of the ceremony, the Providence College Alma Mater was sung by senior Daniel Strother Jr. '22 and accompanied by Gilbert Donohue, director of liturgical music. Parents, students, faculty, and participants joined a procession to the Ruane Center for the Humanities for a reception in the Fiondella Great Room.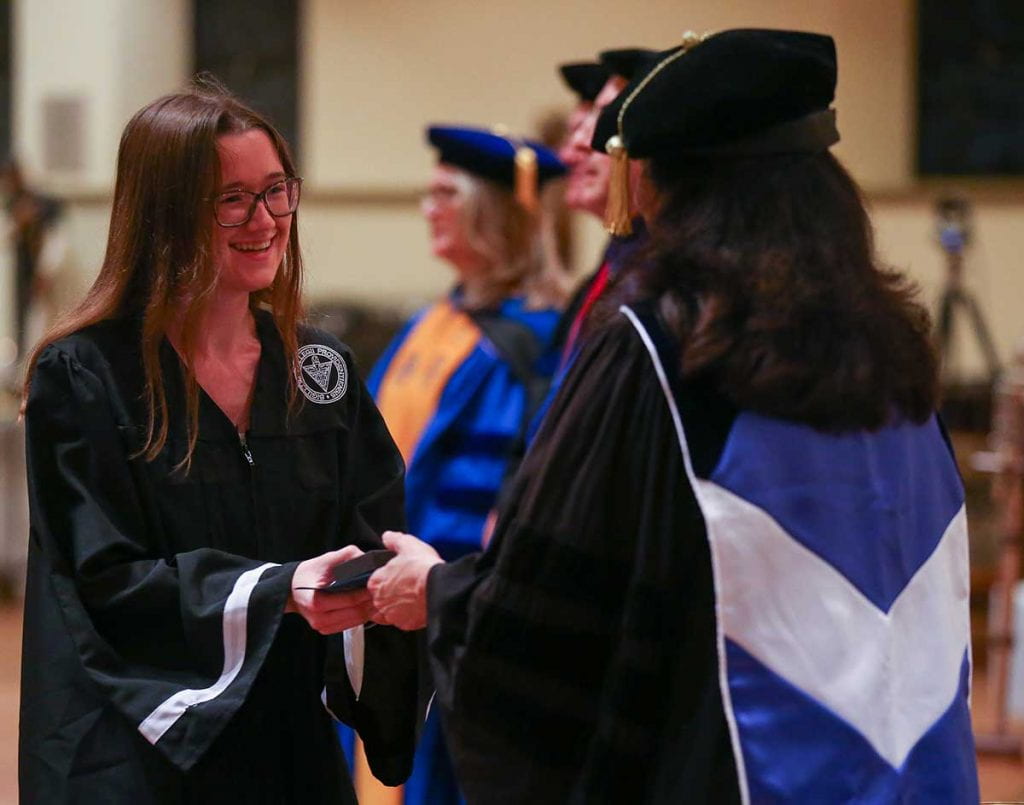 list of student inductees
Read Dr. Branham's remarks
Phi Beta Kappa Photos
Watch the ceremony
More about Phi Beta Kappa at PC
More Providence College news