August 28, 2019
'Providence College is not the place you've come to … It is the place you will go from'
By Vicki-Ann Downing
Providence College welcomed the Class of 2023 and celebrated the start of the new academic year at Academic Convocation on Monday, Aug. 26, in Peterson Recreation Center.
An abbreviated class schedule was followed to allow students, faculty, staff, and administrators to hear the keynote speaker, Rev. Gregory J. Boyle, S.J., author of Tattoos on the Heart: The Power of Boundless Compassion, the Common Reading selection for the 2019-20 year. Father Boyle is pastor of Dolores Mission Church in Los Angeles and the founder of Homeboy Industries, the largest gang intervention program in the world.
In his welcoming remarks, College President Rev. Brian J. Shanley, O.P. '80 said there is an implicit assumption that the purpose of higher education is to make sure students have jobs when they graduate. While work is important to a life of meaning and purpose, PC seeks to inculcate deeper values in students, including compassion, which lies at the heart of Father Boyle's book, Father Shanley said.

Father Shanley cited a quote in the book from novelist Wendell Berry: "You have to be able to imagine lives that are not yours."

"One of the deepest values of diversity on a college campus is that it expands your sense of what it means to be human when you meet people that are not like you, and learn about lives that are not your own," Father Shanley said. "This lies at the heart of the values of Providence College — the extraordinary compassion that Jesus of Nazareth had, his ability to enter into people different from him, people on the margins of society, to make them feel heard, to make them feel respected, to make them feel loved."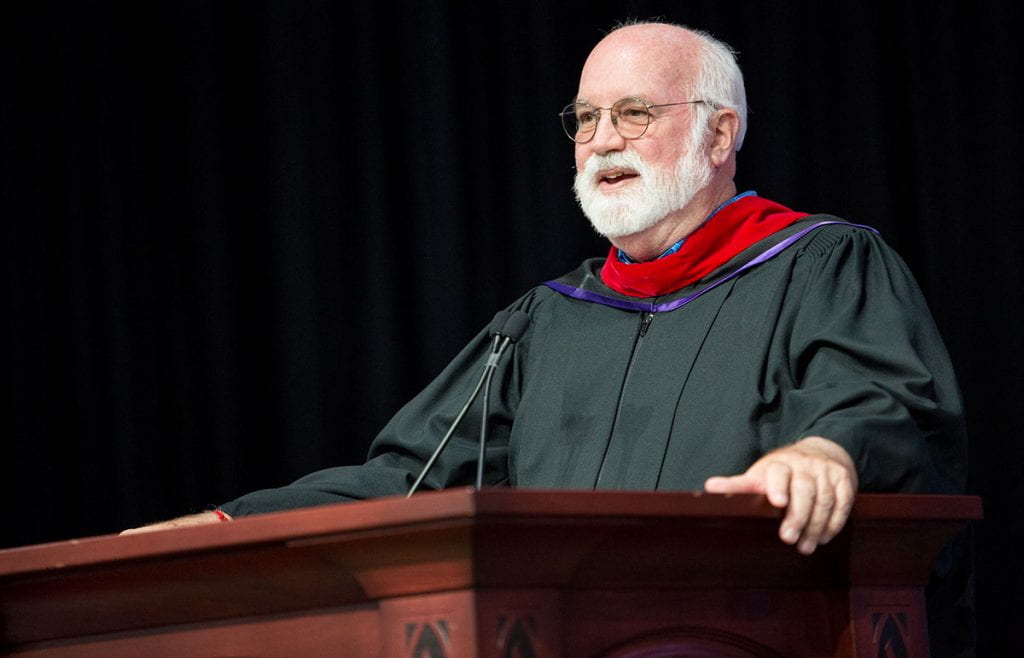 Father Boyle was introduced by Dr. Hugh F. Lena, provost and senior vice president for academic affairs. Father Boyle told students that Providence College "is not the place you've come to. It is the place you will go from." They must go to the margins of society to dismantle barriers and to love as God loves, he said.

"You go from here to announce a message and to imagine something different. You go from here to announce a community of kinship such that God, in fact, might recognize it. You go to establish a circle of boundless compassion, and you imagine nobody standing outside that circle. And to that end, you seek to dismantle the barriers that exclude. And you stand at the margins because that's the only way they will get erased. And you stand with the poor and the powerless and the voiceless, and you stand with those whose burdens are more that they can bear and whose dignity has been denied. You stand with the demonized so that the demonizing will stop.

"You will go from this place to stand with the disposable so that the day will come when we stop throwing people away," Father Boyle said. "And you will brace yourselves as you go to the margins because people will accuse you of wasting your time."

Father Boyle said none of it will be possible unless students believe in a God who is "spacious and expansive" rather than the "puny, partial God … we have created in our own image." Students must "choose to be in the world who God is, compassionate, loving, and kind."

By showing "kindness and tenderness and focused, attentive love," we return people to themselves, to their own unshakeable goodness, Father Boyle said.

"You have to dismantle messages of shame and disgrace that get in the way and that keep people from seeing their truth," Father Boyle said. "For indeed it's true that the principal suffering of the poor is shame and disgrace. The measure of health in any community may reside in our ability to stand in awe at what the poor have to carry, rather than stand in judgment at how they carry it."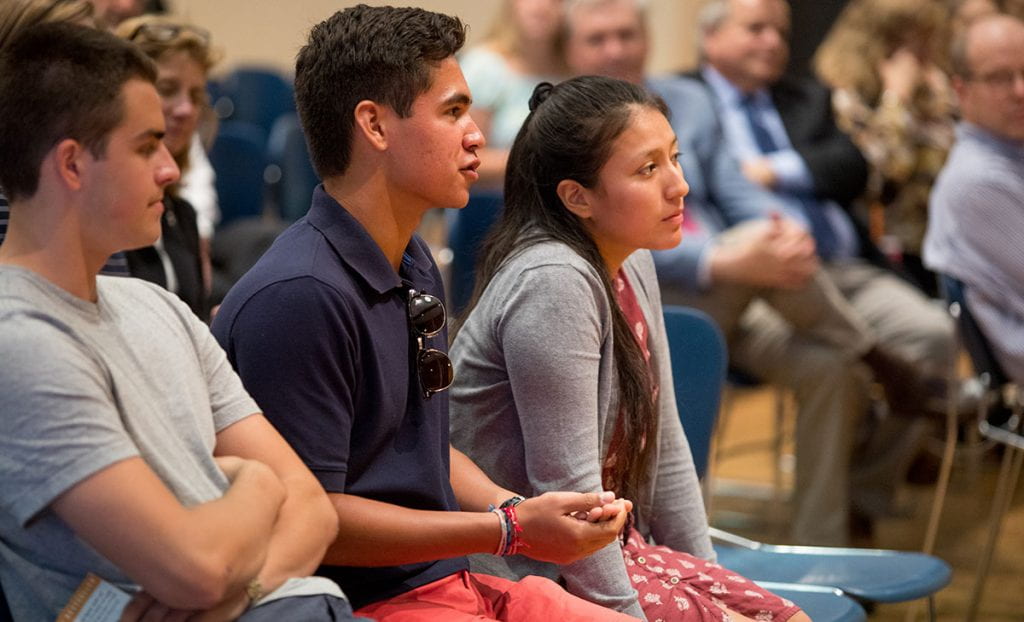 Later, Father Boyle participated in a question-and-answer session moderated by Dr. Keith W. Morton, professor and department chair of public and community service studies and director of the Feinstein Institute for Public Service.

Trevor Wakefield '20 (Hanover, Mass.) told Father Boyle that it broke his heart to learn that many of the young people helped by Father Boyle's organization still died, often by violence.

"We are not called to be successful, we are called to be faithful," Father Boyle said. "I like to think that before they left us, they knew the truth of who they were. I learned early on that I had to have an exceedingly light grasp on some things. There are so many fates worse than death, so many things more powerful than death."

Dr. Alexandra Caple, a post-doctoral fellow in psychology, asked Father Boyle how to maintain a compassionate nature when current times are so desensitizing.

"You have to live as though the truth were true," Father Boyle said. "We choose to be beacons of kinship where we are and with the people we're with."

Also at convocation, Kelsey Christianson '20 (Hauppauge, N.Y.), president of Student Congress and a finance major, welcomed students by sharing the words of Steve Pemberton '19Hon., the motivational speaker and human rights activist who presented the keynote address at commencement in May.

Pemberton talked about lighthouses, the steady, watchful, and humble structures that direct, correct, and protect the traveler.

"Here at PC, you will find your lighthouse … Your lighthouse will be a person who supports you, believes in you, and pushes you to be the best version of yourself," Christianson said. "And if you're lucky enough, you could be a lighthouse for someone else — the person that others look to in times of need and in times of triumph."

Deirdre Lahiff '20 (Goshen, N.Y.) sang The National Anthem and Alyssa Parsons '20 (East Bridgewater, Mass.) sang the Providence College Alma Mater. Providence College Symphonic Winds, Providence College Liturgical Choir, and Schola Cantorum performed during the ceremony.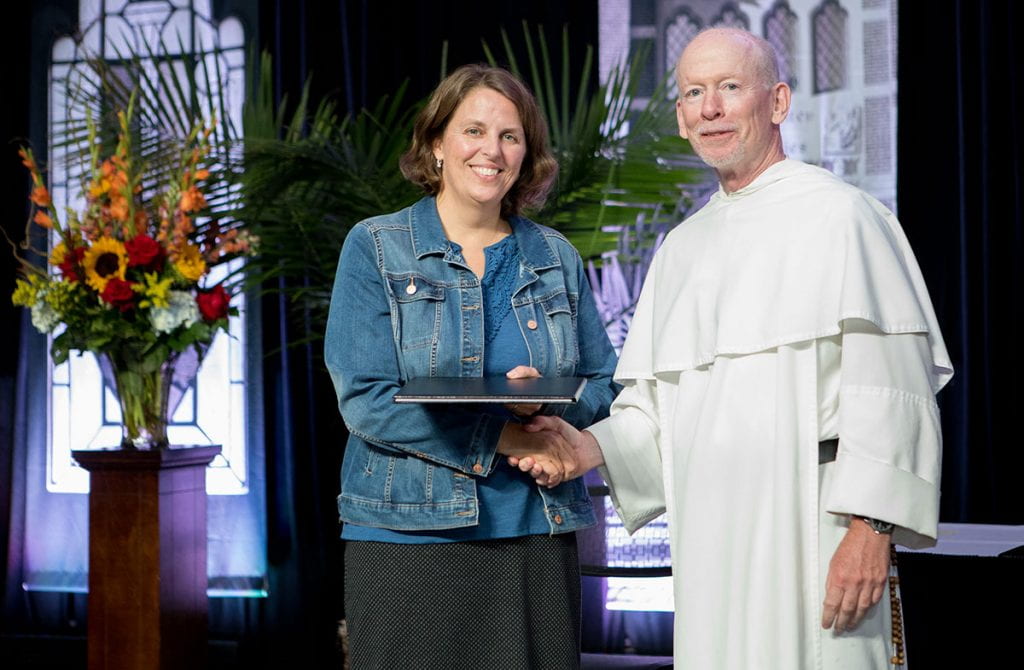 Faculty were recognized with awards in the evening at the annual Faculty Awards Dinner.

Dr. Edward E. Andrews '01, associate professor of history, is the recipient of the Joseph R. Accinno Faculty Teaching Award, the College's highest teaching honor. It is presented each year to the faculty member who exhibits excellence in teaching, passion and enthusiasm for learning, and genuine concern for students' academic and personal growth.

Andrews, who has a Ph.D. in early American history from the University of New Hampshire, has taught at PC since 2010. His scholarship focus is the cultural interactions in the British Atlantic world, specifically African, African-American, and Indian missionaries and wilder evangelical networks in the Atlantic.

The Outstanding Faculty Scholar Award was presented to Dr. Sharon Ann Murphy, professor of history and classics. The award is given to the faculty member who demonstrates the highest standards in research, scholarship, and contributions to her field. Murphy holds a Ph.D. from the University of Virginia and joined the PC faculty in 2005. Her research specialty is the economic and business history of the 19th and 20th century United States.

Judith M. Morse, assistant professor of accountancy, received the Faculty Service Award, which recognizes exceptional service that contributes to the mission of the College. Morse, who holds a master's degree in taxation from Bryant University, has taught at PC since 1989. She has served on many College committees, including the Women's Studies Advisory Committee, the Faculty Welfare Committee, and the School of Business Building Committee.

The Center for Engaged Learning presents awards for Innovation in Teaching to a full-time, tenure-track faculty member, a visiting and practitioner faculty member, and an adjunct faculty member. This year's recipients were:

• Dr. Richard Barry, assistant professor of theology, who has a Ph.D. in systematic theology from Marquette University. Barry joined the PC community in 2015 as a visiting professor and became a full-time faculty member in 2018.

• Brian Lamoureux '94, practitioner faculty of management, holds both a juris doctor degree and a master's degree in public administration from Syracuse University. He has taught at PC since 2010 and specializes in research issues associated with social media and digital media.

• Patricia Tulli-Hawkridge, an adjunct faculty member in the Department of Theatre, Dance, and Film, has a master's degree in fine arts from The George Washington University. She is the founder and artistic director of LaVoce: Theater That Speaks, and is a teaching artist with the Rhode Island State Council on the Arts.
Convocation 2019 photos