February 14, 2023
Providence College offering new scholarship for Cristo Rey graduates
By Vicki-Ann Downing
Providence College has announced a new scholarship program for students attending Cristo Rey high schools in the United States.
One senior from each Cristo Rey high school, chosen by the Office of Admission, will receive a $22,000 annual scholarship for four years. In addition, the college will meet 100 percent of the demonstrated financial need of the student after federal loans are applied.
"We take pride in our association with the Cristo Rey Network," said College President Rev. Kenneth R. Sicard, O.P. '78, '82G, who announced the scholarship during a visit of Cristo Rey college counselors to PC's campus. "The network's mission aligns with our mission in important ways. Providence College was founded 106 years ago to serve a largely immigrant Catholic population in Rhode Island and it has always been our purpose to be a place of opportunity."
The Cristo Rey Network, founded by the Jesuits in Chicago in 1993, has grown to 38 high schools located in low-income, urban areas in 24 states across the United States. Under the Cristo Rey model, students pay their tuition through work study with corporate partners. The goal is that each Cristo Rey student will attend college after graduation.
Eleven students from Cristo Rey high schools in Massachusetts, New York, Illinois, and Pennsylvania now attend PC. Several dozen have graduated from the college, which has been a university partner for the past 10 years.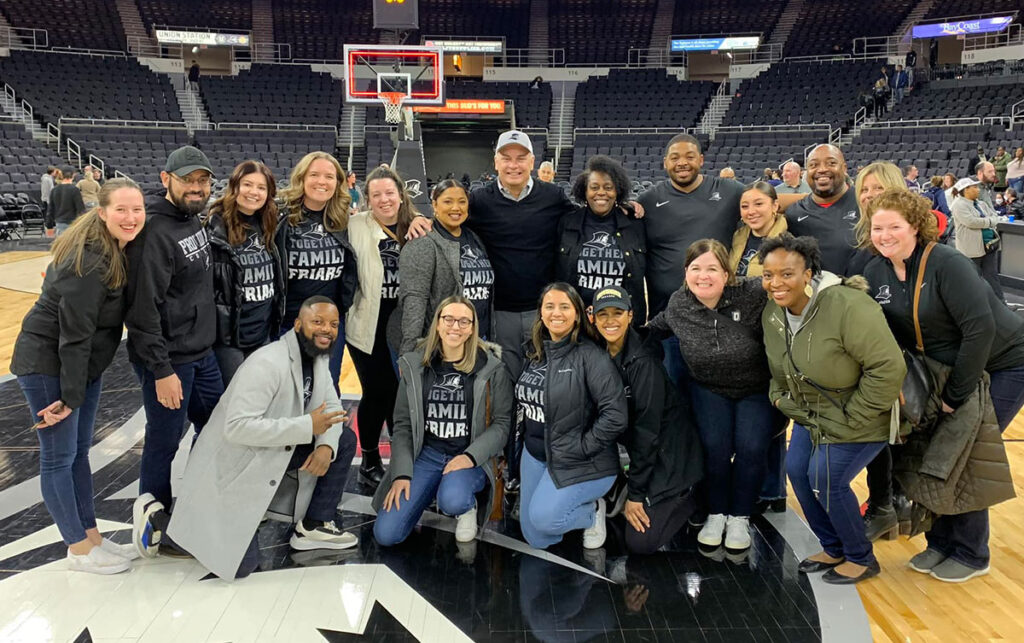 In February, the college welcomed college counselors from 13 Cristo Rey high schools for presentations about admission, financial aid, academic support, student life, and career preparation; campus tours and class visits; lunch with deans from the college's four schools; and even a men's basketball game at Amica Mutual Pavilion in downtown Providence.
They represented high schools in Atlanta, Cincinnati, Cleveland, Dallas, Detroit, Indianapolis, Las Vegas, Miami, Oklahoma City, Richmond, Sacramento, San Jose, and Waukegan, Illinois.
Caitlin Tomassetti, a college counselor visiting from Cristo Rey St. Viator in Las Vegas, spoke with Dean Kyle J. McInnis, Sc.D., about the new School of Nursing and Health Sciences, which will admit its first students for study this fall. Tomassetti said it is a challenge to convince students to travel beyond Nevada for college, so she appreciated the opportunity to experience campus and gather firsthand information to share with them.
Responding to a question from a counselor, Father Sicard said PC plans additional investment in the student experience with the goal of building national recognition through academic excellence. It will continue to explore new undergraduate majors and has recently added new majors in neuroscience and in music technology and production.
"The diversity goals in our strategic plan provide a real focus on finding ways to make PC more attainable for students who, much like the young men who enrolled here 106 years ago as the children of immigrants, only need an opportunity," Father Sicard said.
Cristo Rey students have been among the most successful at PC, going on to careers in education, finance, higher education administration, insurance, public health, and social work, among other fields. Liz Lombard '18G, associate director for diversity, inclusion, and early engagement at the Chirico Career Center, detailed some of the alumni experiences to Cristo Rey college counselors.
Current students attend the college from Notre Dame Cristo Rey in Methuen, Massachusetts; Cristo Rey Brooklyn and Cristo Rey New York, both in New York City; Cristo Rey Prep in Philadelphia; and Cristo Rey St. Martin in Waukegan, Illinois.
More about Cristo Rey students
More Providence College news