May 18, 2021
Public defender experience guides outlook of U.S. Judge Mary S. McElroy '87
By Ealish Brawley '14
Judge Mary S. McElroy '87 had to wait four years, through two presidencies and three nominations, for her appointment to the U.S. District Court for Rhode Island. Such a wait for a prestigious, lifetime seat on the federal bench would have frustrated most, but McElroy's passion for her previous job, that of public defender, helped her keep perspective.
"It wasn't one of those things that would have made me really upset if it didn't happen," she said. "I would have been happy being a public defender for the rest of my career."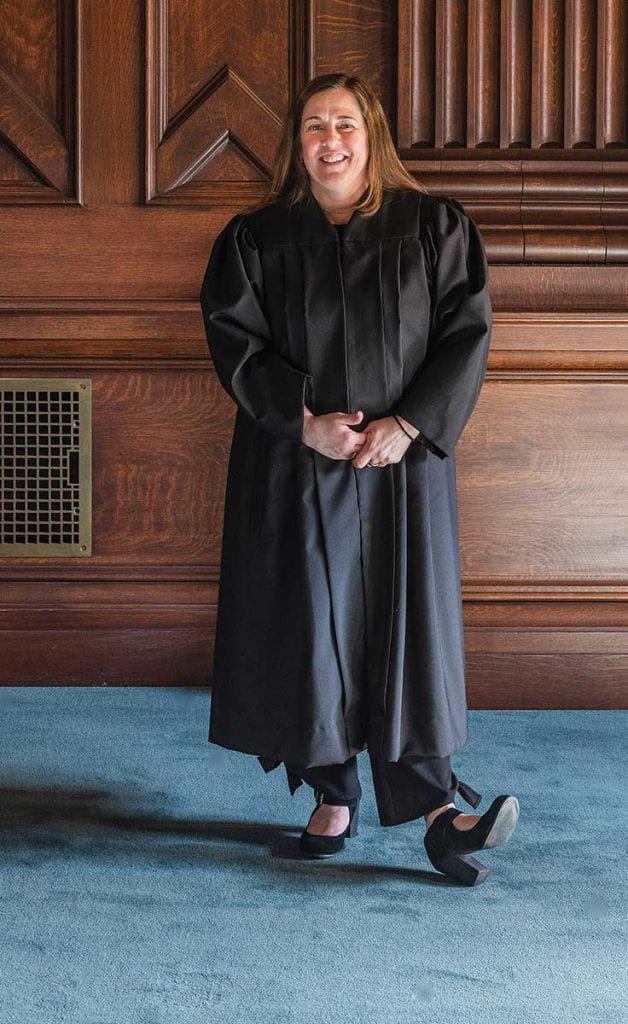 McElroy has endeavored to make justice and the workings of the law more accessible to her clients and co-workers alike throughout her career. She said she brings the lessons she learned from practicing public defense in creating a federal courtroom experience where law and justice are in the spotlight.
As the record goes, President Obama nominated McElroy for the U.S. District Court bench in Rhode Island in 2015, but the turmoil surrounding Justice Antonin Scalia's death caused her nomination to expire within Congress. In a move surprising to some, President Trump adopted his predecessor's nomination in 2018, but that nomination also expired. Trump nominated McElroy again in 2019, leading to congressional approval.
Like the nomination process, McElroy found the journey to the federal bench far from anything she could predict. She enrolled in law school without a clear plan for how she would use her degree and considered teaching law or working in private practice.
"Given my dislike of the spotlight, my career path seems ill-advised," said McElroy, joking about her discomfort with wearing the judicial robes and having her photograph taken. "Even though I am wearing that robe, I shouldn't be the center of the court. The center of the court should always be the litigants."
Upon graduating from Suffolk University Law School in 1992, she spent two years clerking and then working in private practice. It wasn't until she joined the Rhode Island Public Defender's office as an assistant public defender in 1994 that she fell in love with practicing law. She became an assistant federal public defender for the districts of Massachusetts, New Hampshire, and Rhode Island in 2006 and returned to the Rhode Island Public Defender's office to become its first female chief in 2012. She served in that position until she was sworn in as U.S. District Court judge on Oct. 2, 2019.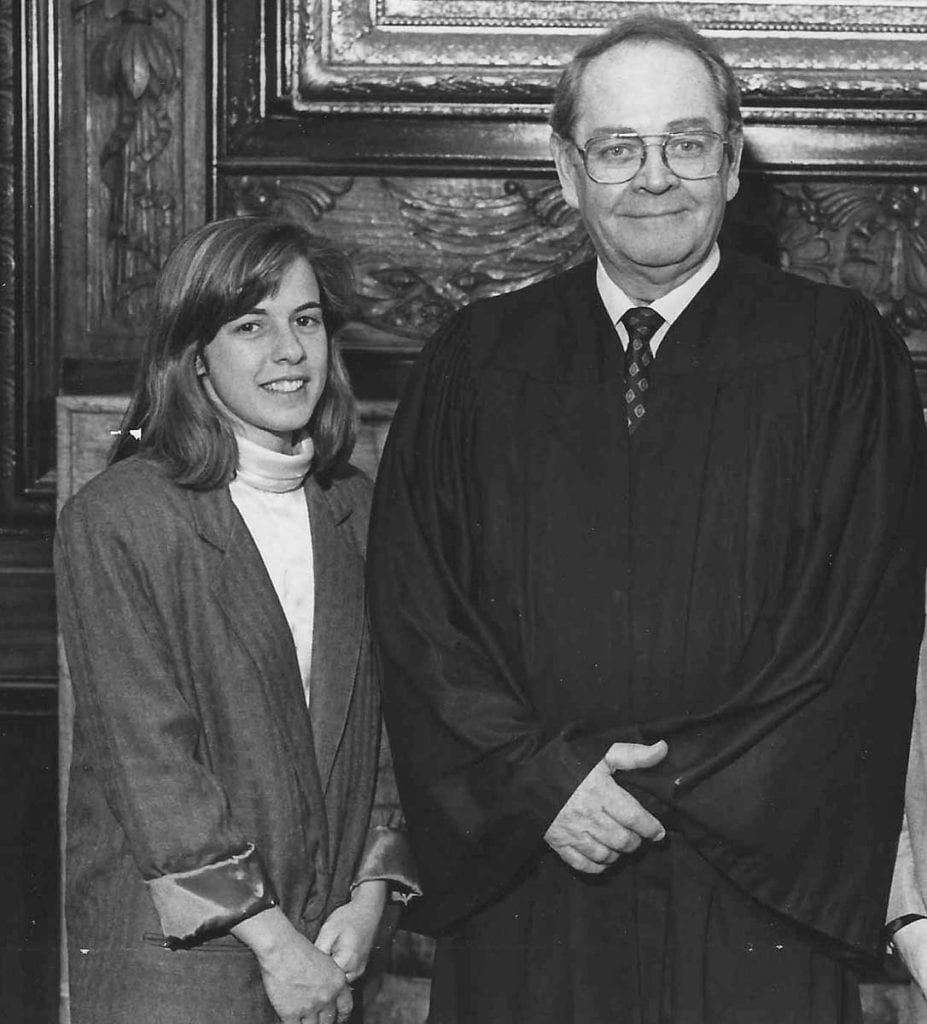 McElroy said her years as a public defender prepared her for the inevitability of making difficult or unpopular decisions in U.S. District Court. "As a public defender, you are representing people whose relationships with their communities are complex and problematic on multiple levels. They often aren't everyone's favorite person. In that job, you have to be OK with feeling unpopular," she said.
McElroy has carried her concern for her former clients and her desire to understand the complexity of their situations to the other side of the bench.
"You need to really listen to people in order to understand what brings them to you as a public defender. It could be poverty, drug addiction, mental illness. You need to get the full picture in order to help them more holistically. This applies to every part of the courtroom. All parties need to feel like they are being heard because the court belongs to everyone," she said.
"A long-lasting legacy that Mary left behind in this office was to strive to break free of our silos and collaborate with unlikely allies to achieve lasting reform," said a colleague, Matthew B. Toro, deputy director of the Rhode Island Public Defender's office. He noted that this was most evident in McElroy's significant contributions while serving on former Gov. Gina Raimondo's Justice Reinvestment Working Group.
Toro said that McElroy, with other criminal justice stakeholders, collaborated and provided recommendations to the governor and General Assembly on ways to improve the administration of criminal justice in Rhode Island. In 2017, the General Assembly passed the Justice Reinvestment legislative package that updated probation and parole practices, supported court rule changes, and provided treatment options within the community for people with addictions and mental illness.
A history major at PC, McElroy cited her undergraduate education, especially Development of Western Civilization course work, as useful preparation for her career.
"In DWC, we learned that all parts of a society are related," she said. "You can see so many influences in one piece of artwork: historical, cultural, religious, scientific. As a public defender, you look at your defendant, who may be sitting in front of you for the third time on the same charge, and you need to find out what their influences are. Their crimes are not isolated but are a reflection of what has happened to them and what is going on inside their person."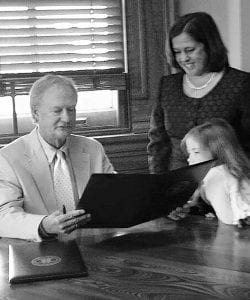 McElroy's concern for individuals' humanity guides her relationships with her staff and co-workers as well. Upon her return to the Rhode Island Public Defender's office as chief in 2012, she worked to ease the burden of those with extra responsibilities outside of the office. She knew from her experience as an assistant public defender and a parent of two children with her husband, Robert F. Jordan '87, the challenge of managing schedules and caseloads.
"We need to honor the fact that people have lives and responsibilities outside of work, whether that be caring for their children, elderly parents, or a sick spouse," said McElroy, whose father, Edward J. McElroy, Jr. '62, and sister, Elizabeth A. McElroy '94, also graduated from PC. "Sometimes that means letting people work remotely or move some of their hours to nights or weekends when needed. It's a little self-serving, too, because people do their best work when they feel valued."
The timing and extent of COVID-19 has only reinforced McElroy's outlook on the District Court bench. Only five months after her swearing in, the pandemic shifted most of the court proceedings online. It was a difficult, but not impossible, adjustment, and she saw some good in it.
"Lawyers would fly in from out of state for these conferences which could easily be held remotely. If we continue to hold some of these online, talented and hard-working people with important responsibilities at home won't feel forced out of the profession," she said.
Ealish Cassidy Brawley '14 is a freelance writer who lives in Providence.