November 13, 2017
'Reflecting Forward' participants: Progress must continue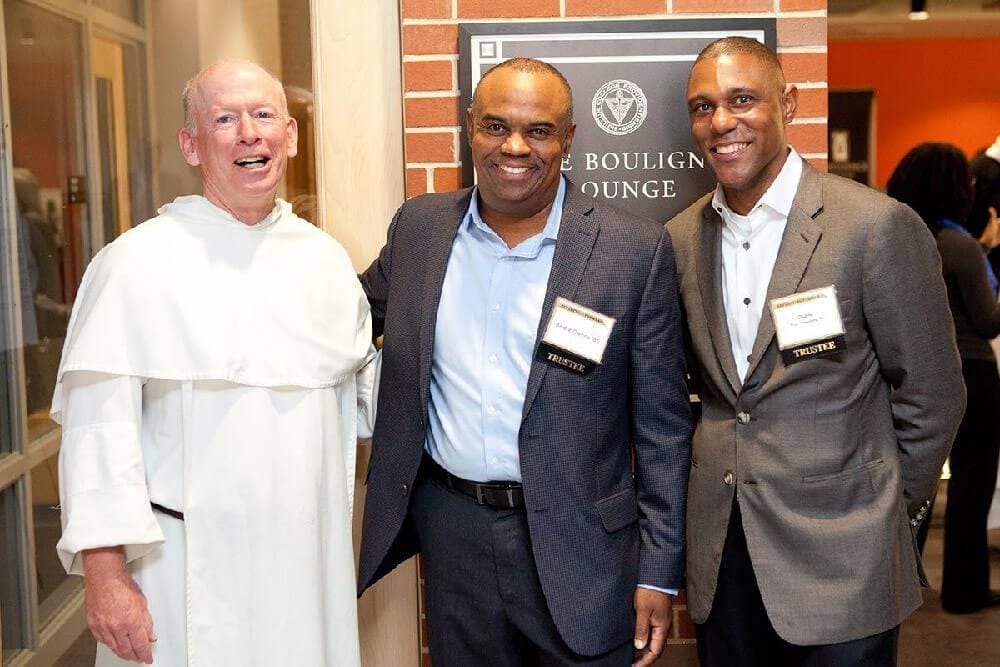 By Vicki-Ann Downing and Charles C. Joyce
More than 200 alumni, students, faculty, administrators, and staff at Providence College attended Reflecting Forward: A Celebration of Multiculturalism and Diversity on Nov. 3-5.
With increased diversity and inclusion central to its mission and highlighted in its strategic plan, the College organized the weekend under the leadership of two trustees who first suggested the celebration one year ago. Duane M. Bouligny '94, an investment banker with Wells Fargo & Co. in San Francisco, and Andre E. Owens '85, a lawyer with WilmerHale in Washington, D.C., explained that their goal was to draw alumni of color and alumni who identify with diverse backgrounds to campus, demonstrate the College's progress in diversity and inclusion, and engage them in a discussion about what more needs to be done.
Programming began Friday night with a pair of "Back to Campus" receptions in the Slavin Center. Events on Saturday morning were based at The Center at Moore Hall, including a formal opening and blessing of the renovated building, which is dedicated to the College's diversity, equity, and inclusion efforts.
A luncheon celebrating PC's Multicultural Scholarship Program and a dinner for alumni were held later on Saturday. The weekend concluded on Sunday with spiritual reflections in St. Dominic Chapel and brunch.
Planning for the weekend was coordinated by the 18-member Reflecting Forward Committee, co-chaired by Bouligny and Owens.
The College population has become more diverse under College President Rev. Brian J. Shanley, O.P. '80, guests were informed at Saturday's opening ceremonies. Students of color make up 17 percent of the population today compared to 7.5 percent in 2005 when Father Shanley became president, said Rafael Zapata, associate vice president for institutional diversity and chief diversity officer. According to Dr. Hugh F. Lena, provost and senior vice president for academic affairs, who spoke at a panel discussion later, faculty of color also increased during that period, from 4 percent to nearly 17 percent.
But "there is still a lot of work to be done at Providence College. We are not where we need to be," said Father Shanley in his greetings.
In Bouligny's opening remarks, he said he hoped that the weekend would be "one we can build on going forward, not just a moment in time that stops — that people will re-engage and want to come back" to PC. He said that while he often hears from PC students seeking to work in investment banking, "I want to hear from students of color. It's a goal of this weekend."
Owens thanked College trustees for participating and said he was especially thankful that so many young alumni chose to attend. More than half of the alumni attending were part of FOLD, or Friars of the Last Decade, who have graduated since 2008.
There is "tremendous support for diversity throughout the Board of Trustees. We think about it, we talk about it, it's connected to our strategic plan," Owens said.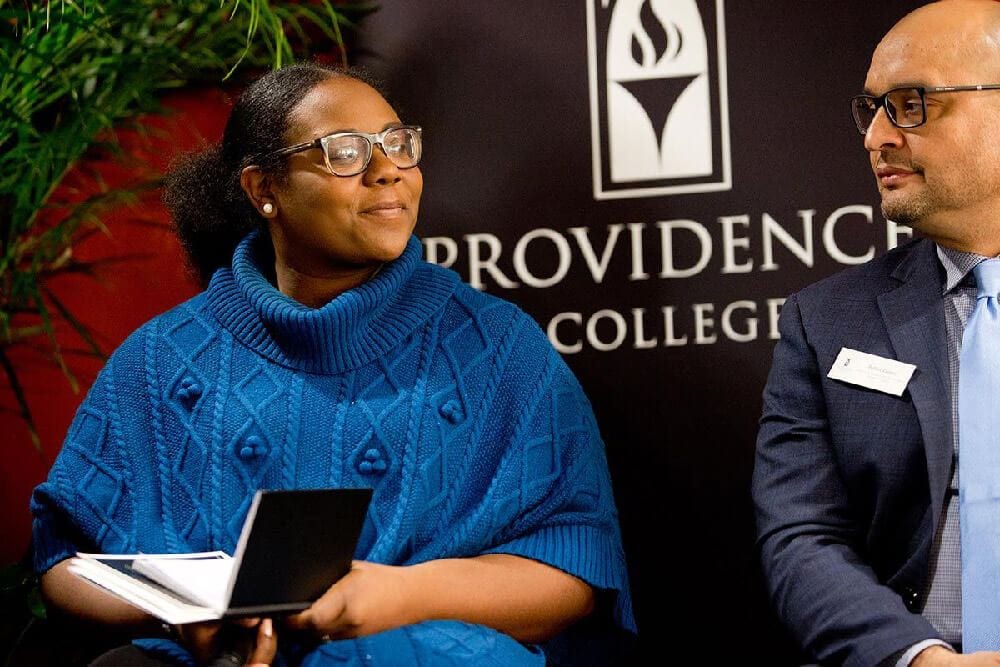 Bouligny and Owens were hosts of the College Leadership Panel, a discussion which featured College administrators and Phionna-Cayola Claude '18 (Dedham, Mass.), the first student of color to be elected president of Student Congress. Claude, who established the Spoken Word club at PC, also composed and performed the poem "Unwritten Blackness" for the occasion.
Diversity "begins with mission," said Rev. R. Gabriel Pivarnik, O.P., vice president for mission and ministry. "Everybody's dignity is inherent in their creation in the image and likeness of God," a central Catholic teaching. As Dominicans, "we base everything we do off encounter. When you encounter people who are different from you, that's where everyone is transformed — when the whole recognizes one of its parts."
Dr. Wanda S. Ingram '75, senior associate dean of undergraduate studies, remembered her experience when she arrived on campus in 1971 with the first cohort of undergraduate women accepted to PC. Of the 279 women, only 11 "looked like me," she said.
Thanks to the efforts of the late Rev. Robert A. Morris, O.P. '46 & '82Hon., the first administrator of the Martin Luther King, Jr. Scholarship Program, and Dr. Francis P. MacKay, the program's cofounder,a retired associate professor of chemistry, and a former vice president for academic administration, black students developed a sense of "community" that helped them endure in times when they were not accepted, she said, but it disturbs her when she hears about students facing similar difficulties today.
"We should have overcome by now. It's 2017," Ingram said.
Claude said there has been progress at PC, but work remains.
"What's different is that we have the attention of administrators and some faculty," she said.
The other panelists, who answered questions ranging from the strategic plan and the concept of "human flourishing" at PC to engaging students of other faiths, were Rev. Kenneth Sicard, O.P. '78 & '82G, College executive vice president and treasurer; Kristine Goodwin, vice president for student affairs; Lena; and Zapata.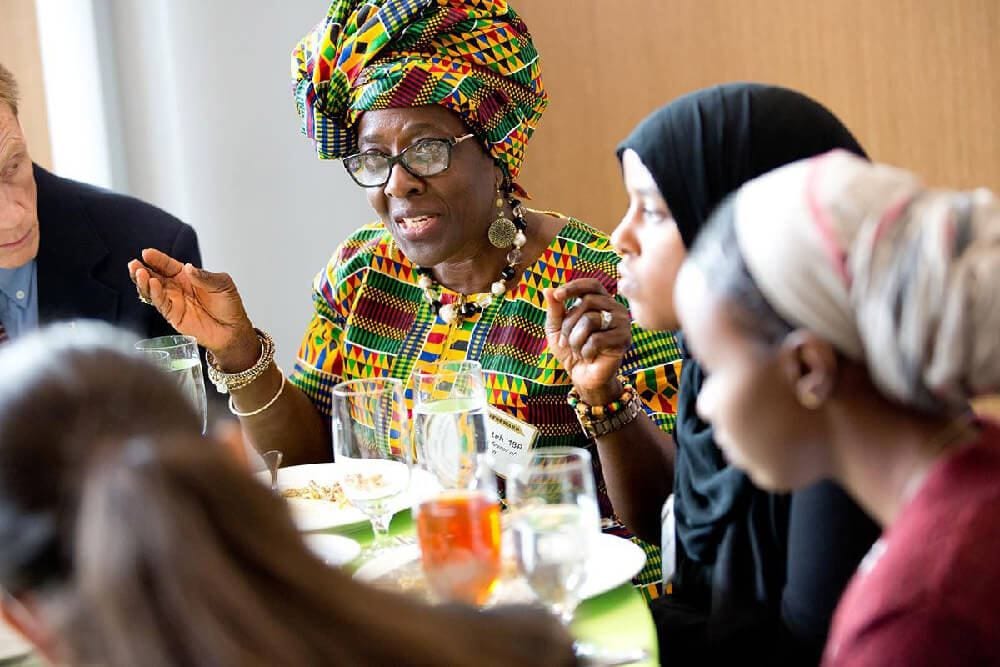 It was no coincidence that the weekend's opening ceremony and related programming on Saturday were held in The Center at Moore Hall, which opened for the first time for the occasion. Located in the center of campus, Moore Hall once contained auditoriums and classrooms for the Development of Western Civilization Program. The renovation yielded a multicultural center with collaboration rooms, an active learning classroom, a café and kitchen, a lounge, and a dance studio. The architect was Gerald J. Sullivan '86.
"We're certain it will be one of the most popular places on campus for a variety of activities," Zapata said to guests. The hall is not intended to be just a multicultural center but "a transformative space to demonstrate what is possible at this school."
The opening ceremony, the panel discussion, and a subsequent breakout session all took place in The Bouligny Lounge, a space that was created through a gift from Bouligny and his wife, Nancy.
"My first class was in this room right here, at 8:30 on Monday morning," said Bouligny. "This is the center of campus for me."
Father Shanley said that as a new priest, he lived in Stephen Hall, now the Feinstein Academic Center, and taught DWC in Moore Hall. Father Shanley said the new center will be "a place of encounter" where dialogue can begin, because "when you have a dialogue, you start to learn."
To mark the center's opening, guests were invited to paint a mural designed by Betsy Casañas, a mural artist from Philadelphia and co-founder of Semilla Arts. When finished, it will be permanently installed in the center.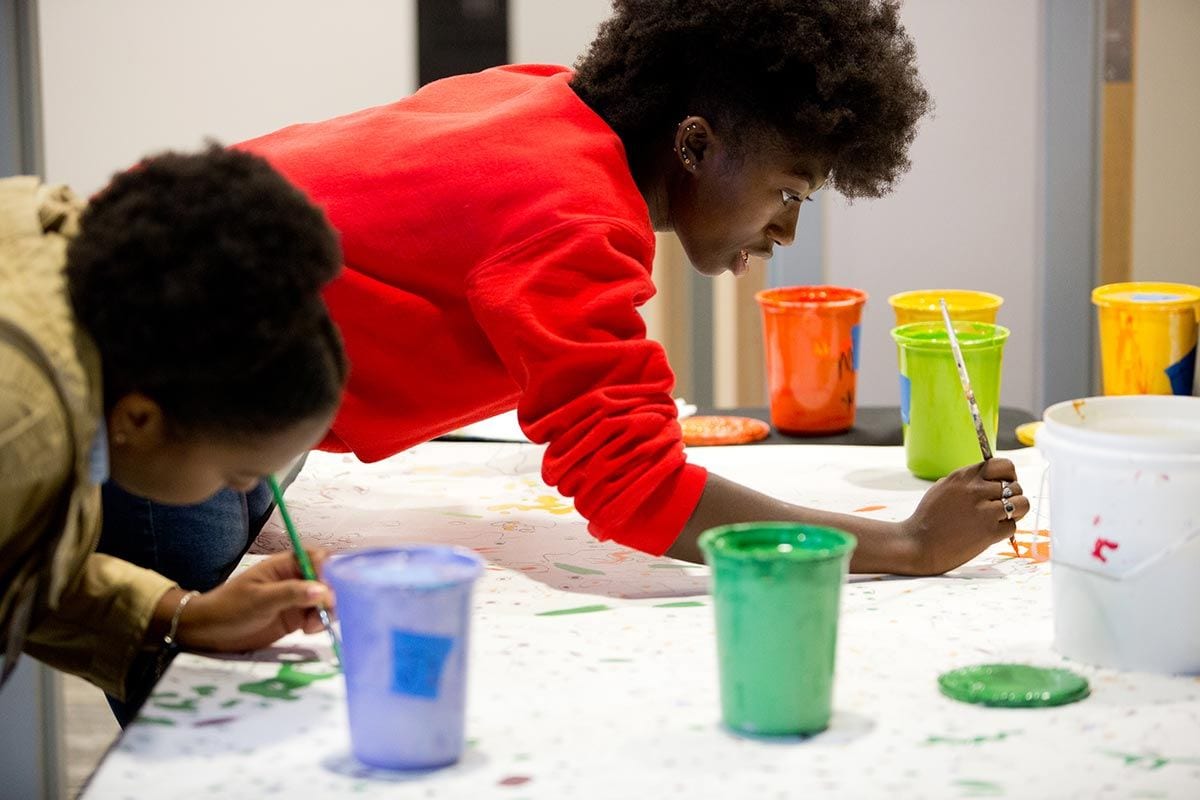 Four breakout sessions dealt with how the College is helping first-generation students adjust to college, how faculty members incorporate inclusive excellence in the classroom, how to mentor students and alumni of color, and how to build a bridge to the LGBTQ community.
Through the Center for Teaching Excellence, 10 faculty from the STEM disciplines — science, technology, mathematics, and engineering — have spent a year studying ways to help students of color and first-generation students become acclimated in their classes. Many of the methods have been implemented in the classroom.
National research shows that students experience anxiety in their course work based on the fear that their performance will confirm existing stereotypes about their social or racial groups. To combat that, Dr. Seann P. Mulcahy, associate professor of chemistry, assigns each of his students an avatar — selected from a group of actual organic chemists — so their comments can be anonymous.
Dr. Kathleen A. Cornely, professor of chemistry, said change can be as simple as rewriting a syllabus so that students can understand the purpose of office hours and be encouraged to seek tutoring or counseling assistance.
Because students associate making mistakes with negativity, Cornely added the line, "No prior experience in a laboratory setting is assumed."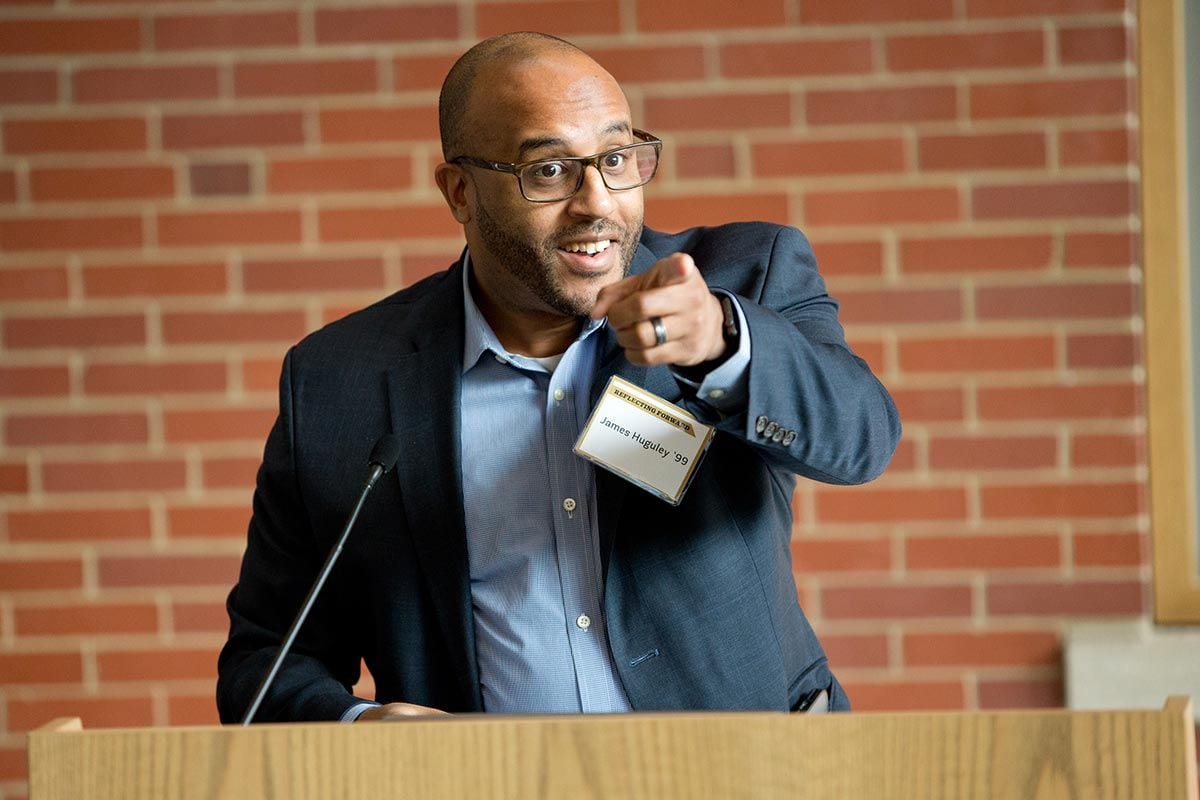 The breakout sessions were followed by a luncheon celebrating the Multicultural Scholarship Program and its student scholars. Approximately 150 students, alumni, faculty, staff, trustees, and friends of the College gathered in the Arthur F. and Patricia Ryan Center for Business Studies to hear an update on the MSP and a keynote address.
Ralph Tavares '01, assistant dean of undergraduate studies and director of multicultural student success, shared MSP data and facts.  Among the highlights, the program experienced student retention rates of 96.4 percent and 100 percent from the first year to the sophomore year for the classes of 2018 and 2017, respectively. Those figures are higher than the College's overall rate of 93.2 percent for students returning as sophomores (currently the Class of 2019) for the most recent academic year, according to the 2016-17 Fact Book compiled by the Office of Institutional Research.
However, the numbers are secondary to the program's success stories, emphasized Tavares. He showed portraits of MSP scholar-graduates who have gone on to work for such employers as the Golden State Warriors, Booz Allen Hamilton, and Bank of America.
Keynote speaker Dr. James P. Huguley '99, assistant professor at the Center on Race and Social Problems in the School of Social Work at the University of Pittsburgh, presented a thought-provoking, research-based address, "More Than Survival: Thriving Students of Color at Predominantly White Colleges and Universities." Huguley examined reasons for disparities among races nationally in areas including college graduation rates and family average net worth, with blacks and Latinos lagging sharply behind whites in both categories.
He cited economic challenges, including large family income gaps, inadequate preparation, and social adjustment — oftentimes, feelings of isolation — as chief reasons and offered actions colleges and universities can take to ensure students of color succeed in rigorous academic programs. A Martin Luther King Scholar at PC and a Providence native, Huguley closed with a list of tips for students on how to thrive in college.
Among other ideas, he said students need to make and invest in good friendships, become involved in study groups, and aggressively seek out faculty mentors.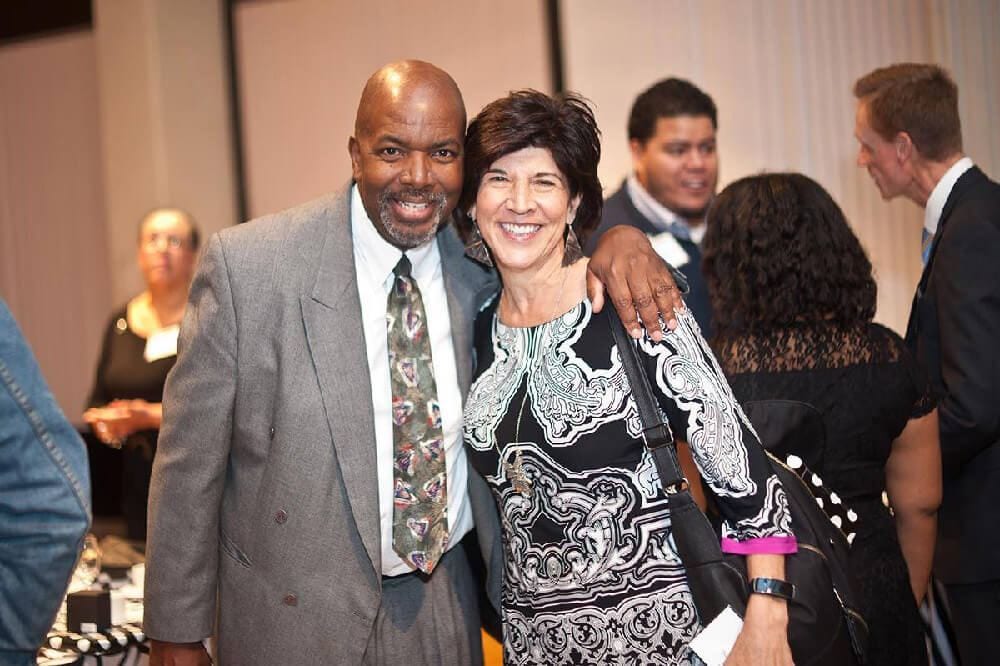 Three alumni reflected on their experiences and the campus climate during their undergraduate years at the Alumni Dinner on Saturday night in Slavin Center '64 Hall. Guests in the audience of approximately 150 were welcomed by master of ceremonies Mallory Davis '81, a scientist at the Naval Undersea Warfare Center in Newport, R.I., and a Baptist preacher. Throughout the evening, in addition to introducing each speaker, Davis shared "My PC" recollections, including spinning rhythm and blues records as a DJ at WDOM-FM and singling out faculty and staff mentors.
The first speaker, Dr. Irene Rodriguez-Martin '79, said she was one of three Hispanic students that she knew of on campus and at times "felt like an imposter." The associate dean of graduate enrollment and student services at the Smith College School of Social Work, she said she remained at PC largely because of the support of a classmate and a social work professor, Dr. James Flanagan, who helped her attain an internship that profoundly influenced her career decision.
"Education has the capacity to change an individual's life," Rodriguez-Martin told students in the audience. "Each of you has been given this opportunity, thanks to PC." As she concluded her remarks, she assured the students that "you belong at PC and you are amazing." She implored alumni to reflect on the impact PC had made in their lives.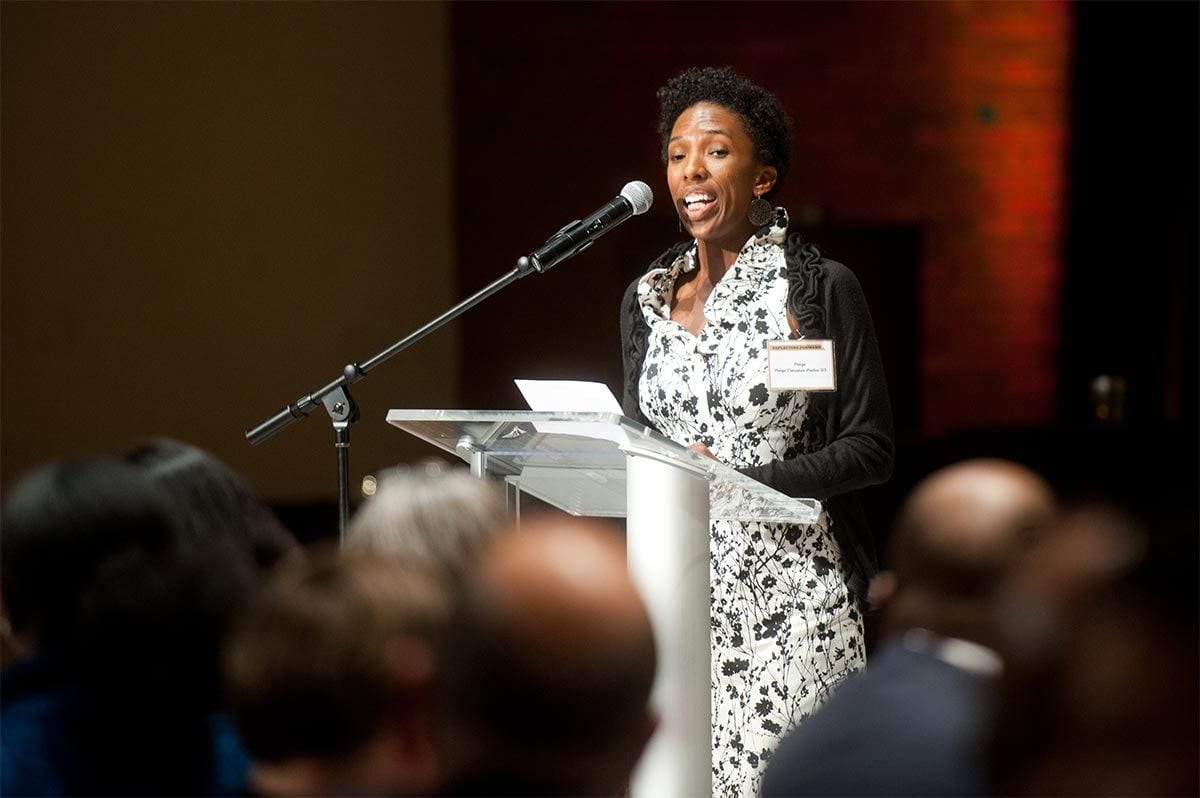 Much of the focus of the remarks of Paige Clausius-Parks '03 was on the student organization she helped found as an undergraduate, SHEPARD, or Stopping Homophobia, Eliminating Prejudice, and Restoring Dignity. Saying she felt empowered at the time both by anger and support, she expressed appreciation for "passive and silent" allies, noting that, to her surprise, the male, white president of the Student Congress publicly cast the first vote for SHEPARD when its fate was being decided by members.
The assistant director of the literacy nonprofit Books are Wings in Pawtucket, R.I., Clausius-Parks credited administrators and faculty affiliated with the former Balfour Center for Multicultural Affairs and the Feinstein Institute for Public Service with supporting SHEPARD as well. People for and against the organization "fueled" her passion and work, said Clausius-Parks, who ended her reflection with a series of questions that encouraged students to think about their roles and their resolve and the impact they can make on PC.
The third speaker was Osvaldo "O.J." Marti '07, head of school for Middle School 2 at Blackstone Valley Prep Mayoral Academy in Rhode Island, a new school he helped open in 2016. He said it was the people in the College community who made his undergraduate experience so positive. Marti said he felt PC was committed to making the campus a more diverse and inclusive community, and he recalled his days living at the Raymond and Suites residence halls, as well as taking part in the Black Fashion Show his first year.
"I learned that people matter, and how we treat one another matters," said Marti. He hopes many of his current middle school students — whom he took on a tour of the school — will enroll at PC one day and told the audience members it is their "collective responsibility … to make PC be the place we want it to be. We must look for something good every day."
Following brief closing remarks by Owens and Bouligny, the PC Step Team and the Motherland Dance Group performed numbers, before the floor was opened to music and dancing.