June 05, 2018
Reunion Weekend 2018: Golden Friar Mass homily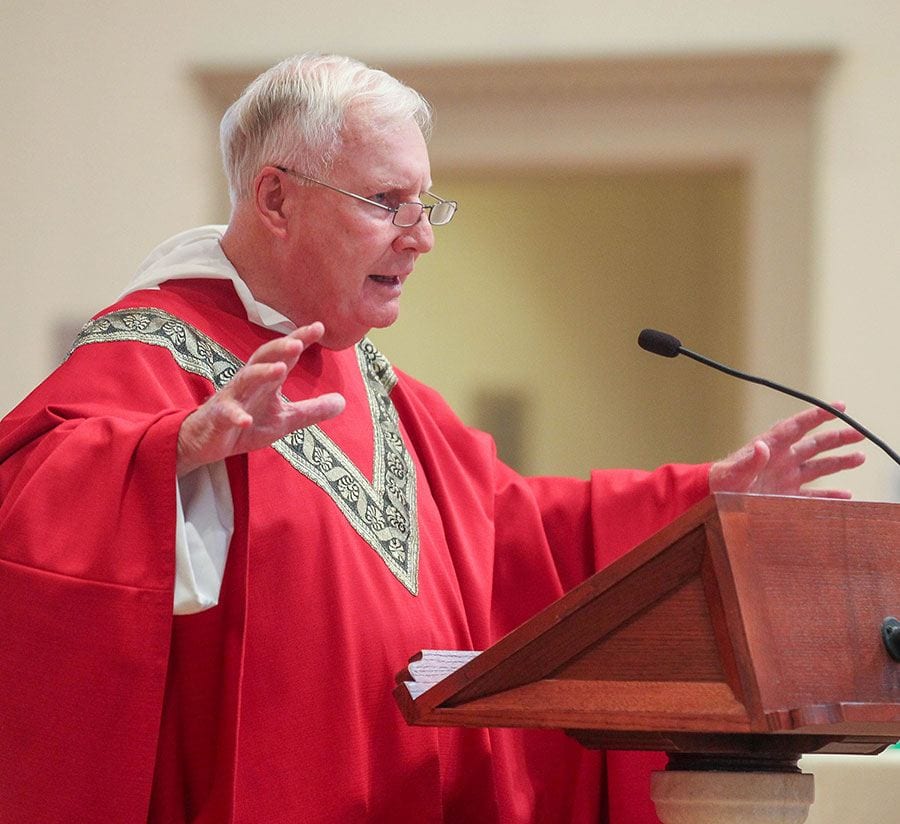 By Rev. James F. Quigley, O.P. '60
Associate Chaplain, PC National Alumni Association
Leonardo da Vinci began his famous painting of the Last Supper in the refectory of the Dominican priory of Our Lady of Grace in Milano in 1494. The work took four years. Some days da Vinci would work hour after hour without eating; then he would not work for days at a time. The Dominican prior hounded him to finish. He so annoyed the artist that da Vinci made the prior the model for Judas in the painting.
The painting is based on John's gospel. Jesus has just told the apostles that one of them would betray Him. Jesus sits calm in the face of betrayal, abandonment, denial, and the torture and death that lay ahead. In this dark night, at the last supper, Jesus gave Himself to us. He could not bear to leave us. He would stay with us: take and eat; take and drink.
Msgr. Ronald Knox, the late British theologian, once asserted: "The vast majority of Jesus' commandments, e.g. love your neighbor, forgive seventy times seven, turn the other cheek … have not always been followed. But there is one commandment that has been massively obeyed up and down the centuries for two thousand years. That was the command: Do this in memory of me."
We celebrate Eucharist because we believe, our faith tells us, that there we enter into a real relationship with the living Lord Jesus Christ. We don't follow a dead man or the memory of an ancient guru. We follow the living, saving Son of God, Jesus Christ, and we become one with Him in a unique way, one with Him in holy communion.
St. Justin Martyr, whose feast we celebrate today, writes that through the bread and wine substantially changed into the body and blood of Christ we are nourished. Just as with physical food that becomes part of our bodies, through the spiritual food of the Eucharist we become part of Christ's body; He metabolizes us.
A few years ago, Bishop Robert Barron ['13Hon.] and I concelebrated Mass with Pope Francis and a number of other priests in St. Peter's square. We distributed holy communion at various stations. We were surrounded by hands reaching out, clean hands, dirty hands, young hands, old hands, black hands, and white hands. If I moved, people would pull me back. They wanted the bread of life. Without it they would spiritually starve to death. Cardinal Newman says, "The Eucharist is God's noiseless work and works in our hearts and minds a barely perceptible transformation in who we are."
The Greek word Eucharistia means thanks or gratitude. The Eucharist is the sacrament of thanksgiving. We celebrate the Eucharist because we want to, because we need to, because we would spiritually starve without it. The Eucharist graces us; we become grateful people, and gratitude changes us, doesn't it?
For a moment, think of the gifts, the blessings you have been given throughout your life, through these fifty years since graduation. For a moment, think of the people you are grateful to — your spouses, parents, children, friends, classmates — so many others. And we are grateful for Providence College. On the College's opening day, September 18, 1919, fifteen Dominican faculty from the Province of St. Joseph had a dream. They would offer students a deeper theological understanding of the Catholic faith. They would offer the Dominican intellectual tradition and a liberal arts education. And, they would inspire those students to see the face of Christ in all and especially in the vulnerable, the needy, and to be compassionate to those suffering. They would prepare young students for a vocation, a career, for future families, and as Father Shanley [College President Rev. Brian J. Shanley, O.P. '80] always tells students, how to get to heaven.
That dream is still the mission and ministry of Providence College. We just celebrated our 100th commencement. I guestimate perhaps some five hundred Dominican friars may have ministered here at the College during these years. One hundred and ten brothers are buried in our cemetery as witnesses to that dream. Today that dream is shared by Dominican sisters and so many women and men faculty, staff, personnel, students, and alumni.
Brothers and sisters, we are bound together by so many gifts. So at this sacrament of thanksgiving we pray in gratitude perhaps especially for the members of the Class of 1968, for your good lives, for your example, for your loyalty, for your generosity, and for your enthusiastic witness to our dream.
The Dominican mystical theologian Meister Eckhart once said: "If the only word you ever say is thank you it is enough." Thank you.