October 04, 2019
Rev. Kenneth R. Sicard, O.P. '78, '82G named 13th president of Providence College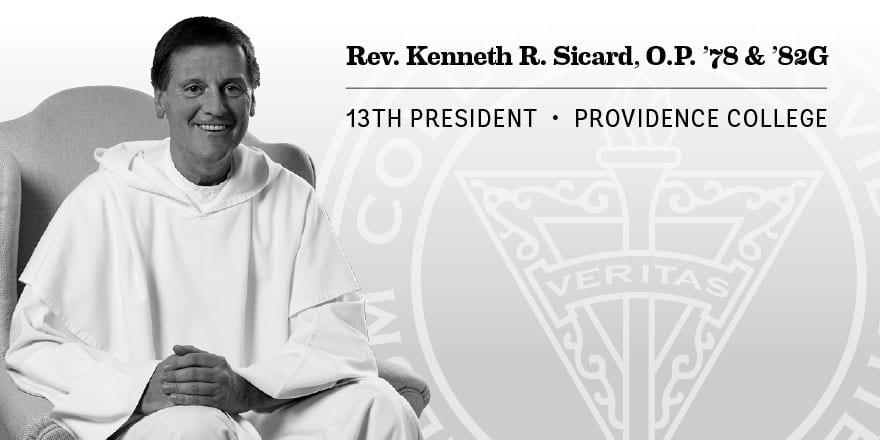 By Vicki-Ann Downing
Rev. Kenneth R. Sicard, O.P. '78, '82G, executive vice president and treasurer of Providence College since 2005, will be the College's 13th president. He will succeed Rev. Brian J. Shanley, O.P. '80 for a five-year term beginning on July 1, 2020.
The appointment was announced on Friday, Oct. 4, by the Providence College Corporation and the Board of Trustees. It followed a search of several months by a 12-member committee chaired by trustee Robert J. Clark '80 that included trustees, faculty members, a past alumni association president, a student, an administrator, and a Dominican priest.
"On behalf of the friars of the Province of St. Joseph, I would like to extend prayerful congratulations to Father Ken Sicard, O.P. on the occasion of his selection by the Board of Trustees to succeed Father Brian Shanley, O.P. as the 13th president of Providence College," said the Very Rev. Kenneth R. Letoile, O.P.'70, prior provincial of the Dominican Province of St. Joseph and chair of the Providence College Corporation.
"Father Sicard's 14 years of service as Father Shanley's executive vice president have uniquely prepared him to assume the responsibilities of president. As provincial and chair of the Corporation, I look forward to collaborating with Father Sicard to further the mission of this very special college that continues the Order of Preachers' 800-year mission of education in the truth of the gospel."
Christopher K. Reilly '84, chair of the Board of Trustees, offered his congratulations to Father Sicard.
"In the tradition of his 12 renowned predecessors, Father Sicard exemplifies the values and ideals of Providence College," said Reilly. "He is ideally suited for the presidency for many reasons, including demonstrated commitment to the institution's mission and a unique set of experiences that bring him to this position fully prepared to lead. Father is a thoughtful, gracious, and inspiring leader who will keep Providence College on the ascendant trajectory that has characterized Father Shanley's presidency."

In his role as executive vice president and treasurer, Father Sicard directly supervises many College operations, including athletics, student affairs, general counsel, mission and ministry, external affairs and marketing, human resources, and public safety. He serves as the president's chief of staff and is a member of the President's Senior Cabinet. He oversaw the creation of three of the College's strategic plans, including PC200, adopted in 2018.
Father Sicard served as acting PC president from July 2018 to December 2018 while Father Shanley was on sabbatical.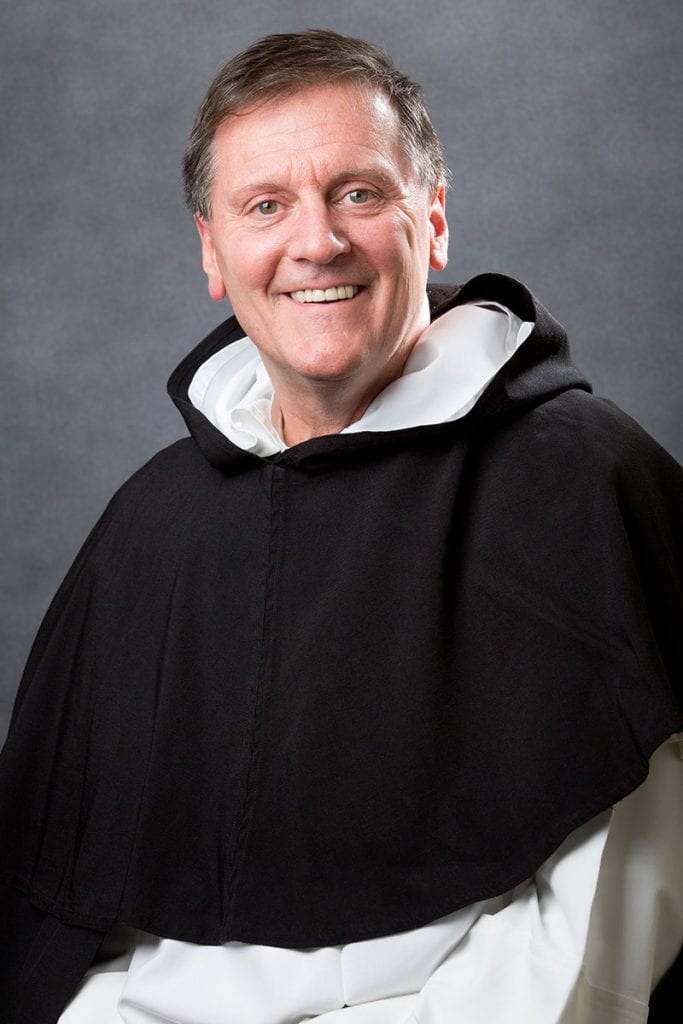 He holds a Ph.D. in business education from The Ohio State University, awarded in 1997. A native of Westport, Mass., he earned a bachelor's degree in accounting from PC in 1978 and a master's degree in business administration from the College in 1982. From 1978-1984, prior to entering the Dominican Order of Preachers, he was employed by Fleet Financial Group in Providence, beginning in an entry-level position and rising to audit manager.
"I am profoundly honored by the opportunity to serve as president of Providence College, an institution that has been such a part of my life since I enrolled as a student at the age of 17," said Father Sicard. "With humility and gratitude, I look forward to working with our faculty, staff, students, trustees, and alumni, along with my Dominican brothers and sisters, to build upon the rock-solid foundation created by Father Shanley and his predecessors."
Father Sicard was ordained to the priesthood in 1990. He holds a master of divinity degree and a bachelor of sacred theology degree from the Dominican House of Studies in Washington, D.C.
His first assignment after ordination was to Ohio Dominican College in Columbus, where he served as chaplain and a full-time faculty member, teaching courses in finance, money and banking, auditing, and accounting from 1990-1997. He also was responsible for the spiritual and sacramental needs of students and Dominican religious sisters.
Father Sicard returned to PC to serve as dean of residence life from 1997-2005. He oversaw the supervision and security of all residence halls, the department's operating budget, the hiring and supervision of more than 100 staff, and the creation of policies that ensured a quality of life for students consistent with the College's mission.
During that time, he also served the Dominican Province of St. Joseph as director of vocations for two years. He also served as provincial treasurer from 2002-2010 and as a member of the Economic Council from 2010-2016, working on behalf of the Order in international operations related to portfolio management, accounting operations, property sales and acquisitions, construction and renovation, and financial planning.
Father Shanley, a native of Warwick, R.I., took office on July 1, 2005, and is the College's longest-serving president. He holds a Ph.D. in philosophy from the University of Toronto. In addition to teaching a course each semester in the Liberal Arts Honors Program, he has taught at The Catholic University of America and Emory University. He was ordained in 1987.