December 17, 2019
Rev. Richard A. McAlister, O.P. '58 remembered for genuine nature as priest and scholar
By Charles C. Joyce
In a retrospective he wrote several years ago, Rev. Richard Ambrose McAlister, O.P. '58, Providence College professor emeritus of art, said his lifelong interest and work in the arts was influenced by his childhood growing up in the farmlands of central Ohio. It was there that farmers learned to be jacks-of-all-trades and to "figure out how to do it."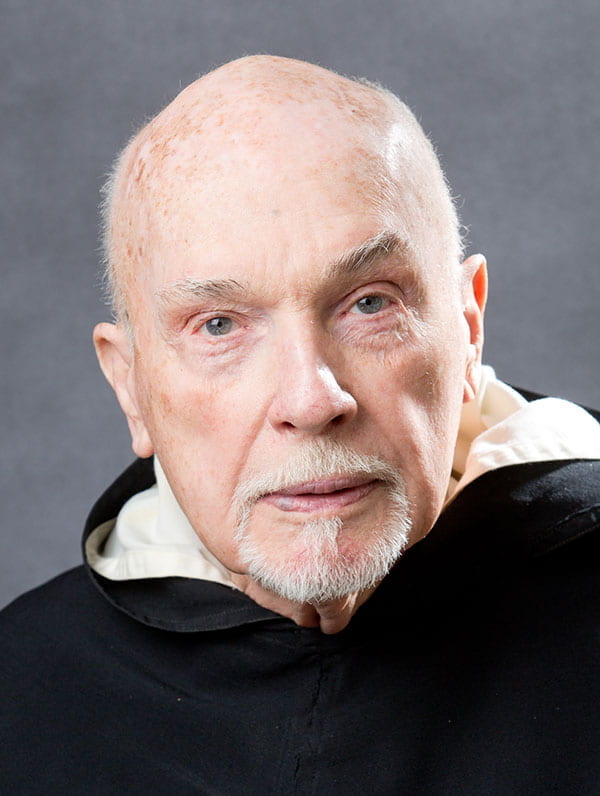 Those in the College community and countless associates in the arts and other walks of life respectfully beg to differ. They say the dogged, often single-minded determination and sense of commitment Father McAlister exhibited extended well beyond his affinity for the arts and deeply into his fiber, most notably as an educator and priest.
A Dominican priest for 58 years and an art scholar who played a pivotal role in the founding of the Department of Art and Art History, Father McAlister died on Dec. 12 at Mount St. Rita Health Centre in Cumberland, R.I., after a period of declining health.
Including his undergraduate years as a student, he was a member of the College community for more than 50 years. He joined the PC faculty in 1967 and retired with the rank of professor emeritus in 1997, though his involvement in art remained steadfast. He continued to serve as the curator of the College's art collection and the Thomas McGlynn Sculpture Collection, named for internationally famous Dominican artist Rev. Thomas M. McGlynn, O.P. '77Hon. Father McAlister — called "Father Mac" by some associates — kept a studio-office in Hunt-Cavanagh Hall, where the McGlynn Collection was preserved. He also was a design consultant for the College and for church interiors along the East Coast.
While at PC, Father McAlister directed the College's study abroad summer arts program in Pietrasanta, Italy, for 20 years, and he served as assistant and then, as associate, College chaplain during the period of 1968-1973.
"He was a kind and gentle man, passionate about those elements of his life that he held so dear — his students, the McGlynn Collection, and his vocation as a Dominican," said one of his closest friends at PC, Mark Rapoza '90SCE, assistant vice president for capital projects/facilities planning. Father McAlister was a concelebrant at Rapoza's wedding.
Father McAlister's exterior might have appeared gruff to those whose didn't know him, but he was principled and always well prepared with facts and knowledge, added Rapoza.
"He was a man of ideals, contemplative and thoughtful. before taking a position on a topic of discussion. He was as talented as he was blunt — and although you may not have liked what he had to say, or how he said it, you knew that he was delivering you a message that should not be ignored for your own betterment," said Rapoza.
While Father McAlister treated him as a peer, or "teammate," he always regarded him as a "student" because he knew Rapoza appreciated his thoughts and that Rapoza would share his advice when appropriate, said Rapoza.
One highly visible example are the radial walkways that are interspersed on campus — an idea suggested by Father McAlister. Several years ago, Rapoza and architects were evaluating walkways as part of the master space plan when Father McAlister came upon the group. He inquired what they were doing.
Not long thereafter, Rapoza and Father McAlister spent three afternoons walking the campus. Father McAlister rationalized that it was important to view whatever walkway plans would be developed from the mindset and practices of students as they make their way across campus. He provided pictures, drawings, and calculations, and the new patterns later became a part of the landscape.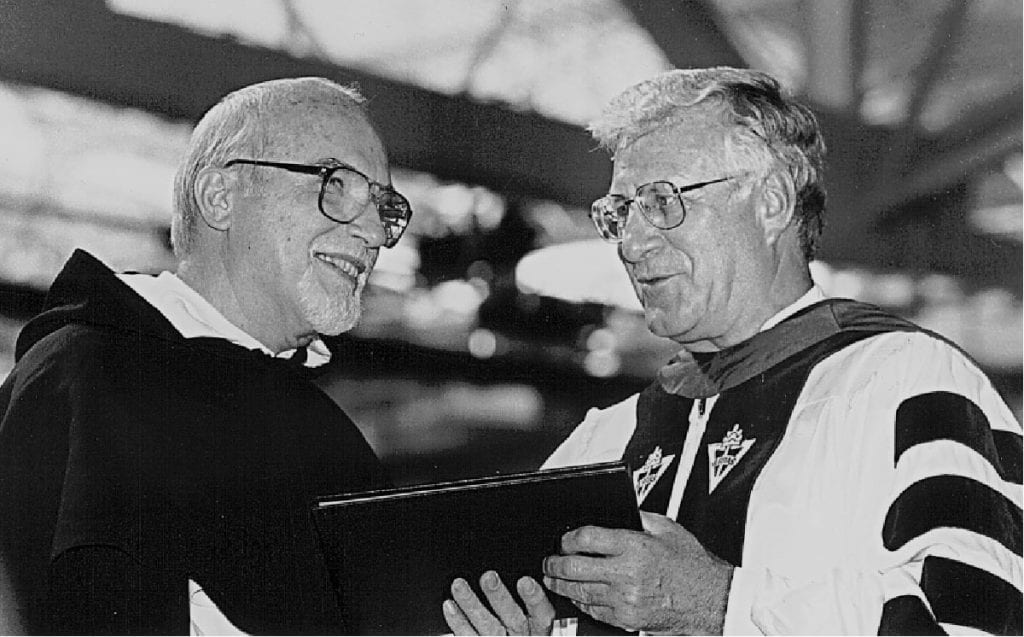 Stephen J. Forneris '90, a principal at Perkins Eastman Architects in New York City, experienced Father McAlister's attention to detail and commitment several times, as a student and a professional. The art history major applied for the Pietrasanta summer program as a sophomore and as a junior and was rejected by Father McAlister. After the second time, Forneris asked why, and Father McAlister responded he had missed an informational meeting on the program.
"I was devastated," said Forneris. He appealed to another faculty member for help, and Father McAlister overturned his decision.
The following year, when he was deciding whether to go into a master's degree program in architecture at Syracuse University or explore other options, Forneris consulted Father McAlister. He strongly advised against an architectural career.
"He said, 'You'll be taking up a spot in the program from someone. You'll have to have passion for what you do.' I immediately decided I wanted to go to Syracuse. His message was that, like anything in life, you have to have commitment," said Forneris.
Forneris, who now travels monthly to Latin America on business, subsequently sought Father McAlister's support and advice several times in their long association. Back in the early 2000s, the Dominican successfully reached out for congressional support on an appeal by Forneris for tens of millions of dollars in U.S. aid for earthquake disaster relief in El Salvador. At home, Forneris sought Father McAlister's design advice on campus projects involving Perkins Eastman, including the Ruane Friar Development Center and the Calabria Plaza on Slavin lawn.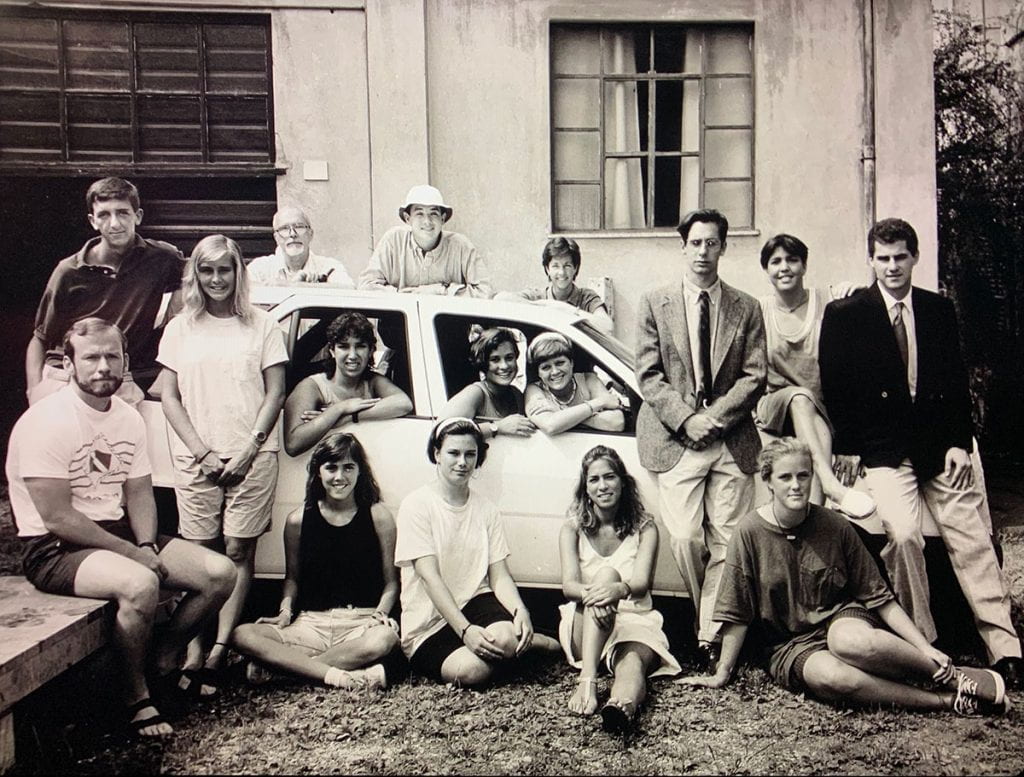 "He singlehandedly changed my life," said Forneris. "No one has had as great an impact on me than that man … but also on my soul. He's a real example to the rest of us of what total commitment to others is. He's a treasure."
When Father McAlister returned to his alma mater to teach in 1967, his commitment to developing the visual arts, particularly studio art, was apparent. Working with the late Rev. Lawrence M. Hunt, O.P., who taught art history and mathematics, and later with the late Rev. Adrian G. Dabash, O.P. '62 & '63G, professor of art, he helped gain approval for a formal undergraduate-based Department of Art and Art History. Previously, studio art and other courses, such as ceramics, printmaking, photography, and painting, were taught through the School of Continuing Education. Father Hunt served as the first chair.
The art department's early days were housed in Phillips Memorial Library and coincided with the enrollment of women, who were welcomed into the full-time undergraduate program in 1971.
"We were inventing ourselves. Father McAlister, of course, was in sculpture. We were inventing where we'd be in our classes," said Dr. Alice H.R.H. Beckwith, professor emeritus of art, who taught until 2009.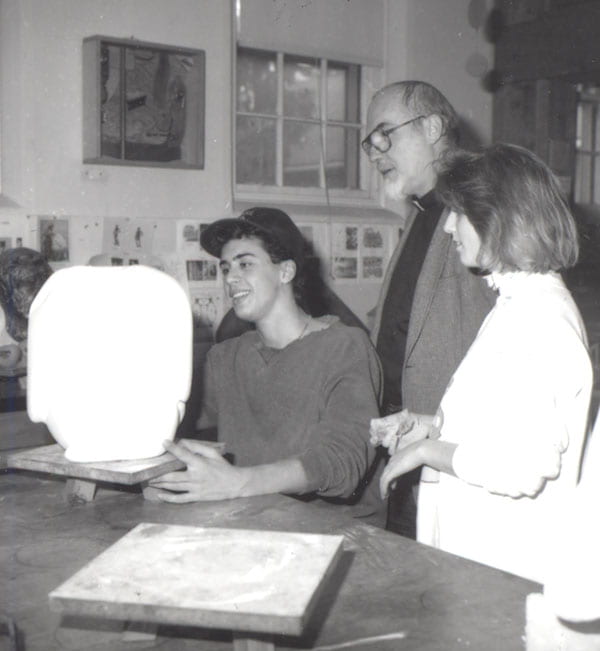 Once, when she needed space for an art history survey course that required a film projector and a screen, Father McAlister offered his assistance and his personal room in St. Stephen Hall (now Feinstein Academic Center). The room had a bunk-like area for the projector and operator, Father McAlister, and the image beamed down onto the screen. Father McAlister, who was fond of animals, especially dogs, allowed Beckwith's dog into the room. Students, faculty members, and canine all watched the slides … with a bowl of water provided by Father McAlister for the dog.
Beckwith and Dr. Richard J. Grace '62 & '17Hon., professor emeritus of history, were two of the many professors who taught for Father McAlister when he directed the Pietrasanta program. It included courses in studio art, art history, and the humanities and was located from 1970-1991 in Father McGlynn's studio.
Grace said Father McAlister would celebrate Mass for students and faculty in the studio. He said the location not only represented the "heart and soul" of the Pietrasanta program to Father McAlister but ignited his passion for the sculptures of Father McGlynn, whose most famous work is the 15½- foot marble statue of Our Lady of Fatima at the shrine at Fatima, Portugal.
The Dominican Province of St. Joseph formally acquired the archives and sculptures of Father McGlynn, and they were brought to campus in 1978. That was the year after Father McGlynn was awarded an honorary degree from PC — an accolade strongly advocated by Father McAlister — and it was in September 1977 that Father McGlynn died.
Father McAlister, who was named curator of the McGlynn Collection in 1978, took great pride in this responsibility. He modeled his own studio in Hunt-Cavanagh Hall after Father McGlynn's studio in Pietrasanta and stored the collection there. Four of Father McGlynn's statues grace the campus: statues of St. Martin de Porres next to Martin Hall and at the McGlynn Sculpture Court outside Hunt-Cavanagh Hall, the statue of St. Dominic next to Ditraglia Hall, and the bust of Pope John XXIII at the McGlynn Sculpture Court. In 1981, Father McAlister published a biography, Father McGlynn, Priest and Sculptor.
"He was incredibly devoted to preserving the artistic treasure that Father McGlynn entrusted to the College," said Rev. Thomas More Garrett, O.P., associate vice president/associate general counsel, who became the collection's custodian earlier this year.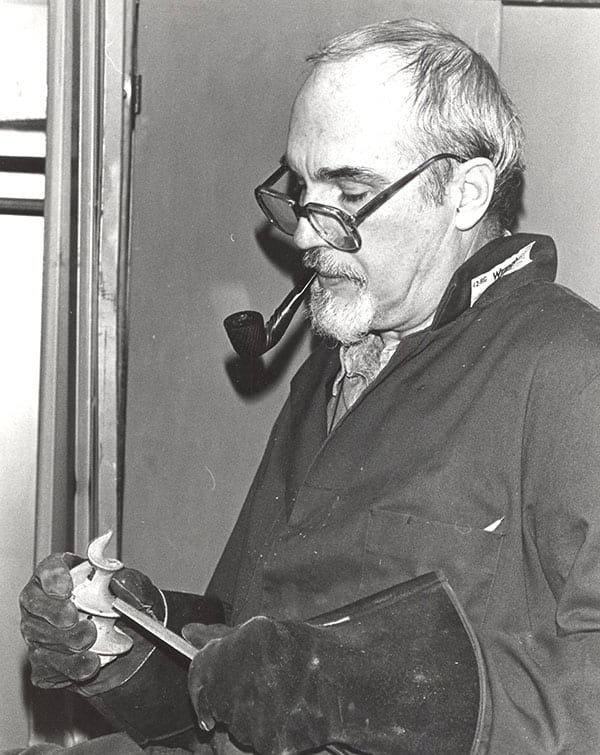 Father Thomas More, who noted Father McAlister designed the interior of the Chapel of Our Lady of the Rosary in the Priory of St. Thomas Aquinas on campus, said he shared an affection for Father McGlynn and Dominican art in general with Father McAlister. In 2017, the pair collaborated on an exhibit of Father McGlynn's works at St. Vincent Ferrer Church in New York City. It was the first time any of the pieces had traveled off campus in almost 40 years.
In recent visits with Father McAlister, Father Thomas More made a point to talk to him about the sculptor, Pietrasanta, and the collection. It brought Father McAlister great joy, as did stories about students who would list the koi pond at the McGlynn Sculpture Court as their favorite spot on campus to reflect, he said.
"He spent a good portion of the last 40 years doing everything in his power to keep the collection 'alive' and relevant not only because of his love and friendship with Father McGlynn but more so for the significance he placed on Father McGlynn's work as a Dominican artist," said Rapoza.
As scores of people across the College community will attest, Father McAlister was proud to be a Dominican and carried out his preaching in his own quiet way. After retiring from teaching, he frequently visited staff and faculty he came to know over the years. He particularly enjoyed being in the company of students and even younger children.
"I have several special memories of 'Father Mac,' but my favorite is the interest he would take in my children," said Dr. Deborah J. Johnson, professor of art history and of women's and gender studies. "They would write him cards and notes and on occasion, visit, and when they did, he would be transformed. His famous Eeyore-like effect would soften as he came down to their size and listened to their stories with gentleness and genuine curiosity. That's the Father Mac I will always remember."
Beckwith recalled the compassion and care Father McAlister showed when her first husband, Terry, was dying with an illness. He visited Terry several times and officiated when the couple wished to renew their wedding vows. As her husband grew more ill and Beckwith juggled her personal care for him with the care of visiting nurses, Father McAlister remained in touch.
"He was such a wonderful support," she said.
The son of the late Guy G. McAlister, Jr. and the late Regina R. (Rubadue) McAlister, Father McAlister was predeceased by his two sisters and two brothers. He is survived by his nieces and nephews and their children, and by his Dominican brothers.
Visitation for Father McAlister will take place on Tuesday, Dec. 17, from 4 to 7 p.m. in the Chapel of Our Lady of the Rosary in the Priory of St. Thomas Aquinas on campus. His Mass of Christian Burial will be celebrated on Wednesday, Dec. 18, at 10 a.m. in the priory chapel. Burial will be in the Dominican Friars' Cemetery on campus.
Donations in his memory may be made to the Dominican Scholarship Fund in care of Providence College, Office of Institutional Advancement, 1 Cunningham Square, Providence, RI, 02918.