December 13, 2018
Rev. Thomas J. Ertle, O.P. '53, '82G, & '84Hon. praised for personifying his calling
By Charles C. Joyce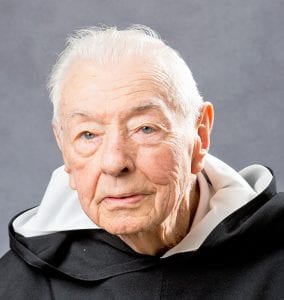 For all the trademarks Rev. Thomas Jordan Ertle, O.P. '53, '82G, & '84Hon. had — the warm smile, his eternally optimistic "never better" response, the hearty laugh — it was a hot dog cart that may have reflected his vocation and persona best, say alumni and family members who knew the former Providence College chaplain. Father Ertle died on Nov. 23, 2018, at the home of his nieces in Sea Girt, N.J.
Chaplain from 1979 to 1982, Father Ertle was notorious for pushing a hot dog cart around campus, often settling in spots near Aquinas Hall and along Huxley Avenue. It was his way of getting to know students, seeing if they were enjoying college, and encouraging them to be active in their Catholic faith, said Marianne Lamy Zinzarella '85.
The hot dog cart was where Zinzarella met Father Ertle her first year — a meetup that led to a lifelong friendship between Father Ertle and the Lamy family. After that first meeting, Zinzarella would occasionally run into Father Ertle on campus. She volunteered to help with registration and other tasks in a diocesan marriage counseling program he was leading on campus.
Not long thereafter, he asked if she would be interested in teaching Confraternity of Christian Doctrine classes at St. Pius Parish across the street from PC. Zinzarella enjoyed teaching CCD so much that she began teaching in her home parish in Nanuet, N.Y., after graduating and continued to teach religious education even while raising four children.
In 1991, Father Ertle and the late Very Rev. Thomas R. Peterson, O.P. '51, College president from 1971-1985, were celebrants at Zinzarella's wedding in New Jersey. A jittery bride-to-be before her wedding day, she was assured by Father Ertle that there was nothing to be nervous about unless she was not sure it was the right thing, she said.
"I've been married 27 years now," she said. "He was so special. It was all those little things he said and did to help people and to help them understand what their faith was about. He really helped me become a better person."
Father Ertle met Zinzarella's parents, the late Alfred Lamy '53 and Barbara Lamy, early in her undergraduate days. He would get off the New York State Thruway to visit them on the way to seeing his family in the Jersey City, N.J., area. He also would visit the Lamys at their summer home on Cape Cod. Father Ertle helped celebrate the baptisms, First Holy Communions, and confirmations of her children. He also baptized the son and daughter of her brother, Rick Lamy '81, and was a celebrant at the wedding of Zinzarella's sister, Patti Lamy Smolley.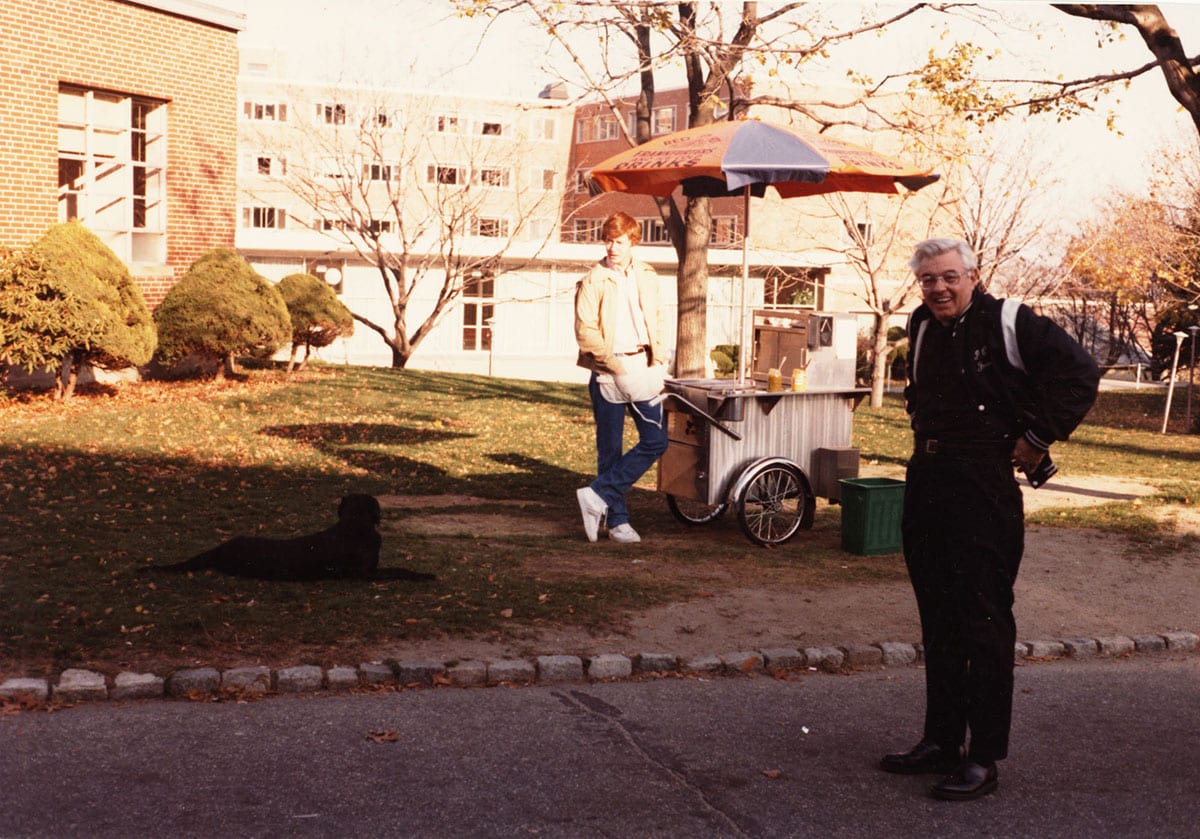 The friendship was so strong that the Lamys endowed the Rev. Thomas J. Ertle, O.P. Scholarship in 2010. The scholarship is awarded to students with financial need, with preference to students who are hearing impaired or have another physical disability.
"One of his best qualities was that he would listen to people and put them at ease," said Zinzarella, who is an administrative assistant in a West Hartford, Conn., elementary school. Recalling that she would get together with "Uncle Tom" when he served in New York City with the Dominican Province of St. Joseph in the 1980s and 1990s, she added, "He wouldn't get upset with you or jump to conclusions when listening. He was just very priestly. … He figured out a way to get answers from you to help you figure out a problem."
A Dominican priest for 62 years, Father Ertle served his alma mater from 1979 to 1984 and from 1998 to 2015. During his second assignment at PC, he served as chaplain to the student-athletes for three years, acting College chaplain in 2000 and 2001, and assistant chaplain thereafter. He was beloved by the College community, his Dominican brothers and sisters, and legions of others whose pastoral needs he served — all people who treasured his warmth, counsel, kindness, and optimism.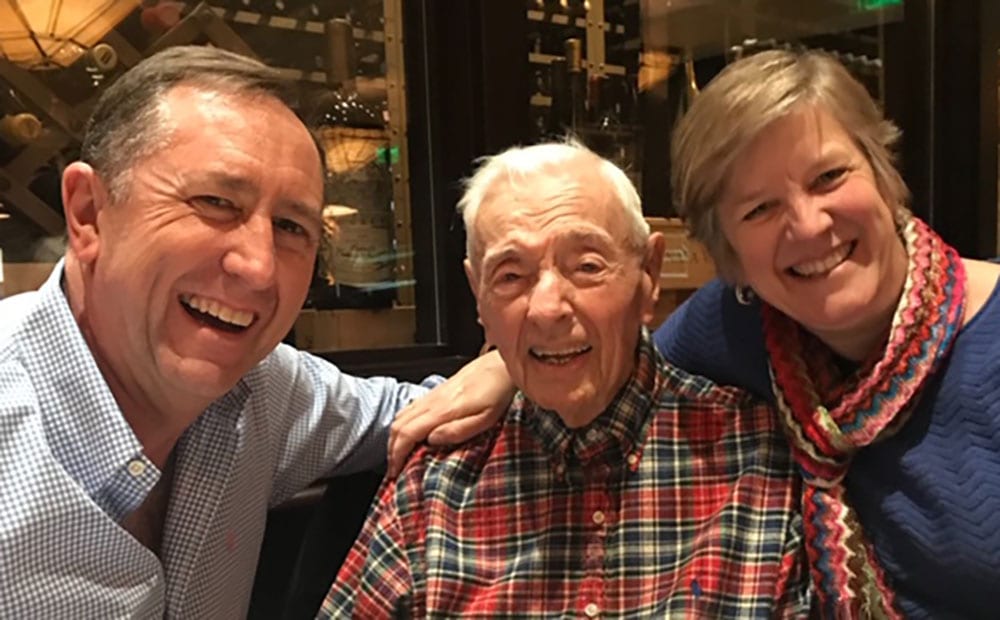 "I want to say how blessed I've been. I've had a great priesthood," said Father Ertle in 2011 when talking about the scholarship the Lamys established.
Thomas F. Smith, III '85 and his wife, Jennifer K. (Alcarez) Smith '85, also developed a lifelong bond with Father Ertle partly as a result of his hot dog cart prop. Both met him — and one another — in their first few weeks at PC. Father Ertle lived in Raymond Hall and became familiar with Tom Smith, a resident, and asked him if he would be interested in selling hot dogs. "It is from there that a relationship blossomed and grew," Tom said.
Not long into that first year, and shortly after she began dating Tom, Jennifer was contacted by Father Ertle. He told her that her parents called him to ask if he could break the news that her grandfather had died. When it was time for the calling hours, Father Ertle showed up with Tom, whom he drove to the funeral home in New Bedford, Mass. She was astonished, as she didn't know Father Ertle well at that point.
"I was just blown away that he showed up. It was so generous and kind of him. He really stood out; he went the extra mile," said Jennifer.
From that point on, the couple drew closer to Father Ertle. The three would go out to Newport Creamery or Wendy's for a snack and lots of talk on Friday nights.
"He always just wanted a coffee while treating us to a hamburger or a meal," said Tom, a career executive with Nestlé Corp.
"He would just laugh … he always had a smile on his face," said Jennifer. "Just watching him laugh made us laugh. It was infectious.
"Those little things meant so much," she continued. "He cared about us as the whole person. He had a real interest in us as individuals, not just as students." Tom noted that "Father Tom" was always there to lend encouragement and support in their academic work as well. He was one of three PC Dominicans to celebrate the Smiths' wedding in 1989, officiating with Rev. J. Stuart McPhail, O.P. '61 and the late Rev. Adrian G. Dabash, O.P. '62 & '63G.
Over the years, the Smiths regularly kept in touch with Father Ertle, usually by phone and always on his birthday. They moved frequently across the U.S. and even to Switzerland because of Tom's job, but one would invariably call the other. Whenever Tom would visit campus, he would get together with Father Ertle for lunch. The Smiths' last visit with Father Ertle was in November 2017 when they met one of his nieces and him for lunch in Pennsylvania.
"The magic of hearing him say 'never better' always made all the worries of the world seem like nothing, as Father Tom provided an outlook that all was good," said Tom.
"We felt so blessed to have him in our lives," said Jennifer. "He was just very special. As we grew as a family, he always asked about our (two) children. He actually only met one of them. You'd hang up the phone and felt like a million dollars after talking to him. I wanted that to rub off on me. I never had a relationship like that with a priest."
A cousin of Father Ertle's on his father side, Michael J. Cusack '87, had an even closer association with him. He knew him from the time he was a child — in fact, Father Ertle baptized Cusack. Cusack said Father Ertle celebrated or helped celebrate baptisms, weddings, and funerals for four generations of his family in New Jersey and would frequently visit them on holidays and other occasions. He saw Father Ertle at a party for approximately 100 family members and friends on the Jersey shore this past summer.
"He was always around in happy times, but he was also amazingly calm and graceful when we were saying goodbye to loved ones," said Cusack.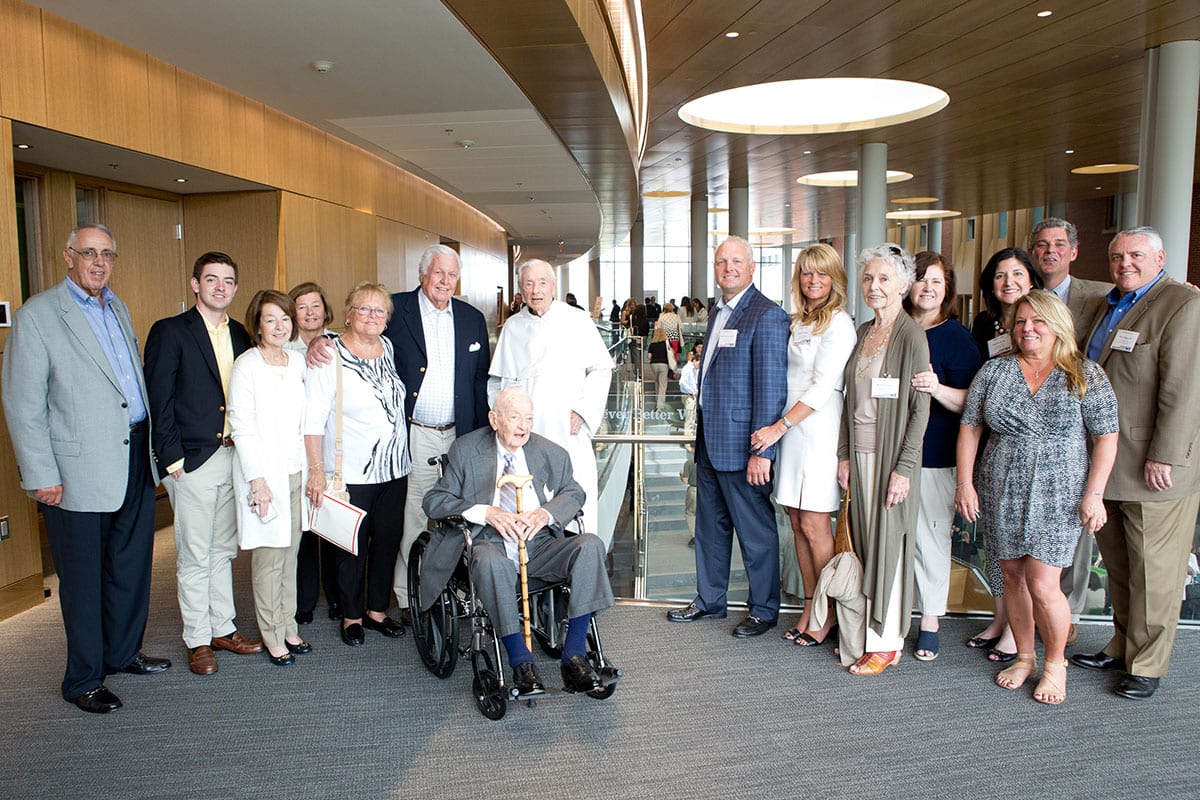 It was Father Ertle's influence that inspired him to go to PC, he added, recalling how the two played racquetball and occasionally ate pizza at Caserta Pizza on Federal Hill while Father Ertle was at PC the first time. He was "a wonderful person" who worked hard to understand and help people in their personal circumstances, said Cusack, who is managing director at Alliant Insurance Services in Boston.
"I don't think I've ever seen a man represent his faith as much as Father Tom did," he said. "He was very approachable and a humble man. I never met anyone so optimistic."
Calling Father Ertle a "great ambassador" for the College, Cusack and his wife, Patti, made a gift in honor of his cousin for the construction of two pedestrian walkways — one called Never Better Way — in the Arthur F. and Patricia Ryan Center for Business Studies, the home of the PC School of Business. Father Ertle and his older brother, Harry, who died approximately 10 weeks before Father Ertle, were among the family members who attended the center's dedication in April 2017.
"Father was a bridge to our family and to PC, and to so many people in the community," said Cusack.
Father Ertle attended Catholic schools in Jersey City before enrolling in the pre-ecclesiastical program at PC in 1947 and earning a bachelor's degree in ecclesiastical studies that was bestowed in 1953. He also received a master's degree in religious studies in 1982 from PC and an honorary Doctor of Sacred Theology degree from the College in 1984.
His path to the priesthood began in 1949 when he entered the novitiate of the Dominican Province of St. Joseph at St. Rose Priory in Springfield, Ky. He was ordained on June 8, 1956, at St. Dominic's Church in Washington, D.C., by Most Rev. Edward Celestine Daly, O.P., bishop of Des Moines, Iowa. Prior to coming to PC in 1979, Father Ertle served in parishes and in Dominican priories in New Jersey and Ohio, including as pastor and as prior in those respective congregations.
He lived at St. Vincent Ferrer Priory in New York City and served in administrative capacities for the Province of St. Joseph from 1984 to 1993, including as prior provincial for the last five years. At various times, he was a member of the PC Corporation and the Board of Trustees.
Fluent in American Sign Language, Father Ertle spent seven years serving the local community by celebrating a weekly signed Mass at St. Ann Church in Providence.
Father Ertle is survived by his nieces, Deidre Anne Ertle '76 and Nadine Ertle Sullivan '80; her husband, Michael L. Sullivan '78; and their son, John Ertle Sullivan '19.
Very Rev. Kenneth R. Letoile, O.P. '70, prior provincial of the Province of St. Joseph and chair of the PC Corporation, was the principal celebrant at Father Ertle's Mass of Christian Burial on Nov. 29, 2018, in St. Dominic Chapel on campus. Dominican Friars of the Priory of St. Thomas Aquinas on campus, visiting Dominican Friars, and other clergy from the Diocese of Providence and elsewhere were concelebrants. His burial was in the Dominican Friars' Cemetery on campus.
Donations in his memory may be made to Providence College, Office of Institutional Advancement, 1 Cunningham Square, Providence, RI 02918, for the Rev. Thomas J. Ertle, O.P. Scholarship or for the Rev. Thomas J Ertle, O.P. Campus Ministry Fund.