October 31, 2019
Riccobono faculty grants program pinpoints students' mental well-being
By Nick Wesman '20G
Providence College hosted UNTUCKit founder and alumnus Chris Riccobono '01 for a gathering to highlight a new mental well-being initiative at the College.
Approximately 100 students, faculty, and staff attended "An Evening with Chris Riccobono" on Oct. 23 in the Bouligny Lounge of The Center at Moore Hall. The event featured a talk by Riccobono and a panel discussion with four PC faculty members who have been awarded Riccobono Academic Resilience Faculty Fellowship mini-grants, a new program funded by Riccobono and his wife, Amy Parrillo '03.
Riccobono opened the event detailing his personal struggles with mental well-being issues. He described how he constantly worried and the intensity with which that worry could, for brief moments, or sometimes extended periods, incapacitate him and prevent him from performing life's simplest tasks.

"It got to the point where I was 31 years old, had a girlfriend, and just graduated Columbia Business School, and I couldn't leave my parents' house," he said.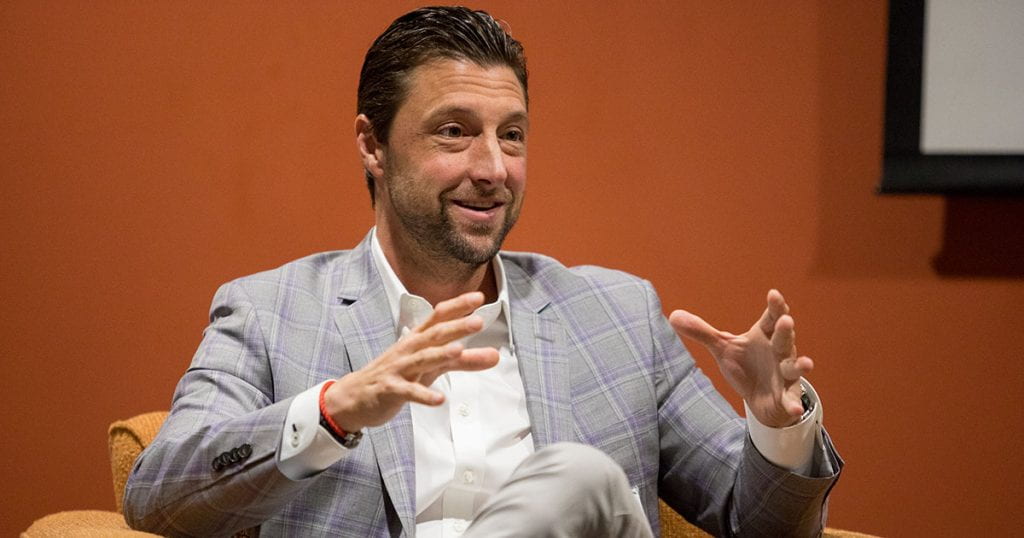 The anxiety Riccobono experienced magnified as he entered the workforce.

"I was scared to death of the real world. My first interview (for a job), they had to stop it because they could hear my heart beating," he said.
Since being diagnosed with anxiety and having bouts with depression, Riccobono said he has remained frustrated by society's attitude towards mental health and people who struggle with their mental well-being.

"At the time (when I was younger), you didn't speak openly about it. You hid it, your parents hid it. I think we've come a long way, but we still have a long way to go," said Riccobono, who majored in finance and played tennis for four years at PC.
Riccobono said his resilience began to develop after he faced his diagnosis head on and accepted that it would be something he would have to deal with and couldn't control. At that point, he began to intentionally combat his anxiety and depression with coping strategies.
Because of his personal experience with mental well-being, Riccobono and Parrillo established the grant program that supports faculty members wishing to incorporate mental health elements and strategies into their courses and raise awareness and understanding of the challenges posed by anxiety and depression. Through enhancing student mental well-being, the program aims to improve academic resilience — the ability to perform well academically despite challenging life experiences and stress — and help students flourish.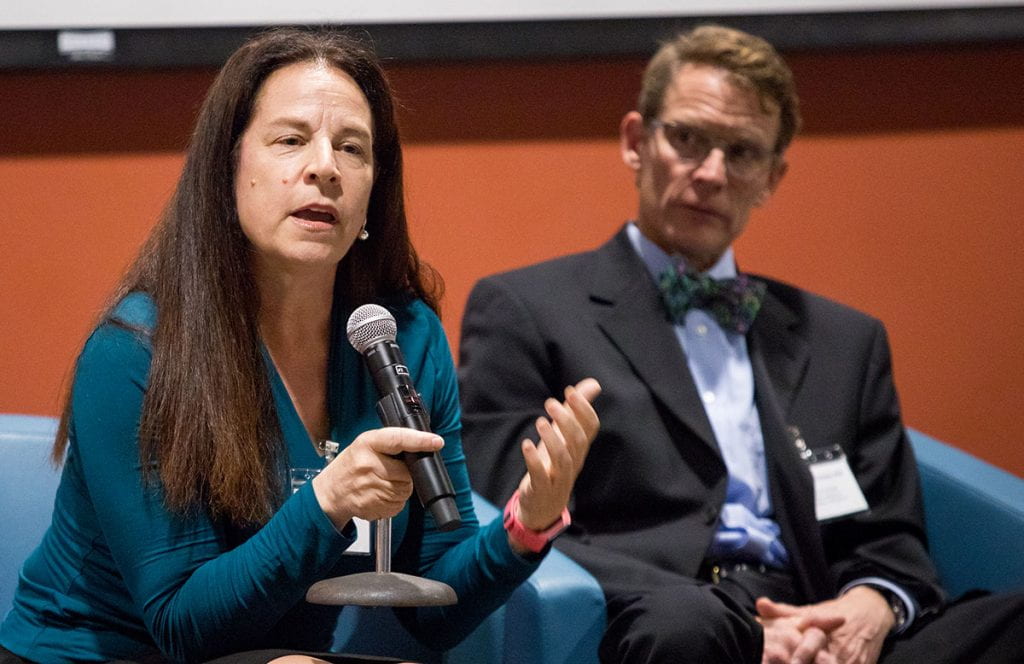 Through a partnership that includes the Division of Student Affairs, the PC Lifelines Suicide Prevention Project, and the Center for Engaged Learning, the Riccobono Mini-Grants Program allows faculty fellows to integrate a topic concerning mental well-being into one course. The intent is to promote student health and wellness that will provide an opportunity for academic resilience to develop and grow.

Kristine C. Goodwin, vice president for student affairs and the event's master of ceremonies, praised the program for its focus on improving the lives and experiences of the College's students.
"I dare call (the program) the apex, or the convergence of all that is good in higher education. It involves faculty, administrators, students, and alumni, and its core purpose is to help students flourish while they're here," she said.
Eight faculty members have received fellowship grants for the 2019-20 academic year. The recipients are Dr. Nuria Alonso García, professor of global studies; Rev. Nicanor Austriaco, O.P., professor of biology and of theology; Megan A. Chang, assistant professor of voice and diction; Dr. Matthew Eriksen, professor of management; Dr. Despina D. Prassas, associate professor of theology; Dr. Natoschia Scruggs, assistant professor of global studies; Dr. Deirdre G. Snyder, assistant professor of management; and Dr. Marcy B. Zipke, professor of education.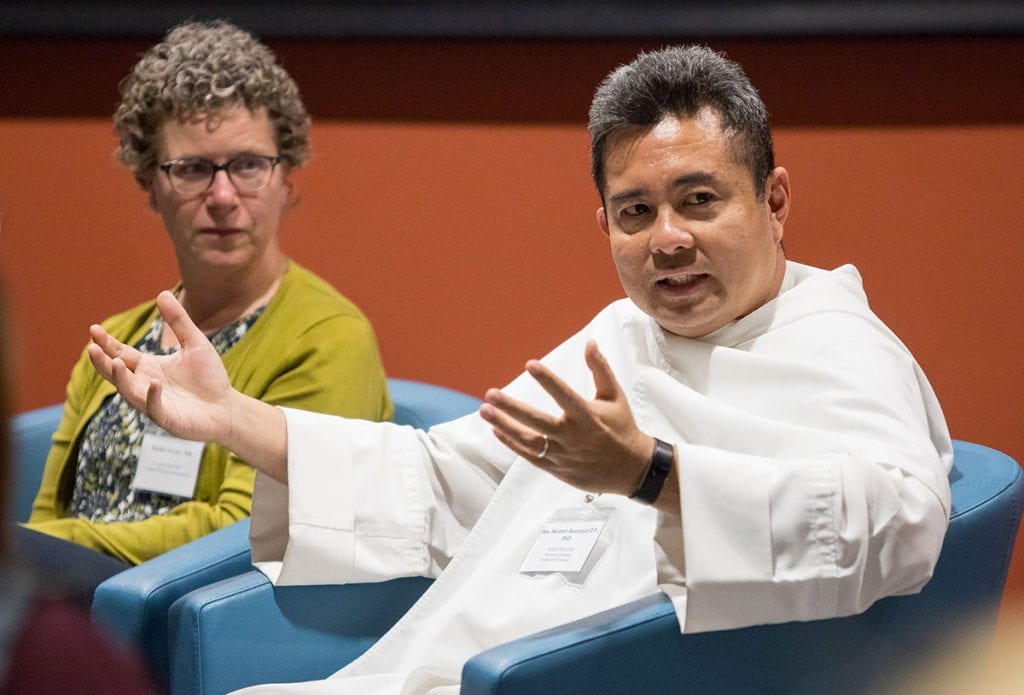 The evening's panelists — Father Austriaco, Eriksen, Prassas, and Snyder — shared with the audience how they are implementing strategies in the classroom to enhance students' mental health.

The academic pressures students feel are a significant source of stress and anxiety, said Father Austriaco, who has applied the grant to his General Biology course.
"Many of my students struggle because they have dreams. These dreams are not just their own dreams, but some of them carry the hopes and dreams of their families. So not surprisingly, many STEM students struggle with anxiety," he said. "So much of it has to do with fear of failure and fear of disappointment."
To combat the stresses of academic life, Father Austriaco and Snyder have provided "Riccobono journals" to students to document and give voice to how they're feeling personally and academically. Students and their instructors also make time weekly to have check-in discussions about the state of their mental health.
As part of his management class, Eriksen is focused on developing students' mindfulness, response-ability, and ability to improve their relationships to enhance their resilience, happiness, and well-being.

In addition, to this same end, his students identify their values and engage in mindful meditation and self-reflexivity, in which they focus on developing an awareness of and ability to articulate their subjective experience and how they impact the unfolding reality within which they are participating. Students share their self-reflexivity posts with one another and, through seeing their peers' experience, develop their compassion, self-compassion, and self-acceptance.
Prassas said students in her honors colloquium have been studying texts from 5th- and 6th-century Christian monks who examined their own thoughts and why people do things that are not in their own self-interest. Her students are encouraged to examine their own thoughts through a process of objectifying thoughts — removing the thought from their mind — and having a conversation with that thought.
Goodwin highlighted the element of faith in establishing healthy mental practices.
"I arrived at Providence College eight years ago, committed to enhancing mental health support and mitigating that which prevents people from feeling God's invitation to be free from all needless anxiety," she said.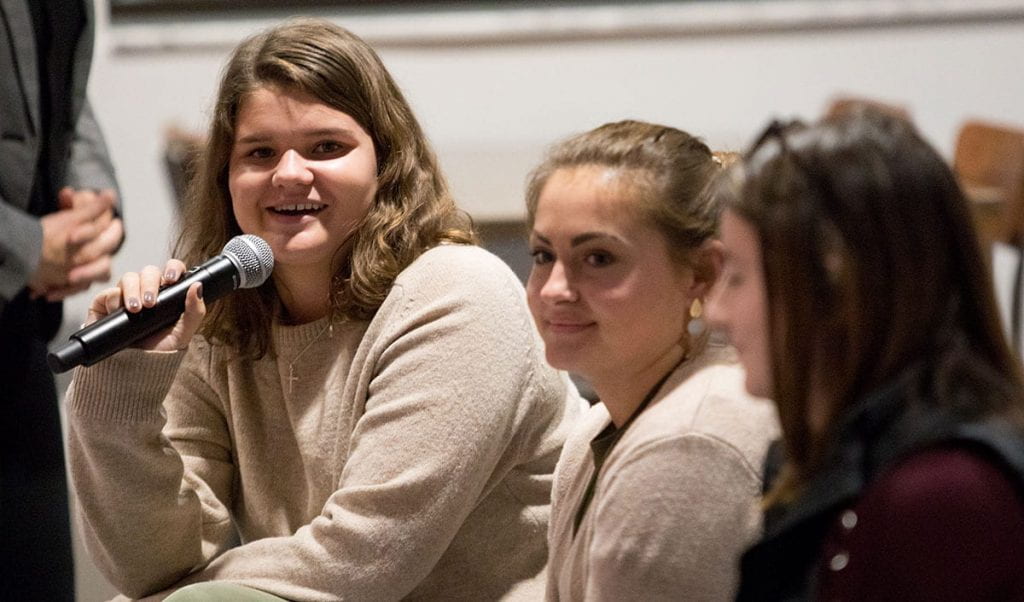 Some of the faculty fellows also spoke about the power of faith in developing resilience. In addition to Prassas' implementation of Christian mindfulness practice in her course, Father Austriaco conveyed his story of how beginning to pray in earnest helped him to address anxieties that he felt in graduate school. This led to his entrance into the priesthood and to the Dominican Order. He has shared these stories with students in his courses.
O'Keeffe, who is faculty coordinator of the Riccobono program, said afterward that faith was a theme in several of the faculty fellows' project descriptions.
"Spirituality and faith contribute to feelings of purpose and connection that are protective and build resilience," she said.
Though just several weeks into the program, several of the panel members noted an increase in the level and depth of conversations with students both in and outside of class. In that respect, faculty fellows believe the program has been successful, even in its early stages.
"Creating a space where students feel comfortable recognizing their own thoughts and what's useful and helpful, and also a space for them to reflect on what's driving their anxiety, is helpful," Snyder said. "The chance to talk about it in a classroom setting normalizes it in a way that is better for everyone."
"I've had a lot more office visits from individuals who want to talk about their anxiety," Father Austriaco added. "You signal to the class that you understand. Students are much more comfortable speaking about anxiety and depression, and I'm willing to be as flexible as I can to accommodate their situation."