November 04, 2019
Right here, right now: Jamilee Lacy makes PC a destination for contemporary art
By Kristen Lainsbury
At first glance, the panel looks like a Classical bust of Aphrodite in profile, only two-dimensional. But look a little more closely and her features seem to fade away. Facial contours are replaced by flat fields of color. Most jarringly, there's a cutout on the cheek, a stigmata in the shape of the number 3. On its own, the missing "3" is a mystery. Pair it with its text-message companion, the less-than sign, or < , and it starts to make sense.

<3
A heart emoji. The ultimate reduction of love into symbol. A commentary on contemporary communication. The panel — part of an installation by the German Italian artist Vivian Greven — originally appeared in Providence College Galleries' 2018 group exhibition Classic Beauty, which explored how contemporary artists interpret methods and aesthetics of ancient Greece. PC Galleries director and chief curator Jamilee Lacy recently acquired it for the College's permanent collection, and it is destined to hang on the walls of the Ruane Center for the Humanities as a counterpart to the aesthetics and ideas taught in Development of Western Civilization (DWC) classes.
"We want to demonstrate to our students how historical texts and objects are fuel for the production of contemporary art, for the production of new ideas and activities," Lacy says. "It's all tied to the curriculum. Whether it's in the Ruane Center for the Humanities or the Ryan Center for Business Studies, we make sure we can connect the work on the walls to as many of the introductory classes in the building as possible."
Those connections may not be immediately obvious. And the artwork may not always appeal to the viewer's aesthetic. But the exhibitions that Lacy has curated and the work she has purchased for the College's fledgling collection are designed to make the viewer think. And that's the whole point.
"Contemporary art is not a genre. It's not a style. It's a method," Lacy says. "In the way we're teaching students to look at the entire world, write about it, speak about it — that's how we're looking at contemporary art. This is a contemporary place. We all live right here, right now."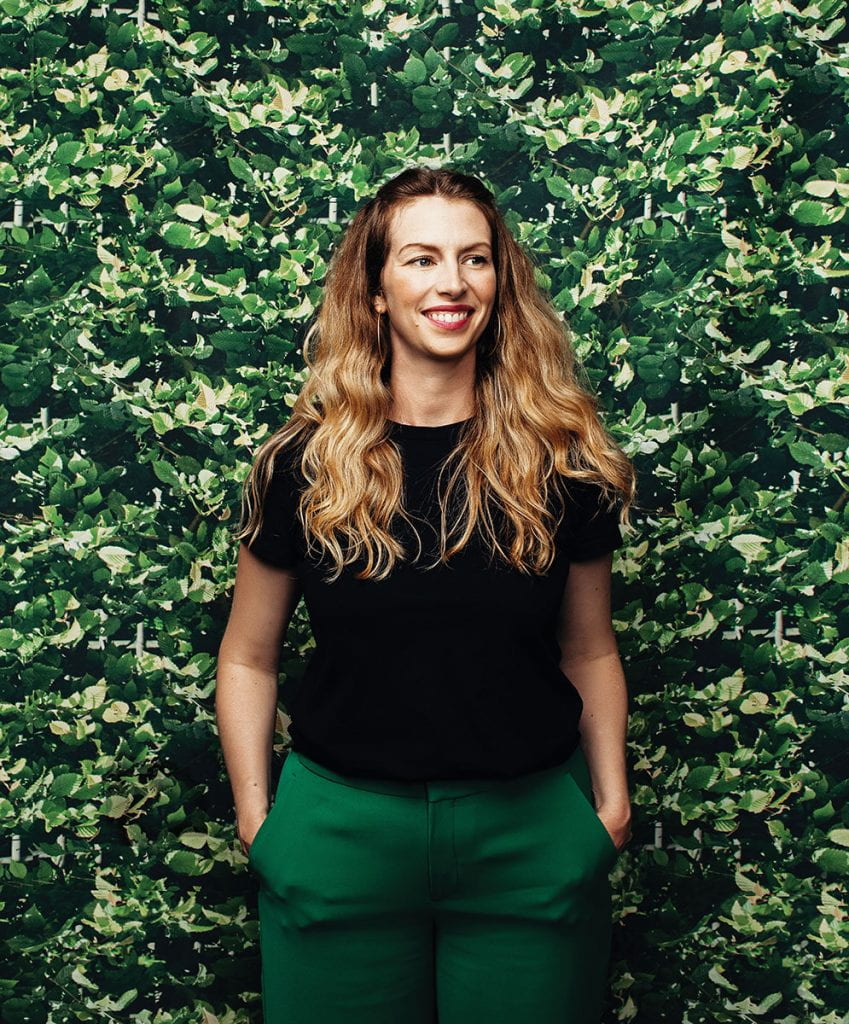 Lacy arrived on campus in 2014 with a single charge: to serve as curator for the College's galleries, a responsibility previously shared by different members of the art and art history faculty. Members of the hiring committee were impressed with her credentials — including degrees from the School of the Art Institute of Chicago and Northwestern University — and her experience curating solo and collaborative projects at DOX Centre for Contemporary Art in Prague, Hyde Park Art Center, Museum of Contemporary Art Chicago, and Western Exhibitions, to name a few. But they were equally wowed by her boundless energy and her collaborative nature.
"She filled that role and expanded it with an incredibly explosive vision," says Dr. Joan R. Branham, professor of art history and associate dean of the School of Arts & Sciences. "She has brought so many people into the conversation. She's gifted at cultivating donors and cultivating relationships with people who are interested in supporting the galleries. Her grant-writing success has brought prestige and notice to PC."
Branham attributes part of this success to Lacy's singular focus on contemporary art. Put simply, contemporary art is art that is being created today, by living artists. But at a place like PC, where the signature academic program is devoted to the exploration of human history through literature and art, philosophy and theology, the decision was anything but simple.
"She had the nerve and the guts and the vision to make that decision and stick with it — vision means not only what you want to do, but what you decide not to do," Branham explains. "It's a very interesting position to have at a liberal arts institution, but she's been able to marry it into the curriculum across many disciplines."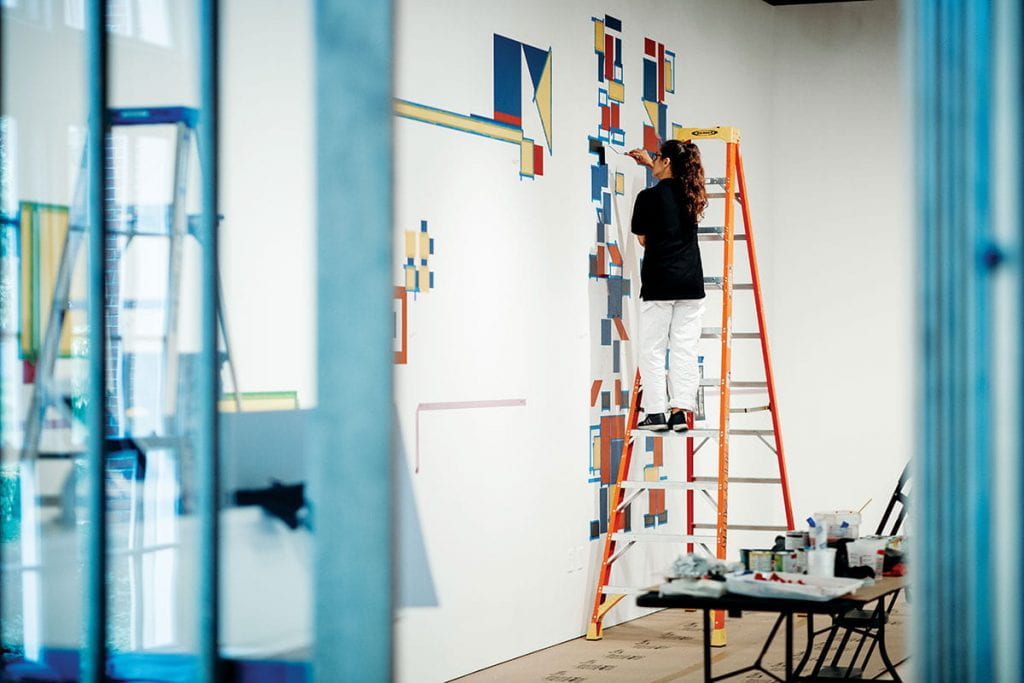 Today, Lacy oversees the Reilly and Hunt-Cavanagh galleries and the collection, a small but growing body of artwork and accompanying literature intended to be used in classes, exhibitions, and research. She has managed to take these seemingly competing priorities and balance them so that one complements and enriches the other.
Since her arrival, the galleries and collection have received grants from the likes of the Andy Warhol Foundation, the Kohler Foundation, and Google, attracted coverage from The Boston Globe, and extended their footprint off campus through the My HomeCourt community art project. PC also has earned a reputation as a destination for contemporary artists and art lovers.
"The galleries have become a place where you can, on a regular basis, expect to see artists who are living and working in Providence placed into a national and international context," says Dominic Molon, Richard Brown Baker Curator of Contemporary Art at the Rhode Island School of Design Museum of Art. Molon first worked with Lacy in the early 2000s, when he was curator of Museum of Contemporary Art Chicago and she interned in his department. He was intrigued to learn that she had taken the curatorial role at PC.
"That signified a serious desire for PC to step it up and make the galleries more of a destination within the local scene," says Molon.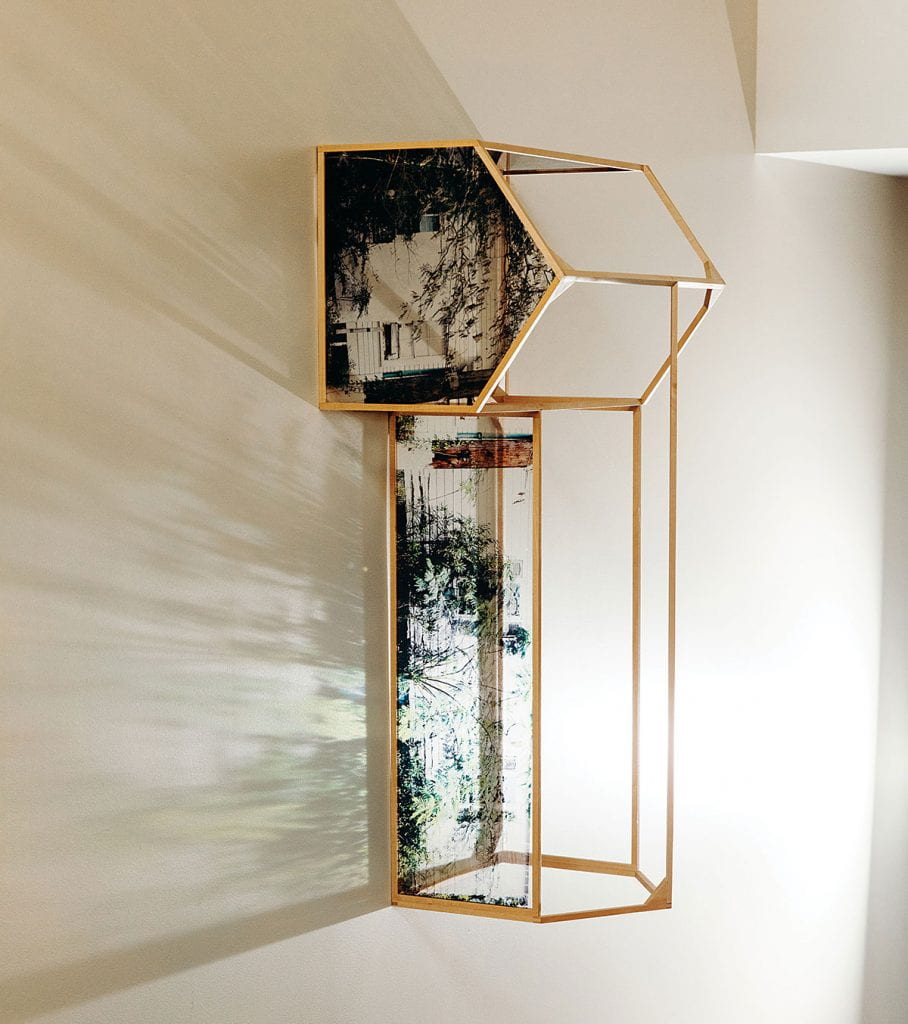 This became obvious during 2018's Classic Beauty, which underscored Lacy's understanding of the galleries' mission, her vision for the collection, and the ways in which her work could intersect with the curriculum, particularly DWC.
Through exhibitions and a series of artist talks moderated by PC faculty, this show explored the legacy of the birthplace of Western Civilization. It challenged common misconceptions — like the fact that the art and architecture of ancient Greece were intended to be white. In fact, Greek and Roman sculptors typically painted marble — from statues to the Acropolis — with brilliant colors that wore off over time.
"That show embodied all of the College's strengths," Lacy recalls. "It really demonstrated how diversity and the richness of culture are deeply connected to what students are learning in DWC."
Classic Beauty was a watershed moment. The show attracted coverage from mainstream media and visual arts journals. It established PC as a player in the state's already vibrant cultural scene. It also drew praise from colleagues and scholars on and off campus.
"What struck me is the way she placed contemporary art ideas into the context of PC's curriculum, as it related to or responds to the Classical tradition," Molon recalls. "It's a way to be contemporary but also to respect and respond to the immediate surroundings … to establish the contemporary in relationship to work that is grounded in a tradition. It's an intelligent way to be able to move forward without alienating the institution or host audience."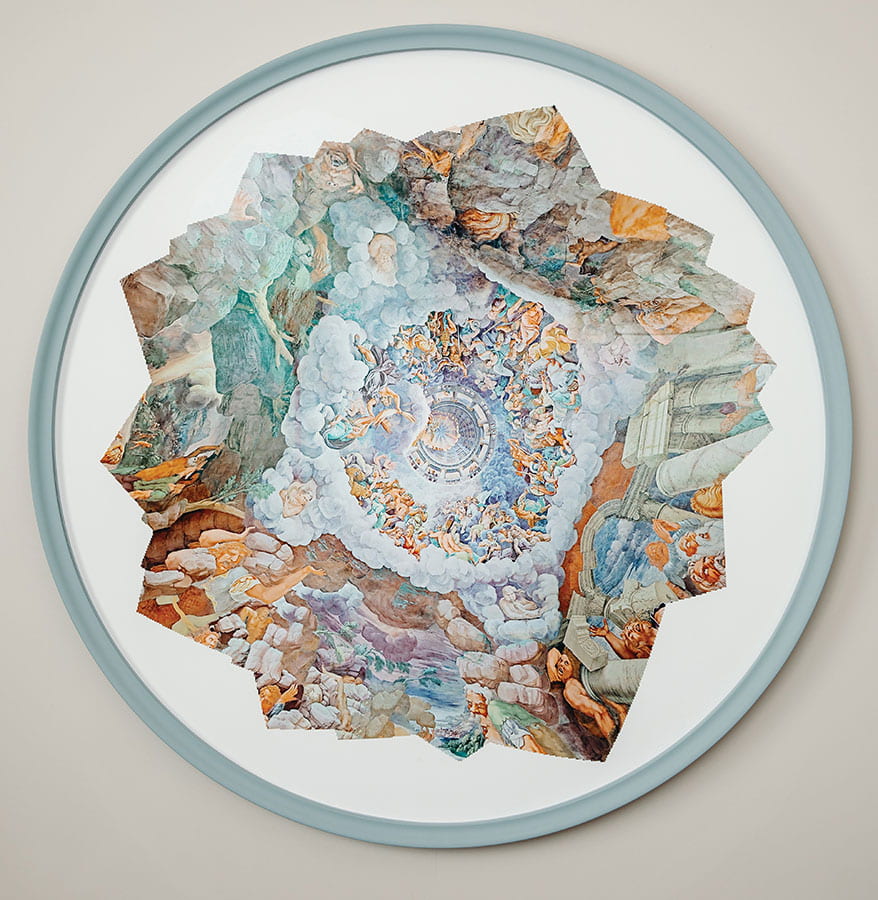 The galleries have since made waves — and headlines — with Beyond Bauhaus, an ambitious series of exhibitions, publications, and commissioned installations that opened in April 2019 and runs through August 2020. The lineup features contemporary artists from all over the world whose practices are inspired by or respondent to the history of the influential German art school. Ambassador Zeev Boker, consul general of Israel to New England, was in attendance at the opening of the recent exhibition Tel Aviv: From the seafoam and clouds to the here and now.
Lacy also has been able to extend PC Galleries' public outreach with the My HomeCourt project, which turns neglected public basketball courts in Providence into vivid works of art. Eric "Pete" Peterson '86 and Theresa Peterson '89 were inspired by an article about a similar initiative that has transformed courts in Memphis, St. Louis, Los Angeles, and other American cities. They shared the idea with their friend Harold Starks '86, PC's coordinator of athletic alumni events, and then connected with Lacy.
"That was when the project began to truly ignite," Theresa Peterson says. "Jamilee brought much-needed expertise about creating public art — particularly large-scale murals — as well as access to a network of renowned contemporary artists who could potentially design our courts. With her on board, we were able to install our first courts last year at Fargnoli Park and are currently installing courts at Harriet and Sayles Park."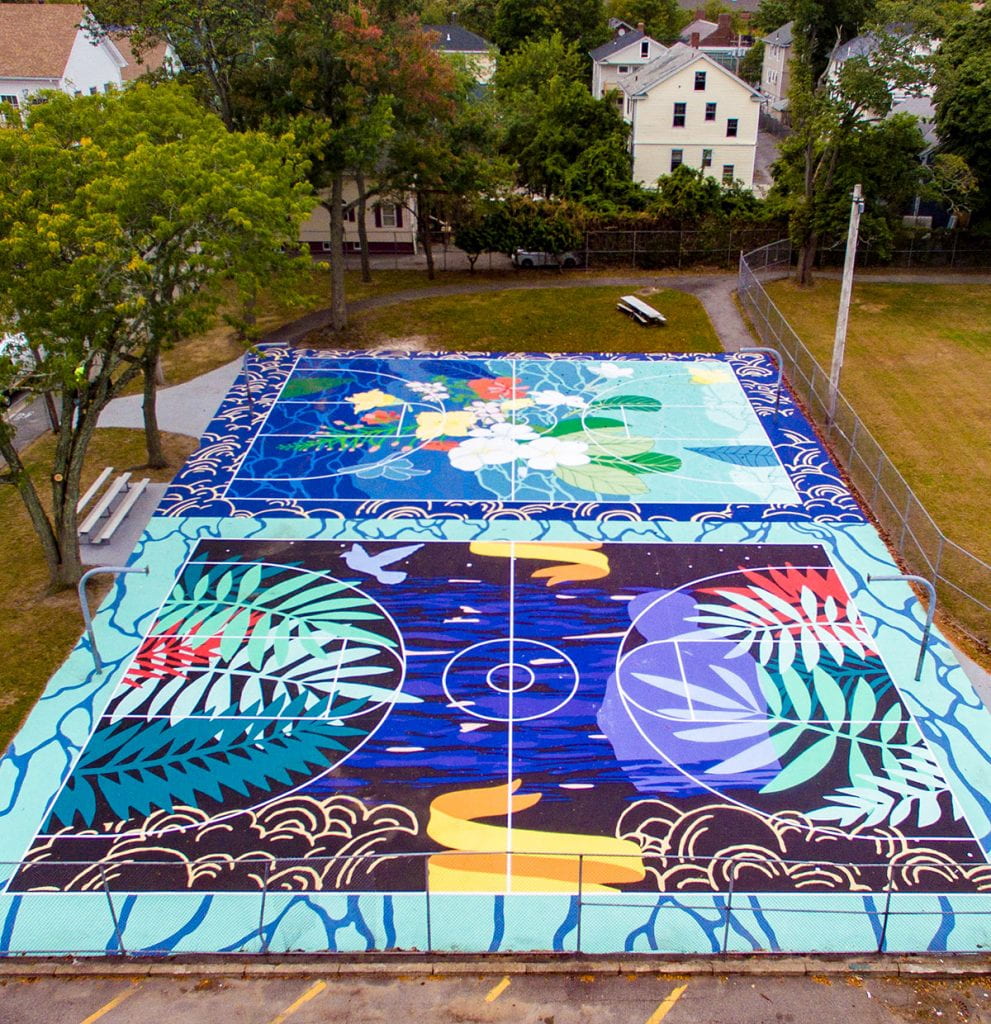 Through the project, the Petersons and Starks have become key allies within the alumni community. As an alumnus, former Friar basketball player, and current PC staffer, Starks also has become a sounding board for Lacy.
"He knows what's important to PC and the Providence community at large," Lacy says. "Obviously, liberal arts education, faith, and sports are really important, so we work together to connect those things as often as it's appropriate. Indeed, I frequently bounce engagement ideas off Harold before I introduce them to the campus or the public. … He encouraged me to use the very public platform that My HomeCourt offers to position the work of the galleries and collections as three-pronged: simultaneously educational, communal, and entertaining. And now I do, with every single artwork and every single project, no matter how big or small."
In addition to improving the quality of the city's basketball courts, the broader goal is to highlight and nurture the many other ways that urban recreational parks can benefit and uplift a community. "Each court we paint is uniquely designed to reflect the culture and history of its surrounding neighborhood, to encourage community involvement, to celebrate diversity, and to spark imagination," Theresa Peterson says.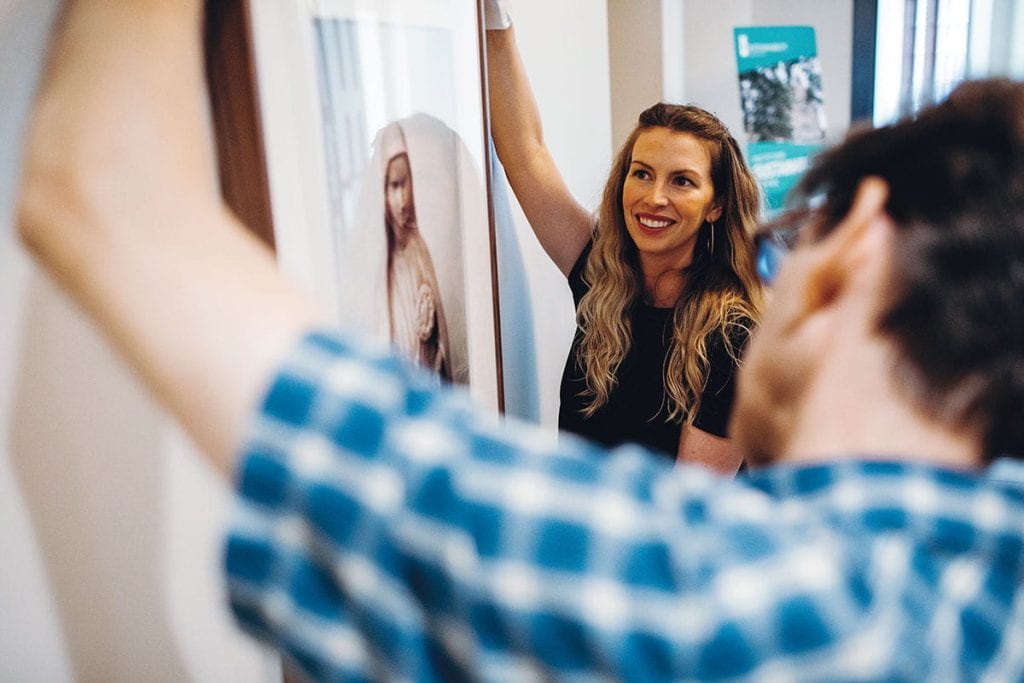 The same could be said for Lacy's on-campus endeavors, which respond to the College's academic and faith traditions in unexpected ways. Take her collaboration with Dr. Shan Mukhtar, assistant vice president for institutional diversity and director of The Center at Moore Hall. Together, they've commissioned a set of contemporary crucifixes and crosses with decorative elements based on Christianity in the Muslim world, in Southeast Asia, and the indigenous peoples of South America. The initiative responds to an objective in the PC200 strategic plan that calls for innovative ways to explore the "heritage and joyful spirituality" of the Dominican Order in contemporary society.
"I'm trying really hard to connect the collection to what the College deems important through its strategic plan, its mission statement, and its curriculum," Lacy says.
Those aren't the only criteria, however. According to College policy, donors who wish to give artwork or antiquities to the College must also provide funding to maintain or restore the work and an additional amount to commission a contemporary work in response to or inspired by the donated piece.
Lacy uses curatorial best practices to ensure that the work she acquires on the College's behalf is created by artists whose work has been purchased by major museums and will maintain its value.
"I've always curated the collection like we were a museum, so if we were to start a museum we won't have all this minor work that we can't afford to maintain," Lacy says. "Fortunately, I've been finding donors who are interested in the subject matter and the artists who are a good fit for the school and convincing them to purchase and donate artwork to us."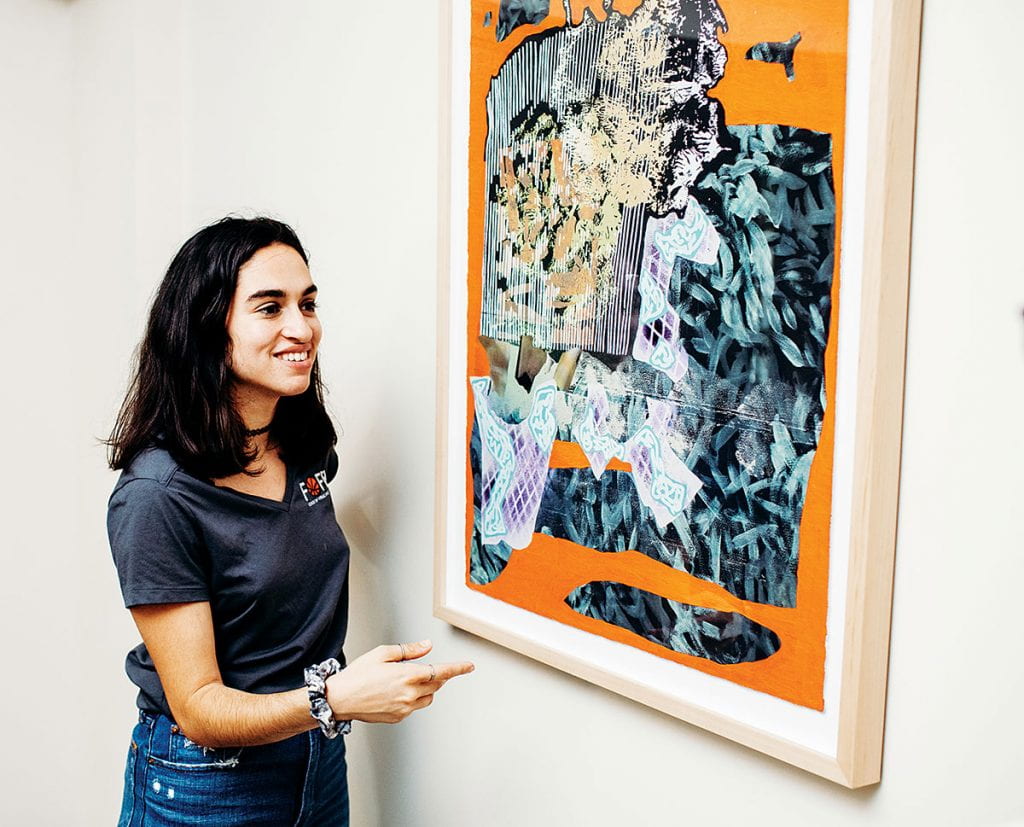 Among those donations are two mixed-media pieces by Will Hutnick '07, a nationally known artist who had a solo show at PC-Galleries in 2016. His work is influenced by Matisse, particularly the Chapelle du Rosaire de Vence, a Dominican chapel in France that was designed and decorated by the artist. In the works that hang in the Ruane Center for the Humanities, Hutnick's use of saturated color and bold abstractions echoes the vivid vestments and the stained-glass windows in the chapel.
While he's honored that his artwork is now a part of his alma mater's permanent collection, he appreciates the broader contemporary turn that PC has taken.
"I've noticed a big shift in the way PC is now engaging on a national level in larger conversations in the art world," Hutnick says. "I'm proud of the work Jamilee is doing. She's making a name for the gallery, for the space, and for people who want to be a part of it."