May 12, 2022
Safer spaces
Paul Coyne, DNP '08 and partners at Inspiren are improving patient safety outcomes, streamlining data so nurses can provide more — and more effective — care
By Michael Hagan '15, '19G
Paul Coyne, DNP '08 knows that nurses have their hands full. That's why he and a team of fellow nurses and engineers invented AUGi, a device named for the way it augments care.
AUGi lives on the wall at the foot of a patient's bed and does for hospital technology what the smart phone did for personal electronics — it consolidates diverse functions in a single device.
It's a medical gamechanger.
"It's a very intelligent computer in a small device," Coyne said. "It takes numerous products and consolidates them — which is why IT likes it — but it also captures and integrates data. Most importantly, it can save lives."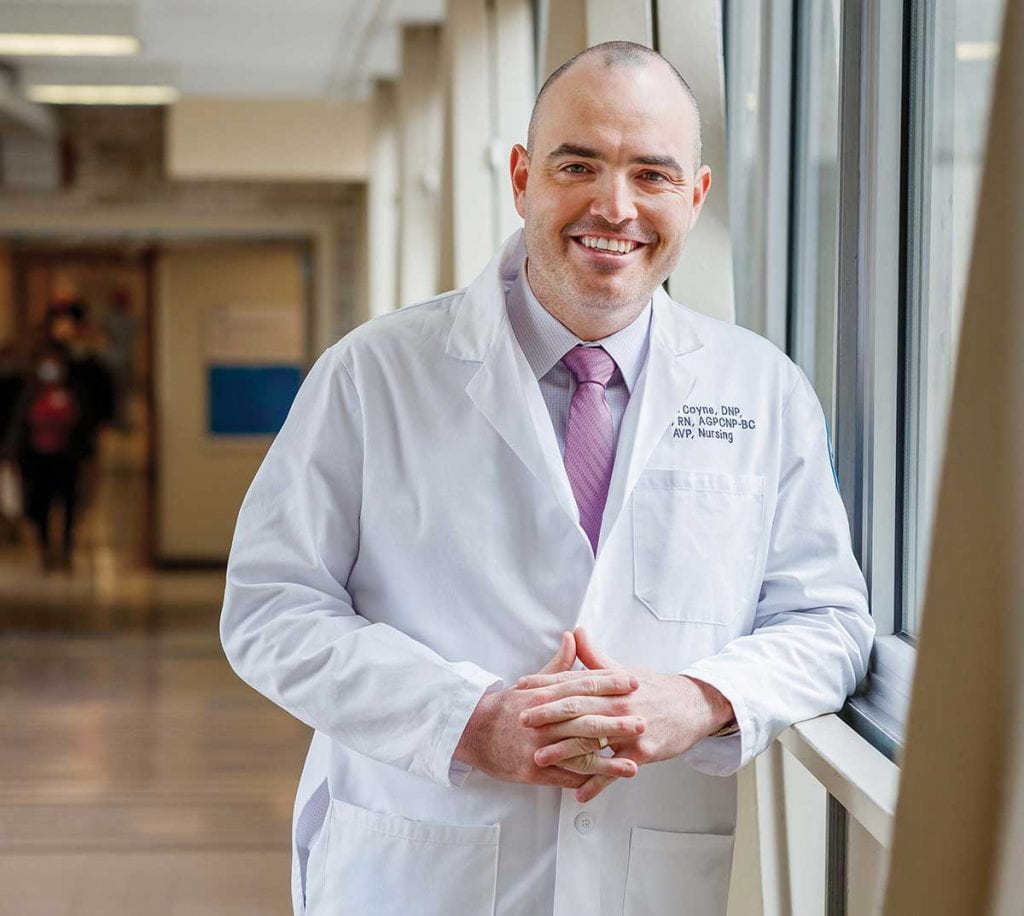 In 2022, it would be easy to assume that data integration between devices is a given, but such is not the case in the medical industry.
"It seems like everything in the world integrates now, but when you're fusing data from disparate systems, there are problems that take a lot of computing to solve," Coyne said.
Before AUGi, data integration was largely an analog process. Nurses reviewed, compared, and synthesized hand-recorded and digital charts and other data. Such demanding processes create opportunities for human error, and worse, reduce the time nurses have to administer care. It was a problem Coyne's nursing-classmate-turned-business-partner, Michael Wang, noticed immediately after nursing school, when he was at the bedside as a hospital nurse.
"We have to stop falls, pressure injuries, and other preventable problems," Wang would tell Coyne.
The question — how?
With Vincent Cocito '08, Inspiren's co-founder and COO, they resolved to empower nurses with sensory and artificial intelligence technology. Simple but valuable applications of this technology include monitoring patient position and alerting nurses when a patient is due to be turned or is at risk of falling. AUGi also aggregates data from visitors — both clinicians and family — to ensure all patients receive the attention they need.
"As nurses, we know that the patient that's most demanding is not necessarily the most medically acute," Coyne said. "AUGi provides peace of mind when you cannot be in the room with a patient."
AUGi's data processing and integration is so robust that it has generated new metrics including "nursing intensity," which encompasses medical acuity but also considers visits to and total minutes spent with patients among its data. A patient's nursing intensity rating helps hospitals strategize distribution of care resources to balance staffing and alleviate much of the burden that falls on the frontline clinician.
While AUGi can and frequently does integrate with technology, such as the bluetooth badges worn by hospital staff, its proprietary technology for tracking activity in the hospital room is skeletal analysis. AUGi's sensors detect the skeletal structures of individuals in a hospital room to assess not merely presence but posture. This technology also is critical to preventing falls.
"AUGi uses what's called pose estimation models based on skeletal analysis to ensure patient safety," Coyne said.
Not only does the device recognize when a patient has fallen, it alerts nurses when patients are getting out of bed, enabling them to intervene to prevent falls altogether.
Hospitals and senior care centers that have adopted AUGi have seen dramatically improved outcomes, including a 75% decrease in patient falls and 33% faster nurse call response time, according to a study published in the Journal of Informatics Nursing.
"There's already too much you can't control in healthcare. We can't always prevent the cause of a patient's hospitalization, be it a stroke, cancer, or something else. But once a patient is in a facility, nothing bad should happen that we can prevent," Coyne said.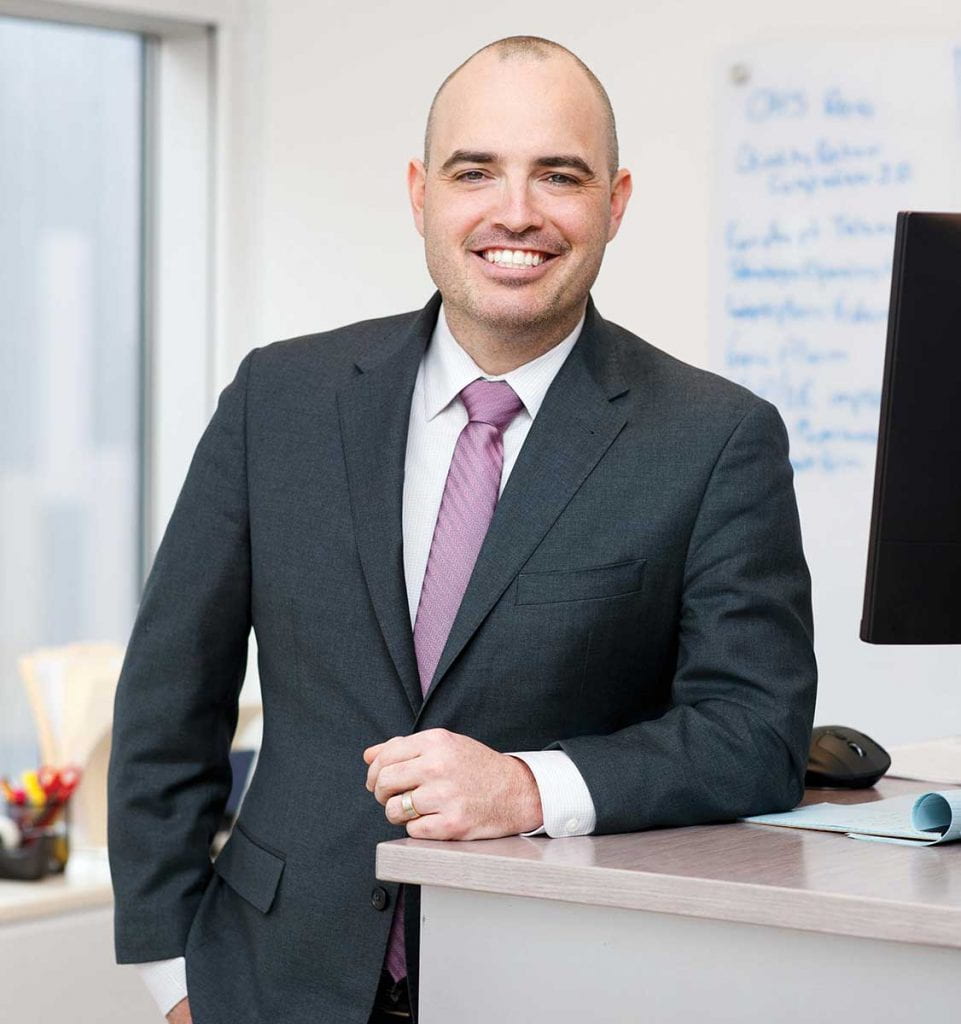 Coyne's medical history inspired his career in nursing and his entrepreneurial endeavor to help nurses provide more effective care. Weeks after graduating from PC, where he majored in American Studies, and shortly before beginning a job at Goldman Sachs in New York City, Coyne suffered a stroke. He experienced memory and emotion loss, difficulty speaking, and a limp.
An avid singer who was a frequent cantor at Masses in St. Dominic Chapel, Coyne found music a helpful way to reconnect with what he had lost.
"I could sing even before I could speak again fully," Coyne said.
Long before his stroke, music played a significant role in Coyne's decision to attend Providence College. When he visited campus for admitted students' day, he was moved by the performance of Emanuel Vasconcelos '06, '08G — now Rev. Emanuel Vasconcelos, O.F.M. Conv. or "Father Manny" — as cantor.
"As I listened, I just had this feeling come over me," Coyne said. "Something, maybe God himself, was telling me that this was the place for me. And maybe, after a couple of years, I could sing at the admitted students' Mass like Manny did and give that same sense of assurance to others making their college decisions after me."
In addition to singing, Coyne dabbles in poetry.
"The poems are really for my son. Sometimes I'll have a concept and it just makes the most sense to work it out in poetry," Coyne said. He hopes eventually to publish a collection of poems.
Moved by a desire to live and work with greater purpose, Coyne began nursing studies at Columbia University in 2012. He earned bachelor's, master's, and doctor of nursing practice degrees as he simultaneously pursued a master's degree in finance and an MBA in healthcare administration from Northeastern University.
Once a nurse, he felt called to work in palliative care.
"Having come so close to death myself, it was the field in which I felt like I could have the most impact," Coyne said. "Then a hospital executive suggested I take a role on their analytics team."
As a hospital administrator, Coyne still focuses on the human side of healthcare. One of his charges is managing the hospital's chaplaincy program.
"Among my favorite parts of working with the chaplains are the deep theological conversations we get to have," Coyne said.
Despite already being exceedingly well-credentialed, adding hospital chaplain certification has crossed Coyne's mind.
"If I ever find time to complete the rigorous education and clinical hours needed to be a hospital chaplain, I would love to do it," he said.
Coyne's skills encompass business, clinical practice, and technology. His passion, knowledge, and desire to learn from others has brought forth Inspiren and AUGi, as well as a successful career at the Hospital for Special Surgery in New York City. On May 2, he was appointed senior vice president and chief nurse executive, responsible for a team of more than 1,500 specialized nurses across the continuum of care at locations in New York, Connecticut, New Jersey, and Florida. He oversees support and advocacy for nursing quality, patient safety, nurse engagement, physician collaboration, and patient satisfaction.
It's a long story, so whenever he's asked, "Why a nurse?," he answers simply: "Why would I want to be anything else?"
Paul Coyne '08 on the PC Podcast
More from the Spring 2022 magazine
More Providence College news